Indigo, between Richmond and Sugar Land, is the latest enterprise from Clayton Garrett and Scott Snodgrass, the founding partners of the real estate development company Meristem Communities.
While Indigo is geographically suburban, Garrett and Snodgrass acknowledged that much of the neighborhood's makeup has been inspired by practices and trends from urban environments.
Fort Bend more than doubled its population between 2000 and 2020, and the county added about 28,000 residents in the last year. With a current estimated population of arround 889,000, it could grow to 2 million by 2050.
"Thinking of the suburbs as urban is very helpful for us," Garrett said. "It is going to be urban at some point, just like every other suburb is. You look at the great neighborhoods in Houston that people think of as infills that were a suburban neighborhood at some point."
Comparable concepts are gaining traction nationally, with more residents embracing car-free lifestyles. Agmenity, another venture helmed by Garrett and Snodgrass, operates farms for other developers including Harvest Green in Richmond and Jordan Ranch in Fulshear.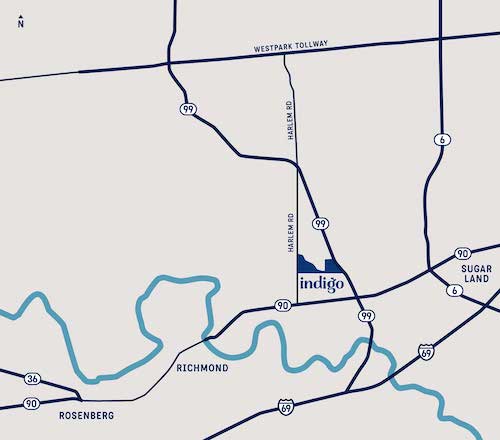 After breaking ground in February, Garrett and Snodgrass will launch the neighborhood's first phase later this year. The second phase is anticipated to open in late 2024, and the third and final phase is tentatively scheduled to be completed in 2025. With extensive agricultural backgrounds, Snodgrass said their vision for Indigo is to treat the community as an ecosystem.
"Some of that is the agrarian urbanism of Andrés Duany, the idea that people need to reconnect with their food and it needs to be in the same general vicinity that they're living, working and playing in," Snodgrass said. "Developers have been reductionistic, and have tried to silo different areas and separate uses. We see the damage that's caused to people and the urban fabric. We really wanted to connect all of those things back in. All of these things are connected and have to speak to each other."
While Meristem has consulted on several "agrihoods" with design influence on farms, this is the first neighborhood the duo has developed together with an emphasis on agriculture and neighborhood connectivity.
"We aren't thinking of Indigo as an agrihood, but as a complete community," Garrett said. "What we're trying to accomplish is human-oriented development. When you start thinking through a humanistic lens, you start to uncover some challenges, some opportunities and some solutions."
Among Indigo's potential challenges are the area's natural elements — namely sweltering summer temperatures and heavy rainfall.
"From the farm perspective, we have to let people walk through the space, so safety has to be a great concern," Snodgrass said. "Also, we can't let fields get eaten up by weeds, and have to keep things looking good. We have to engage more with the public and do more education.
"Then you have people who come from the community side who are used to amenities. For them, I think the big challenges are that a farm is part of a bunch of natural cycles. When you're farming here in Houston, too much rain is typically our problem. But occasionally in August we don't have enough rain. On that side, it's getting used to the natural cycles and the fact that we don't have control over our environment. You have to engage with it, learn about it and be a part of it."
Indigo will feature eight housing types, with 650 units for purchase and 100 rental properties. They include cottages, three-story townhomes, duplex-style housing called "duets," 35-foot and 45-foot alley-loaded homes with rear-facing garages and a small number of traditional 50-foot frontloaded homes — the only homes that will have driveways on the street. Other parking options will include shared lots and shared driveways.
Car-free zones will be strategically placed throughout Indigo, with every other street serving as a linear park to provide residents with "mobility richness."
"Our goal in some of the planning is to really orient this around the pedestrian and human experience," Garrett said. "When you're home, you have the ability to connect with your neighbors through front-porch living, linear green spaces and having a place to walk to. It's much less about limiting the number of cars or having the expectation that people won't have two cars in a household."
Snodgrass said the idea is not to prohibit vehicles in Indigo, but to present residents with the possibility of reducing their number of household vehicles.
"We're starting with a 'safe streets' mindset more than a 'get rid of cars' mindset," Snodgrass said. "All of the residents' local travel for immediate daily needs, exercise, and leisure can be handled by walking. Eighty-five percent of our homes are within a quarter mile of our town center area. We want to serve a significant portion of people's needs within the town center and the rest of the neighborhood. But we don't have 130,000 square feet available for a grocery store. We'll very much expect people to drive there."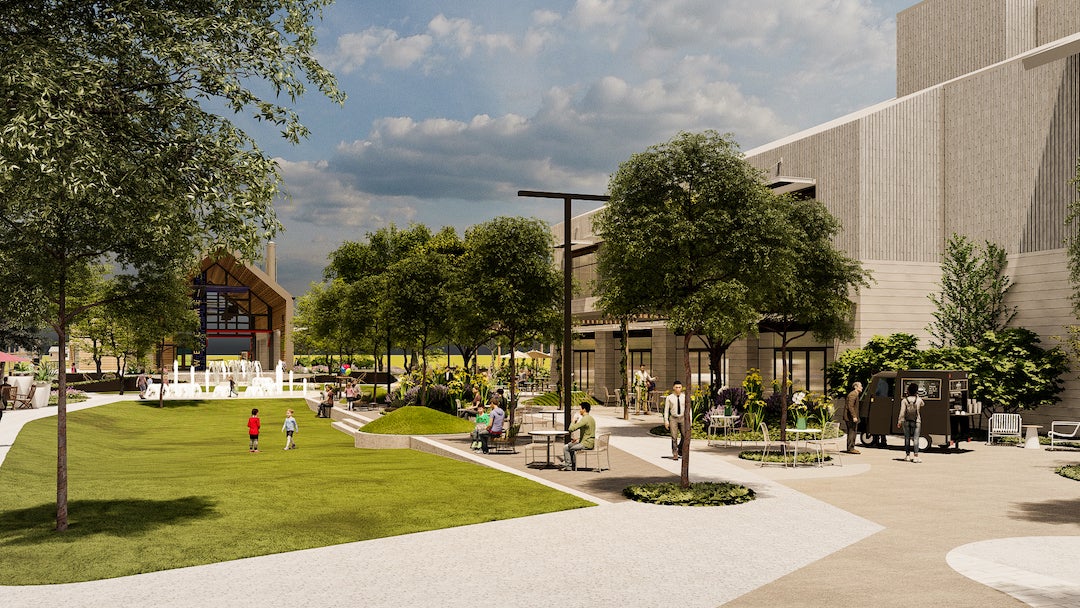 Indigo could incorporate ridesharing services that allow residents to rent vehicles by the hour. Plans also include infrastructure for electric bicycles and space for a bus terminal.
"We understand we need capital to execute this project," Garrett said. "We need vehicles to travel places. But the hierarchy isn't in the same methodology. Currently, Fort Bend doesn't have a bus system other than an on-demand service. But we expect that to change. Our goal is to build a resilient, complete community."
Snodgrass said similar greenfield development projects that use undeveloped land will be inevitable to meet housing demand. His aspiration for Indigo is to go about it holistically.
"We're trying to do it differently and in a more respectful and thoughtful manner to the land and to people's needs," Snodgrass said.