Concept Neighborhood's plans for The Plant/Second Ward include the use of a mile-long stretch of 17 connected acres and 21 underutilized buildings spanning from Metro's Coffee/Plant Second Ward light rail station on Harrisburg Boulevard to Buffalo Bayou East in Second Ward. Working with the global design and architecture firm Gensler, Concept Neighborhood's master plan has about 1 million square feet to develop, with 250,000 square feet allotted for retail and office space and 750,000 square feet for multifamily residential property.
Two of Concept Neighborhood's principals are Jeff Kaplan and Dave Seeburger, who have experience in the adaptive reuse space. Previous projects from Kaplan, Seeburger and other members of the company's leadership include Axelrad in Midtown, The Caroline Collective, a former co-working space in the Museum District, 321 W. 19th St. in the Heights and The Plant House in the East End.
The Urban Edge spoke with Kaplan and Seeburger about The Plant/Second Ward. The interview has been edited for length and clarity.
How would you describe the current landscape of The Plant/Second Ward?
Seeburger: We acquired the Plant Building on the MetroRail in 2019. The blocks adjacent to that are currently filling up with housing, office and even more retail all around the Sampson, York and Harrisburg intersections. North of there, where we've kind of focused the rest of our acquisitions, it's a lot of industrial spaces, raw land and railroad properties that we've acquired. We're in a little bit of space between downtown and greater Eastwood where there hasn't been a lot of development recently. 
Why are affordability and walkability essential to this project?
Kaplan: It really adds something to the community wealth equation. The mixed-income approach to this becoming an urban village, where merchants and business owners are living in proximity to their shops, is something that creates a lot of equity because the people working these businesses are not bearing the cost of movement. They're not having to spend hours going to and from their shops. When gas prices spike, that's a direct hit on small business owners. We want this to be an example of a walkable, 15-minute neighborhood. We want to have all the basic needs that someone would need to live in this corridor. At the same time, we want this to be unique enough to encourage people to come spend a day walking around and exploring what The Plant/Second Ward offers.
Seeburger: Affordability and walkability definitely go together well. There are other places in Houston that are somewhat walkable, but some of them are islands. You drive to the walkable place, and then you walk around it. The equity that's more available to people in the community that are given the opportunity to walk is valuable.
How do you envision the residential aspect of The Plant/Second Ward being financed?
Kaplan: It's a mixed bag of financing and partnerships. In some scenarios, we will be in co-investment or joint venture arrangements with other developers. In other scenarios, we will do market-rate housing and market-rate development and traditional capital market financing. We are exploring some other public-private structures that involve tax credits. But we don't have an exact equation for that figured out yet.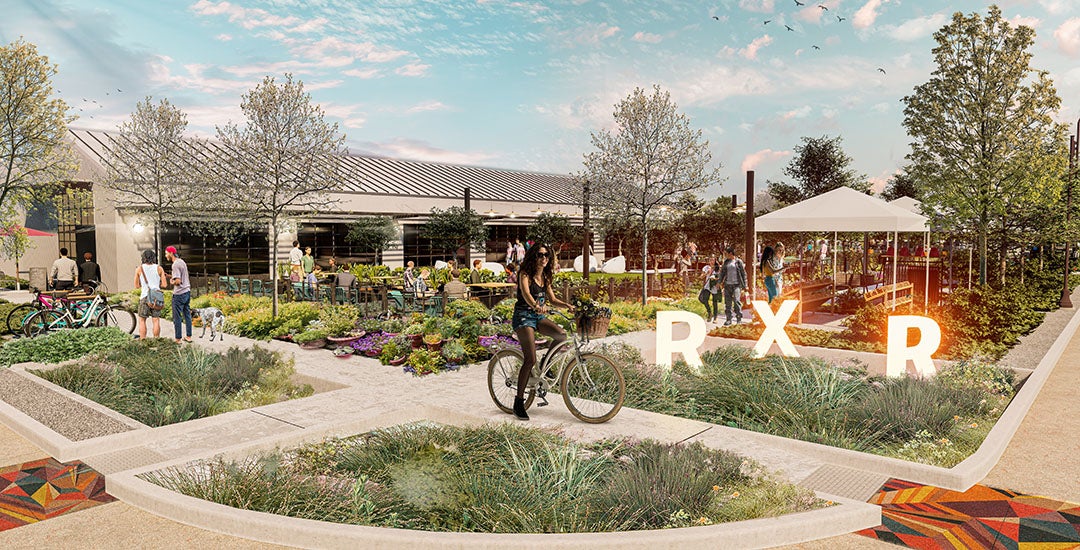 How are the City of Houston and the Harrisburg Redevelopment Authority involved with this project?
Kaplan: There are various partners that we are engaging with, and the city is a huge part of this. I want to give the City of Houston credit for this even happening. This was really just an idea until the leadership of the Planning & Development Department pushed forward the TOD (transit-oriented development) ordinance to reduce parking. That's when capital started coming into our investment because we were able to do this with a sort of density that you could not do prior to the parking reductions. The TIRZ has supported us with the plan. We are interested in working with them on various aspects of this project. It really is a public-private endeavor. In many ways, what we're doing is a market-based approach to urban planning.
How do you believe Houston can benefit from The Plant/Second Ward?
Kaplan: We think that there's a lack of connected, walkable corridors in a neighborhood that offers mobility and transit. This is different from a park in terms of quality of life, but this is about quality of life for the city. We need a neighborhood that has a culturally diverse, walkable neighborhood. Houston is still a very private city. We have such an incredible diversity of cultures, but we don't have very many publicly-driven neighborhoods. The city really needs a walkable, publicly-driven neighborhood.
Seeburger: Quality of life is important, and the identity we think we can create. We want to be an example of what's possible in Houston based on all the things the city has done to make this more possible. Providing a quality of life at a more affordable price for an urban lifestyle. 
What is the timeline, and what is your vision for it upon completion?
Kaplan: Phase I is creative office and retail, and that's what we're going to be focused on for the next year and a half. Phase II is a clustering of multi-family units. Phase III is an urban village, which is about four to five years away. The overall vision is to make The Plant/Second Ward the most interesting neighborhood to walk around. That it really is representing the intersectionality of transit, walking, nature trails, biking and micro-mobility. Houston needs to have more examples of connected, authentic urbanism than just this. We hope this becomes a different template for the city for walkable corridors. 
Seeburger: We want it to be an authentic representation of the diverse people that are there. We're working really hard to figure out how to price low and price high with new buildings and old buildings and mix all of that together to enable that to happen