Just before the COVID-19 outbreak graduated to official pandemic status, I began screen-shotting headlines and tweets that seemed to me indicative of the quickly escalating crisis. Some drove home the frightening reality of the situation: "Google has asked all of its North American employees to work from home," "NBA suspends season after player tests positive for coronavirus" and "DNC announces there will be no audience at the next debate" are a few from March 10 that I see as I scroll back through the photos on my phone.
Another is this tweet from March 11: "Just got a statement from Tom Hanks saying he and Rita Wilson were tested positive for Covid-19 in Australia." I clearly remember thinking two things when I read the post: "oh, s$!#, this thing is really real," and "if Tom Hanks can get it, everyone is at risk!" — as in, this virus wouldn't discriminate. We'd soon learn that, while the virus itself didn't discriminate, people of color and lower-income Americans would be placed at substantially higher risk of infection and suffer disproportionately throughout the pandemic.
All of the screen-shots from those very early days of the coronavirus were surreal. Like something in a movie. By mid-March, they began to take a new direction, as I switched from capturing the scary to chronicling some of the more ridiculous and absurd headlines that often floated to the top of Apple News' "trending stories." At midday on March 15, below the Washington Post headline "Fed slashes interest rates to zero in massive intervention" and "How coronavirus remade American life in one weekend" from the Wall Street Journal, the content trending at No. 1 was BuzzFeed's list of "16 tattoo fails that made me gasp." That morning, the top-two trending stories were also lists: Fox News' "Outback Steakhouse's Bloomin' Onion: 5 things you didn't know" and (again) BuzzFeed's "29 face and hair treatments that make a noticeable difference."
While "trending" may not equate to "most-read," these headlines still seemed, at the time, to indicate Apple News readers maybe weren't giving their undivided attention or fully appreciating the gravity of the situation. On the other hand, it could have been they were simply looking for distraction from the gravity of what was unfolding all around them. Regardless, it reinforced what we've known for some time now: people love lists and rankings. (Apple's "trending stories" is itself a list, of course.)
For years, the media has carried on a love-hate relationship with lists, by turns embracing and rejecting them, sometimes doing both at the same time. In 2009, NPR gave us "10 Reasons Why We Love Making Lists." Four years later, they wrote up "The Top 5 Reasons We're Taking a Break from Lists." The split wasn't permanent.
Posts about where Houston, the Houston area, other Texas metros and the state are ranked on lists of best and worst places for you-name-it routinely perform well on this blog. For example, in March 2020, we ran a short post about a ranking of states by the aggressiveness of their response to COVID-19 and mitigating its spread. Texas came in at No. 49. In one day, the post racked up almost twice as many page views as 2019's most-read post received in all of that year.
These best-places-for lists, of which there are many, range from happiness, safety and cyclists to foodies, naked gardening and working from home. And, as opposed to indices such as the World Bank's Ease of Doing Business Index or the World Economic Forum's Global Competitiveness Report, these rankings are largely just for fun. None of them are likely to "spur" real-life policy change. But what's wrong with a little fun? Today, we're kicking off an occasional feature focused on rankings and Houston's place on them. Here's rundown of a few recent rankings:
Best places to ...
It's only fitting that we begin with a list from the biggest name in rankings: U.S. News & World Report. Best known for its ratings of the nation's best colleges and hospitals, the media company also produces an annual list of "Best Places to Live." To do this, U.S. News tells us, it "analyzed 150 metro areas in the United States to find the best places to live based on quality of life and the job market in each metro area, as well as the value of living there and people's desire to live there." No chance of subjectivity finding its way in here.
Like its positioning of colleges and hospitals, which, despite catching considerable flak over the years, remain very popular with the public and marketing departments across the country, U.S. News' list of "best places" is further divided into ranked subcategories, including "Best Places to Retire" and "Best Places to live (in each state)."
For 2021, the Houston area earned a No. 39 ranking on the broader "Best Places to Live" list, slipping more than 10 spots from last year, when it was No. 27. It was the 22nd best place to retire. Austin, which landed at No. 5 overall, was found by U.S. News to be a better place than Houston to live, but not a better place to retire, coming in at No. 29. Criteria for the "where to retire" list includes "happiness of local residents, housing affordability, tax rates and health care quality."
Boulder, Colorado, was the best place to live, and six of the top 10 cities are in the Sun Belt. Florida cities dominated the list of best places to retire, led by Sarasota at No. 1. The Sunshine State is home to the top four cities on the list, and seven of the top 10.
While Houston may not be considered one of the 10 best places to live right now, just wait a while. Another recent study puts it at No. 7 on a list of "Overall American Cities of the Future." Or maybe U.S. News missed the mark altogether. After all, Time just named Houston one of "The World's 100 Greatest Places of 2021," placing it alongside the likes of Athens, Cairo, Helsinki, Osaka and Singapore. As far as modifiers go, "greatest" sounds better than — if not outranks — "best," right? It's one of only 21 U.S. destinations on the list — Sarasota is another.
Cities with the largest minority wage gap
The financial technology firm Self used data from 2019 American Community Survey Public Use Microdata Sample and the Labor Department to determine which small, midsize and large metropolitan areas have the largest minority wage gaps.
In 2002, per-capita income for non-Hispanic whites was $37,234, it was $34,388 for Asians, $22,004 for Blacks and $19,220 for Hispanics (those amounts are adjusted for inflation). In 2019, those incomes were $46,281 for whites, $47,525 for Asians, $27,593 for Blacks and $23,289 for Hispanics. The income gaps between white and Asian workers and Black and Hispanic workers not only persisted, they widened.
Among large metro areas, Houston had the nation's third largest minority wage gap (-41.2%), behind No. 1 Los Angeles and No. 2 Miami. The San Antonio, Austin and Dallas metros landed in the 15 worst, at 11th, 13th and 14th, respectively.
The gap in both Dallas-Fort Worth-Arlington and Austin-Round Rock is -33.3%, while in San Antonio-New Braunfels, it's -34.5%. The largest gap for a large metro is -46.7% in LA-Long Beach-Anaheim. There, the median earnings for full-time minority workers is $40,000, while the median earnings for full-time non-minority workers is $75,000. In the Houston area, the annual median earnings for minority workers is $40,000, but non-minority workers earn $68,000 a year.
St. Joseph, MO-KS has the largest minority wage gap among small metros, at -57.1%, and among midsize metros, the largest gap is Salinas, California's -49.3%.
Inequalities were a dominant theme of the 2021 Kinder Houston Area Survey report. The pandemic's disproportionate impact on both the financial and physical health of Hispanics and African Americans in Harris County and the prevalence of racism in the U.S. were key issues highlighted in the latest report from Kinder Institute Founding Director Stephen Klineberg and Robert Bozick, associate director of the survey.
Faced with a $400 emergency expense, 44% of Black and 45% of Hispanic residents reported not having the savings to cover the unexpected cost. But just 13% of white and 7% of Asian residents said they would either have to borrow the money or couldn't come up with it. Only 11% of white residents and 9% of Asians reported a household income of less than $37,500; while 31% of Black and 44% of Hispanic respondents had household incomes below that amount.
The Houston metro fared better in another Self ranking, its compilation of the "Cities with the most minority-owned startups" from earlier this year. The Houston area was No. 5 on that list. Last month, economists with the National Bureau of Economic Research shared their findings on the dramatic growth of new business activity in Houston and a few other metropolitan areas in eight states during the pandemic. Their analysis showed the surge was greatest in predominantly Black communities. More specifically, they found that the proportion of Black residents in a ZIP code had the greatest impact on the rate of increase.
The metro also ranked high on Self's "Cities with the highest wages for new hires." Here are some details on each: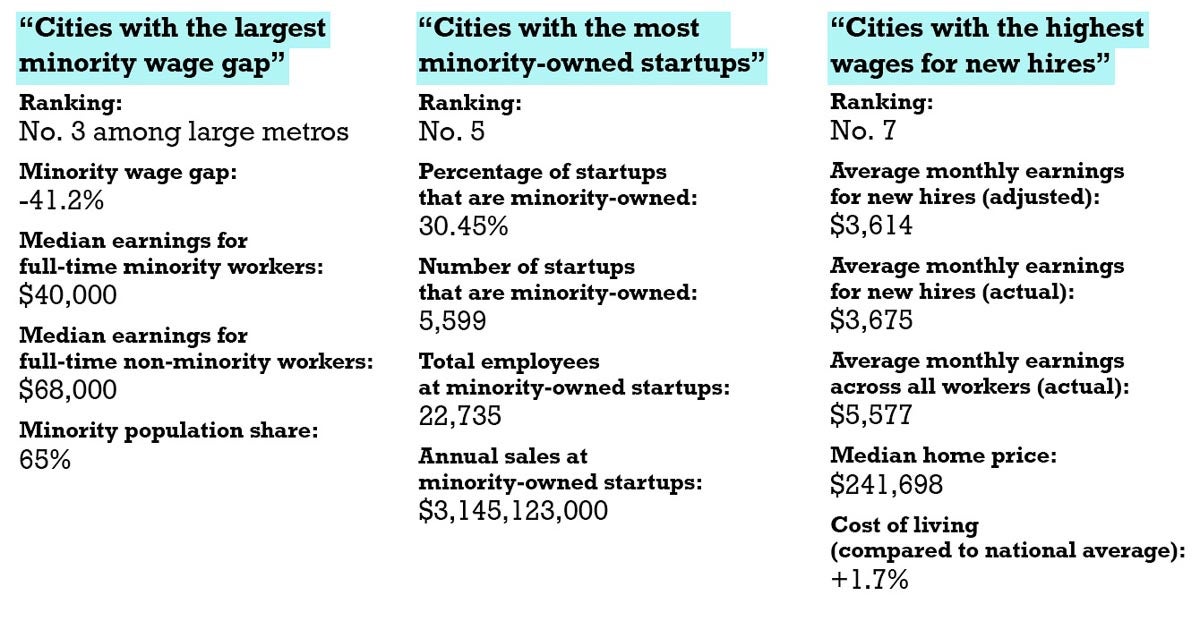 Best cities for WFH value
Many employees have already said goodbye to their full-time work-from-home situation, while others are making the transition to a hybrid model or have been given a date for returning to the office on a full- or part-time basis. Meanwhile, COVID-19 cases and hospitalizations are again spiking, along with concerns about breakthrough cases, the plateaued vaccination rate and the new, faster-spreading delta and lambda variants of the disease. (Not to mention the ever-brittle confidence of Wall Street investors.) All of which ensures an ample stock of reasons to lie awake at night.
Let's hope the deflated optimism about recovery is short-lived, but for those still working remotely (apparently under a rock) and only now considering a relocation, Lawnstarter has offered its ranking of 120 cities where WFH homebuyers and renters can get the most for their money.
Houston was No. 11 for renters, No. 19 for buyers and No. 10 overall for WFH value. Houston and Las Vegas were the only two large cities in the top 10. The other eight were small to midsize cities and suburbs, including four cities in Texas, with Fort Worth, McKinney, Frisco and Arlington joining Houston. Ten of the top 20 cities are in the Lone Star State.
Texas metros also topped SmartAsset's list of best housing markets for growth and stability, led by Midland(?!) at No. 1. Austin, Odessa(?!!), Houston and Dallas followed at Nos. 2, 4, 7 and 10, respectively.
The metro areas' ranking was based on odds of a 5% loss in home price and home price growth in the past 25 years. The chart below provides more detail on the results for those in Texas.
The fittest cities and the best for dog parks
The American College of Sports Medicine (ACSM) shared its latest American Fitness Index for the 100 largest cities in the U.S. With an overall score of 86.1, Arlington, Virginia, topped the list. Cities are ranked for health behaviors (percent of residents who exercise regularly, choose active transportation, eat a healthy diet, etc.), health outcomes, community infrastructure (such as built environment, Bike and Walk scores, parks per 10,000 residents), public recreational facilities, and local policies that support a physically active lifestyle (complete streets policy, parks spending per capita).
Houston scored a 49.1, which put it at No. 58 on the list. The city was 40th for "personal health," scoring above the 100-city average for percent of residents who exercised in the previous month (77.6%), percent eating two or more servings of fruit each day (32.5%) and percent eating three-plus servings of vegetables a day (18.5%). In San Antonio, 20.9% of residents get three or more vegetables each day, the highest share of all cities. Close to 67% of Houstonians get seven or more hours of sleep each night, which is higher than the average but 11 percentage points less than Lubbock, where 77.8% sleep seven-plus hours every night. (What else are you going to do in Lubbock?)
Houston ranked much lower for "community/environment": No. 87. The city's Walk and Bike scores are both below the 100-city average, while a larger share of residents live with food insecurity than the average share in other cities. The city also has fewer basketball hoops, playgrounds, baseball diamonds, swimming pools and tennis courts per 10,000 residents than the 100-city average.
Houston spends $77 per resident on parks annually; the average amount is $102. San Francisco is well above average in this regard, spending $309 each year per resident on parks. Houston's 1.9 parks per 10,000 is also less than the average (4.0). Madison, Wisconsin, has the most at 10.9 per 10,000 residents. The fitness index didn't factor in dog parks, but don't worry, thanks to yet another list from Lawnstarter, we know how Houston compares with 96 other cities. As it turns out, it's far from being one of the best, and it's definitely not the greatest. It's No. 83. That's largely due to lack of access (number of dog parks per 100,000 residents), for which it came in 66th out of 97, and climate (91st out of 97).
If it's any consolation, it did rank high for the quality of its dog parks, at No. 16. And it wasn't the worst dog park city in Texas, which fared poorly in general. (El Paso ranked highest of its cities at No. 41.) Dallas, Fort Worth, Arlington, even Plano, a darling of the city rankings, placed lower than Houston. But none bested the worst, Laredo, which took the No. 97 spot, last in the country.