Of course, Congress does not exactly work based on public opinion polls—or some might say Congress does not work at all, given its 5% trust rating by Houston residents. But there are local school boards, city councils, county commissioners courts, referenda and other venues for pressing for change, and it's interesting to imagine what policies and direction Houstonians would support if given a choice. 
We are not picking sides here. As the Houston survey's founder Stephen Klineberg likes to say, we just ask the questions—you gave us the answers.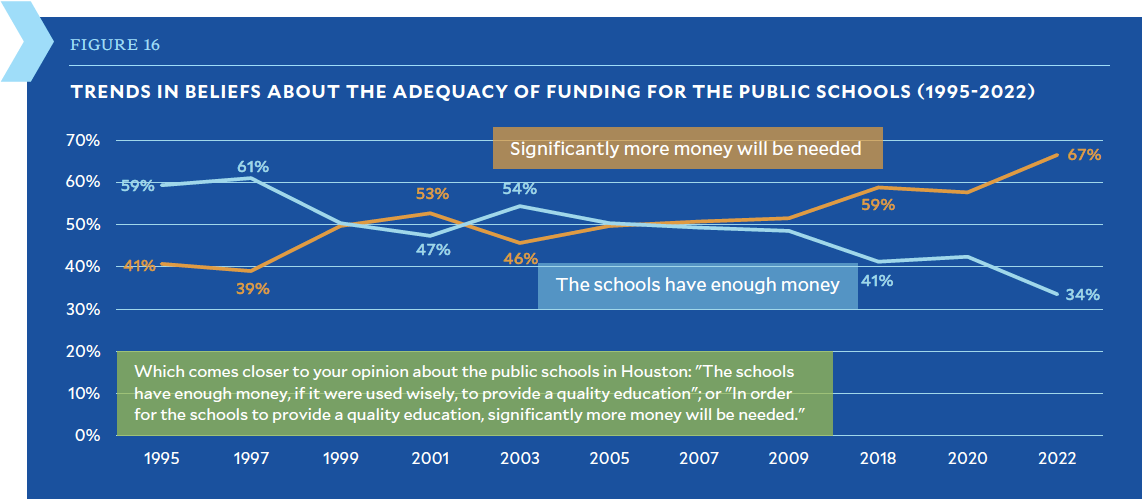 Funding public education
In 2019, education funding averaged $13,187 per pupil in the US, according to data compiled by Understanding Houston. That year, Texas was ranked 44th among all states with $9,827 per pupil. This has since increased to $10,406 per pupil in 2020 thanks in part to Texas House Bill 3, but Texas continues to lag the country's spending average by about 20%. In the Houston area, funding levels have tended to be lower than that of the state as well.
More than ever before, Houstonians are in near-full agreement that public education needs more funding to do its job of preparing students for productive lives in the 21st century. In particular, there's more support now for expanded early childhood education. This support has grown alongside increasing awareness of the systemic barriers that people face. 
"The surveys are also clear and consistent in documenting not only a growing sensitivity to the increasingly disparate opportunities in Houston, but also a recognition that the inequalities are predicated above all else on unequal access to quality education," notes this year's survey report. 
In the 1990s, around 60% of Houstonians agreed that schools have all the money they need—as long as it isn't being wasted. In 2022's survey, 67% agreed that significantly more money will be needed. 
Of course, who foots the bill is another question—school districts are funded by a mix of local, state and federal sources. The Build Back Better Act would have allocated as much as $110 billion to support states' prekindergarten budgets over several years, but it's unclear whether that proposal will find its way to becoming approved policy. 
When it comes to taking on the burden locally, 63% Houstonians are willing to accept tax increases to provide universal preschool education—a slight drop from 2020's 72% agreement, but given the economic uncertainty noted in the 2022 survey, this majority seems particularly resilient.
Bans on critical race theory
On the subject of education, the survey shows that Houstonians do not support recent attempts to curtail lesson plans about racism— the so-called "critical race theory" ban. Texas was one of several states to adopt these policies in 2021, which on the one hand requires that schools teach that racism is wrong, it also bans "training, orientation, or therapy that presents any form of race or sex stereotyping or blame on the basis of race or sex." The law expects students to know some historical writings by Black, Indigenous, and people of color (thanks to some amendments), but it also bans certain material, such the New York Times' 1619 Project, and requires special handling of discussions around current events. 
Only 1 in 4 Houston survey respondents say they supported such bans.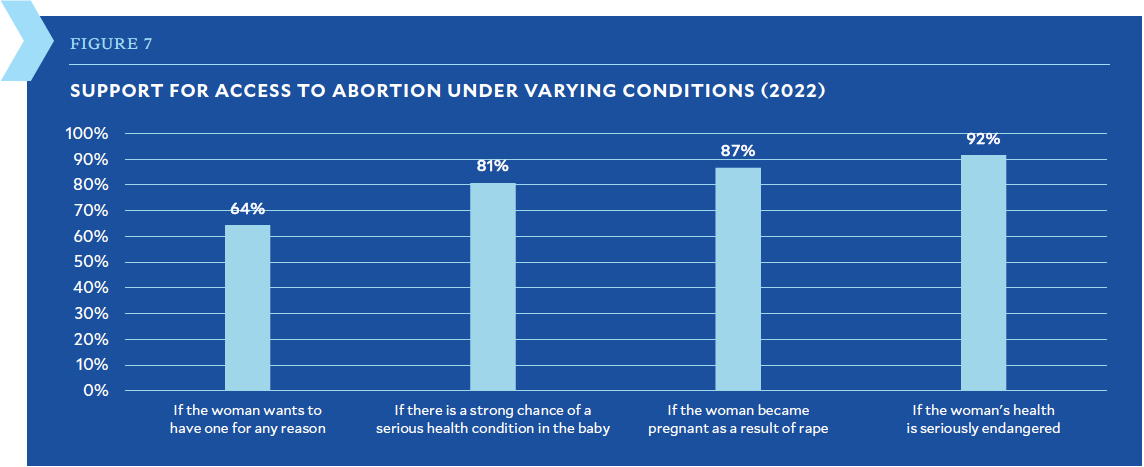 Women's reproductive decisions 
Texas has recently curtailed access to abortions by banning all procedures conducted after an embryo's heartbeat can be detected, which can be within five or six weeks of pregnancy. The state also allows any resident to sue an abortion provider for civil action if they believe the heartbeat rule is violated. Meanwhile, a forthcoming Supreme Court decision is expected to lead to further restrictions by states.  
In recent Houston surveys, residents by and large are not in favor of abortion restrictions. Almost two-thirds of respondents this year say they support a woman's right to have an abortion "for any reason," and over 90% support it when the mother's health is endangered by the pregnancy. 
This majority of support contains fault lines: Those supporting unrestricted access tend to be Democrats, and before 2016, around half of Republicans were leaning in this direction as well. But this year, only one in three Republicans supported a woman's decision to have an abortion "for any reason," suggesting a hard shift toward favoring restrictions. 
As this year's survey report notes: "The increasing divergence along party lines reflects the growing political polarization across the nation and portends intensifying rifts on policies affecting family planning and women's reproductive health."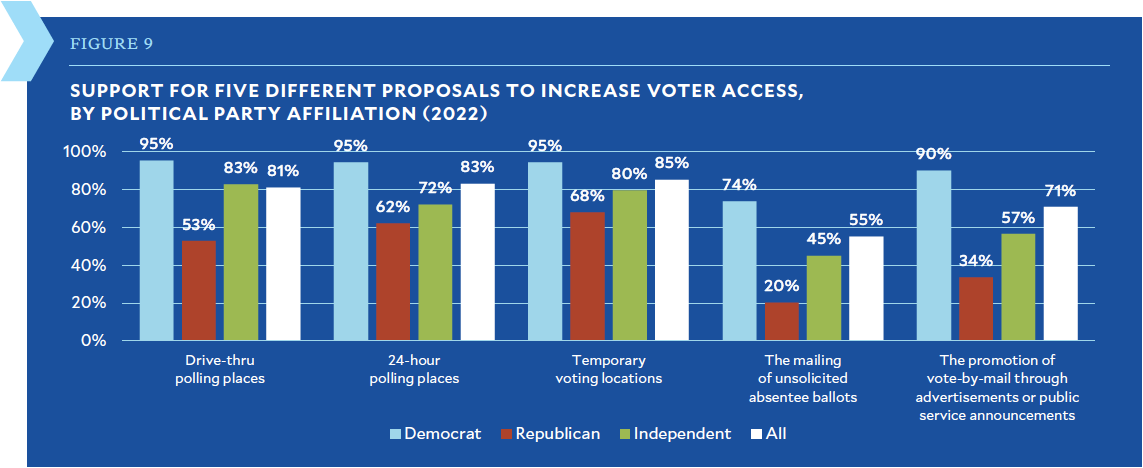 Expanding voter access
New Texas laws have banned drive-thru and 24-hour voting locations and have adopted other voting regulations. But across the board, Houstonians support expanded access to the ballot, especially more convenient polling locations. This year's survey shows there is widespread agreement that strategies such as drive-thru polling locations (81%) and 24-hr voting (83%) and temporary voting locations (85%) are popular policies to support voter turnout. There are slightly smaller majorities who support mailing unsolicited absentee ballots (55%) and promoting mail-in ballots (71%). Support is even greater among Houstonians who identify as Democrats, pointing to the partisan discord over voting access in general.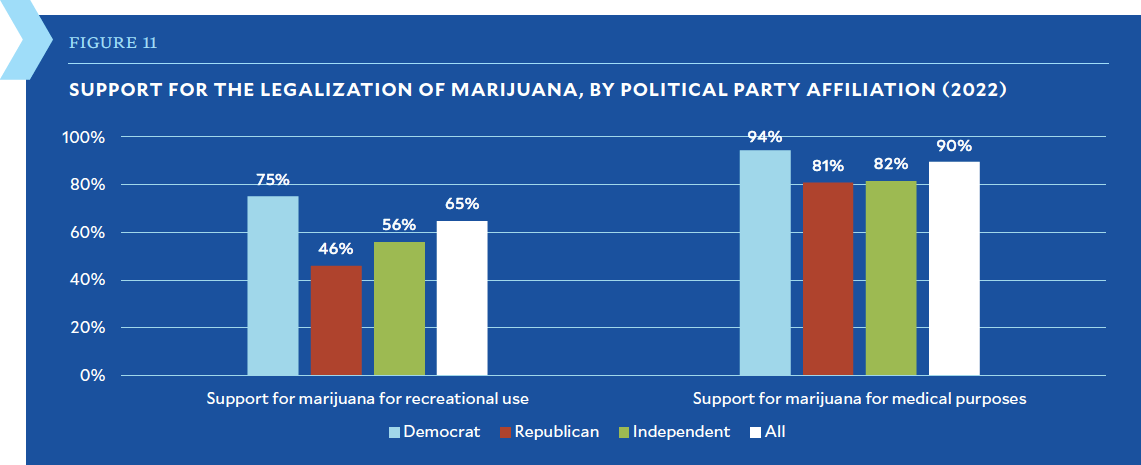 Marijuana laws
Texas remains one of the more restrictive states when it comes to marijuana, though it has recently expanded access to the drug as a treatment for certain conditions with a doctor's prescription. Many localities like Harris County have diversion programs for marijuana possession misdemeanors to avoid charges, jail and fines, it remains illegal to possess the substance and it is a felony to have more than four ounces. 
However, attitudes toward marijuana have clearly shifted in the past three decades. Medicinal usage has the highest level of support ever recorded in the Houston survey, with 90% of Houstonians in support of approved medicinal uses—up from 53% in 1997. 
However, 65% of all Houstonians this year also support full legalization for recreational use, including 75% of Democrats, 56% of independent voters and 46% of Republicans. It is likely this level of support will continue to increase in the coming years.