While immigrants are a rising share of the U.S. urban population, it's even more evident here in Texas where non-white populations are expected to make up to 65 percent of the state's residents by 2035. The Houston metropolitan area, meanwhile, is among the largest recipients of refugee arrivals in the country, and the city saw an increase of nearly 60 percent in its foreign-born population from 2000 to 2013.
Considering that 25 percent of immigrants take public transportation on a daily basis compared to 9 percent of U.S. born citizens, according to a nationally representative survey, this shift in urban demographics has real implications on the future travel behavior of Texans. Houston's Gulfton neighborhood, where up to 57 percent of its population is foreign-born and 14.6 percent of households are without a car, provides an instructive example. A Kinder Institute study found people in Gulfton walk and use public transit at greater rates than the city as a whole and have multi-faceted concerns over safety in their daily travel. Improved transportation infrastructure is essential to the integration and economic mobility of immigrants in Gulfton. Unfortunately, this remains a challenge for this area, according to a recent Kinder Institute study. According to Texas Department of Transportation data, 149 people in the neighborhood were either killed or injured while walking between 2010 and 2017.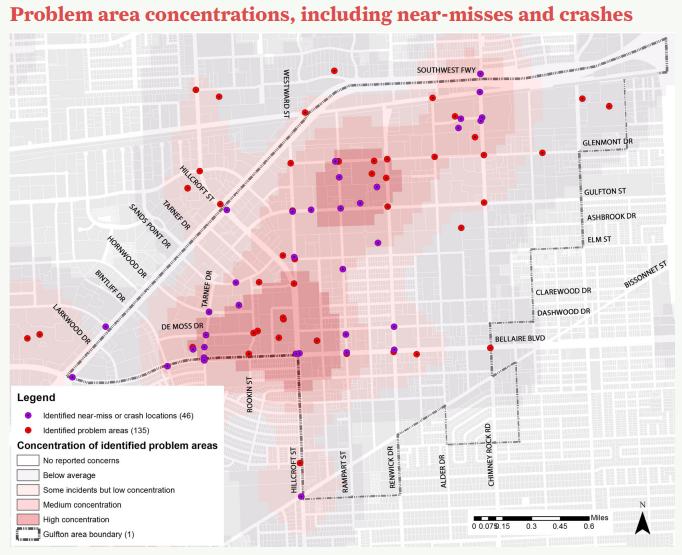 To further assess the transportation, infrastructural and safety concerns of the neighborhood, the Kinder Institute conducted a walk audit of the 486 streets in the neighborhood during the spring and summer of 2018 in cooperation with volunteers living in and outside of the area. The results showed that approximately 36 percent of streets there did not have sidewalks. Additionally, 41 percent of the streets that did have sidewalks had some kind of obstruction. These obstructions include pavement cracks and overgrowth, making the limited pedestrian paths dangerous for some of the most vulnerable users such as persons with disabilities, older adults and young children.
The need for safe and connected bikeways is another important issue gaining attention citywide through the Houston Bike Plan. However, only 6 percent of Gulfton's streets had either visible signage or striping that indicated a shared bike route or dedicated bikeway at the time of the audit. Moreover, the 2010-2017 TxDOT data identified four bicyclist crash deaths and seven incapacitating injuries in the neighborhood, further highlighting the urgency to improve biking infrastructure in Gulfton.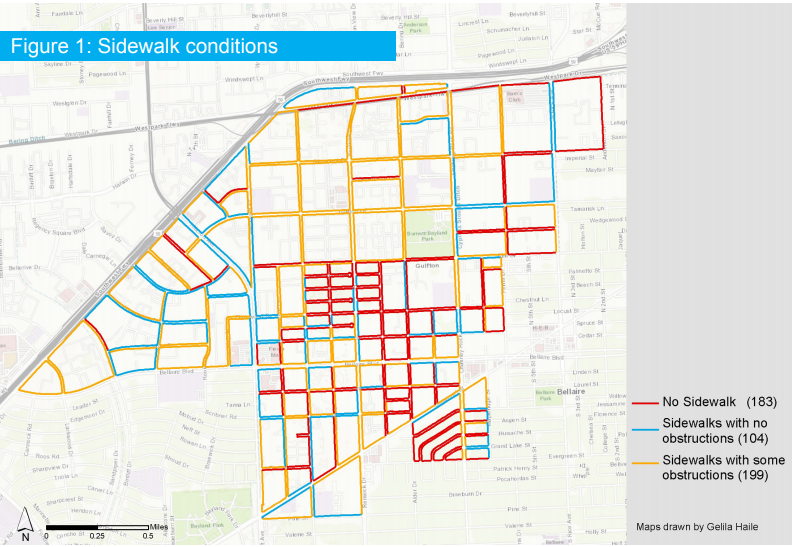 In an effort to mitigate these issues, the City of Houston introduced three new programs to add more sidewalks: the Pedestrian Accessibility Review Program, the School Sidewalk Program and the Major Thoroughfare Program. However, with a history of lengthy waitlists, there is a clear need to implement the programs in a collaborative and timely manner.
As the City's Complete Communities initiative continues to develop in the Gulfton neighborhood, a comprehensive and centralized governance structure can create synergy among the municipal and independent organizations working to improve transportation conditions in the city. Other opportunities for safety education and programming include the Welcoming Houston program, a multi-sector strategic planning effort aimed at welcoming and integrating new Americans led by the City of Houston, along with Baker Ripley and the Houston Immigration Legal Services Collaborative.
The daily issues immigrants face as part of the urban community, such as the lack of sidewalks, inadequate transit service, poor biking conditions and high traffic deaths, can deter residents from participating in social services, educational advancement and employment opportunities. Local leaders, organizations and residents have the opportunity to create safer and more inclusive cities for all by supporting existing programs and joining forces to implement these initiatives in a timely manner.