Finca Tres Robles — Spanish for "Three Oaks Farm" — is close to the Eastwood, Lawndale/Wayside and Second Ward neighborhoods, where over half of residents struggle with essential expenses or are below the federal poverty level, according to data from the United Way of Greater Houston and the Kinder Institute for Urban Research.
Urban farms have been recognized by researchers as community assets with benefits beyond food production. A 2016 study by the Johns Hopkins Center for a Livable Future noted they can "increase social capital, community well-being and civic engagement with the food system. The most successful urban agriculture efforts require sensitivity to the historical and current racial, socioeconomic, geographical and cultural dynamics in highly diverse urban areas."
However, many cities are not fully tapping into this potential. Earlier this year, a Stanford University Natural Capital Project report suggested that San Antonio could convert 16,800 acres of publicly owned natural areas into urban agriculture.
After putting most of its operations on hold in January 2022, Small Places is preparing to restart and is slated to begin construction a new 1 ½-acre farm in the coming months.
The Urban Edge spoke with Director of Operations Daniel Garcia-Prats — who co-founded the organization and Finca Tres Robles with brothers Tommy Garcia-Prats and Mark Garcia-Prats — to learn more about Small Places and its ambitions to make its surrounding neighborhoods healthier. The interview has been edited for length and clarity.
How would you describe your vision?
The endgame is a community that has the things it needs to be healthy. Ensuring communities have the resources that they need to be healthy should be the bare minimum that we accept.
People talk a lot about food access. Some may think that's being able to go to a store somewhere near them and buy goods. But even that means you have transportation to get there, and the finances to afford it. If you're not working multiple jobs, then you also have the time to get there. To not take those into consideration without that aspect is to miss the challenges that lead to food access issues and a lack of health. We think food is a great entry point for having conversations about the different aspects of health.
Our organization's name is Small Places, a Wendell Berry reference. He wrote an essay called "Contempt for Small Places." He says: "The health of the water is exactly the same as the health of the land; the health of small places is exactly the same as the health of large places." We've taken that approach to address smaller, more manageable problems.
When we look at the food issues connected to health, the scope of those problems is unmanageable. If we try to make that into something that is more manageable, we can maybe make some progress.
We hope Finca is everyone else's farm; it's this neighborhood's farm. We want that feeling of pride of ownership. That feeling is really important and it's been critical to our surviving. At different times our land situation has been very tenuous. Having people who are committed to what we're doing has allowed us to continue.
Last year, Finca Tres Robles announced a 40-year land agreement with Harris County to remain in the East End. How beneficial is it to have that long-term stability?
The land situation was something we've been dealing with in the background for a long time. When Harris County Commissioner Adrian Garcia took over Precinct 2, his office became more engaged within the community. In a lot of ways, prioritizing urban land for agriculture was something that never had been done by the county before. To set aside land for an agricultural community health initiative is incredibly unique, and it's a commitment for such a long period as well. We feel fortunate that we have the agreement.
Being a nonprofit now has allowed the county to work with us in a way that we couldn't work as a business for clear and understandable ethical reasons. We had to make that transition as well to make it work. For us, that was a worthwhile tradeoff to be here and for our community to know that we're going to be here.
How has the farm been used to educate community members?
Education is one of our primary pathways to reach people. When we host field trips for pre-K students, we talk about the senses. They're feeling, tasting and smelling all while being connected to food. They pull a carrot out of the ground, and there's this sudden realization that this plant suddenly became food. If that's something you've never experienced, even for adults, there's a sense of joy. It's a very universal thing that's fun, surprising and tangible.
When it comes to high school students, we can talk about food justice, social issues and sustainability. We've had those people continue as apprentices. We want to get young people involved in a number of different ways, part of it as a potential career and part of it just as awareness and education.
For adults, we were doing a lot of classes. We have a lot of people who have never gardened or grown anything. But they want to learn how to make their own kombucha or ferment their own vegetables.
Urban farming is relevant to a lot of people, they just have to find the reason and the pathway.
What is the current status of Finca Tres Robles after pausing operations in late 2021?
With the new agreement with Harris County, we have been all in on developing our new site and location. Our project is in permitting. We're hoping we're not far away. We're chomping at the bit to get restarted, and I know the feeling is mutual for a lot of people in our community. Especially with COVID limiting our ability to host events and programs, it's felt really long since we've been able to have our community here in person. We've had some events here and there, but it's not the same day in and day out interaction that we had. That's what we're most excited about getting back to.
The farm has served nearby neighborhoods through multiple programs, but some of them were interrupted by the pandemic. How have you adjusted?
Our work has always been focused on the social benefit of community health. A really important piece to that is collaborations.
Our Neighborhood Produce Program was originally our pre-K produce program, and it morphed when COVID hit. We originally ran that with the Ninfa Laurenzo Early Childhood Center, which is about three blocks away from us, and we're hoping to restart it. The school was identifying families, and we were finding community members to sponsor the program. We were doing that with weekly produce deliveries. When schools were closed, our drop-off locations were gone.
We pivoted because people started reaching out to us because they were losing jobs, there were elderly people in the neighborhood who were at high risk and didn't feel comfortable going out and didn't have transportation. We started getting referred families who needed produce. That was just finding people in need of a helping hand. We still are delivering without the farm in operation to those families. Those deliveries usually consist of a boxed bag of produce, a pound of meat from a local farmer, eggs, a pound of rice and beans. It was supplementing the diets of a lot of families.
The program at its peak was fairly large. Obviously, as people started to get back to work some of the need began to decrease. We still have more than 35 families in the program, and we've been looking for continual funding to increase that.
What will be some differences at the revitalized Finca Tres Robles?
A couple of the new highlights and features that we're excited about are a small food store, or grocery store essentially. Previously, we were doing a farm stand twice a week, and that was a way to come and get the produce. We recognize we have to compete when it comes to convenience. That's just a reality.
Our competitor in the East End is not Whole Foods. Our competitor is Frito-Lay at the corner store, or delivery services like Uber Eats. We realistically have to find ways to compete with that while still staying within what we're trying to do. We're trying to make the store more accessible with off-hour access or pickup. We need more dependable, reliable, convenient locations that people can access so it can be a realistic resource.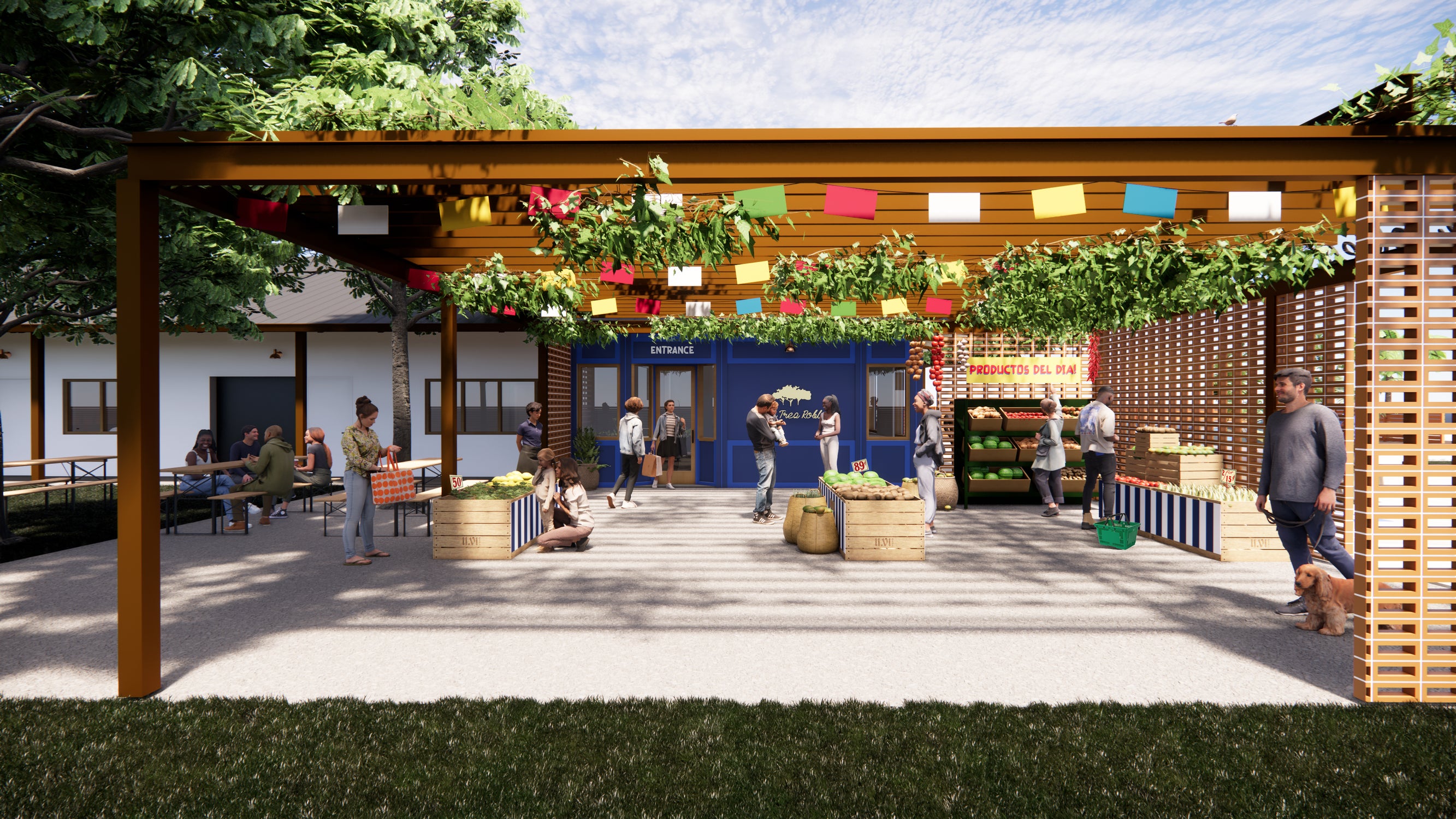 What will be some of the greatest needs for Finca Tres Robles' new location?
Growing our network is one of our big challenges. One of the things that we're really proud of is our focus and attention in the East End. It's not surprising that I encounter other people in Houston who aren't aware of us, because we've been so hyper-focused here. Now that we're at this inflection point and looking to expand on the work we're doing, we want to introduce ourselves to more of the Houston community. The work that we do is important and the work that we talk about is not just the work we do as an organization. It's about the importance of urban agriculture, and a lot of the philosophies and reasons why we do that.
People ask us why we do urban agriculture. We used to kind of joke and tell people, "That's where all the people are." We want to be there when the thought leaders are talking about these things. The average farmer can't come in and be on a panel on food and agriculture, but we have a better ability to do that.
A 2021 Houston Chronicle article mentioned a desire to create more farms. Is that still a goal?
The focus is on getting the new farm up and running, but there's always been the goal of having more farms. Our long-term goal would be three farms here in the East End.
Broad impact in a community doesn't come from one farm. But if you're talking about three farms in the East End, you're talking about people potentially living a mile or less from a farm. That could be quite the paradigm shift for a community that has historically had limited access to fresh foods and community green space, to have a farm within walking distance or along bus lines.