Tommy Garcia-Prats grows his greens just blocks from a METRO train that cuts through the inner-loop. He started the farm with two of his brothers in 2014, and it's become a Second Ward staple. The harvest of eggplant, peppers and arugula is ample for a farm that sits on just three-quarters of an acre, and, under the watchful shade of three oak trees, life is bustling at Finca Tres Robles.
Butterflies whir through herb bushes while moringa trees dance in the breeze. Nearby residents pick up bags of whatever fruits, vegetables and herbs are in season with the neighborhood discount. Students amble along rows of tomatoes, pausing now and then to pick a snack. Locals seat themselves at wooden picnic tables to savor a communal meal made from a recent harvest.
In view looms the three-story brick office of the Precinct 6 Constable. The building was refurbished in 2016 by the same landlord that owns Finca: Harris County. With good spirits and good fortune, Garcia-Prats and his brothers have managed to keep hold of the land they lease, defying the forces of both nature and development. But officials have yet to renew, and the Garcia-Prats brothers are worried.
As Houston grapples with rising real estate values, development and gentrification, those who want to make enough food to feed a community face a growing hurdle: land isn't cheap. The young crew at Finca Tres Robles, who operate on borrowed land and borrowed time, know this all too well. Now they face the reality that Harris County could opt for a paved parking lot or other use rather than leave the verdant grounds in the hands of Finca's farmers.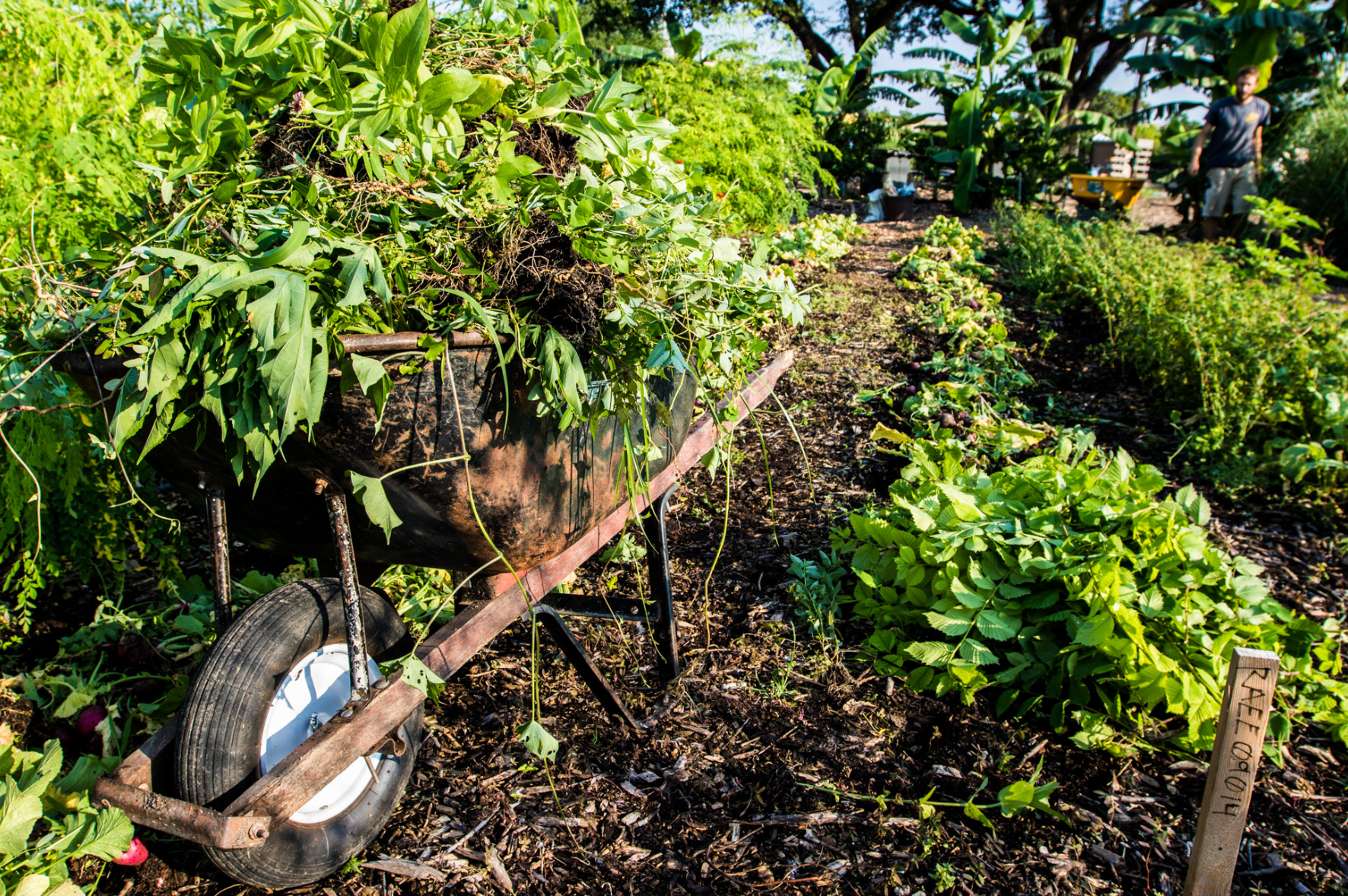 While Finca's advocates lobby local officials to protect the farm, proponents of urban agriculture say the city and county should devote a little less land to office buildings and a little more space for a practice of sustenance exercised by some eight-hundred million city dwellers worldwide. And though talk of tools like land trusts and agricultural districts hold promise, it's not yet enough to assure Tommy that his roots are safe.
The access to fresh food that Finca provides is just one of the benefits such city farms offer, said Lisa Morano, Director of the Center for Urban Agriculture and Sustainability at the University of Houston Downtown. These are spaces where people can unite in a way only possible in densely populated areas, she said. "Finca is a valuable resource," she said, "not only for people to grow food, but a place for people to get together and build a community (and) to think about food."
In the parlance of sustainability experts, Finca acts as a "multifunctional landscape," or a greenspace that nourishes both humans and their environment. Studies like Sarah Taylor Lovell's 2010 report for Sustainability have shown that multifunctional landscapes offer a wealth of benefits that foster a healthy economy, environmental conservation, food security, educational initiatives, jobs and community closeness. Many in Houston attest to the benefits.
"The strengths of urban ag[riculture] are really encapsulated by what Finca is doing," said Morano.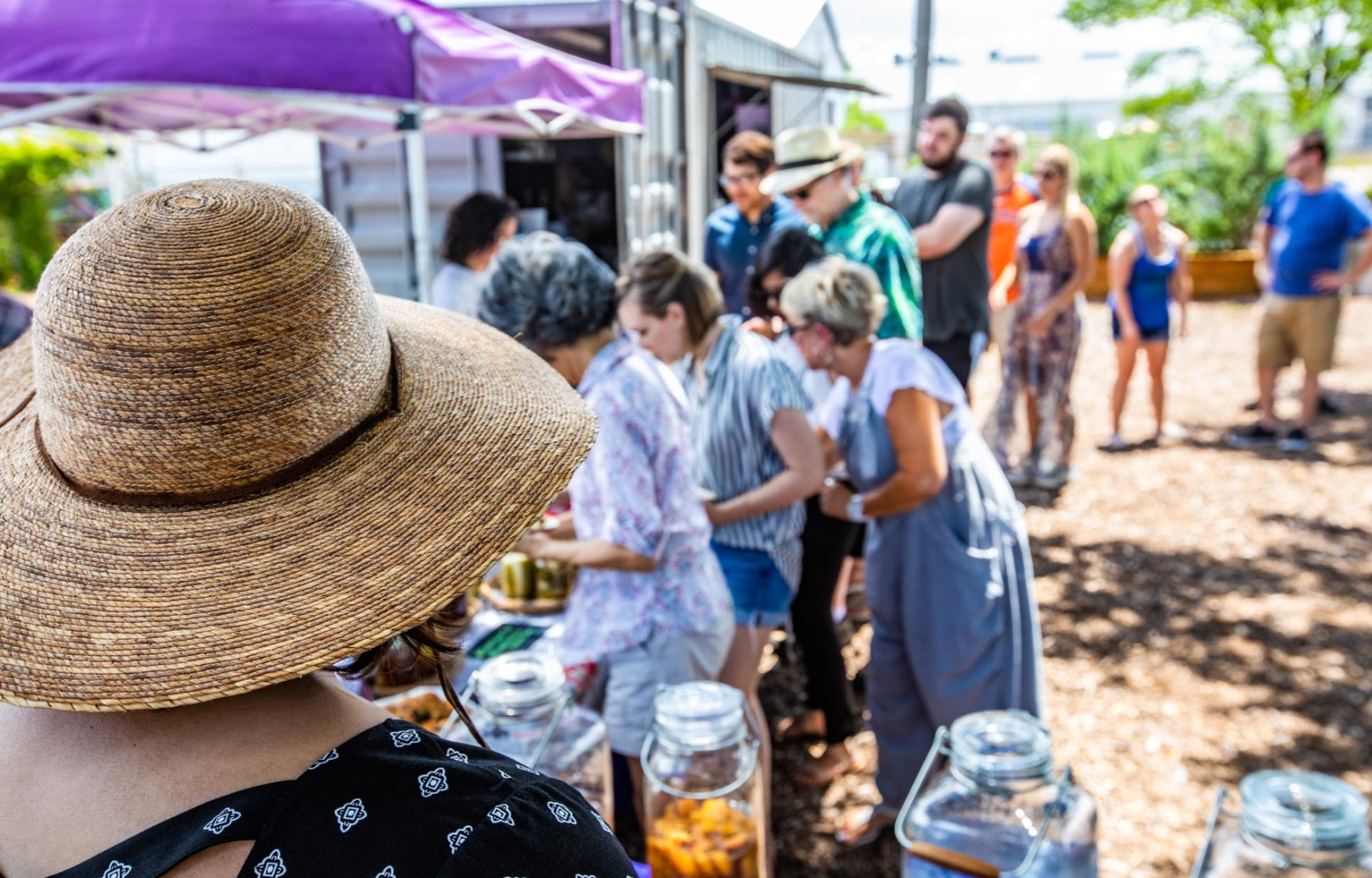 Fifteen to 20 percent of the world's food is produced via urban agriculture, an umbrella term that encompasses city farms, community gardens and other creative forms of growing food in densely populated areas. Urban agriculture may not yet yield enough food to feed an entire city, but Morano said that inner-city farms like Finca offer options for those who live in areas where fresh produce isn't easily accessible. Furthermore, said Morano, full-scale farms promise relief in the event of a disaster that obstructs roadways and food-bearing trucks.
While urban agriculture struggles to take hold in Houston, other cities have found ways to help the practice thrive by repurposing public land. Sidewalks and medians re-outfitted with edible foliage in South Central Los Angeles give folks with low-incomes a source for free food. Vacant land owned by a school district in Springfield, Oregon has been transformed into a five-acre farm that offers young people summer jobs. Rejuvenated lots owned by the city of Chicago afford farmworkers a livable wage and locals a space to master the art cooking vegetables.
But offering public land for agriculture is no guarantee that city farms will flourish. Even in cities like Los Angeles, where owners of vacant lots are offered tax breaks for farming the space, people aren't taking full advantage of opportunities to cultivate public land, perhaps because a profession notable for its lack of profitability is unlikely to grab the attention of entrepreneurs.
Despite the challenges, Houston does have a number of noteworthy urban agriculture success stories.
Since Verious Smith started the Alabama Garden in the Third Ward in 1985, more than 120 community gardens have been established across the city through the non-profit organization Urban Harvest, which now stewards the Alabama Garden with Texas Southern University. That figure doesn't include the innumerable other school, community and home gardens growing throughout the city. Spaces like Alabama Garden are run on donated land by volunteers, but when it comes to full-scale farming, it's a very different picture.
Aside from Finca, there are two other land-based farm organizations that operate within the Houston city limits. The first is Hope Farms, an educational space that operates on land administered by the non-profit organization Recipe for Success. The other is Plant It Forward Farms (PIF), a non-profit organization that offers refugee farmers resources to start their own for-profit farming business. Nine PIF farmers share space across four separate donated sites. But in spite of the generosity of socially concerned landowners, PIF still cannot meet the demand for land. Of the 18 recent graduates from PIF's farmer training program, 12 are still waiting for a donor to help them farm a space of their own.
A less conventional approach to farming is found in Acre in a Box, a for-profit hydroponic growing system operated from 40-foot shipping containers. And though their food doesn't grow in the ground, the farmers still have to have some kind of real estate to house their grow space.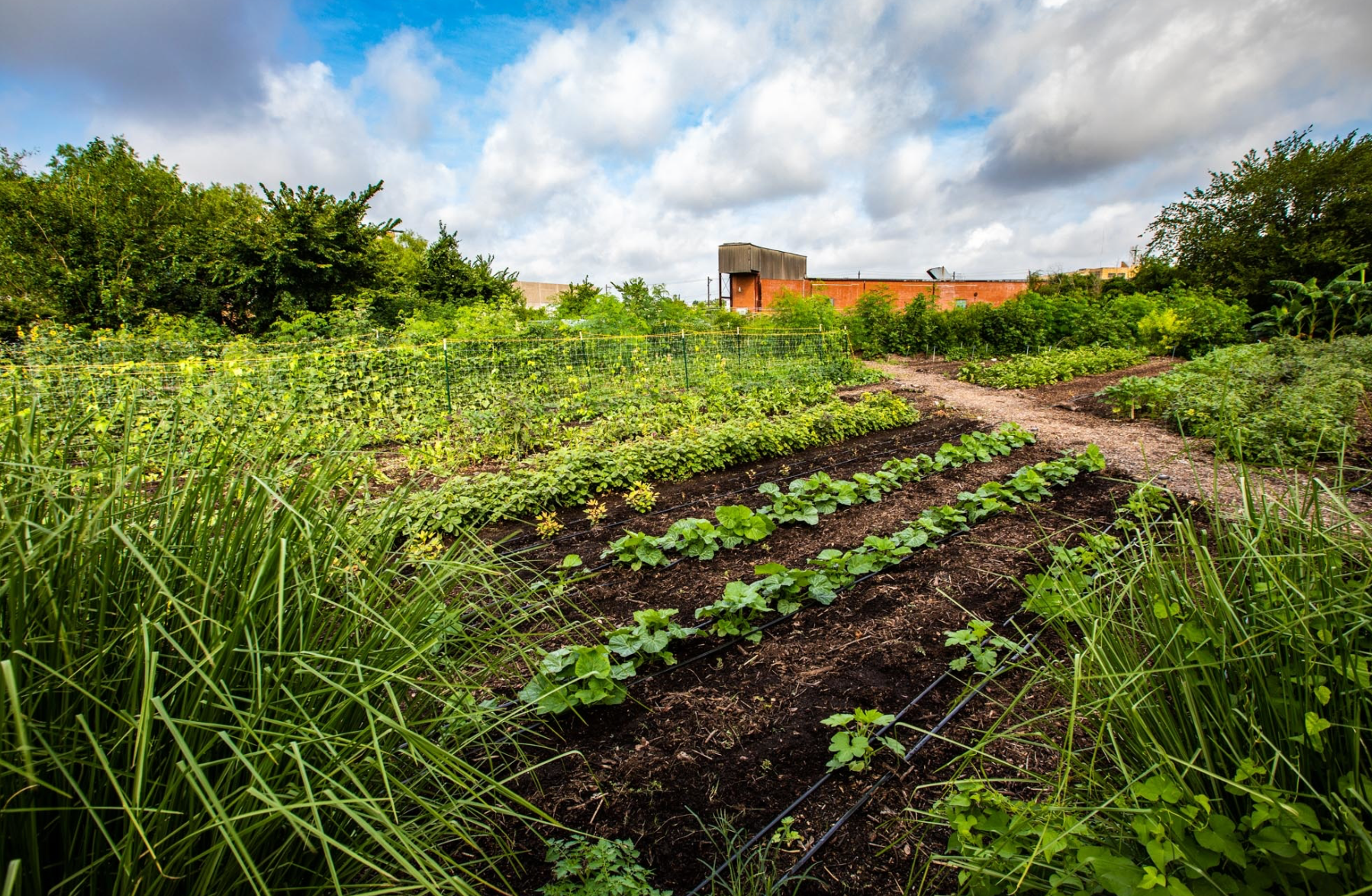 If Joe Icet has his way, city farmers could find a home for their craft by banding together to form what the State of Texas calls agricultural districts. Often credited as the founder of one of Houston's first city farms in living memory, Icet is now working with a group of officials, lawyers and advocates to make it easier for commercial agriculture to thrive within Houston.
What would be a novel approach in a city known for its relative lack of zoning, agricultural districts designate tracts of land, either contiguous or non-contiguous, as space that comes with certain financial resources for farmers. "Putting the district in place allows you to be a type of entity that's eligible for an array of grants from the federal and state government," explained Clark Lord, a Houston-based lawyer familiar with the matter.
Those grants could pave the way for citywide food security, said Icet, and "get funding for opportunities for young people to start their own enterprise through farming."
But there's a catch: agricultural districts require founders to start with property in-hand. "Nothing can be done without consent of property owners," said Lord.
"The big problem with Houston is you can spend all this time developing (a farm) and still lose it," Icet lamented. That's what happened to Icet, who, in 2016, lost his farm, Last Organic Outpost, after the landowner asked the farmer to vacate the property.
For the majority farmers who don't already own land in the city, an agricultural district is not an option – that is, unless the city or county intervenes. And while agricultural districts could serve as a resource pool for city farmers, these spaces might not foster more holistic goals. "The point is not to isolate urban agriculture; it's to integrate urban agriculture," said Tommy.
Land trusts, mechanisms that can operate at different scales but which have often been designed to help keep real estate values manageable, offer the opportunity to integrate urban farming and communities.
Land trusts can help prevent residents from getting priced out of their neighborhood by the forces of gentrification, explained City Council member Karla Cisneros. "An entity would own the land, like a government or the city," she said, "and the people who would reside there could own the structure on top of the land."
These houses could get passed down to families, but "because the land is owned by the city or another entity it would not increase in value," Cisneros said. "It would keep the cost of living or working there more affordable." While the City has a recently retooled land trust aimed at increasing affordable housing across Houston, community land trusts are also potential vehicles for community-driven land management.
Since the Garcia-Prats brothers started farming on Greenwood Street in 2014, the issue of affordability has heightened in the Second Ward. In the last five years, home values in the neighborhood have more than doubled, with a 23 percent spike between March and November 2016 alone. In December 2016, the average home value in Second Ward surpassed the average Houston home value and the gap between the two has since widened. Longtime residents who find themselves surrounded by new townhomes and businesses are now faced with the tax burden these developments bring.
Through diligent planning, land trusts could create space for both affordable housing and small farms that would offer local access to jobs and fresh food. Cisneros has discussed the land trust model as an option for urban farming in the Second Ward with the Houston Parks Board, but for now officials' primary focus is using the mechanism for housing.
Back under the oak trees, brothers Tommy and Dan talk about what a land trust would mean for them. "Setting aside spaces like these I think are investments on the city or whatever municipality's behalf, and they'll see a return on that investment as well," offers Dan.
The brothers, vocal advocates for more affordable housing options, hope that officials will find a way to incorporate urban agriculture into low-income housing development.
"Affordable housing is important," he adds, and if city farming is to be deemed a worthy use of public land, it will have to be wedded to the land trust effort in Houston. Until then, the Garcia-Prats brothers await Harris County's determination of their fate.
"It's just too expensive to own land this close to the city," says Dan.
Harris County did not return a request for comment.