If you weren't familiar with the lengthy list of disparities that exist in America, you've likely been brought up to speed by the pandemic, which has provided a frightening crash course in the nation's inequalities.

The large and widening divide between "prosperous" and "distressed" communities since the turn of the century was seen clearly in the quick economic recovery experienced by those with higher-paying jobs and better educations following the Great Recession. Meanwhile, many less fortunate Americans were still struggling to recover when the pandemic hit, bringing with it an even greater recession and hardship. And like the disease itself, the COVID-19 economic downturn has splintered the lives of those who are the least resilient — both physically and economically — while those whose jobs allow them to work from home have remained largely insulated from the virus and financial troubles.
Approximately 50.5 million Americans live in a distressed community. But what exactly does that mean?
Distressed communities are characterized by widespread poverty, high rates of unemployment and low levels of educational attainment. They also face stagnant or negative economic growth, which means little to no change in the prospects of those who live there.
To examine how economic well-being is spread across communities and regions in the U.S., the Economic Innovation Group (EIG) has released its Distressed Communities Index (DCI) each year since 2016.
"Economic inequality in America translates into opportunity gaps for too many communities," said Steve Glickman, cofounder and executive director of the Economic Innovation Group, when the inaugural index was released. "Unless policymakers in both parties reframe their priorities, economically distressed communities will continue to experience a downward spiral that results in a loss of faith in the American dream and less healthy and fulfilling lives."
Communities are defined at the ZIP code level and scores range from 0 (most prosperous) to 100 (most distressed). Based on the score, communities were placed into one of five tiers of economic well-being: prosperous, comfortable, mid-tier, at risk and distressed.
The seven metrics used to calculate a community's score on the index were no high school diploma, housing vacancy rate, adults not working, poverty rate, median income ratio, change in employment and change in business establishments.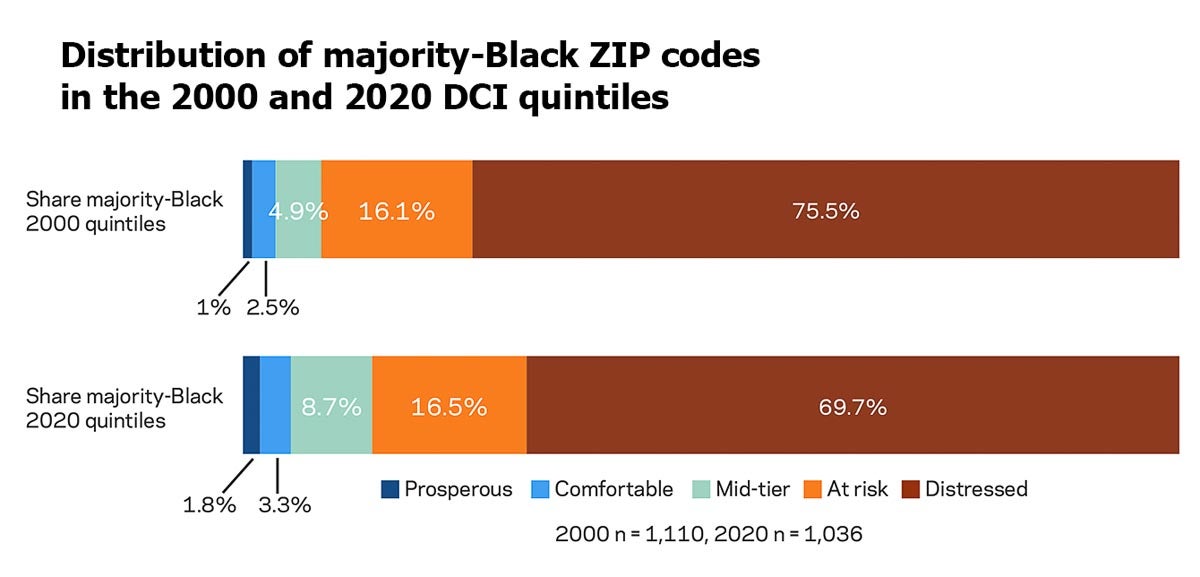 Between 2000 and 2018, the share of the U.S.'s Black population living in distressed ZIP codes dropped about 10% — from 45.6% to 35.3% — according to the report. Nationwide, 70% of majority-Black ZIP codes are distressed. By comparison, 20% of all ZIP codes and 16% of majority-white ZIP codes in the U.S. are distressed.
Of the nation's 1,036 majority-Black ZIP codes — where 32.5% of the Black population lives — only 19 rank as prosperous on the DCI. Of those, 11 are in the Washington, DC, metro area, and two — 77545 and 77489 — are in Fort Bend County.
On average in prosperous ZIP codes, 5.2% of adults aren't high school graduates, the poverty rate is 5.7%, 15.4% of adults are unemployed or not in the workforce, 4.7% of housing is vacant, the median household income is $90,800 and, from 2014–2018, the number of employees "in the geography" increased 20.8% while the number of businesses grew by 11.8%.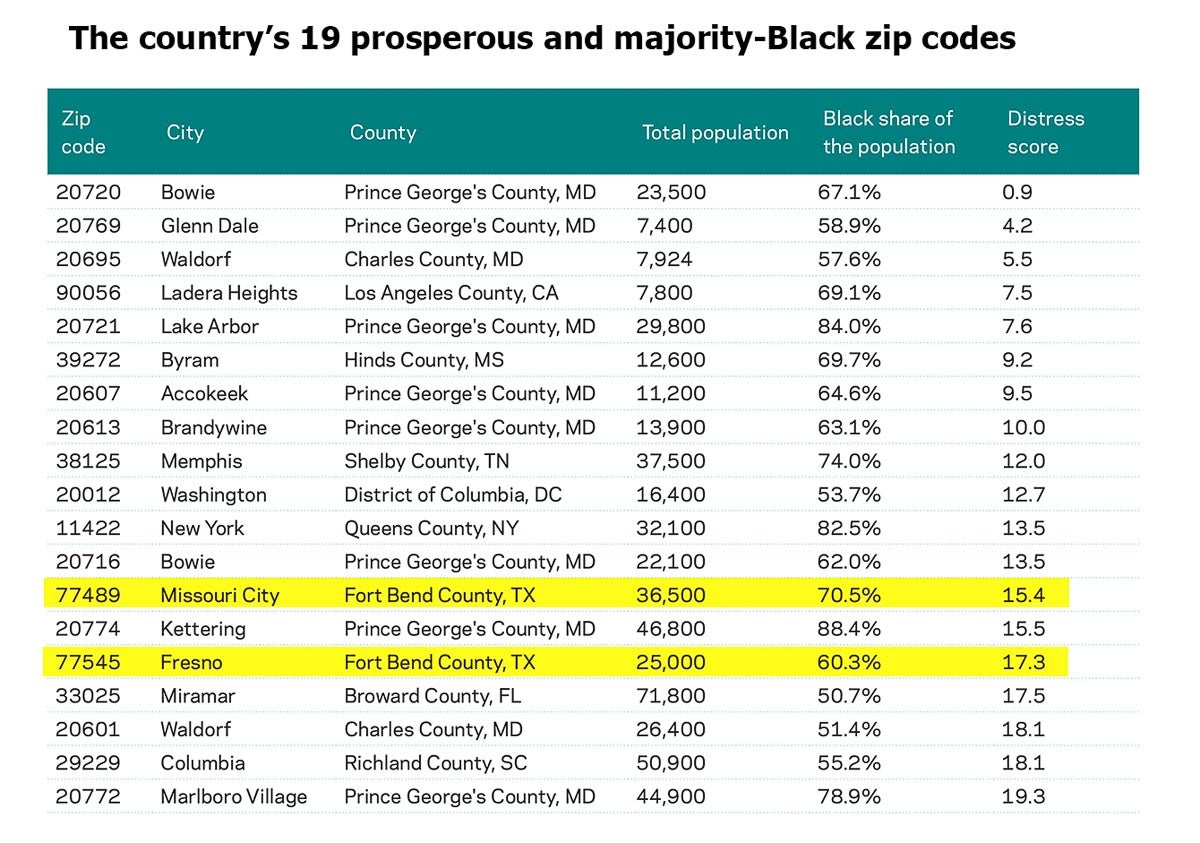 Sprawling Sun Belt cities like Houston and Phoenix, the report points out, experienced a lot of economic prosperity in the first two decades of the 21st century, but the benefits "were channeled outwards and did little to lift many chronically distressed urban neighborhoods." Suburban ZIP codes form a ring of prosperity around the distressed core of Houston.
These include 77545 and 77489 in Fort Bend County, which as a whole has the low, low distress score of 2.3 and is one of Texas' largest suburban counties. It's also one of the most diverse counties in the nation. Between 2000 and 2019, the county population went from 62% white to 31%.
The population of the 77489 ZIP code in Missouri City, which has a DCI score of 15.5, is 70.5% Black or African American. The median household income is $66,400 and about 60% of residents are employed in management and professional or sales and office jobs. In 2000, the "distress score" of Missouri City's 77489 ZIP code was 9.6, also in the prosperous quintile.
Fresno has a DCI of 17.2 and 60.3% of residents are Black or African American. Fresno's "distress score" has improved significantly since 2000, when it had a DCI of 45.9, which is the mid-tier category of economic well-being. Most residents work in management and professional, sales and office or service industry jobs, and the median household income is $79,900.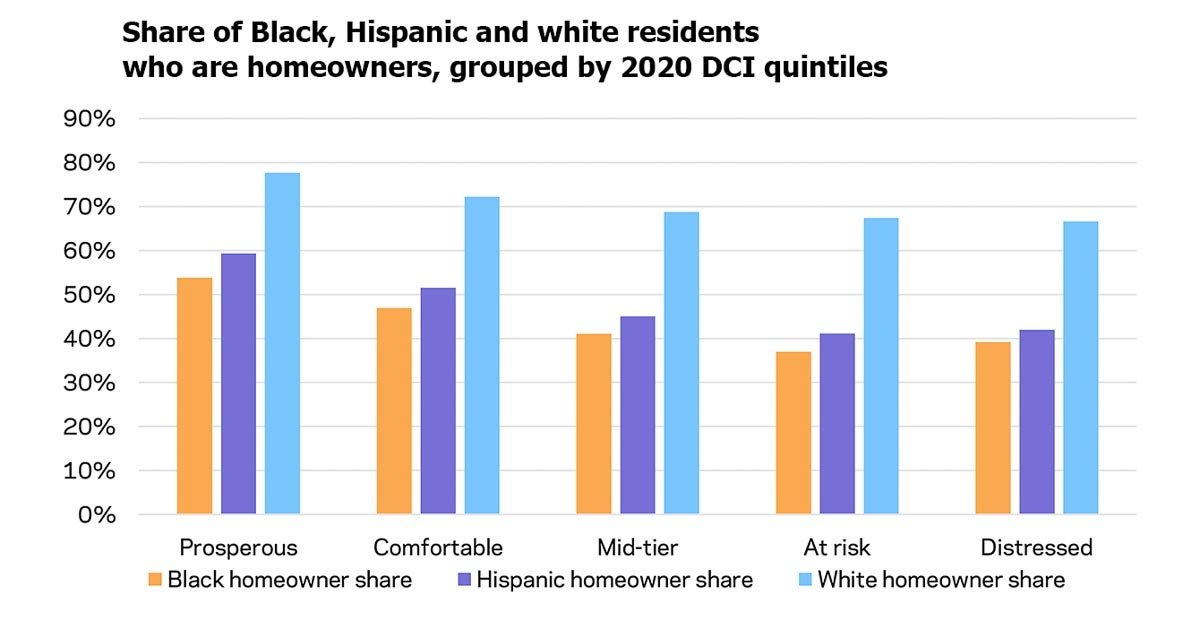 But even within prosperous communities, there's a gap in the average median household income between Black and white households, and it has widened in the past 20 years, from $4,987 in 2000 to $6,832 in 2018.
There's also a gap in homeownership in prosperous communities, where the percentage of Black residents who are homeowners is 53.8%, compared to 77.7% of white residents. The gaps in household income and homeownership exist across all five DCI quintiles.
Today, 27% of Fresno residents and 23.7% of those in 77489 who are 18 and older have a bachelor's degree or higher. That's far lower compared to all prosperous zip codes in the nation — 47.2% of residents hold a bachelor's degree or higher. However, among Black residents of Fresno, 37.7% have a bachelor's degree or higher. In Missouri City's 77489 ZIP code, that's true for 28.8% of Black residents.
In November, voters in Fort Bend County elected Eric Fagan sheriff, the county's first Black sheriff since the Reconstruction era. Walter Moses Burton was elected sheriff in Fort Bend County in 1869. He was the nation's first Black elected sheriff. Walter Moses Burton Elementary School — one of the three elementary schools in Fresno — is named for Burton. The other two are named for Rosa Parks and Lula Belle Goodman, an African American educator who taught in the Fort Bend Independent School District for 41 years.