Walkability. It's hard to know what that means in a city built like Houston.
Punch in an address on the Walk Score website and it'll spit out scores — from 0 to 100 — for how walkable and bikeable a location is, as well as a transit score based on public transportation options.
According to research, in roughly two-thirds of large U.S. metropolitan areas, a house in an area that is considered highly walkable is worth more than the same house in a less walkable area. City Observatory estimates each additional point of Walk Score is worth $3,500. In the Houston area — the Houston-Sugar Land-The Woodlands Metropolitan Statistical Area — home values in walkable neighborhoods are 40.5% higher than those in car-dependent neighborhoods.
Half of Houstonians want 'walkable urbanism'
About half of Houston-area residents consistently have said they would like to live in an urban area within walking distance of shops, restaurants and workplaces, even if it means living in a smaller home, according to the Kinder Houston Area Surveys. The other half prefers a single-family home with a big yard, in an area where it's necessary to drive almost everywhere.
Each year since 2007, the Kinder Survey has shown that 50% of the people who call this sprawling automobile-dependent metropolitan region home prefer walkable urbanism — for more "walkable alternatives and for complete streets, reconfigured to accommodate not only motorized vehicles, but also bikers and pedestrians. Real-estate developers are slowly responding to the new demands by building more transit-oriented, walkable communities, not only in Houston's downtown areas, but also in the urbanizing town squares and centers that are sprinkled throughout this far-flung multi-centered metropolitan region," Stephen Klineberg, the Kinder Institute's founding director, wrote in his 2020 report on the survey results.
"That means the demand is ahead of supply. Fifty percent of the neighborhoods in Houston are not walkable," Kinder Institute Director Bill Fulton told the Houston Chronicle recently. "You've got to start somewhere. There's clearly a demand for this type of living, even in Houston and even in this climate."
A long way from walkability
The city's most walkable neighborhoods — those with the highest Walk Scores — are Montrose (85), Midtown (83), Greenway-Upper Kirby (76), the Heights (73) and the Museum District (73). The least walkable are Settagast, El Dorado-Oates Prairie, Lake Houston, Clinton Park Tri-Community and Minnetex, which have respective Walk Scores of 16, 13, 12, 12 and 11.
With an overall Walk Score of 48, Houston is considered car-dependent, with most errands requiring a car. It's two points shy of breaking into the "somewhat walkable" category. In the past several years, the city has taken a number of steps to improve the pedestrian experience and make it more bike friendly, the latest being the Houston City Council's unanimous approval of ordinances related to the Walkable Places Program and transit-oriented development.
With the Walkable Places Program, the city will roll back some land-use regulations, such as requirements for minimum setback and the number of off-street parking spaces. It also establishes urban planning rules like minimum street-width requirements, pedestrian realm standards such as minimum sidewalk size, shared driveway access for single-family homes on subdivided parcels and bicycle parking standards.
Houston's Walkable Places Program will begin in three pilot areas: Midtown; on Hogan and Lorraine streets, from Main Street to Elysian, in the Near Northside; and on Emancipation Avenue, from Alabama to the Gulf Freeway, in Third Ward.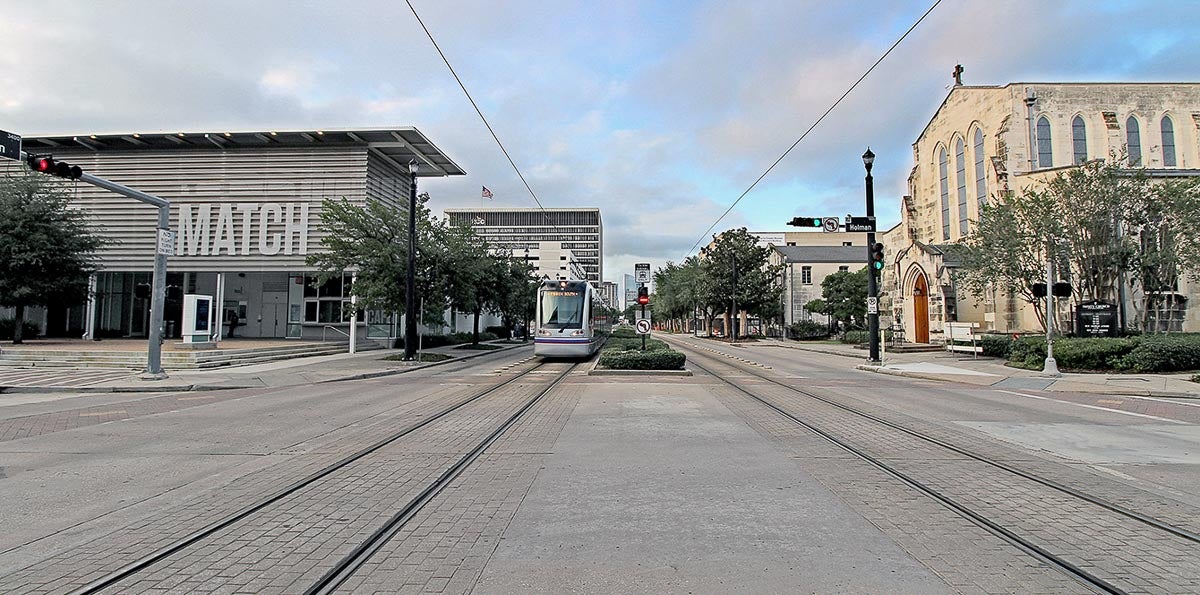 Car-centric by design
While half of area residents would prefer to live in a city that makes more accommodations for pedestrians and cyclists and less concessions for cars, the fact is Houston and the surrounding region for decades have been designed for the automobile — they've been built around the preferences of only half the population. As the preference for walkable urbanism has remained steady, even increasing to 56% in 2017, the share of workers commuting alone by car went up in both Houston and the overall metro area between 2010 and 2018.
But cities, including Houston, are taking action to "wrest control of their streets back from the tyranny of the automobile — and to put people, and other modes of transportation, on a par with the auto."
The new ordinances put an emphasis on mobility and improving the pedestrian experience while making driving less convenient — i.e., reducing or eliminating parking requirements.
In 2019, parts of Midtown and EaDo were made exempt from the city's current minimum parking regulations, which, for example, require two parking spaces for a single-family residence, 1.66 spaces for each two-bedroom apartment and 10 parking spaces per 1,000 square feet of restaurant space. That exemption left the parking mandate intact in other neighborhoods along the city's light rail lines, possibly discouraging walkable infill development; however, the new transit-oriented development ordinance will reduce or eliminate the parking requirements in most of these areas. The city's climate action plan, which was adopted in April, calls for an end to all minimum parking requirements by 2030.
To reduce the number of cars in central city and increase the number of bicycles and other modes of transportation, city officials in Copenhagen decided to try and reduce parking capacity without anyone even noticing. In his book, "Traffic," Tom Vanderbilt relays the city's "crafty" strategy: "From 1994 to 2005, Copenhagen cut parking spaces in the city center from 14,000 to 11,500, replacing the spaces with things like parks and bicycle lanes. Over that same time, not accidentally, bicycle traffic rose by some 40 percent — a third of people commuting to work now go by bike — and Copenhagen has become one of the few places in the world where one can read, in a report, a sentence that would seem like a comical misprint almost anywhere else: 'Cycle traffic is now so extensive that congestion on certain cycle tracks has become a problem, as has cycle parking space.'"
Subsidizing cars with free parking
In America, the right of way has been given over to cars for so long that we've simply forfeited or forgotten our rights as people who walk, bike or use a wheelchair. What many don't stop to consider are the ways in which drivers infringe on the rights of others, inflicting damage to the environment and the health of those around them. That's not to say cars are evil and should be banned, but in urban areas, "taking road space from cars is justified from social, health, environmental and economic viewpoints."
Environmentalists "point out that mandating parking bakes in resource-intensive sprawl, foreclosing the possibility of a more urban, less car-dependent lifestyle."
According to progressive parking policy pioneer Donald Shoup: "Parking requirements poison our cities, increasing traffic congestion, polluting the air, encouraging sprawl, raising housing costs, degrading urban design, preventing walkability, damaging the economy, and penalizing everyone who cannot afford a car."
Instead of requiring developers to provide free off-street parking, cities should charge the "right" price for metered on-street parking. The "right" price, Shoup contends, is the lowest price "that will leave one or two open spaces on each block, so there will be no parking shortages. Prices will balance the demand and supply for on-street spaces." Revenue generated by metered parking would then be used to pay for improvements on the metered street.
In short, stop subsidizing cars.
Share the road
Reducing the amount of public space dedicated to cars (both roads and parking spots) was a key factor in treating car addiction in and around Paris between 2008 and 2018, says Franck Avice of the French American Chamber of Commerce in Houston.
Successful mass transit development, Avice says, requires accessibility, less solo travel and, of course, increased ridership. To get more riders, he recommends high-frequency on core routes and speed in the form of dedicated lanes and coordination with traffic lights for buses and bus rapid transit, as well as making transit easily accessible in neighborhoods. According to Avice, achieving the latter requires improvements in door-to-door commuting, such as first- and last-mile support through shared bikes/e-bikes and electric scooters, and increased walkability in dense areas. In addition to environmental benefits, better quality of life and public spaces, quality urban infrastructure and density, Avice points out, can boost the bottom line for a city by making it more attractive to companies and talent.
Houstonians say they want more rules
Houston's quote-unquote lack of zoning is well known, but there are rules and regulations such as the ordinances in the walkable places program that serve as de facto zoning. (Remember all those off-street parking requirements?) But Houstonians aren't opposed to planning and zoning.
In alternating years between 2005 and 2020, on average, 68.6% of Kinder Survey participants responded that there needs to be better land-use planning to guide development in the Houston area. As far back as the early 1990s, residents favored zoning regulations in Houston. In the 1990 and 1993 surveys, 61.3% and 50.6%, respectively, said they were in favor of citywide control and planning over the uses of the land in different areas.
It's not clear exactly how each person who responded defined land-use planning. Did they see it as a way to limit development or require greater infrastructure investment by developers following the many hurricanes, tropical depressions and flooding events of the past two decades? Maybe. Or did they envision the city using greater control to limit new development and the resulting increased density? Or a way to stop developers from building different kinds of housing? Did they want the city to regulate land use in a manner more akin to single-family home zoning?
It's doubtful, especially when, again, considering that 50-50 split in preference for walkable urbanism, which, Klineberg points out, "is consistently associated with smaller families and with more support for transit than for highways. Because urban settings entail the sharing of public spaces with people from different backgrounds, that preference is also associated with more positive attitudes toward the burgeoning ethnic and cultural diversity of urban places."
With half of residents already onboard with making neighborhoods more walkable years before the City Council approved these new ordinances, it seems likely more will join their ranks once the plan to prioritize walkability and — as Mayor Sylvester Turner puts it — modernize Houston, actually takes effect Oct. 1.
Maybe it'll even be enough to raise the city's Walk Score a few points and push it into the "somewhat walkable" category. Regardless, it's another important step in increasing livability and safety for Houstonians.