Given the economic challenges the COVID-19 pandemic presents to individuals and families, LINK Houston believes local bus improvements in certain parts of the Metropolitan Transit Authority of Harris County (METRO) service area are the best way to quickly, but substantially, improve access to opportunity in Houston. "Equity in Transit: 2020" examines progress on equity in local transit since 2018 and identifies continued opportunities to improve local bus frequency, span of service hours, on-time reliability and transit-stop quality (i.e., its accessibility to all people regardless of ability, shelter, seating, etc.).
Houstonians of all backgrounds ride METRO for a variety of reasons. Three examples illustrate the role of transit in their lives as well as opportunities for continued improvement in Houston.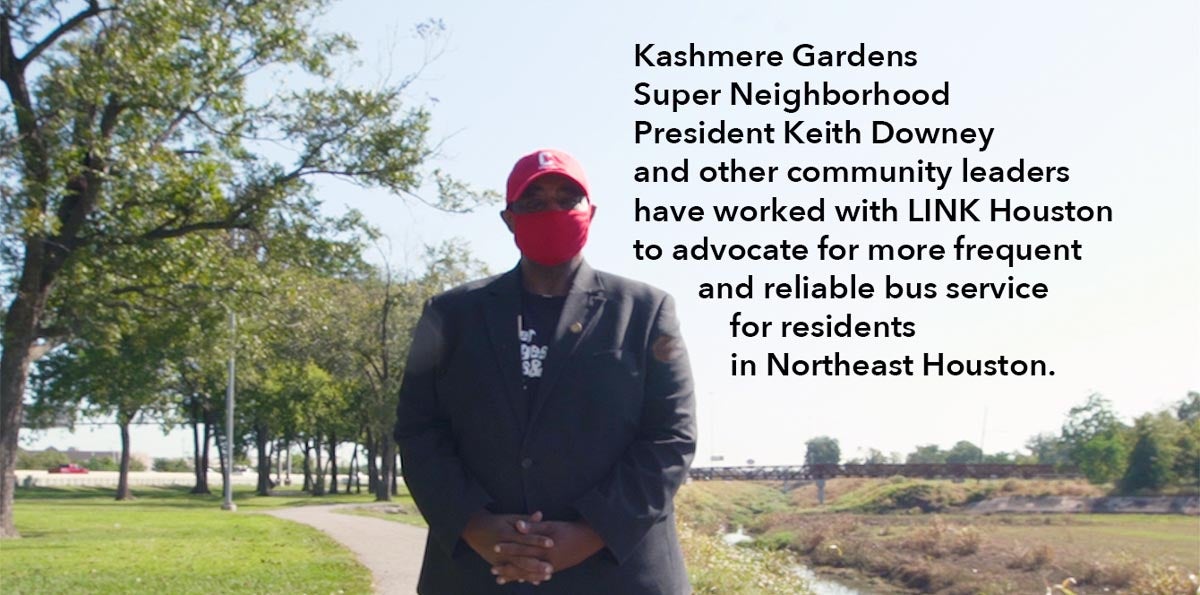 More frequent and reliable service in Kashmere Gardens
In Kashmere Gardens, a neighborhood still recovering from Hurricane Harvey, 20% of residents do not own vehicles. According to Keith Downey, the super neighborhood president, many people in the community depend on METRO to reach jobs and essential services.
Over the past two years, Downey, along with other Northeast Houston community leaders, partnered with LINK Houston to advocate for more frequent and reliable bus service in the community. METRO listened and increased the frequency of Route 3-Langley from every 60 minutes to every 30 minutes on weekdays and every 45 minutes on weekends. The transit authority also created the 79-Irvington route and established a unique community connector zone to provide late-evening connections from 8 p.m. to midnight.
This was a start toward more equitable transit investments in the historically Black neighborhood. Downey and his neighbors hope to continue working with METRO to address other transit needs in the community. Community leaders say METRO can do more to effectively educate residents about transit services and make improvements to transit stops, such as adding shelters and seating and improving accessibility for those with disabilities.
Improved bus shelters in Gulfton
In Gulfton, the most densely populated and racially and ethnically diverse neighborhood in Houston, residents continue to ride transit for essential trips during the COVID-19 pandemic.
Dwyannetta Coleman masks up and takes the METRO bus to buy food for her children and herself. The bus she rides is on-time and she noticed that many of the stops along her route now have shelters — a necessity she appreciates to protect her and others from the intense Houston heat and frequent downpours.
Through ride-along activities with LINK Houston, Coleman shared feedback on ways to improve transit in Gulfton. In early 2020, METRO officials met with residents and stakeholders in the Gulfton area to plan a new route and other route adjustments to improve service. While those plans have been delayed by of the pandemic, the improvements, along with more community engagement in Gulfton, are scheduled to be made in the future.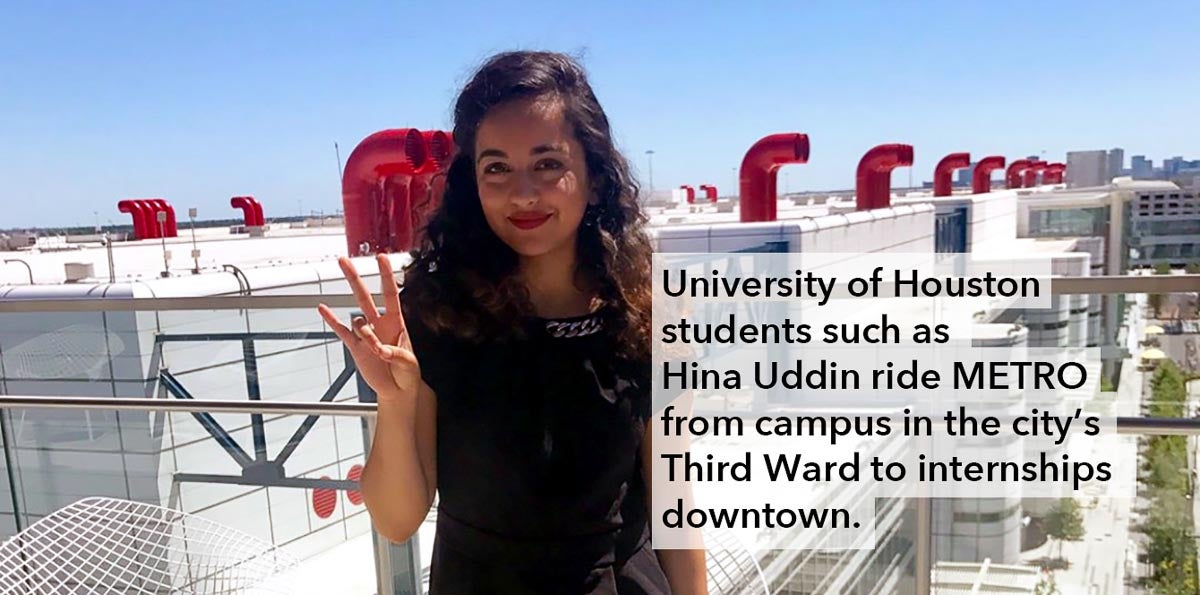 UH students use METRO to access opportunity
University of Houston (UH) students ride METRO to reach internships and further their educational and professional careers.
Hina Uddin did not own a car while attending college and worried about losing out on an internship opportunity due to transportation barriers. She learned that she could take METRO from her UH dorm to her internship downtown.
Another UH student, who is unable to drive a car because of a visual impairment, relied on METRO to get to class and an internship downtown. While he was able to reach his destinations, the bus frequently was late and transit stops lacked shelters and proper lighting, making his commute unpleasant and frustrating. He will start a new job soon in the Uptown area and hopes to see improvements in reliability and frequency so he can independently reach his job.
Equity in transit refers to the fair and just distribution of benefits and burdens of transit services and infrastructure across communities. METRO made some progress toward a more equitable transit network since 2018, but many opportunities remain.
The transit agency and other local governments must continue to strategically improve the local bus network, especially within the three high-demand areas identified in the 2020 Transportation Equity Demand Index (TEDI). LINK Houston developed the TEDI in 2018 to identify where the most pronounced demand and feasibility for local transit co-exist in the METRO service area, which includes 14 cities and parts of unincorporated Harris County.
The 2020 TEDI update found three of the four high-demand areas from 2018 remain: the east and southeastern areas of Houston, the southwest area of the city, and a portion of Greater Greenspoint. When compared to the remainder of the METRO service area, the 867,000 residents of those three areas have relatively higher rates of poverty (24% of households), more households with no vehicle (12% of households), more people using transit to access work (5.4% of employed people), and overwhelmingly are people of color (88% of residents). As in 2018, the 2020 analysis continued to find frequent transit covered only about half of the high-demand areas on weekdays, about a third on weekends, and even less after 6 p.m. every day of the week. The lack of frequent service presents a challenge for those who work jobs that require them to be on-site at all hours of the day or night.
The COVID-19 pandemic continues to impact Houstonians' health and livelihoods and presents METRO with the ongoing dual-challenge of protecting the health and safety of its staff and riders while balancing reduced revenue and other disruptions. Ridership on local bus and light rail never dipped below 43% of pre-pandemic ridership, even during the deepest depths of the pandemic, demonstrating the important role local transit plays in connecting essential workers to jobs and the essential nature of many transit riders' other trips on local bus and rail.
To continue improving equity in transit, LINK Houston recommends METRO and its partners make improving local bus service in TEDI high-demand areas a priority by finding ways to increase frequency, extend service hours, improve reliability and continue upgrades to make every bus stop and station fully accessible.
Learn more about LINK Houston's "Equity in Transit: 2020" findings, including detailed recommendations on how to improve public transit equitably.
---
Ines Sigel is the director of communications and outreach for LINK Houston.