Central Houston and its board, the Downtown Redevelopment Authority, issued a request for proposal on Oct. 13, seeking bids from third-party consultants with expertise in office conversion to adaptive reuse who will conduct a series of feasibility studies. The deadline for proposals is Dec. 1.
Robert Pieroni, director of economic development at Central Houston Inc., said he and his colleagues want to increase the residential population downtown while also considering other potential uses.
"We have about 156,000 people who work downtown," Pieroni said. "We have roughly 10,324 people who live downtown. We want more residents and can support more. But we also do not want to exclude other alternative uses. A lot of people see conversion as residential, but it could be retail, an institutional use like a community college or university, or a trade school."
Downtown has more than 52 million square feet of office space and boasts the headquarters of 10 companies in the 2022 Fortune 500 among its tenants. About 23% of that space is vacant, which is about the average for the central business district. As office needs evolve, however, that vacancy rate could creep up. 
A letter of request has been sent to property owners inside the boundaries of the redevelopment authority to identify interested parties in a conversion feasibility study. Once a consulting firm has been selected, Pieroni said the hope is to identify five properties to evaluate for reuse.
"We'll work with property owners in downtown to really deep dive into what a conversion could look like, but also what that cost would be," Pieroni said. "With that information, we will create policy and see if this is something that can be accomplished. Conversion is very expensive, but it could also be done in partnership with the city and the county to help cover any financial gap that could be there through abatements, inducements or rebates."
This initiative comes as the central business district is seeing about two-thirds of its pre-pandemic workforce. Central Houston's monthly Downtown Economic Recovery Update reported 68.3% of downtown employees went to the office at least once in September. The in-office workforce occupancy has grown to 59.7%. This may sound low, but Houston is 12% higher than the national average of the 10 largest cities, 47.6%. Even though more workers have returned, they are not downtown every day of the week: Employees are averaging 11.55 in-office days per month, with Tuesday, Wednesday and Thursday being the most popular. That's down from 14.5 before the pandemic.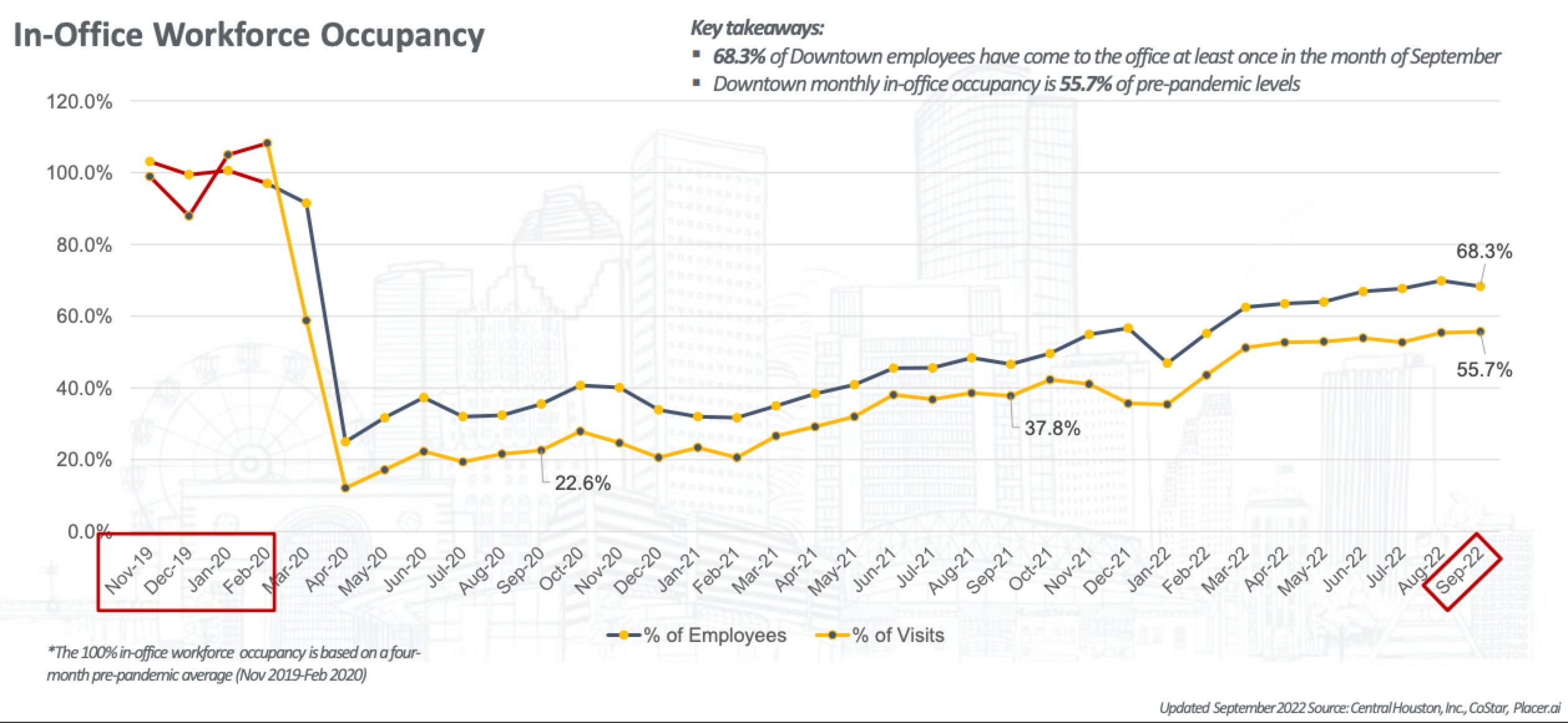 Beyond the workplace, downtown is re-emerging as a destination with an estimated 3.3 million visitors in September — close to the prepandemic level of 3.45 million monthly visitors from November 2019-February 2020. In its Spring 2022 edition, Downtown Magazine credited the Bagby Street Improvement Project, the opening of POST Houston and new green space with Trebly Park as reasons behind the area's resurgence. It also noted a population increase of people in the residential population from 2020 to 2021, surpassing 10,000 people. About 3,600 people lived downtown in 2012 and 6,600 in 2017. The steady growth can be attributed to the Downtown Living Initiative Program established in 2011. 
Office conversion is not new, of course, though there's never been quite as compelling a case as the one posed by the COVID-19 disruption. In a 2021 Urban Edge post, Central Houston's former president and CEO Bob Eury said 12 of the 41 residential properties downtown were converted from offices. Similar adaptive reuse efforts are underway at the Neils Esperson Building and throughout Texas in Austin, Dallas-Fort Worth and San Antonio. The concept has gained traction elsewhere in Atlanta, Cleveland, New York City and San Francisco. Pieroni is hopeful that Houston will have an increased role in the adaptive reuse conversation nationally.
"Houston is a city where we try to take risks and be bold," Pieroni said. "This is a trend happening across the U.S., and in the downtown of the fourth largest city in the nation, it's our duty to take a look at it."