In 2017, 23 percent (1.6 million) of the Greater Houston region's residents were born in another country, but immigrants, particularly low-income immigrants, are disproportionately impacted by disasters.
In March, the HILSC released their Humanitarian Action Plan, which shares nearly three dozen recommendations for coordinated emergency planning between public offices, nonprofits and private donors to increase the Houston region's immigrant resilience.
Immigrants' resilience in the Houston area is critical to the region's economic vitality, the researchers argue, due to their GDP contributions (126.5 billion in 2016), spending power ($38.5 billion in 2016) and tax contributions ($3.5 billion in 2016). Furthermore, immigrants' contributions to Houston's workforce is crucial as 32 percent of workers were immigrants in 2016.
"Immigrants are vital to the region's workforce, economy, recovery and culture," the report says. "The vast majority of Houston-region residents believe we should integrate immigrants into our society rather than alienate them, as is done by our federal and state administrations' anti-immigrant policies."
The report proposes 34 recommendations to improve immigrant resilience in the aftermath of disasters. The recommendations fall under three categories, including inclusive communication, accessible resources and culturally-competent approaches.
A recommendation to achieve inclusive communication includes breaking down language barriers through hiring multi-lingual staff and equipping representatives with live-translation apps. "Accurate, timely and actionable information must be provided to immigrants in accessible language to increase the efficiency of response and recovery, reduce rumors and help them connect with resources," the researchers note.
Accessible resources recommendations proposed by HILSC include simplifying the FEMA application process by making prequalifications clearer or ensuring Department of Homeland Security or Immigration and Customs Enforcement officers are not present at emergency shelters, supply centers, food pantries and other relief centers where disaster victims receive services to ensure immigrants feel safe accessing resources without fear of deportation or questioning.
"All who play a role in emergency management must understand and address the core needs of immigrants and strategically design policies, services and materials to meet those needs," the researchers note in the report.
HILSC's recommendations for culturally-competent approaches include appointing an immigrant community liaison to be the point of contact between an immigrant community and potential resources to aid in recovering or implementing cultural safety training for staff and volunteers.
The image below shows the breakdown of HILSC's recommendations by disaster phase, organization level responsible to implement the recommendation, approach and category. To read the full breakdown of each recommendation, visit HILSC's website.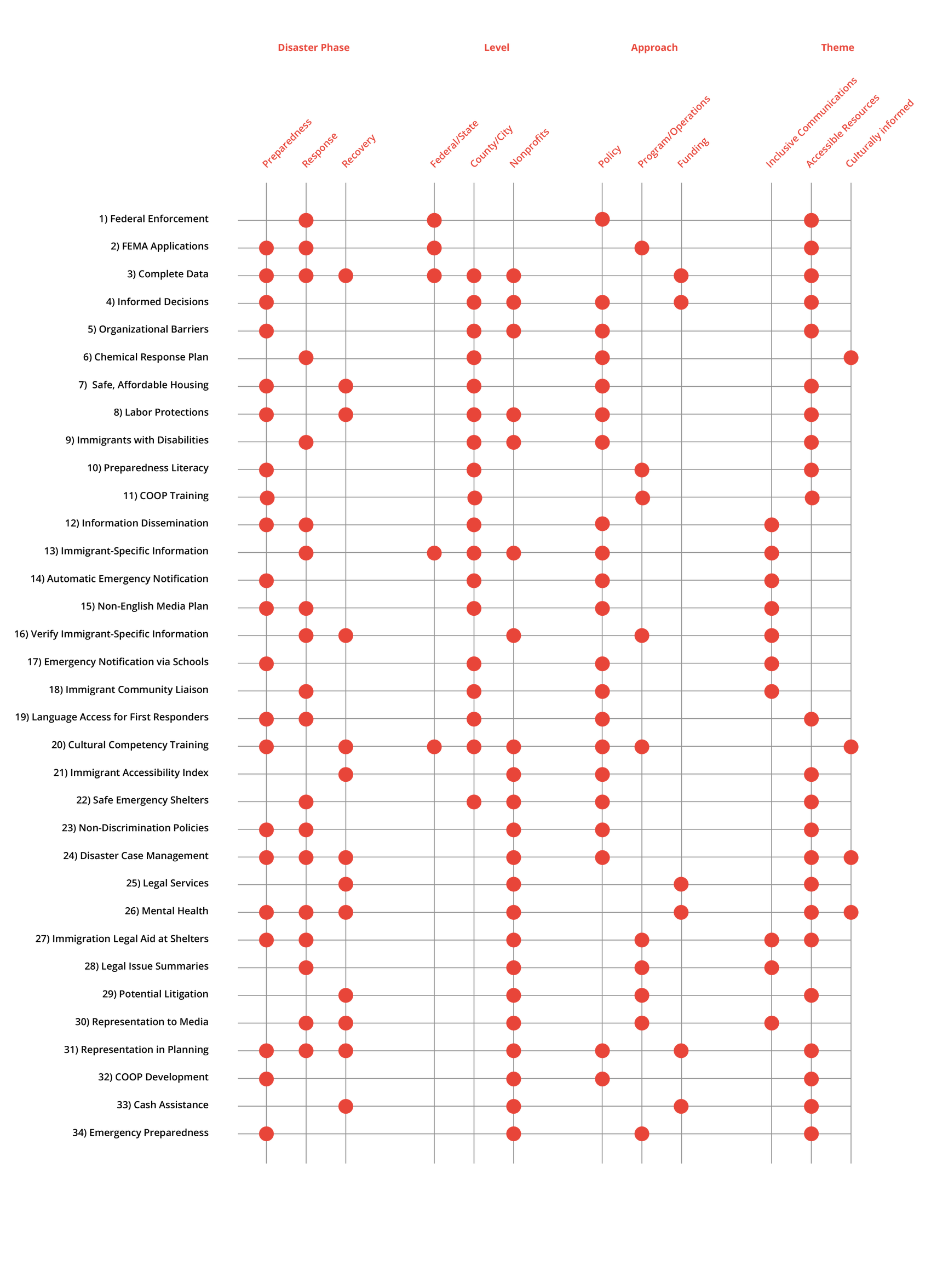 "Our region's leaders must coordinate emergency management planning and use continued Harvey recovery to build the systems needed for a more equitable recovery for immigrants through future disasters and therefore a regional resilience," the researchers note.
They continue saying this resilience goal is only met if decision makers ensure data-informing policy and funding decisions include vulnerable populations, inform policy and funding decisions with existing studies that document immigrants' experience in Harvey response and recovery, and consult with immigrant-serving organizations in emergency management planning.