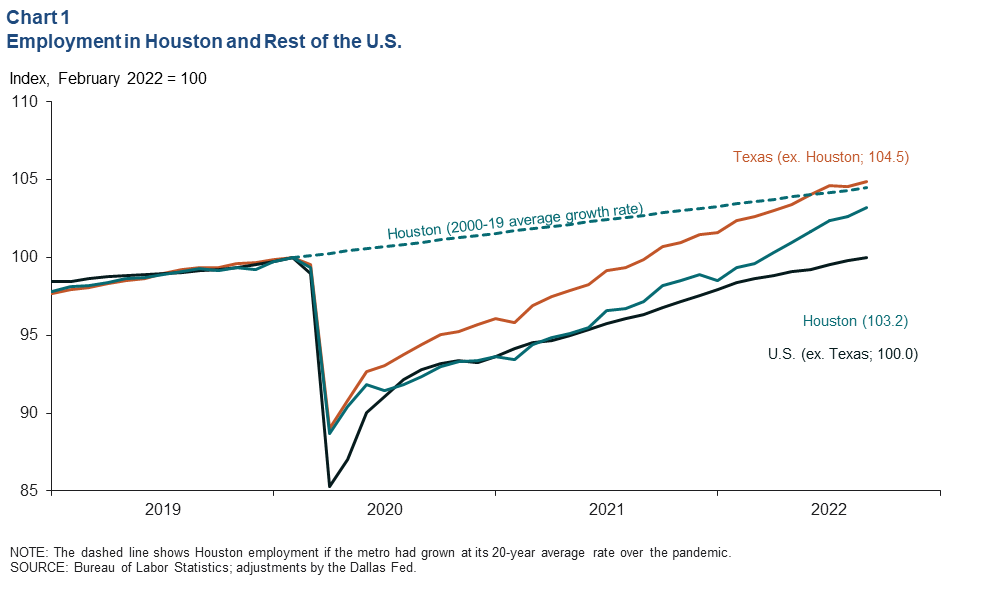 But perhaps the more telling economic indicator of Houston's optimism is its appetite. In late September and early October, seated diners at Houston restaurants were 19.5% higher than the same period before the pandemic in 2019, according to the OpenTable restaurant and reservation platform.­ Houston's experience is not universal: The national average for OpenTable is unchanged between 2019 and 2022.
"This sector was the hardest-hit, so it had the greatest to achieve," Jesse Thompson, a senior business economist with the Federal Reserve Bank of Dallas, said. "Houston has been outgrowing the rest of the country. Particularly this year as wages have accelerated, you see Houstonians going out and spending more money. The restaurant business is definitely a big part of that spending behavior. 
"After really suffering during 2020 and parts of 2021, and really having to deal with elevated food inflation, the leisure and hospitality sectors have done relatively well and ridden Houston's outperformance up over the course of the past year."
The Texas Workforce Commission reported a total of 364,900 leisure and hospitality workers in the Houston area in November 2022. That's slightly higher than where we were in June, when the U.S. Bureau of Labor Statistics reported a total of 344,212 leisure and hospitality workers in the Houston area, earning an average of $551 per week. In 2019, the area had 332,374 employees in the sector earning an average of $470 per week. That's equivalent to about 10% more people employed as of last month and a 17% pay increase as of June for some of the lowest-paid workers in the economy, compared to prepandemic times. (The TWC did not report average wages for November.) 
It is quite the comeback story for a sector of the local economy whose obituary was being written amid pandemic shutdowns. The industry also received relief from the Small Business Administration's $28.6 billion Restaurant Revitalization Fund Program, which provided grants of up to $5 million to restaurants and similar businesses that experienced pandemic-related losses.  
Houstonians dining out and the expansion of the leisure and hospitality workforce is a positive sign for the local recovery. Houston's coveted bar and restaurant scene is a point of cultural pride, and it serves as a common third place for many residents. It is also a key source of employment, with a comparable number of people working in education and health services. However, despite the recent uptick in wages, leisure and hospitality workers are among the lowest paid among all industries, and inflation is cutting into those paychecks. 
With the addition of 149,065 jobs from January-October, overall employment in Houston has grown 2.9% compared to last year, and every industry has surpassed pre-pandemic levels of employment, according to the Dallas Fed. Within the last three months, jobs in construction and information and other services slightly declined.
But in the "energy capital of the world," employment growth in the oil and gas sector has been incremental. Thompson said there are several reasons preventing the oil and gas industry from hiring more.
"At this point it's going to take time," Thompson said. "Right now, we just don't expect there to be much growth. The oil and gas sector has to be conservative with its spending. There are limits on what they can deploy even if they were able to hire more people because of supply chain constraints."
Thompson added that the manufacturing side of the industry faces the biggest need for more employees.
"As the supply chain has become a bigger problem and there are bigger problems ordering things, the lead time for new equipment has been really delayed," he said. "Labor all up and down the supply chain has been really challenging. It's not roughnecks or oil executives, but companies that are cranking out equipment. Their hiring has been much delayed over much of the recovery so far. Eventually, they're going to have to hire more in order for the supply chain to meet the demands and the slow and steady growth that is expected from the sector over the years."