While several economic indicators might suggest the country is on its way back to "normal," recent comments by the Federal Reserve Chairman Jerome Powell offers a reality check.
"We're not simply going back to the economy that we had before the pandemic," Powell said at the Aug. 17 virtual town hall for educators.
From the shift to work-from-home for many white-collar jobs to the "pandemic pivot" toward more contactless services and e-commerce, the questions of where and how people work are still being sorted out.
Jed Kolko, chief economist for the jobs listing website Indeed, observed that the July unemployment rate of 5.4% was "stubbornly high" but was nothing like Great Recession levels, which peaked around 10% in October 2009 and took about 5 years to drop by half. The pandemic lockdowns put the country close to 15% unemployment, but as restrictions eased the number has been shrinking rather rapidly.
"We saw a lot of temporary layoffs, some of which are returning. At the same time, we've had a kind of a wartime-like shift away from many service jobs and towards construction, distribution and delivery, and warehousing jobs," Kolko said in a phone interview last week. "Unlike other long recessions, this was more like a medium-sized recession with a natural disaster on top. It was a shock, but then it created a lot of activity as things ramped back up."
On the jobs front, there has been one heck of a ramp—the graph for job openings shows an unprecedented surge, with 10 million openings in June 2021—a number exceeding the total estimated number of unemployed workers receiving benefits, about 7.5 million. This may be great news for many workers, with more opportunities to jump ship and find better pay or flexibility (some 65% of workers are said to be looking for new jobs), or to find new routes to employment after waiting for their old jobs to return.
This job market has some economists seeing light at the end of the tunnel. The Federal Reserve Bank of Dallas is projecting that Texas' unemployment levels could be back to early 2020 levels by the end of this year if the current momentum holds up.
Even if Texas does get there, the same can't be said for the rest of the country. For cities, the jobs recovery is moving at a slower pace. Since the pandemic, the average unemployment rate for the nation's top five cities has been several percentage points higher than the nation overall. In prepandemic months, it only lagged by around a half-percentage point—suggesting an emerging disconnect between the pre- and post-2020 urban jobs economy.
"This was particularly bad for cities. There were no silver linings here. Some fared better than others, particularly if they had a diversified economy," Kolko said. Hospitality-driven cities and states in particular had a harder time—Las Vegas had nearly 10% unemployment in June; New Orleans had almost 9%.
Across all cities, people without college degrees in particular are struggling to get back to work, Kolko said, because scores of service jobs that relied on office workers have not come back.
"This is all tied up into the work-from-home question. The hardest hit were people who worked in low-wage retail service jobs, people who depend on workers coming into town and spending money there," Kolko said. "How are people getting lunch? That's a good indicator of where money is going."
The Bureau of Labor Statistics reports that 13% of all workers are still working from home—down two-thirds since the start of the pandemic—but figures vary widely by industry and job type. Some industries still have 50% or more working from home, while others are fully in person. It's also not yet clear how much the Delta variant has affected these figures.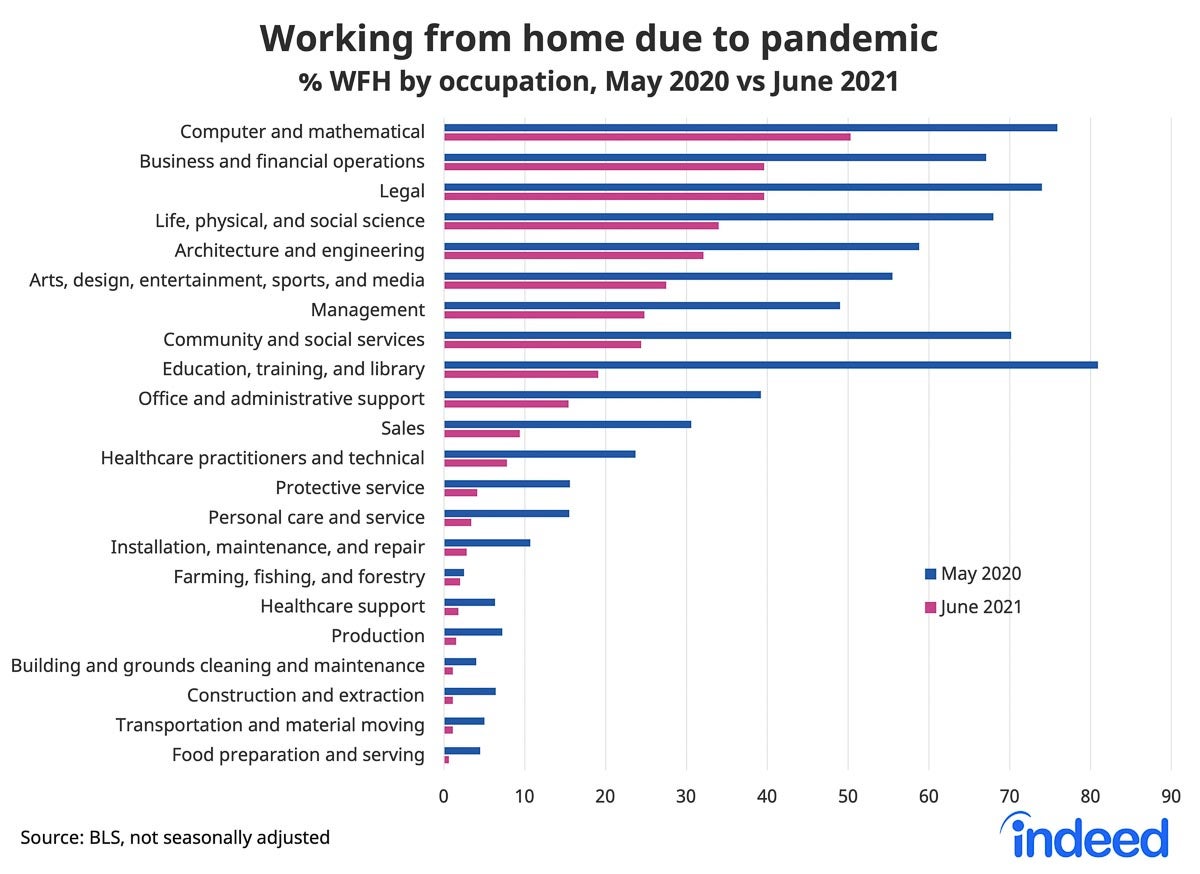 More workers are increasingly interested in staying at home. Indeed's internal data shows that users are searching for "remote" jobs at twice the rate as before the pandemic—and it's rising. Job postings are also more likely to include remote options than they were at the start of 2020.
"The question we're all waiting to answer is, where does it settle?" Kolko said.
The answer could dictate how cities—and millions of workers—get back on their feet. With the scourge of the Delta variant still playing out, many plans for returning to in-person schooling and office work have been pushed back.
Texas and two dozen other states cut off the extended federal unemployment benefits early in July in hopes of speed up efforts to restore full employment. But Kolko points out that unemployment rates fell by about the same amount in states that kept the benefit in place.
New BLS state payroll data for July:

Employment grew slightly more m/m (0.7%) in states that did not cutoff UI early than in cutoff states (0.6%), after slightly faster growth in June in cutoff states. Overall: a tie!

1/ pic.twitter.com/Rid7i2ajkd

— Jed Kolko (@JedKolko) August 20, 2021
Meanwhile, another study suggests that the early cutoff may have actually set some state economies backward in the process.
"The labor market didn't pop after you kicked these people off," Michael Stepner, a University of Toronto economist who worked on the study, told The New York Times. "Most of these people are not finding jobs, and it's going to take them a long time to get their earnings back."
A separate analysis by January Advisors found that about a third of those who were receiving unemployment benefits—predominantly women and people of color—faced the untenable proposition of getting paid less than a livable wage even if they actually returned to work. With 10 million job openings, there is a demand for workers, but not for the same kinds of workers that existed before the pandemic.
"It may be that some of these people will have a harder time finding their way back into the workforce without more education and training," Powell noted at the Aug. 17 town hall. "That's a part of the recovery that's far from complete."
Meanwhile, the rest of the country's unemployed are set to lose extended federal benefits the first week of September, setting up the last quarter of 2021 as the next chapter of the recovery.