The coronavirus (COVID-19) has upended life in most of the country, and as cities and states issue social distancing and stay-at-home orders, millions of Americans have lost their jobs. Current figures estimate the national unemployment rate to be around 15%. The unemployment rate in the Houston region is expected to reach nearly 10% this month. According to the Texas Workforce Commission, close to 200,000 workers in the Houston area have filed for unemployment benefits since the end of March.
---
This post is part of our "COVID-19 and Cities" series, which features experts' views on the global pandemic and its impact on our lives.
---
Yet unemployment is only one way in which jobs have been impacted by the coronavirus. Millions of American workers across the country and locally in the Houston area remain employed but they have seen their incomes decline, worked fewer hours, or have been furloughed as businesses and communities grapple with the threat posed to public health and safety by COVID-19.
And while the number of Americans facing economic uncertainty is unsettling enough, the impacts of COVID-19 have not been felt equally across all industries, with hospitality, retail and transportation sectors being hit particularly hard.
Understanding the economic toll of COVID-19 on workers
Researchers at the Houston Education Research Consortium, a program of the Kinder Institute for Urban Research at Rice University, analyzed data on over 13,000 working adults in the Houston area to find out how the coronavirus has impacted their jobs. The analysis looked at whether workers lost a job, lost income or experienced reduced work or work hours as a result of the pandemic.
More than 1 in 3 — about 35% — of working adults in the Houston area reported their job being negatively impacted by COVID-19.
All industries impacted by COVID-19, some more than others
The impact of COVID-19 on Houston-area workers has differed across industries. The most highly impacted industries have been entertainment and recreation (e.g., concert venues, park employees) and hospitality (e.g. restaurant workers, hotel employees): nearly 8 in 10 working adults in these industries reported their jobs being negatively impacted by COVID-19. Transportation and retail sectors also have been highly impacted, with about half of workers reporting a negative impact on their jobs.
In contrast, reflecting the continued demand placed on schools and teachers during this time, only one in 10 workers in the education industry reported their jobs being negatively impacted. Other industries such as government, banking and insurance, and professional or technical workers have proven more resilient during the pandemic.
Many of the industries that have been less impacted include those whose workers have been able to transition to work-from-home. The Pew Research Center estimates that 90% of the jobs lost since the outbreak began are those that can't be done remotely. Data from the Gulf Coast Coronavirus (COVID-19) Community Impact Survey do not include information on the extent to which workers have transitioned to telework in the Houston area. However, other research has identified the industries best suited to transition to work-from-home are education, professional and technical, administrative and finance, which were among the least impacted in our research.
It is important to acknowledge that some workers have seen their jobs impacted in a radically different way. Workers in essential occupations, such as first responders, mail carriers, delivery drivers and workers in health care, grocery stores, agriculture and pharmacies, among others, ensure people have access to essential products and services during the pandemic. These essential workers have become indispensable. Some of them are in industries being significantly impacted by the coronavirus like retail and transportation, while others work in less impacted industries, such as health care.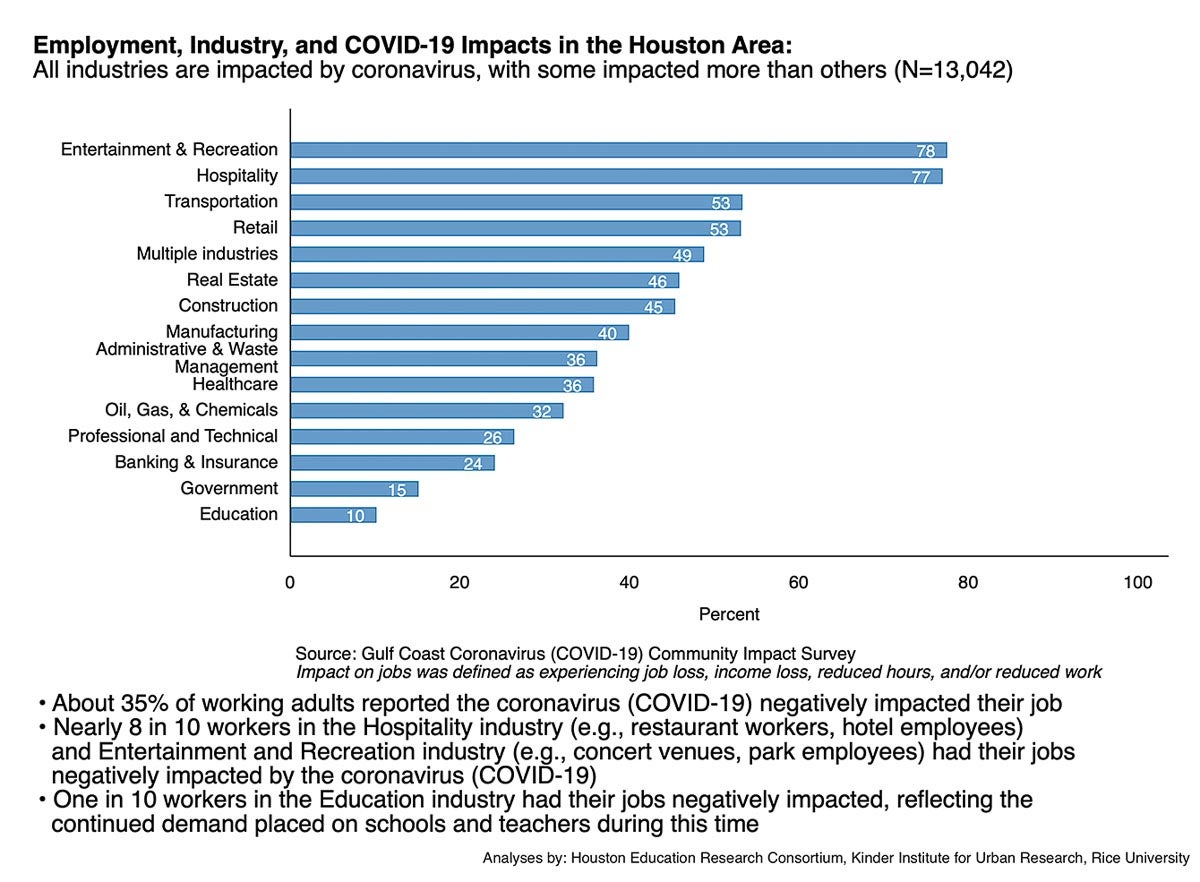 In some industries, the impact depends on income
In general, lower-earning workers are more likely to see their jobs impacted by COVID-19. In industries most affected, such as hospitality and retail, employees reported negative impacts across the income span; however, in those industries where the impact was lower, workers earning less than $50,000 were two to four times more likely to report negative impacts on their jobs than workers in the same industry making more than $100,000. This disparity in the impact of COVID-19 on employees by earnings was particularly notable in construction, manufacturing and oil and gas industries.
HERC will continue analyzing the effects of COVID-19 on Houston workers and their families in the coming weeks. Results will be made public as they become available. This research will focus on the pandemic's impact on employment and income, education and schooling, health care access, food insecurity and potential needs for services and assistance.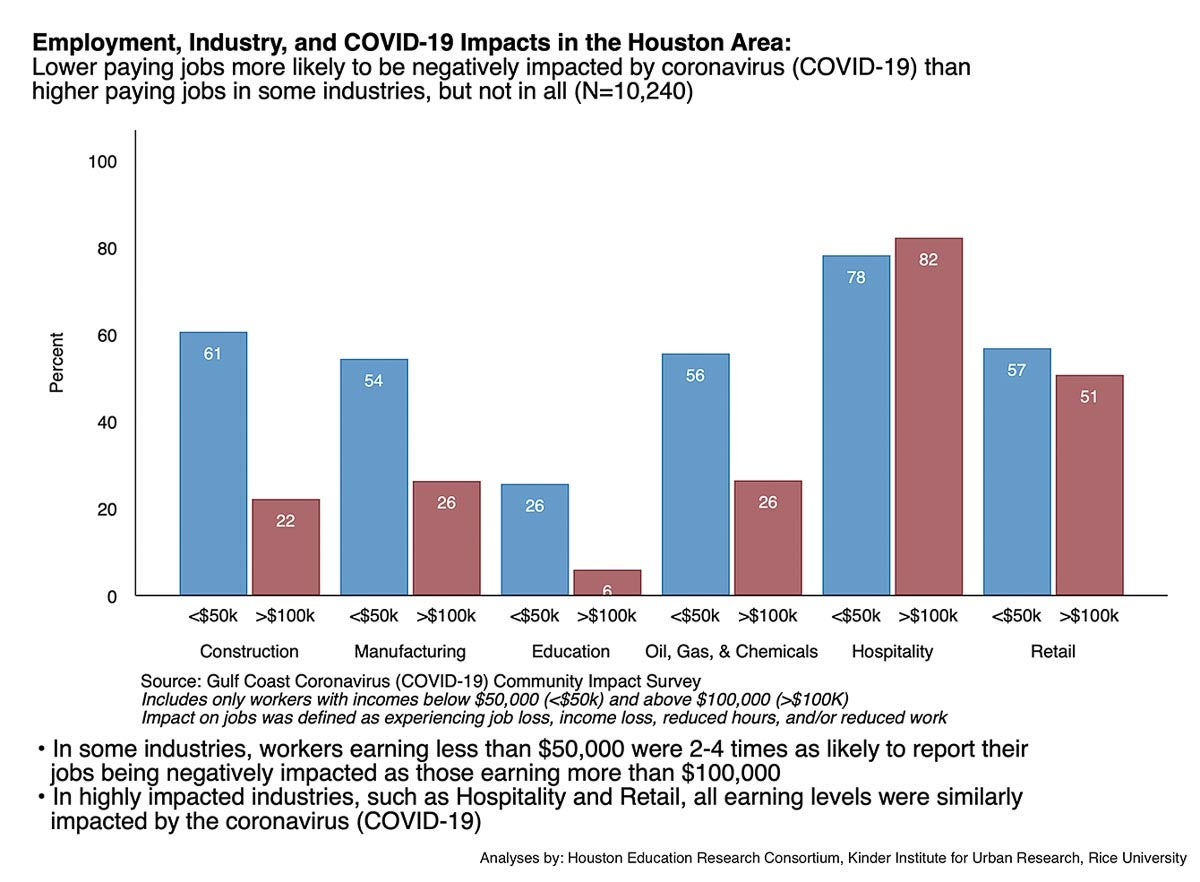 To understand the impact of COVID-19 on Houston families and help guide local and state response to the crisis, the Harris County Long-term Recovery Committee, in tandem with Harvey Home Connect and the Greater Houston Community Foundation, has partnered with the Kinder Institute for Urban Research's Houston Education Research Consortium (HERC) to field the Gulf Coast Coronavirus (COVID-19) Community Impact Survey. To participate in and learn more about the survey, visit the COVID-19 community impact study website. You can also view the current survey results and interact with the data.
Gabriela Sánchez-Soto is a research analyst at the Kinder Institute for Urban Research's Houston Education Research Consortium.