That said, planners are integrators by nature and there is a huge opportunity for team leaders in the design and strategy professions to get out ahead of and continue to plan—with the assumption that we have to continue to change, hopefully for the better. By gathering inputs and trust from the communities we serve we can uniquely drive the design process. With examples, here are some interesting trends that will continue to inform our planning practice.
Trend 1: Affinity hubs
As the focus on the hybrid workplace has become more prevalent, where knowledge workers have the choice to work from home, the office, or somewhere in between, the importance of hubs that combine amenities that promote outdoor collaboration is a new trend. Affinity hubs are not innovation districts, in that they focus on bringing people together through their day to day activities with shared amenities, key institutions, and connective infrastructure that support the types of people who live and work there. Housing is structured around attracting residents with shared interests, or affinities. In this way, the city itself becomes a laboratory for sharing of ideas and learning.
"We are working with both public and private clients to break down land use patterns that in the past have created barriers to collaboration, and replace them with others that promote flexibility, diversity, and sharing of information," says Midori Mizuhara, a lead planner with Gensler based in Los Angeles.
Examples: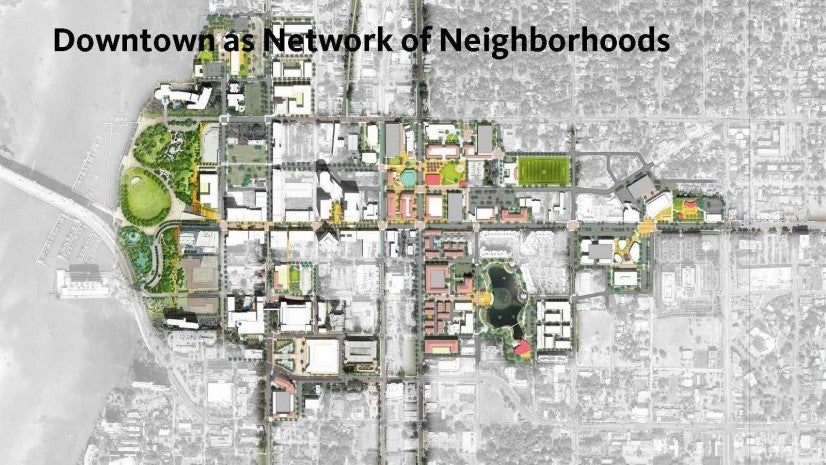 At a beachfront community in Florida, the federal government has created an economic opportunity district, but local leadership is challenged with how to leverage the opportunity to promote growth. Gensler, working with a leading institution in the area is creating a network of affinity hubs in downtown based upon housing for workers in the creative and technology industries with dense neighborhood clusters and anchor uses that promote a high quality of life to attract the best and the brightest. New activity areas within neighborhoods include entertainment, collaborative work, shopping, and learning animate the area. A variety of housing choices are integrated, connected by a shared network of active and passive open spaces, event programming and varied streets that accommodate a variety of speeds and types of movement. Where previous turf battles limited growth, new partnerships are being formed between public, institutional, and private sectors to share cost and benefit.
A local hospital in southern California is shifting emphasis from treating sickness to promoting wellness with an emphasis on collaboration and innovation. The strategy is to provide a 'campus of wellness' that will bring community into the district, improve the customer experience and facilitate growth. A network of organizing elements brings the community to the hospital including a new campus ring road, quadrangle, courtyards, walking and biking paths and healing gardens. Collaborative spaces are positioned at key areas for the exchange of ideas between hospital and community.
Trend 2: Mobility choices
As workers are commuting to work less often and walking and biking more, cities are adding mobility choices to accommodate changes in behavior. Cities know there is significant evidence that millennials prefer the freedom and flexibility offered by expanded transit networks. Transit investments have been proven to be a massive economic boost for regions, resulting in as much as a 4 to 1 return according to a recent study. In addition, by 2040, every car sold is going to be electric, which will fundamentally change our current roadside mobility infrastructure. The evolution of app-based ridesharing and with it, improvements in batteries and motors in ebikes, scooters, and other modes have transformed 'first and last mile' mobility. Jaymes Dunsmore, a leader in Gensler's mobility lab puts it this way: "There is a lot of investment in transportation in North America right now. if we are smart about it, we can completely remake our cities toward a much more human-centric model using mobility innovation as a catalyst."
Examples: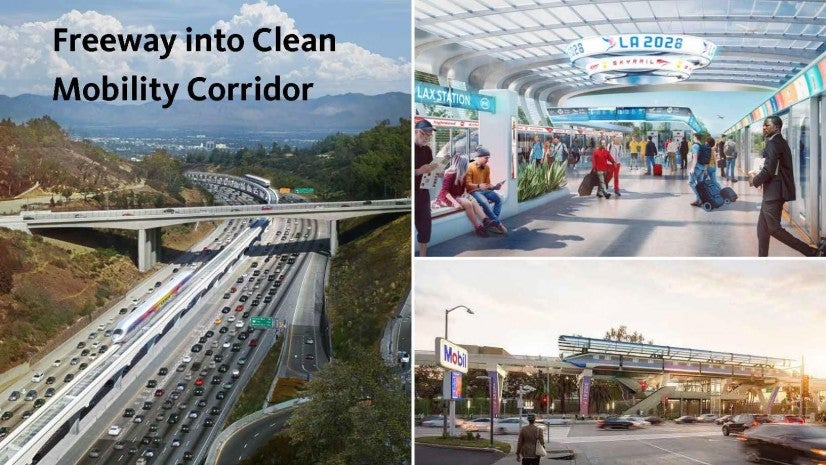 The Sepulveda pass transit extension will be a transformative effort for the City of Los Angeles, opening the entire San Fernando Valley to rail, with multiple stations and amenities throughout. Gensler is leading this effort with planning and station design all along the corridor. The project will free the Valley from reliance on the car by adding an elevated rail corridor along the 405 freeway, one of the most congested with automobile traffic in the nation. The benefits will provide greater mobility choice, better air quality, faster commute times, more investment, and healthier communities.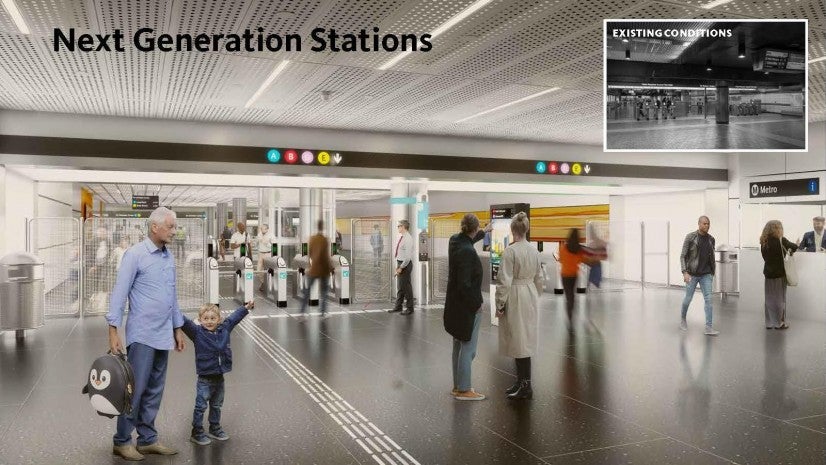 Transit agencies are getting smarter about how stations and networks are designed. Gensler is developing a series of station upgrades that will attract the next generation of transit users. New materials for walls, floors and ceilings look and wear better with less maintenance. Innovations such as raised strips in the floor make station navigation clearer and more intuitive. Adding ambient light and integrating punches of color lightens the mood of formerly dark and dingy stations. Signage has been made simpler and easier to read, with real time data via touch screens. Furniture is specified with materials that are easier to clean, more comfortable, and secure. Finally, AI is being used to help manage congestion, meet demand, and keep customers informed. All together, these features will make transit much more viable as a mobility alternative in the future.
As electric cars are predicted to comprise more than half of all vehicles by 2030, gas stations are going through a fundamental transformation in how they function and the services they provide. If charging is the draw, what other services can stations provide that make them commercially viable? It seems the permanent expansion of working from home could both reduce miles driven as well as put a premium on places that provide key community-oriented services. Gensler is doing interesting work in developing the electric charging station of the future, combining workspaces, premium fast casual restaurants, wellness offerings, amazon like lockers and personal purchase deliveries to your car.
Trend 3: Data-driven placemaking
As city residents are spending more time near home, the role of neighborhood public spaces is changing. Progressive cities are empowering local groups to co-author and manage their public spaces, with new programs, design features, and amenities that build community energy and improve the local quality of life. The way this is done is partially by mining data that shows user preferences, which helps both drive the right design solution, but also helps to convince decision makers that they are on the right track with proposed modifications. Jordan Kessler, an urban design lead with Gensler, observes: "overly wide streets and underutilized lots have the potential to respond to new user behaviors, and generate significant economic and culture capital ... Transforming these spaces can energize communities, improve wellness, and strengthen local resilience."
Examples: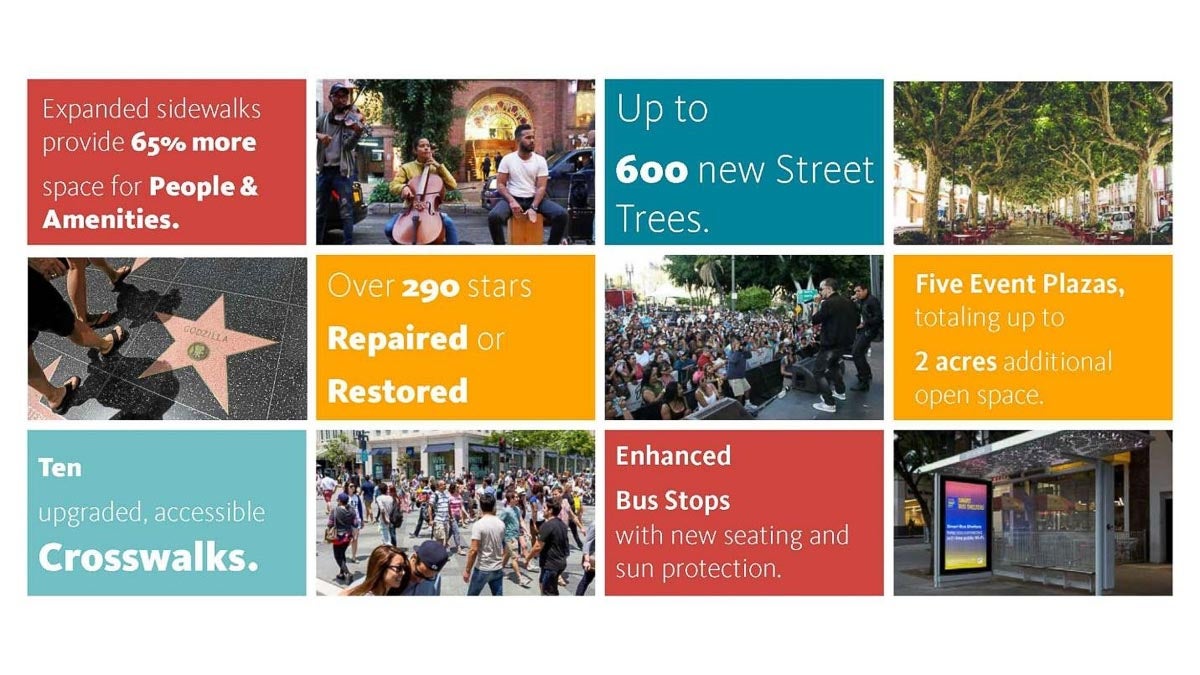 In Hollywood, the Walk of Fame has long suffered from neglect and lack of investment. In working closely with the local city council member and the community at large in hundreds of outreach events and brainstorming sessions, Gensler has crafted an exciting transformation of the street along a two mile stretch in the heart of the city, adding as much as 65% more space in the sidewalk, up to 600 new street trees, five new event spaces (adding up to two acres of additional open space) enhanced bus stops and intersection improvements, new bike lanes, seating and more. The George Floyd tragedy has had a significant impact on the design as well, informing the types of programmed events that are as well as the design of public spaces toward better amenity and local accommodation for residents.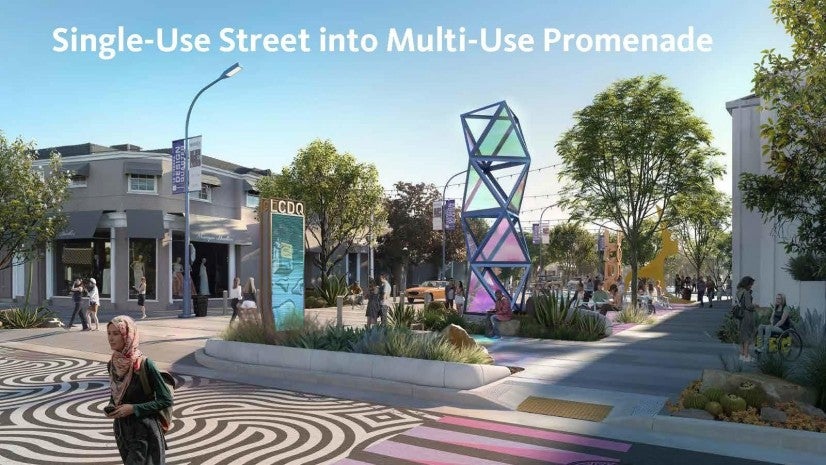 Gensler is working closely with the La Cienega Design Quarter and the community of West Hollywood to turn an arterial street into a multi-use promenade with art and design as themes. A three-block area is broken into sections, with an event plaza, shopping area, and interpretive art and gateway zone that create visual interest, slow down traffic and promote walking. Key design elements include Interactive signage, 'super graphic' intersection treatments, and colorful landscaped areas with shade trees, string lighting, and integrated artwork that in sum create a fine grained, human scale, befitting the creative energy of the West Hollywood community.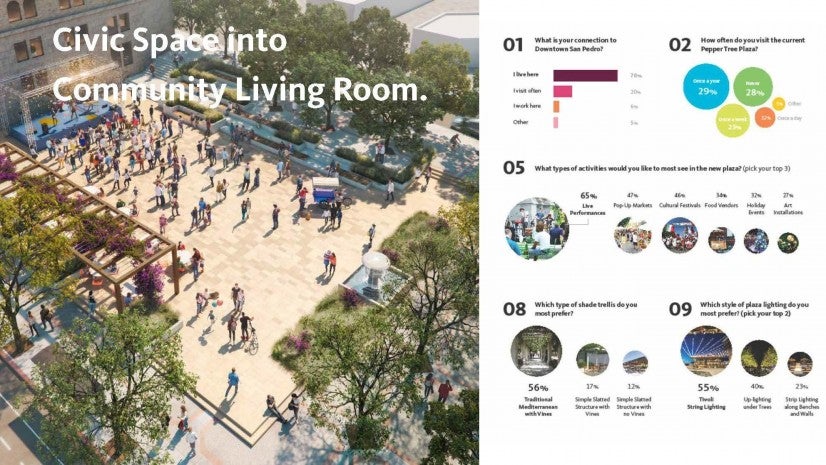 In San Pedro, California, Gensler is leading the redesign of an urban plaza to address the needs of the surrounding community. Using outreach to inform the design process, it was found that the plaza needed to become a community anchor through event programming, with a variety of market/food, cultural, holiday, art and cultural activities. Passive spaces were also a priority, including structures with seating, and stepped planters that create more intimate 'rooms' for smaller groups. The project is currently in the construction documentation phase and is slated for construction early next year.
Conclusion
In an era of scarcity, cities are in a war for talent; the ones that can build the strongest most passionate allegiances around civic life will win. The pandemic has accelerated the need to focus public investment in a much more nimble, targeted manner.
Using city resources to

strengthen neighborhoods around affinities is a smart strategy because it will build community pride and protect local employment.

As people are staying closer to home,

streets and empty lots will need to be scaled down for cars, expanded for other uses and modes. Prime intersections will need to be rethought as human scaled, hybrid spaces.

Once people realize they need more things to do closer to home, they will see that our neighborhood public spaces are inadequate.

High performance public spaces integrate elements that the community wants based upon data.
Cities will increasingly need help in the strategic facilitation, advocacy, and integration of public input, resulting in better, more targeted, more community oriented design solutions. Planners and strategists will play a key role in this shift.
Nate Cherry is a planning director for Gensler's Los Angeles-based Planning and Urban Design group. Gensler is a global architecture, design and planning firm.