For two years running, Houston residents have called traffic the city's biggest problem.
In the grand scheme of things, maybe it's a sign of good times that those concerns outrank crime or economic opportunity in the minds of Houstonians.
But in its annual comparison of congestion in American cities, the Texas A&M Transportation Institute this year showed Houston residents deal with worse traffic than their friends in the Dallas metro area.
The average Houston commuter spends 8 more hours each year in traffic than a Dallas area commuter. That also equates to an extra $300 a year due in costs to each Houstonian due to congestion, based on fuel costs and employees' time.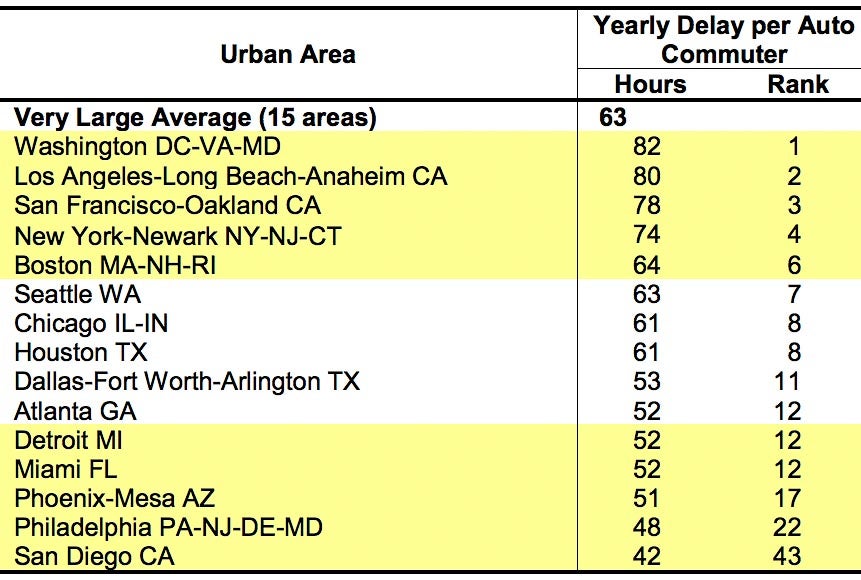 Those might not look like dramatic differences (though who wouldn't prefer an extra $300 or avoiding 8 hours of stress). But every year since 2001, Houston has ranked worse than Dallas in overall congestion.
The Texas A&M Transportation Institute's Urban Mobility Scorecard compares metro areas using what it calls a "travel time index," which is simply the ratio between travel time between two points when there's practically no one on the road, and during rush hours.
Houston was the 10th worst major metro area in the country by this measure last year and has hovered around that area since 2011. Dallas was 19th among major metros, just about where it's been since 2000.
"It's a valid comparison, because they are of similar size," said David Shrank, research scientist at the Texas A&M Transportation Institute and an author of the annual scorecard. "You're not comparing Laredo to Los Angeles. It's not a perfect one-to-one match, but often the sheer size of a region has to do with its congestion."
So what accounts for the differences in auto congestion between the comparably sized metro areas?
The View from Outside
There isn't a single variable that accounts for the difference, according to Shrank, and it's hard to parse out why the consistent trend exists.
"This is one of those things where you could spend a few days going through it on a chalkboard, and not know any more about it at the end," he said.
But likely the biggest difference, Shrank said, is simply the better job market in recent years in Houston, particularly due to the energy and petrochemical sectors.
"So much of congestion is simply tied to economic activity," he said. "But the traffic in Houston has just been more dense, especially after the oil and gas industry took off post-recession."
The View from Houston
Alan Clark, director of transportation planning for the regional planning agency Houston-Galveston Area Council (H-GAC), said today's difference is in some respects a reflection of yesterday's preparations.
"Dallas is seeing the benefit of very significant investment in expanding road capacity, especially toll facilities and managed lanes," Clark said. "Dallas was leading the charge a decade ago. It's not that we aren't building them here, but they're under construction."
He thinks Houston could see improvement once a slew of expansions – including U.S. 290, State Highway 99 (known as the Grand Parkway), and State Highway 288 – are completed in the next few years. Those projects resemble many that Dallas finished within the last decade.
And Dallas was able to get those projects planned and implemented more quickly, he said, because that region more enthusiastically embraced public-private partnerships, such as the 50-year deal for a private company to operate the Sam Rayburn Tollway in Dallas's northern suburbs.
The View from Dallas
Natalie Bettger, senior program manager for the Dallas area's regional planner, North Central Texas Council of Governments, offered another option: it's just the nature of the two area's development patterns.
Whereas Dallas has multiple different employment centers, she said, Houston has a stronger concentration of jobs in its downtown area. As a result, more people are heading in the same direction at the same time, resulting in congestion.
"Some of it is that we're more spread out, which allows us to balance our load while not all going in one direction downtown," Bettger said. "That's one thing that helps our region: having different areas with employment, not just downtown."
Indeed, Dallas employees are spread around pretty thoroughly. The zip code with the most jobs is on the east side of Dallas's central business district, with over 70,000 jobs. But there are eight other zip codes with more than 50,000 jobs, including in Fort Worth, Plano, Irving and Carrolton.
Clark, for his part, disagreed that that was a factor contributing to the disparity; the Kinder Institute's own research highlights Houston as a "multi-center metropolitan region" itself.
"I really don't think it's anything they've done or haven't done," Bettger said. "I think it's how the regions have been developed and designed. I can't think of any programs we're doing that they aren't."