The Houston region is growing. Even if its rapid growth rate has slowed a little, the population in the metropolitan area is still on the uptick. And the latest oil outlook looks good for the region. That growth means a lot of changes, not least of which include to the area's mobility, which continues to dominate the list of concerns on the annual Kinder Houston Area Survey. Representing Brazoria, Chambers, Fort Bend, Galveston, Harris, Liberty, Montgomery and Waller Counties, the Houston-Galveston Area Council is currently undertaking its next long-range plan, 2045 RTP, which means the body of local governments designated by the state to create the region's transportation plan is looking for feedback.
Part of the plan's focus will be how to manage the growth that continues to characterize Houston. According to the council's projections, the Houston area will add some four million people by 2045. Even a conservative estimate of the area's growth through 2030 from the Urban Institute still adds some 1.9 million people to the region between 2010 and 2030.
The long-range plan is updated every four years, and though the first few years worth of projects are typically funded and committed to, the plan's longer-range efforts are often more aspirational.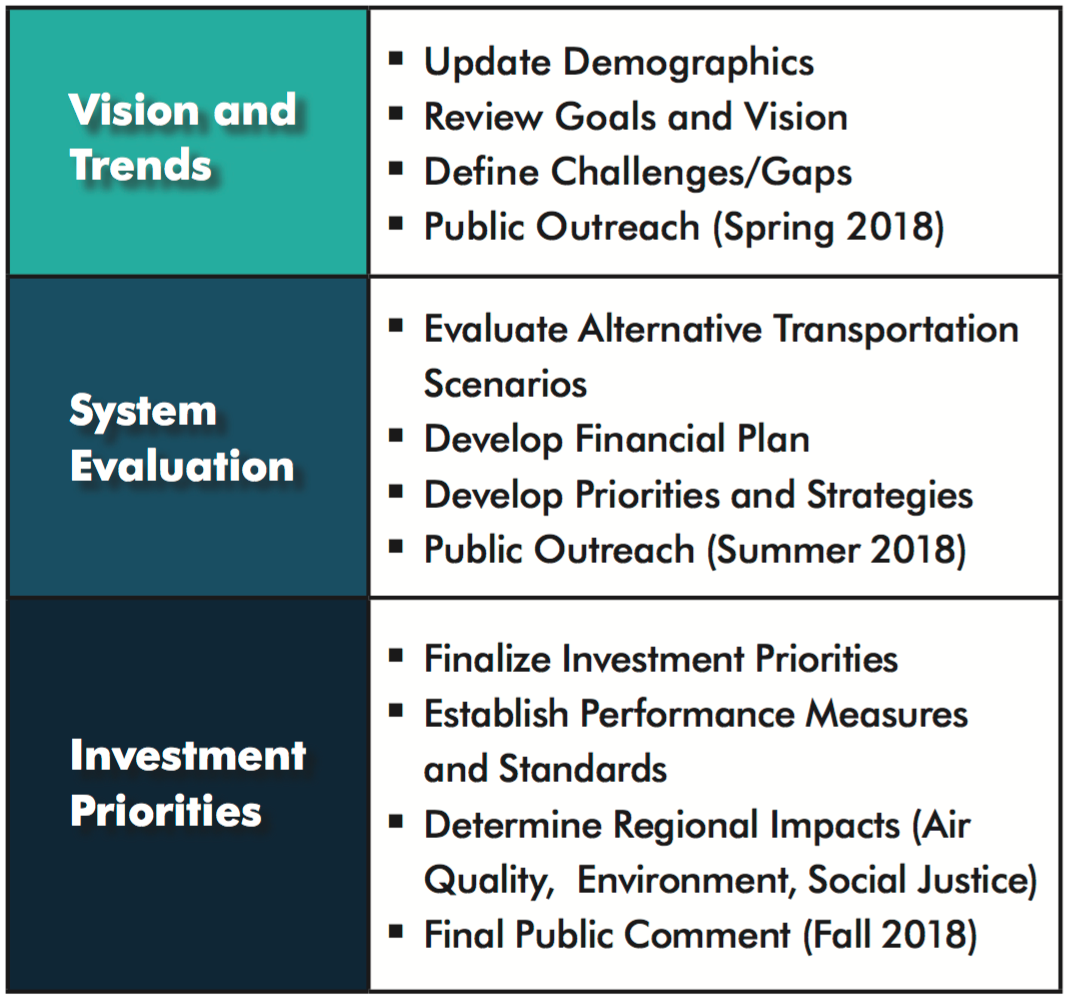 The most recent plan, developed in 2015, called for some $124 billion to be invested in highways, tollways and the region's high occupancy vehicle system with another $88 billion for light rail extensions to the two Houston airports and commuter rail that would extend both southwest and northwest from Houston into the suburbs. The plan also called on governments to review policies "to ensure they allow and encourage the provision of pedestrian and bicycle facilities when roadways are constructed or improved" and proposed a regional bikeway system with an estimated cost of $414 million.
The council promises to continue to consider multimodal transit in its next long-range plan. "The 2045 RTP will address all surface transportation modes including roadways, bicycle and pedestrian, public transit, intercity bus and freight," according to the site.
In addition to attending meetings, you can also share your ideas and feedback online for transportation projects and initiatives that will enhance mobility and safety for all Houston-area residents.