Over the past two and a half decades, the number one strategy used to reduce traffic congestion in the nation's largest urban regions has been spending hundreds of billions of dollars to widen and build new highways. And it hasn't worked.
That's the bottom line of Transportation for America's new report, "The Congestion Con: How more money and more lanes equal more traffic," which puts a finer point on it: "This strategy has utterly failed to 'solve' the problem at hand."
Hundreds of billions of dollars have been spent in the past two and a half decades to widen and build new highways in the nation's largest urban regions in an attempt to reduce traffic congestion. It has been the number one approach — some call it a knee-jerk reaction — to addressing the issue.
In total, states spent over $500 billion of state and federal funds on highway capital investments in urbanized areas across the nation from 1993 – 2017, according to data from the Federal Highway Administration. That's not even factoring in the amount spent by the federal government. That $500 billion only covers the cost of initial construction.
A separate Transportation for America report — "Repair Priorities 2019" — showed that an average of $24,000 is spent each year to maintain every lane mile that's in good condition.
The approach is expensive and ineffective
The report measured congestion as annual hours of delay using data from the Texas A&M University Transportation Institute's (TTI) Urban Mobility Report. TTI's annual list of the most congested roadways in Texas has named the stretch of Houston's West Loop from I-10 to US-59 the "winner" two years in a row. For 2019, I-35 in central Austin was a close second followed by two separate stretches of US-59 in the third and fourth spots. According to the report, the list "illustrates a familiar theme — growth-induced traffic gridlock is getting worse every year."
But what growth is inducing the gridlock? Is it population growth? Or is the growth and expansion of roadways to blame? The latter, according to Transportation for America, which puts much of the blame on the induced demand created by continual expansion.
Between 1993 and 2017, roughly 30,500 lane miles of freeway were added in the largest 100 urbanized areas of the U.S. — an increase of 42%. The expansion outpaced the 32% population growth of those areas during that time, yet traffic delays grew by 144%.
In Houston, where the population increased 77% from 1993 – 2017, freeway lane miles were expanded by 28% and delays increased by 221%. An even more extreme example is Brownsville, which saw a 73% increase in population, a 287% increase in freeway lane miles and a 1230% increase in delays.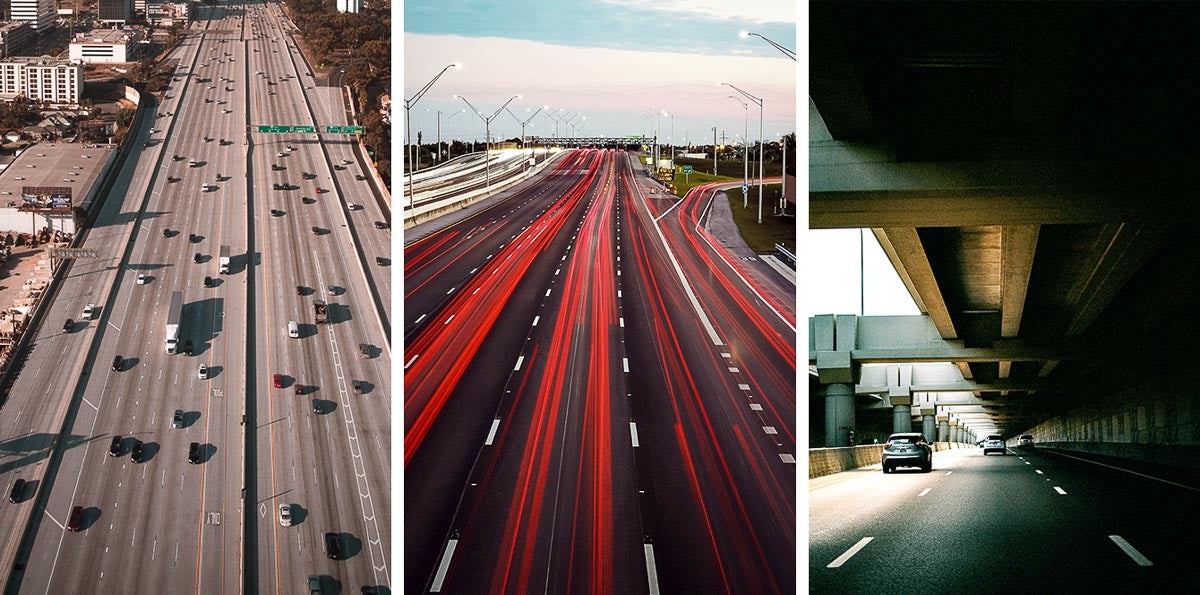 Improvements in drive times quickly disappear
Those who live, work and drive in the Houston area are painfully familiar with the futility of the highway-widening solution. A $2.8 billion expansion of the Katy Freeway (I-10), which made it the widest in the world (26 lanes) after work was completed in 2008, initially improved drive times for commuters; however, just a few years later, that trend was reversed. City Observatory's Joe Cortright looked at TranStar data for two segments of the freeway between 2011 and 2014 and found morning commute times were 25 minutes (30%) longer and the afternoon commute increased by 23 minutes (55%) following the expansion.
"Growing congestion and ever-longer travel times are not something that the American Highway Users Alliance could have missed if they had traveled to Houston, read the local media, or even just Googled a typical commute trip," wrote Cortright.
The Texas Department of Transportation's controversial North Houston Highway Improvement Project — the I-45 project — is expected to cost as much as $10 billion and was included in the U.S. PIRG's 2019 Highway Boondoggles list. Concerns about this and other highway projects go beyond putting an enormous amount of money toward a solution that data shows is destined to fail. There are worries about air quality and environmental impact, displacement in communities in the path of expansion, making mobility harder for those who can't or don't drive cars and making an already car-centric city more dependent on vehicles.
Maybe we need to focus on access, not congestion
And the fact is people are driving more. According to Transportation for America, on average, people drove 21 miles a day in 1993. By 2017, that average was 25 miles. Vehicle miles traveled (VMT) in the 100 largest urban regions have jumped 57% since 1993.
The way we build communities is designed to create massive congestion, the report says. In other words: sprawl. For a lot of people experiencing longer commutes, the reason why isn't congestion, it's because they are traveling farther distances.
But the new report also contends eliminating congestion is the wrong goal. Congestion is an indicator of success: "Focusing on congestion mitigation misses the bigger picture. We should focus instead on the goal of providing and improving access. The core purpose of transportation infrastructure is to provide access: to work, education, healthcare, groceries, recreation and all other daily needs. We should be prioritizing investments based on how well they connect people to jobs and services, not how much more quickly cars will be able to travel in a certain segment of highway."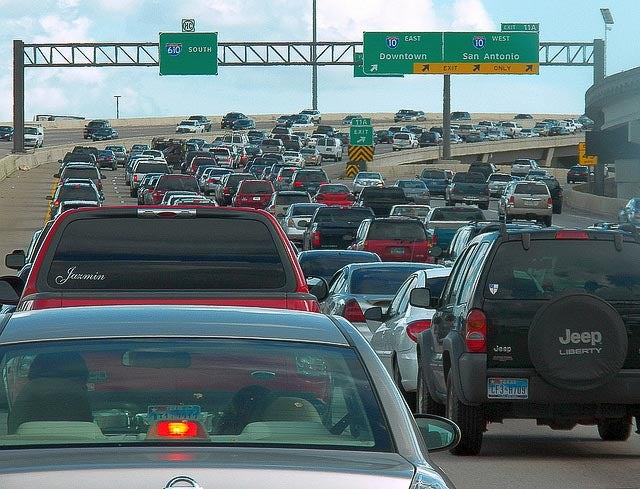 How can this be fixed?
If spending $40 billion in federal tax dollars on highways year after year isn't working, what is an effective solution to the problem? Using health care as a metaphor, "The Congestion Con" calls for the need to invest in preventative care today to avoid the higher costs of treating the equivalent of a health emergency in the future. And the report offers five recommendations for changing the "status quo" after the current federal transportation law expires in September.
► Reorient our national program around access—connect people to jobs and services.
Measuring accessibility instead of delay would lead us to prioritize investments that make travel more efficient in real terms instead of investments that simply encourage more driving.
► Require that states stop favoring new roads over maintenance.
We should be focusing instead on maintaining the roads we have and making the existing transportation system work better as a whole.
► Make short trips walkable by making them safe.
When local streets — not just highways — are designed to move vehicles at the highest speed possible, it denies people the healthy and affordable option to bike or walk and makes even car trips longer than necessary.
► Remove restrictions on pricing and allow DOTs to manage congestion.
Pricing roads can reduce congestion by lowering the number of vehicles on the road.
► Reward infill development and make it easier for localities.
Sprawling development contributes to more driving and longer trips, exacerbating congestion. We need to make development and redevelopment in existing town centers and urban areas easier than building on the outside of communities.
"The only viable way to reduce traffic is to tackle the issue at the source: bring jobs, housing and other destinations closer together to shorten and reduce the number and length of car trips people need to take. We need to reorient our national transportation program to help advance that goal instead of undermining it."