In the shifting urban landscape, with new development transforming sites that once housed manufacturing and industrial uses, what sits just beneath the surface often isn't advertised. In Sites Unseen: Uncovering Hidden Hazards in American Cities, sociologists Scott Frickel, of Brown University and James Elliott, a Kinder Fellow and professor at Rice University, seek to answer a simple question with big implications: "How many such sites – large and small – have there been since the 1950s where on-site disposal likely occurred and hazard wastes may still linger in the ground?" Looking at four cities across the country, the researchers found that roughly 90 percent of the former industrial sites were now homes, restaurants and playgrounds, transformed with little to no environmental review. The pair found that the risks tended to be underplayed in government databases and as smaller manufacturing operations replaced larger ones, more hazardous activity was going underreported. Though the book looks at Minneapolis, Portland, New Orleans and Philadelphia, it unearths important lessons for all cities continually reinventing themselves.
Nearly 100 years apart, the 1906 San Francisco earthquake and Hurricane Katrina offer some noteworthy similarities, according to sociologist Steve Kroll-Smith, of the University of North Carolina at Greensboro. Both nearly decimated entire cities and were particularly devastating for the poor, elderly and other vulnerable populations. In Recovering Inequality: Hurricane Katrina, the San Francisco Earthquake of 1906, and the Aftermath of Disaster, Kroll-Smith makes the case linking disaster and inequality. It's an academic read that shines a light on the idea of "recovery" to examine how many of the factors guiding a city's trajectory after disaster perpetuate inequality.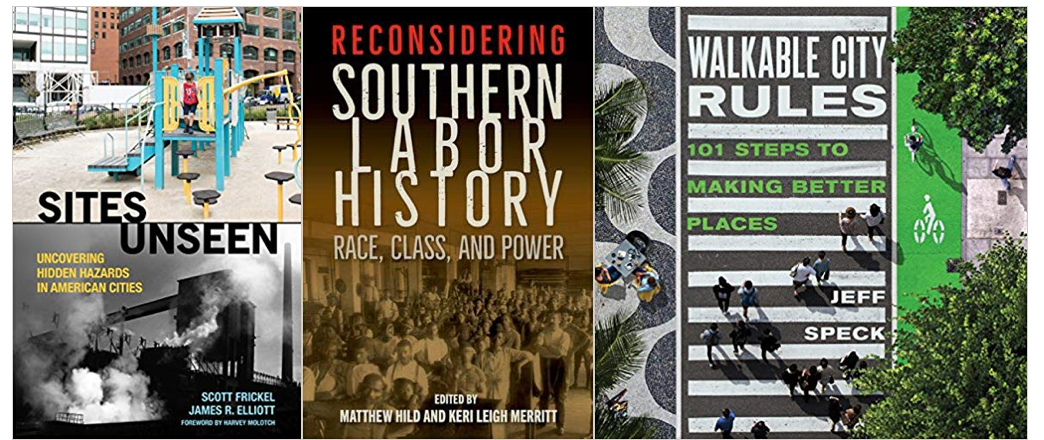 Sweeping school closures have rocked a number of cities in recent years, including Chicago, where sociologist and poet Eve Ewing's book, Ghosts in the Schoolyard: Racism and School Closing in Chicago's South Side, is set. Contextualizing the so-called "failing schools" within policy, history and community, Ewing examines the structures and assumptions that undergird decisions purportedly based only on budget, enrollment or test scores. "Rejecting the impulse to see education as disconnected from American life and politics," writes author Ta-Nehisi Coates, "Ghosts in the Schoolyard links the struggles of Chicago public schooling with the city's notoriously racist housing practices. Ewing peels back the seemingly anodyne messaging of reform ('school choice') and its ostensibly objective standards ('test scores') to reveal the insidious assumptions lying beneath."
There is no end of scrutiny placed on parents when it comes to decisions around raising children. Debates around so-called "free-range parenting" and the ever-evolving standards of playgrounds reflect some of the social anxiety around protecting but also pushing children. In The Design of Childhood: How the Material World Shapes Independent Kids, architecture and design critic Alexandra Lange examines the back stories surrounding seemingly mundane features of childhood, from toys to school design. "The Design of Childhood is as revelatory with lessons about the history of design as it as with lessons about childhood," write Josh Stephens and James Brasuell of Planetizen. Motivated partly by her own experience after having a child, he argues that things designed for children are worthy of critical, engaged analysis. "People thought of things for children as minor," she said in an interview with the New York Times. "I wanted to say: This is not minor; this is major."
With a focus on the transformations gripping some of the country's older industrial cities, The Divided City: Poverty and Prosperity in Urban America looks at the dual nature of today's urban investment. After decades of policies that corroded and hastened a downward spiral, particularly for urban black communities, writes Alan Mallach, an urban planner and senior fellow at the Center for Community Process, many of these cities are now seeing a shift. "Now these cities are seeing levels of investment and activity beyond the wildest hopes of those decades," he writes, "yet at the same time large segregated, poverty-stricken ghettoes house thousands of people for whom revival has brought little new hope or opportunity, and once-healthy neighborhoods of modest, well-tended homes are turning into the slums of tomorrow." Though the focus is on cities outside the Sun Belt, the book tackles policy questions common to most cities, including gentrification, struggling suburbs and inclusion.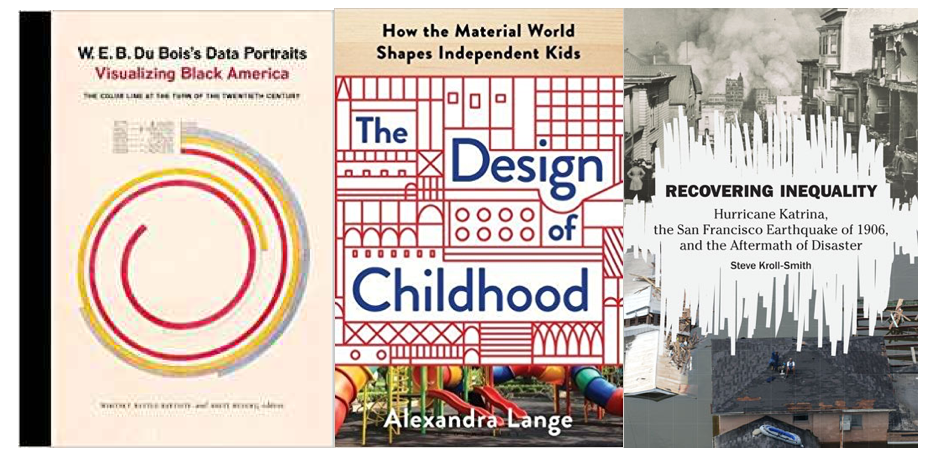 In his latest book, Walkable City Rules: 101 Steps to Making Better Places, planner and designer Jeff Speck presents a practical guide to creating walkable, vibrant neighborhoods. The book is intended to be hands-on, how-to guide for cities and communities looking to make on-the-ground changes. And he doesn't just spend time in the obviously walkable places, making the book even more relevant for cities beyond the usual national gaze. And just in case the whole book seems overwhelming, you can also find Speck sharing bite-size lessons from the text over on his Twitter feed. Rule 28, for example? "Replace urban highways with City-designed urban boulevards in locations where doing so will create a great increase in land value, simultaneously investing in transit along the corridor."
Sociologist Eric Klinenberg is known for his research dissecting the disparate impacts of disasters like the 1995 Chicago Heat Wave. In his latest book, Klinenberg connects the idea of social infrastructure to such social outcomes. Social infrastructure, he notes in Palaces for the People: How Social Infrastructure Can Fight Inequality, Polarization and the Decline of Civic Life, is not the same as social capital. Instead, it is the environment and structures that can facilitate social capital. "When social infrastructure is robust, it fosters contact, mutual support, and collaboration among friends and neighbors," he writes, "when degraded, it inhibits social activity, leaving families and individuals to fend for themselves."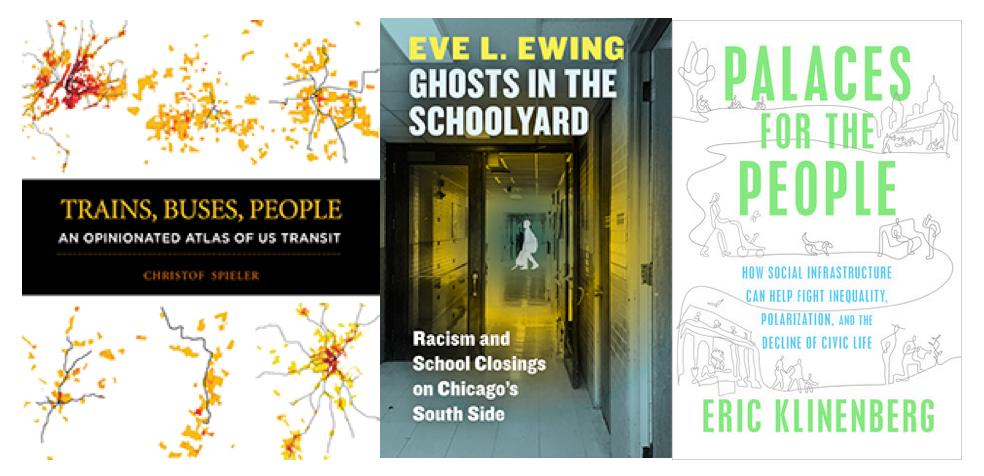 From Houston's own Christof Spieler, Trains, Buses, People: An Opinionated Atlas of US Transit, is a city-by-city review of frequent transit networks as well as a guide to getting it right. His book elegantly makes the case that designing good transit is a fairly simple proposition but one that gets sidetracked for a number of reasons, including the lack of actual transit users in positions of power. Read an excerpt of his book here.
W. E. B. Du Bois is increasingly being recognized for his foundational role in the field of sociology, thanks to the work of scholars like Aldon Morris at Northwestern University, and for his insightful descriptions and analysis of the dynamics of urban life. Part of his work and his team's work included original data visualizations, first presented at the 1900 Paris World Fair and collected in the new book, W. E. B. Du Bois's Data Portraits: Visualizing Black America. The graphics are compelling, artful and relevant.
The American Dream continues to attract with its mythic narrative of self-made success in a land of opportunity but for many people who have spent some time in that land, the dream rings hollow. In an impressively sweeping edited volume, several scholars tackle the issue of labor in the South, from West Virginia to Texas. In Reconsidering Southern Labor History: Race, Class, and Power, authors argue that "the problems that have long beset southern labor, including the legacy of slavery, low wages, lack of collective bargaining rights, and repression of organized unions, have become the problems of workers across the country." It's a hefty tome, but it promises to cover plenty of ground. "Labor history is one of the most effective ways to study the formation of class, gender, political, racial and ethnic identities," explains historian David Anderson, one of the contributors, in a recent interview. "It is particularly important today to help us understand increasing inequality amid the decline of the New Deal liberalism and the rise of neo-liberalism (and reactionary Trumpism) and to find alternative models for a more equitable and sustainable future."