Dr. Anthony S. Fauci has said as many as half of those infected with the coronavirus may not have any symptoms. There is, however, some positive news to share: Estimates show the stay-at-home orders in Houston and Harris County are preventing deaths and hospitalizations. Here's a look at the impact.
It's been two weeks today since the stay-at-home order went into effect in Houston and Harris County on March 24. We all have made adjustments in our daily lives that may feel costly and difficult. Many gig workers and those in the travel, retail and restaurant industries have been laid off or seen their hours dramatically reduced. With so much uncertainty surrounding this pandemic, it can be hard to believe the effects of the stringent measures we face are worth the price we are paying.
Our ongoing "COVID-19 and Cities" coverage examines the pandemic's effects on Houston and other metropolitan areas, both now and once the outbreak is over.
To provide some clarity in the midst of confusion, we used epidemiologists' COVID-19 models to estimate the number of hospitalizations and deaths that can be prevented in Harris County between now and June by collective adherence to the stay-at-home order.
The Kinder Institute is part of the National Neighborhood Indicators Partnership (NNIP), a collaborative effort by the Urban Institute and local partners to further the development and use of neighborhood information systems in local policymaking and community building. All local partner organizations from more than 30 cities have been meeting weekly to discuss how the network can help provide communities with data in response to COVID-19. We are grateful to San Antonio's CI: Now for help in developing and disseminating the methodology behind the infographic.
See the full infographic.

The estimates show that social distancing measures during the 14-day period between March 24 and April 6 have saved the lives of 4,533 Houstonians and kept 48,812 people from being hospitalized locally. If we continue on this path, by April 22, we could save 13,220 lives. If the stay-at-home order is effective for 60 days, together we could save more than 22,000 lives. While it's important to note the model isn't meant to be a crystal-ball prediction of the exact numbers, the general pattern will hold true.
Learn more about the methodology used by the Houston Community Data Connections team to create this infographic.
We hope this information will help Houstonians better understand the impact of our collective effort and how important it is to have the stay-at-home order in place. However, we acknowledge that many of our fellow Houstonians don't have the privilege of working from home. Many have to work on-site, including first responders and health care workers, grocery store employees, delivery drivers and those employed by essential businesses. Some may not have a shelter at all that can effectively protect them from exposure to the new coronavirus. And others may have a home that is unsafe because of family violence or inadequate housing conditions.
Additionally, we recognize that staying home isn't a panacea for this crisis. It is critical to take immediate steps to increase the capacity to test people for COVID-19 and quarantine those who are infected. What's more, the region needs to work together to address the economic impact and hardship suffered by families and businesses during the pandemic.
So, for now, stay home if you can, and trust that you're having a real, positive impact by doing so.
If you have any feedback, please let us know.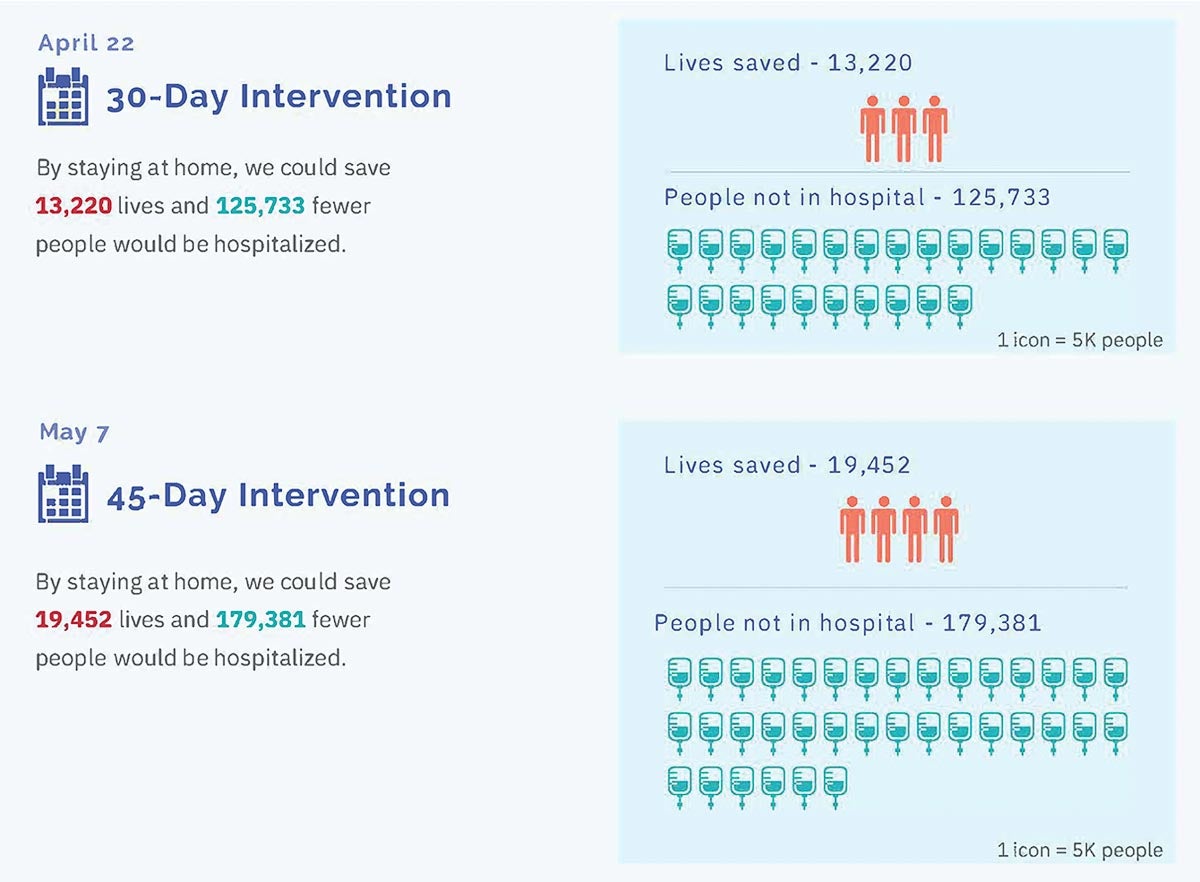 Estudio asegura que más de 4,500 personas se han salvado del coronavirus en Houston por quedarse en sus casas. https://t.co/r9NhRuN3bn

— Noticias45Houston (@noticiashouston) April 7, 2020