This month, the Kinder Institute unveiled its 2020 State of Housing in Houston and Harris County report. This inaugural report chronicles housing needs and affordability challenges, and takes stock of the existing housing supply — all of which are likely to be impacted in the coming months by the COVID-19 pandemic and the oil bust. The report also makes neighborhood-level housing data available to residents through the Houston Community Data Connections website.
Findings in the report are playing out in unique ways across neighborhoods in Houston. This blog post contextualizes the report's findings specifically within the Settegast neighborhood, a historically Black neighborhood in northeast Houston. Recent events have drawn a much-needed critical eye to the racist housing outcomes that have been perpetuated by public policy. These outcomes not only are evidence of "racial inequity" but also products of discrete political decisions made at all levels of government — by both policymakers and residents. This blog post provides a brief history of those decisions and describes the socioeconomic, environmental and housing inequalities they produced.
Settegast's historic role in Houston
Settegast sits just outside of Loop 610, eight miles from downtown. The neighborhood is sealed off by a series of infrastructure and land-use barriers — bounded by Interstate 610 on the south, Highway 90 on the southeast and a Union Pacific Railroad intermodal terminal on the west. The eastern boundary is adjacent to the McCarty Road Landfill and the Ralston Road Landfill — two of Harris County's 13 active landfills.
Black families were bypassed by New Deal-era homeowner support in the 1930s, which siphoned investments away from central cities and into far-flung suburban areas through housing segregation practices such as redlining and restricted access to mortgages. But in Settegast, they found their prospects for homeownership were better.
By the mid-20th century, Settegast, which was first populated by German immigrants, was attracting many Black Houstonians — including lower-middle-class African Americans — who wanted the chance to own their own homes.
As more Black residents moved into the neighborhood, which was annexed by the city in 1949, it was increasingly neglected by city and county officials. By the 1960s, housing and sanitary conditions in Settegast were among the worst in Houston, and things reached a breaking point. In 1966, a vast survey on housing conditions from the Houston-Harris County Economic Opportunity Organization (a federal War on Poverty initiative) titled "The Settegast Report" was released. The report observed four major findings:
1. Residents were targeted by predatory housing practices from mortgage lenders, particularly luring prospective homebuyers with exploitative down payment contract schemes;
2. Poor access to public health resources and medical services. In addition, various unsanitary conditions were pervasive in the area with an overreliance on contaminated water sources, open sewage ditches, and no drainage infrastructure;
3. Lack of educational and employment opportunities nearby; and,
4. Limited transportation options, including institutional neglect from transportation planners to this part of town.
Neighborhood leaders were emboldened by the Houston-Harris County Economic Opportunity Organization and federal War on Poverty administrators put in place to bypass state and local governments that frequently would contest and undermine civil rights advances. They tackled these challenges through noteworthy Alinsky-style community organizing, making rapid gains that included access to clean water with the assistance of city hall and a neighborhood clinic led by the Harris County Hospital District. Both having an immediate impact on the health outcomes of one the city's forgotten areas. Community organizing would continue throughout the civil rights era, prompting retribution from political elites who weren't comfortable with the rising political clout of a Black neighborhood.
Findings in Settegast's housing data
Today, the neighborhood's land use is predominantly composed of single-family housing with many vacant lots — approximately 71% of the units are single-family and 28% are multifamily. There are sparse commercial spaces and light-industrial uses along the perimeter of the neighborhood, reinforcing the neighborhood's bordering physical barriers.
Despite the neighborhood's rich legacy of organizing, Settegast has gone through prolonged periods of further under-investment and environmental injustice, which undergird its housing situation in 2020. What we found in our data analysis is a community emblematic of many Black neighborhoods in Houston — a large share of renter households (58%, on par with the city's 57%), which is high considering its legacy as a community attractive to prospective Black homeowners; growing in-migration and integration with lower-income Hispanics (there was an 83% increase of Hispanic residents in Settegast from 2010–2018); a slow sales market with extremely low home values (in 2018, there were zero home sales, only seven active listings and a median home value of $46,000); and a large share (20%) of subsidized housing.
Settegast is not in a major flood area, unlike majority Black neighborhoods such as Kashmere Gardens, Trinity Gardens, Fifth Ward or Northshore, which are seeing dramatic losses in Black homeownership. Those neighborhoods were hit hard by major floods in the past decade, with the sharp loss of homeownership indicating that Black households are disproportionately burdened by the impact of climate change in Houston and losing opportunities to build wealth for the next generation.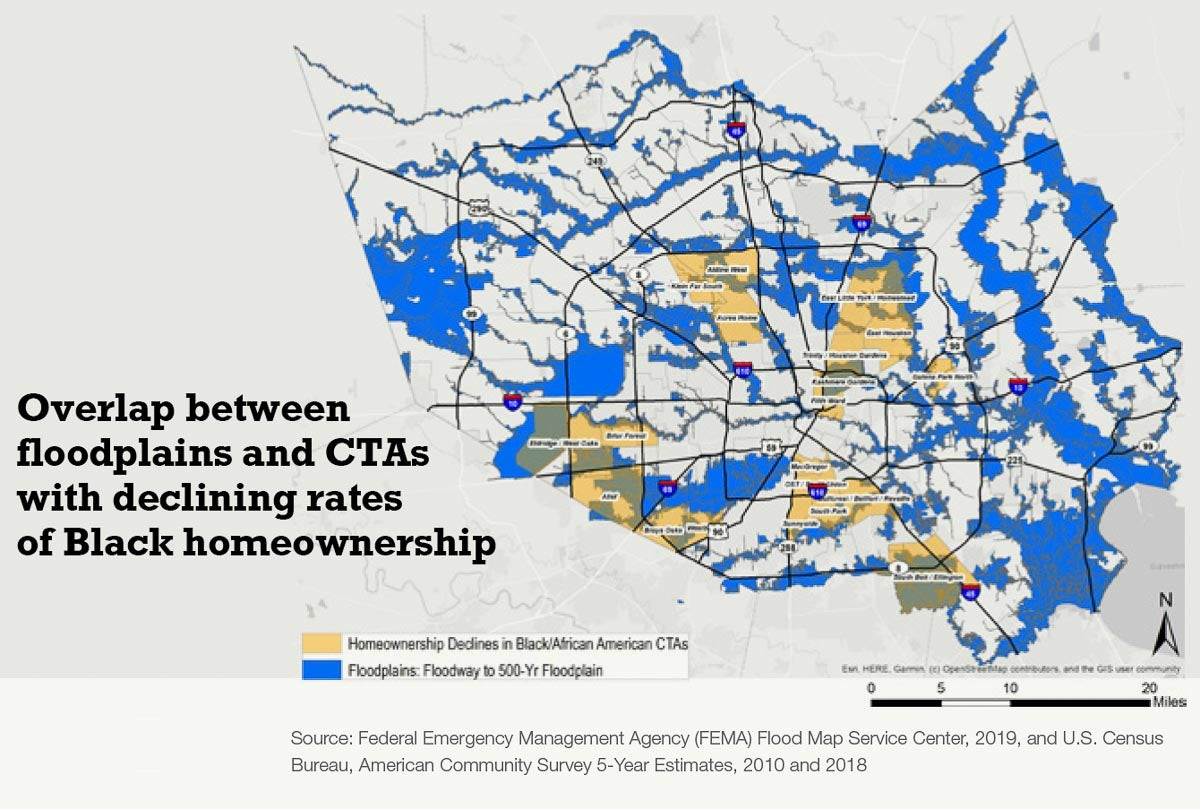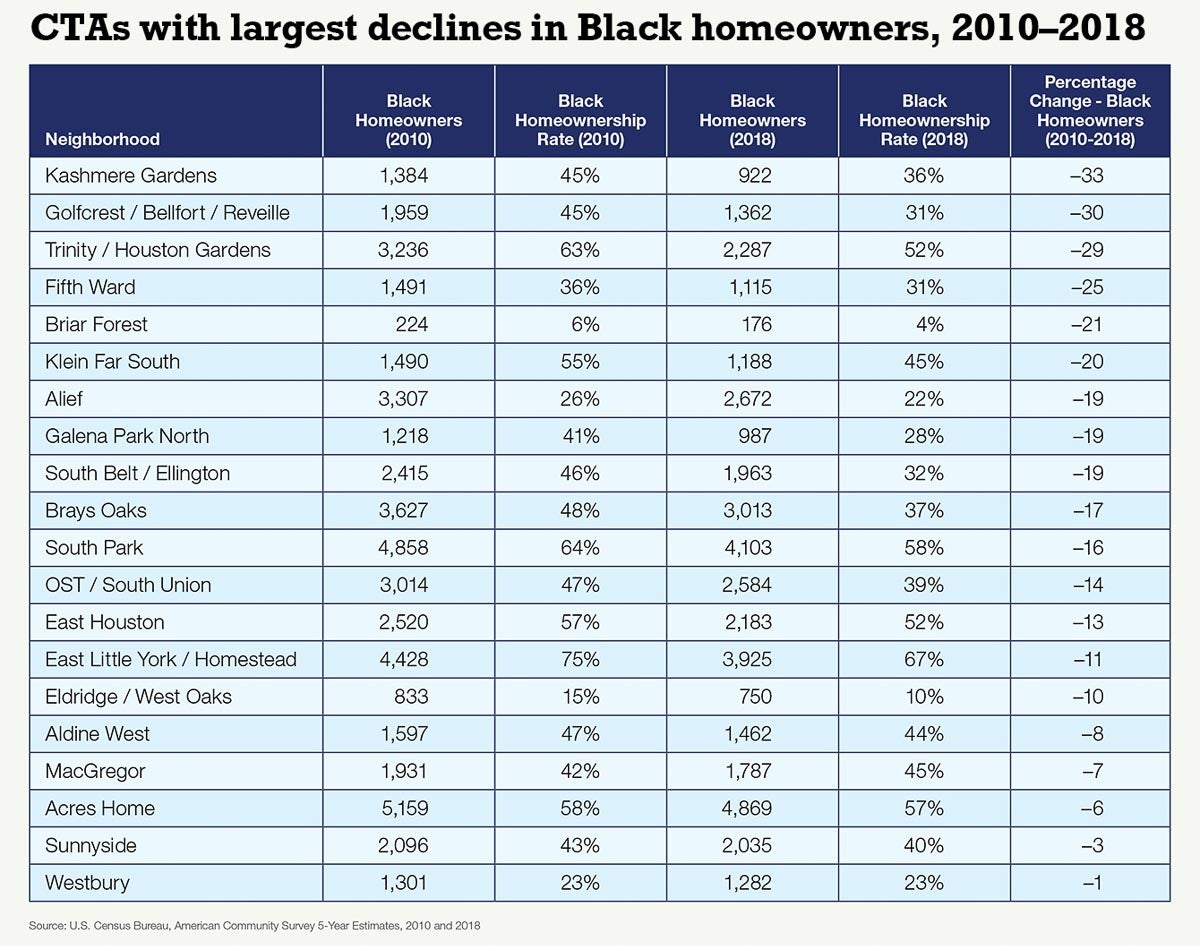 There are also findings in Settegast that are at odds with the State of Housing report's major findings and county-wide trends. These neighborhood findings suggest low-wage, one-worker households — predominantly Hispanic — are moving into the neighborhood and living in housing units that likely were occupied by older Black homeowners who passed away or moved out. For instance, there is a decline in residents over the age of 65 (also equaling the net loss of the Black population) but a 10% increase in the neighborhood's overall population. In contrast, most areas in the county experiencing population increases are seeing a surge in the aging population.
Settegast's poverty rate has held steady at 38% during this time period, though median household incomes have fallen by 24% — from $29,313 to $22,198 — and the number of low-wage workers has increased by 18%.
Rents have risen dramatically during this period. Despite high levels of poverty and falling median wages, rents rose from $398 in 2010 to $762 in 2018 — a 91% increase — and rental units have nearly doubled to just under 941 by 2018. The growing share of renters may also be the result of flooding in surrounding neighborhoods. In the area surrounding Settegast, economic decline, combined with its high gentrification susceptibility, are fundamental to the community's future — one to keep tracking in consequent iterations of our State of Housing report.
A decade of changes in Settegast
Indicators
2010
2018
Percent
change
Population
3,815
4,227
10.8%
Median gross rent
$398
$762
91.46%
Median household income
$29,313
$22,198
-24.27%
Poverty rate
38.89%
38.59%
-0.78%
White population
65
87
33.85%
Hispanic population
622
1,142
83.6%
Asian population
0
0
—
Black population
3,128
2,998
-4.16%
Other population
0
0
—
Foreign-born population
236
444
88.14%
Population with a disability
875
793
-9.37%
Population density per square mile
1,553
1,721
10.8%
Population over 65 years of age
669
488
-27.06%
Racial Diversity Index
0.30
0.42
40%
Income Diversity Index
5.96
6.18
3.66%
What can be done about persistent housing inequities?
Housing in the Houston area has been a central focus for the city and Harris County in the past five years — including the city's efforts on Plan Houston, Complete Communities, Resilient Houston Strategy, Climate Action Plan and Incentives for Green Development, in addition to regional disaster recovery efforts and the forthcoming Harris County housing study, My Home is Here, which is being led by the Kinder Institute. Housing affordability has been cited in each of these efforts, and was singled out by the Plan Houston steering committee as the primary strategy to tackle for implementation. However, 2015 marked the start of a nearly annual repeat of devastating flooding events (Memorial Day flood, Tax Day flood, Hurricane Harvey and Tropical Storm Imelda) that damaged or destroyed the homes of many Houstonians while pulling many institutional energies into disaster response and recovery efforts.
Many of the other initiatives have focused on engaging communities in a big-picture view of how to design resilient communities through infrastructure, housing and environmental systems. And while affordability has played an important role in these conversations, it's more prominent now that the housing crunch is hitting middle-class households and people with political capital. In the past, the housing needs of Black and lower-income Houstonians often have been discounted as too politically difficult to address.
Houston must confront the legacy of racism and the inequality present in the approach to housing policy, the results of which can be seen in Settegast and other communities. This means going beyond addressing middle-class-affordability concerns and aiming to build fairness into the housing system. The current issues facing a neighborhood like Settegast stem directly from the choices made in the past, but by seeing the gaps for what they are, there's an opportunity to revisit policies designed in a bygone era and work to transform the neighborhood in ways that benefit all of its residents.