Redesigning a busy intersection to (ostensibly) improve safety for pedestrians wouldn't make the news in most cities the size of Houston. But in January, both the Houston Chronicle and CW39 covered the completion of the "Memorial Drive and Eldridge Parkway Protected Intersection Project" — a makeover five years in the works.
Touted by the Energy Corridor District as the "first intersection of its kind in west Houston," the redesign included wider sidewalks, raised refuge islands and bollards to protect pedestrians, wheelchair users and cyclists, as well as aesthetic additions like landscaping, trees and pedestrian lighting.
The intersection makeover also caught the attention of Joe Cortright, an economist based in Portland, Oregon, who runs — and is the driving voice of — the City Observatory blog. Cortright has deep knowledge of urban issues, including transportation, housing, gentrification and placemaking, and has done a lot of really interesting data analysis related to trends in urban migration and the impact of urban sprawl. He's also not shy about calling out what he considers to be nonsense (or nonsensical), whether it be the flawed interpretation of data or a wasteful or impractical project carried out by a government agency. An example of the former is his campaign against the pandemic-induced flight from cities narrative; while the latter includes various freeway expansion projects and "performative pedestrian infrastructure" — a term he may have coined.
Cortright puts it this way: "One of the biggest lies in transportation planning is calling something 'multi-modal.' When somebody tells you a project is 'multi-modal,' you can safely bet that it's really for cars and trucks with some decorative frills appended for bikes and pedestrians. A four- or six-lane arterial, posted for 45 miles per hour, and with crossings every half mile or more isn't pedestrian friendly no matter how wide the sidewalks are on either side of the road.
Much of what is labeled pedestrian infrastructure is in reality car infrastructure."
Examples of "performative pedestrian infrastructure," which can seem like a two-steps-forward-one-step-back approach to bike and pedestrian infrastructure can be found in Denver, Atlanta, Orlando and other cities. Many of these projects involve building pedestrian bridges over wide, fast arterial roads or railroad tracks and, as Cortright has pointed out, are "at best a remedial effort to minimize the danger this environment poses to anyone who isn't in a car." The problem is, they don't do anything to increase walkability or the desire to walk, which is true.
He lumps the rebuilt Memorial-Eldridge intersection into this category. In doing that, Cortright noted that the design aimed to be pedestrian-oriented — proven by an artist's rendering of the completed project featuring as many bicyclists and pedestrians (41) as cars (38). Of course, he was mostly joking in comparing what essentially is marketing to what he said is the reality of such infrastructure: all cars and zero bikes and pedestrians.
He wrote: "While this has the veneer and some of the trappings of walkability, it's just not a walkable area. There's a lot of loose talk about 'retrofitting suburbs' and 'walkable suburbanism' but examples like this show just how hollow and meaningless those terms can be."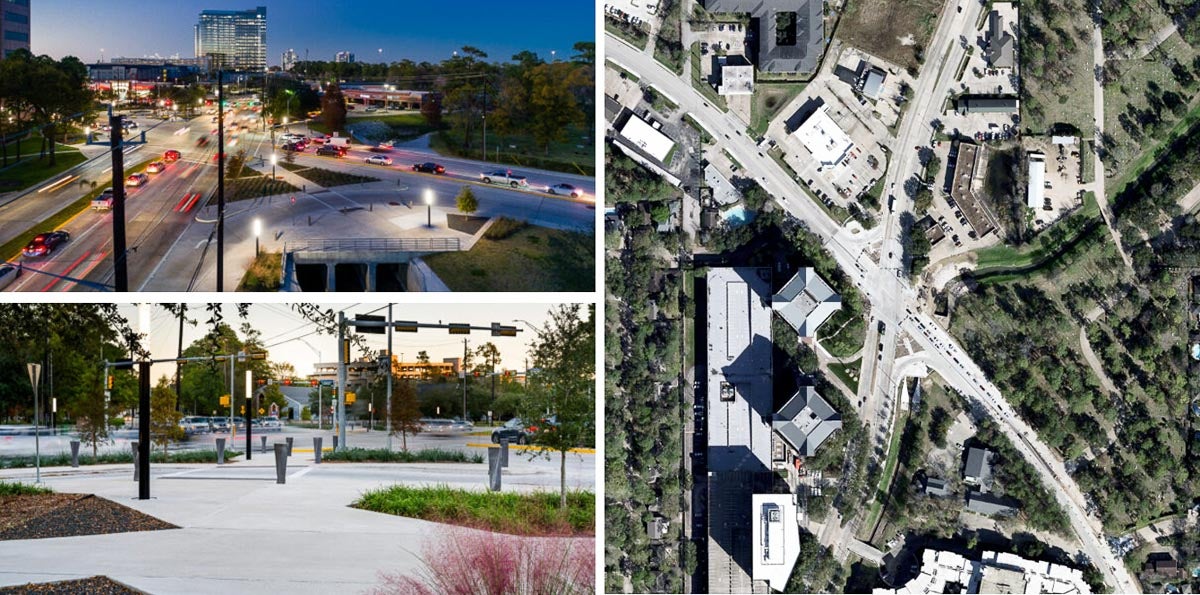 The value of walkable urbanism
Cortright isn't wrong about the walkability of the area surrounding the intersection of Memorial and Eldridge, which is in the Energy Corridor. Located about 15 miles west of downtown Houston, along I-10, the Energy Corridor is home to the headquarters and regional offices of big energy and chemical companies like BP America, Shell Oil, ConocoPhillips, CITGO and Dow Chemical, and many non-energy companies as well.
With a Walk Score of 47, there's no disputing the car-dependence of ZIP code 77079, where the Memorial-Eldridge intersection is located. It's the 34th "most walkable" ZIP code in Houston. That's just slightly higher than the overall Walk Score of 45 for the 4,000-acre Energy Corridor, — the city's 50th most walkable neighborhood.
The Energy Corridor District, which drove the protected intersection project, advocates for the corridor and works to "accelerate area improvements" meant to ensure the corridor's "economic vitality" in the long term. As laid out in the district's master plan, its goal is to transform the suburban business district into "a vibrant place that provides walk- and bike-to-work opportunities in a mixed-use, transit-served, ecologically-rich community." In short: walkability bolsters value.
Research shows that in large U.S. metros, homes in areas considered highly walkable are worth more than comparable homes in a less walkable area. Cortright himself has estimated each additional point of Walk Score is worth $3,500. In the Houston area, home values in walkable neighborhoods are 40.5% higher than those in car-dependent neighborhoods.
The below-average Walk Scores in the Energy Corridor — and most parts of Houston — don't mean there isn't a desire for improvement.
Each year since 2007, the Kinder Survey has shown that 50% of Houston metro residents prefer walkable urbanism and want more walkable alternatives to cars.
About half of survey respondents consistently have said they would like to live in an urban area within walking distance of shops, restaurants and workplaces, even if it means living in a smaller home. The other half prefers a single-family home with a big yard, in an area where it's necessary to drive almost everywhere.
"That means the demand is ahead of supply. Fifty percent of the neighborhoods in Houston are not walkable," Kinder Institute Director Bill Fulton told the Houston Chronicle last year. "You've got to start somewhere. There's clearly a demand for this type of living, even in Houston and even in this climate."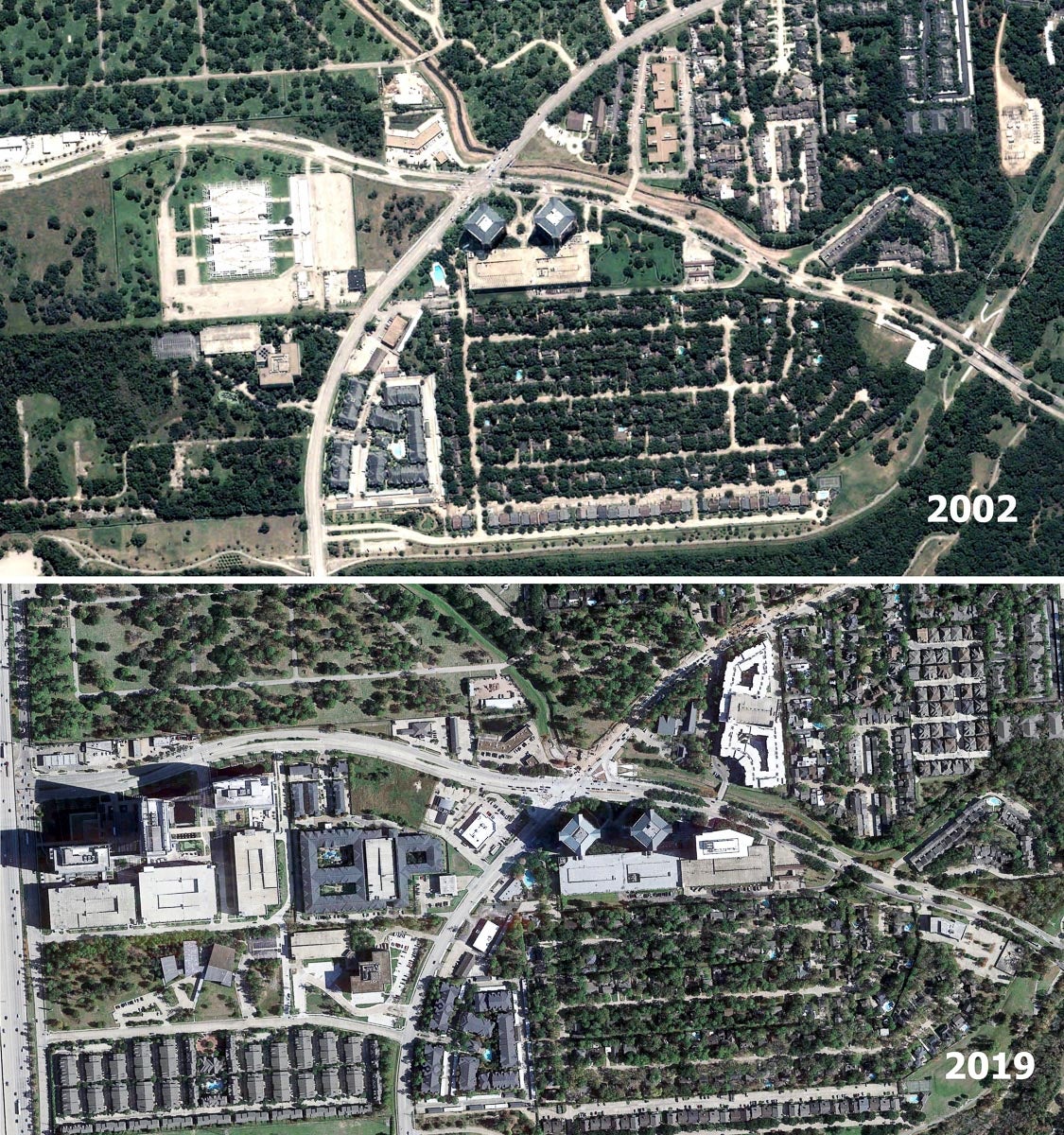 You have to start somewhere
For a city like Houston, where until about two decades ago, planning and design consisted almost exclusively of trying to move automobiles around faster, ways to retrofit the built environment have to be considered. And it will take time and effort to meaningfully retrofit an area like the Energy Corridor, which originally was developed like most of the region: sprawling, suburban and car-dependent.
"We can't throw all of Houston's suburban, auto-centric areas out of efforts to improve safety or walkability," Kinder Institute Deputy Director Kyle Shelton told me. "Otherwise we'll be abandoning folks who live and work in those areas to drive-only existences or unsafe walking environments."
According to Shelton, the retrofitting of suburban structures is a hodgepodge because people and decision-makers are facing different realities and transitions.
"We've got decades of auto-centric planning and infrastructure to address," he said. "The stop and start of it will be an ongoing challenge. But there also is a need to see incremental progress as a step in the right direction. Ideally, one that leads to future projects and systems that build upon each other. Sort of making the universe of possible projects and interventions larger."
It's true, to make the area around Memorial-Eldridge intersection a place more people desire to get to without driving a car, there's a definite need for more retail and grocery businesses, restaurants, coffee shops and the like. Until that happens, it can't be considered a truly walkable place where residents can run most errands without using their car. But, as Shelton pointed out, progress will be incremental.
Considering the area's access to assets such as the segment of the Buffalo Bayou Greenway trail from Beltway 8 to George Bush Park, including a number of recreational trails there, as well as connections to Terry Hershey Park and its running and biking trails, the Memorial-Eldridge pedestrian infrastructure doesn't seem like a hollow investment. And when work is completed on the Brays Bayou Greenway trail, there will be a continuous protected bikeway/paved trail stretching from the south end of George Bush Park to Mason Park in the East End — with connections to the Texas Medical Center, the Museum District, Hermann Park and the Houston Zoo along the way.
Residents of Broadstone Memorial, a 400-unit apartment complex near the intersection of Memorial and Eldridge, are a mile north of the Terry Hershey Park "facilities" on Buffalo Bayou. That's about a 20-minute walk if they head south along Eldridge and across Memorial to the trail on the bayou. Are there optional routes that avoid the redesigned intersection? Yes, but this example is a straight shot south that takes them over the crossing.
The sustained biking boom and desire to get outside and take a walk we've seen during the pandemic is strong evidence that Houstonians want — and will — walk and ride more, especially if they have access to places where they can do that safely. Just take a look at the crowded trails along the bayous each weekend. In the past year, the greenways and other parks with multi-use paths have become so popular that BikeHouston Executive Director Joe Cutrufo told me he sees a potential for real problems because of friction caused by overcrowding.
"It's a really nice problem to have," he said. "That our park paths and our bayou greenways are so full of people, it's a measure of success.
"Now, we need to plan for the growth of all that physical activity."
It's possible that, in some pockets of the city, we could see the same degree of desired walkability, if we build safety into the streets.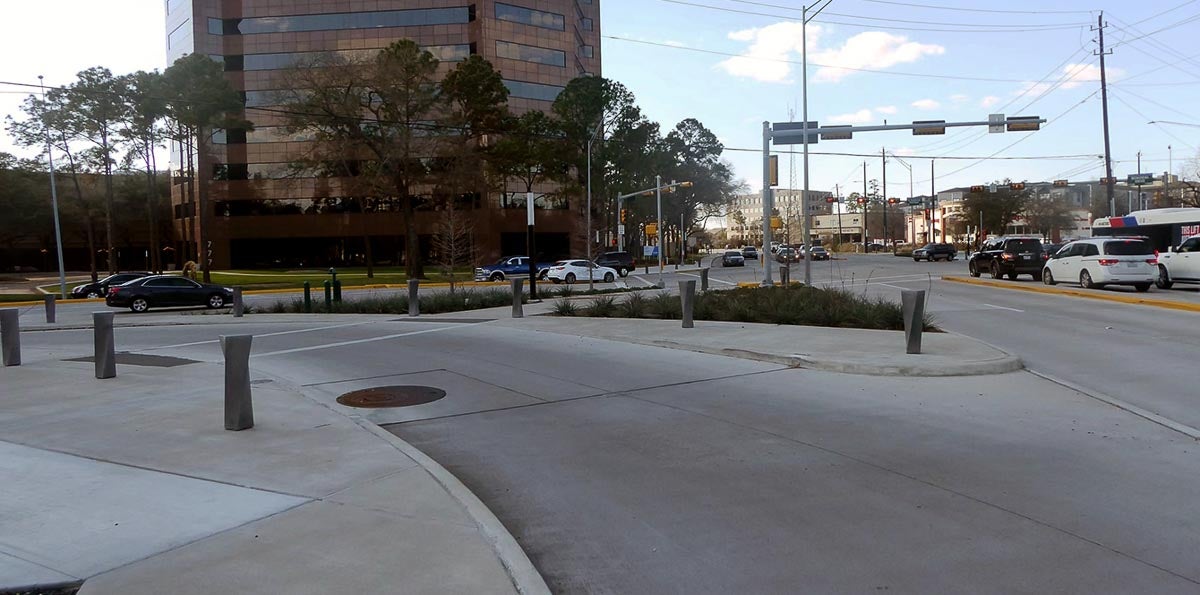 One step forward, two steps back
Joe Cortright was picking on Houston, which can be an easy target, but added there are "similar examples of performative pedestrian infrastructure in almost every U.S. city."
But, in examining the intersection reboot in west Houston, he also drew attention to the problem Steven Farber, an associate professor of human geography at the University of Toronto Scarborough, has described as "supporting transportation policies that are at cross-purposes" — such as expanding and building new highways, while simultaneously investing in bus rapid transit at the same time.
In the case of the Memorial-Elbridge intersection, Cortright argued, there's a contradiction in adding elements to protect pedestrians while also including "inherently dangerous" slip lanes:
"With 60,000 cars zooming by, with slip lanes that encourage drivers to take fast right turns, and with nothing nearby to walk to, it really doesn't matter how wide are the sidewalks or how beautiful the plantings or how numerous the bollards."
Clark Martinson, former executive director of the Energy Corridor District, agreed the sweeping right turns at the southeast and northwest corners of the intersection benefit vehicles, not pedestrians. To compensate for the right turns at an acute angle, he said, the slip lanes were moved farther from the intersection and narrowed so that buses and large trucks could make the right turn.
"This required rights-of-way acquisition and extending the bridge for Turkey Creek to provide the desired surface area for people walking and people riding bikes," said Martinson, who served as the district's executive director for close to 15 years and oversaw the planning for the project. Energy Corridor District staff met with the city and the district's engineers to develop the final design and oversee construction.
He added that the city's original design for the intersection didn't provide the space needed to safely accommodate pedestrians and cyclists.
"(Originally), the right-turn lanes were three times wider, resulting in a very hostile design for walking and biking," Martinson said. "The city was generous to let the Energy Corridor District redesign the intersection to better accommodate pedestrians and bicyclists."
Shelton agreed with Cortright on the dangers posed to pedestrians by slip lanes. And when considering ways to retrofit suburban areas, "that should include deeper attempts to remove obviously dangerous elements such as slip lanes," he said. "There's a need to make actual pedestrian and bike infrastructure, not car-influenced versions of it.
"To me, that means consciously improving roadways for all users, while prioritizing safety. I think of protected bike lanes and safe connections to the trail networks as critical steps in Houston."