In 2018, only four in every 10 residents in the city of Houston lived as homeowners. Overall, slightly more residents — about five in 10 — in Harris County owned their homes. The homeownership rate in the county declined from 57.8% in 2010 to 54.7% in 2018. These figures were far below the state of Texas (64.8% in 2010 and 61.9% in 2018) and the whole country (66.6% in 2010 and 63.8% in 2018).
---
Want to engage more with housing issues in the Houston area? The Kinder Institute for Urban Research has been enlisted by Harris County to conduct a housing study examining the types and prices of homes needed in our communities. Your input will help shape future policies, investments and programs in the county. Take the My Home is Here survey today.
---
One of the main reasons for this low homeownership rate in the Houston area is rising home prices. Home prices also increased in the county during the 2010s, but they rose more in the city. Between 2010 and 2018, median home values went up by 26% in the county, based on data from the American Community Survey. Rising home prices mainly are attributable to fast growth in the number of housing units valued higher than $150,000, which made it difficult for low- to middle-income families to afford homes without paying a significant amount of mortgage interest.
According to housing sales datasets from the Houston Association of Realtors, the median sales price for homes ramped up by 58% in Harris County between 2011 and 2018. The median sales prices were much higher than the median home values in the county. This indicates a robust home-buying market, which led to the general difficulties Houstonians have had in finding affordable homes as home values have risen in the 2010s. In general, the city's sales market has been much stronger than the county's, which makes it more difficult to buy a house within the Houston city limits.
In addition to the rising home values and sale prices in the 2010s, the median gross rent also increased substantially — up to approximately $1,000 a month in the Houston area in 2018. Rising rents also may have prevented renters from becoming homeowners as the financial strain kept them from being able to afford a down payment on a new house in the Houston area. In Harris County, both the median home value and the median gross rent increased by 26% from 2010 to 2018.
In the city, where the median home value grew higher than the median gross rent in the 2010s, rising rents might also have depleted some renters' savings, preventing them from saving up enough for a down payment on a home. Especially the city's higher growth rate of home values than that of gross rents certainly prevents many renters from buying an affordable house in neighborhoods where they are familiar and where their work may exist in the vicinity of their rental homes.
Overall, the market for rental units above $800 a month was very strong as the number of expensive rental stock ramped up. In contrast, the Houston area lost a significant number of affordable units in the inexpensive rental market. All of the changes in the housing market added to the growing competition for affordable rental units, and it became even harder for low-income renters to become homeowners in the city of Houston.
Median household income changes in the 2010s indicate that median-income renters' entrance to the homeowner group with some median-price level homes was much more stringent than median-income homeowners' moves to other median-price homes. Between 2010 and 2018, the median household income in Harris County grew 17% for all households, which was less than the rate at which both the median home value and the median sales value increased during that period. The median household income growth rate for Harris County homeowners was about 17%, and roughly 25% for renters. However, when we look at the median household income increase in dollars, homeowners saw a $12,140 increase, from $71,375 to $83,515, whereas the median household income for renters went up only $8,189, from $32,551 to $40,740.
Homeownership is quite limited to a majority of residents in the city and county. Despite numerous single-family developments across the county, Houston's housing supply was not able to catch up with the demand for homeownership, either because there weren't enough housing units where demand existed or because the prices were too high for many residents to afford — especially low- to moderate-income renters. The increase in renters' income wasn't enough to keep up with the increase in housing prices, which was due in part to the increase in the number of housing units priced $150,000 or higher. Also, because of an increase in the number of expensive rental units (e.g., $800 or higher), many renters continue to wrestle with rising housing costs.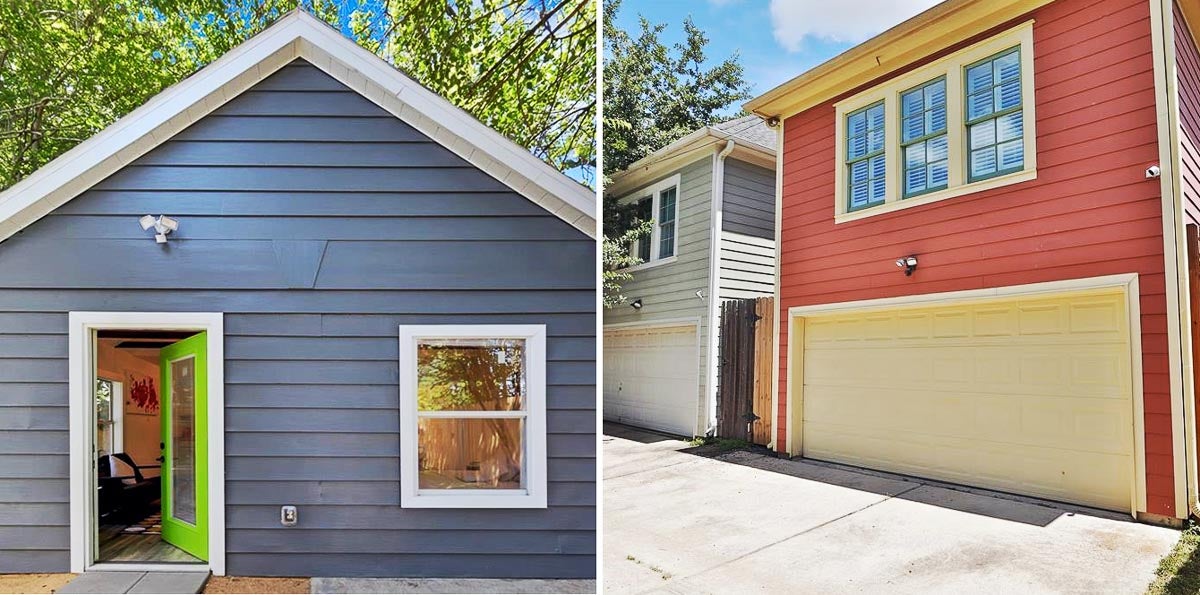 More diverse housing types and structures in the city would help meet various types of demand for housing and make homeownership more accessible as well. Building only traditional single-family, freestanding homes isn't enough to meet homeownership needs in the Houston area. Land is limited in the city, and more caution should be taken in selecting sites for new single-family development in low-lying areas. Often, a large amount of land is used to build suburban-style single-family homes, further contributing to Houston's well-known sprawl.
Development of different housing types, such as accessory dwelling units or single-family attached homes like townhomes, can help stabilize rising housing prices and increase density (more units built on the same size lot, compared to single-family detached units) — though the new housing prices generally are higher because of increased construction costs. One of the recent studies regarding Houston's 1998 subdivision reform (Gray & Millsap, 2020) shows that many townhome-like single-family detached houses on small lots (less than 5,000 square feet) have been built in Houston's less dense and underdeveloped neighborhoods, where residents are middle-income families.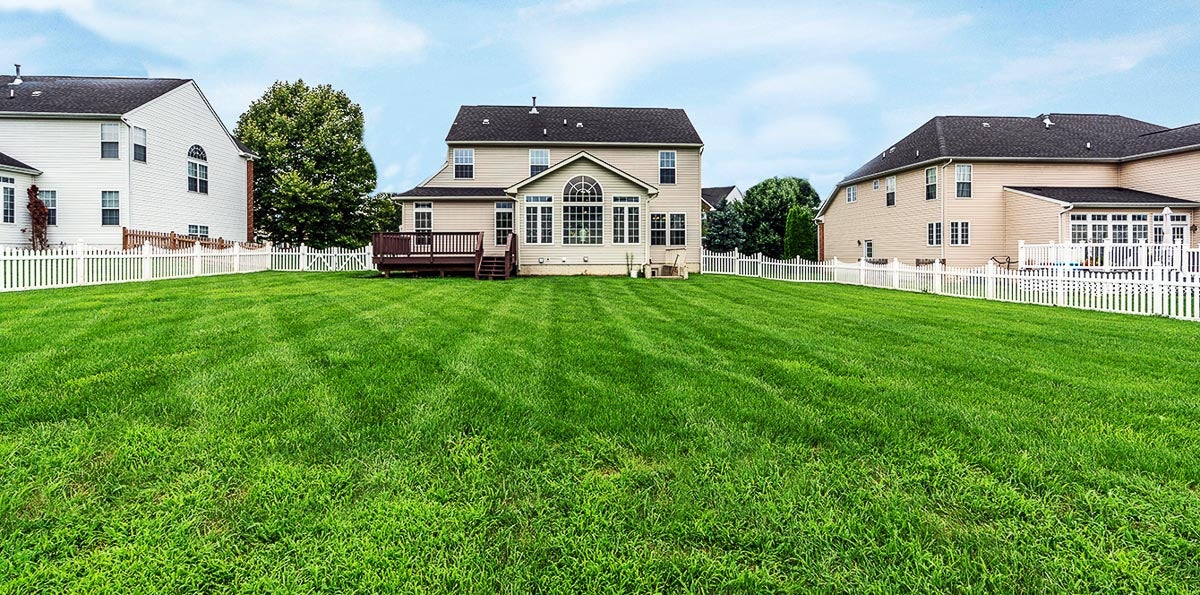 Construction of more rental units in central areas would also help slow down the rapid rise in home prices over time. As a fast-growing metropolitan area, a continuous influx of new residents into the Houston area should be expected in the future. And there will continue to be a growing demand for housing units for both homeowners and renters.
The rising rental market and sales market are intertwined. Predictably, housing prices would not fluctuate as much if there is a sufficient and consistent supply of rental units in areas where there is a need. A stable rental market eventually will enhance the dynamics between renters and homeowners, but this balanced housing market can exist only when there is an adequate supply to meet the demands for both rental units and homes simultaneously.
It is too soon to predict how the COVID-19 pandemic will impact the homeownership trend in Houston and Harris County. In addition to the suburbanization that experienced in the pre-pandemic world, there may be a greater demand for more spacious residences in the suburbs than less spacious units in the busy central city. More people might consider living in less crowded neighborhoods, where they could occupy more space, than in central locations, where people spend a higher price for the same square footage.
Although many things remain uncertain farther down the road, both vigorous development and redevelopment of single-family homes and multifamily properties in the Houston area can help stabilize both home sales prices and rental prices in the future. These, along with other positive economic factors (e.g., a decent minimum wage, a high labor force participation rate and a low unemployment rate), will help put Houston's homeownership rate closer to the national level.
---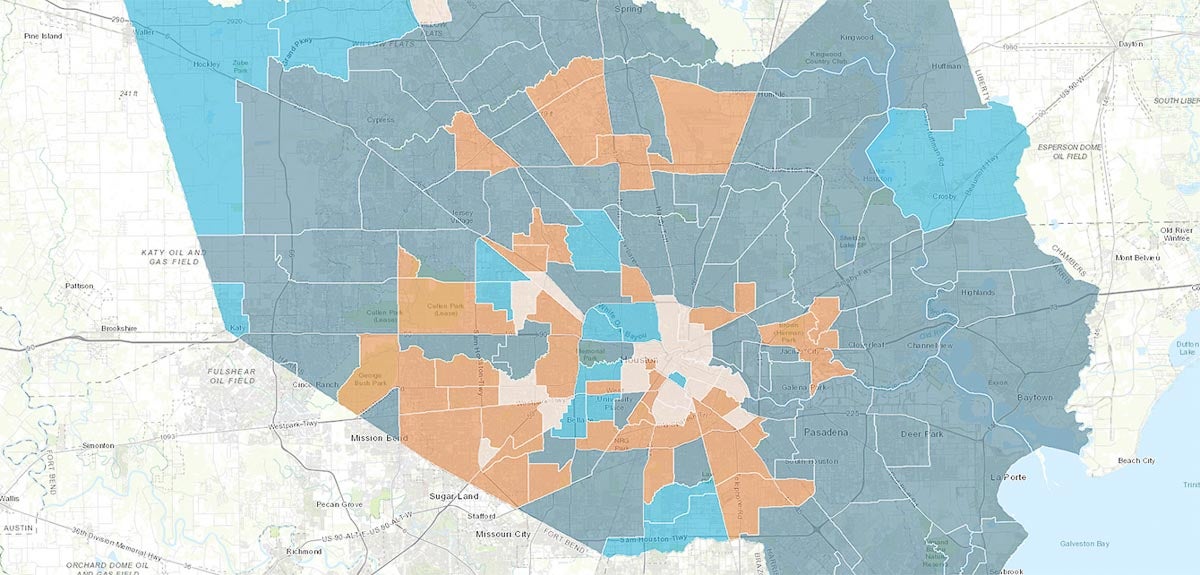 Improving financial literacy
Homeownership plays an important role in creating economic and social mobility. To better illustrate how credit scores and history impact interest rates and to improve overall financial literacy, the Kinder Institute's Houston Community Data Connections team created this data story to help residents overcome barriers to buying a home.