On March 20 of last year, when the new coronavirus had everyone's attention but far too many didn't grasp the make-or-break opportunity of the pandemic's exponential growth phase, the Internet was briefly distracted by John Lennon's "Imagine."
That Friday, actress Gal Gadot shared a video of her and other celebrities giving a painfully earnest performance of Lennon's what-if peace anthem. The intentions were good — "I just wanted to send light and love to the world." — the timing was not. It did not land well.
Following the backlash, Gadot admitted the cringey cover "didn't transcend."
When "Imagine," which turns 50 later this year, was released in 1971, Lennon's lyrics challenged listeners to consider some hypotheticals that some Conservative Americans perceived as revolutionary — no country, no possessions, so no need for greed or hunger or war, universal peace — if not downright blasphemous — no hell and no heaven, no religion.
Let's consider another what-if: Imagine there's no congestion. Wait, scratch that, it's too hard to do. Imagine there's significantly less congestion. Say, 33% less. That's a hypothetical Houstonians could not imagine back in 2019, when the congestion level on the city's roadways was 24%. That meant a 30-minute trip took 24% more time — 37.5 minutes — than it would during Houston's "baseline uncongested conditions."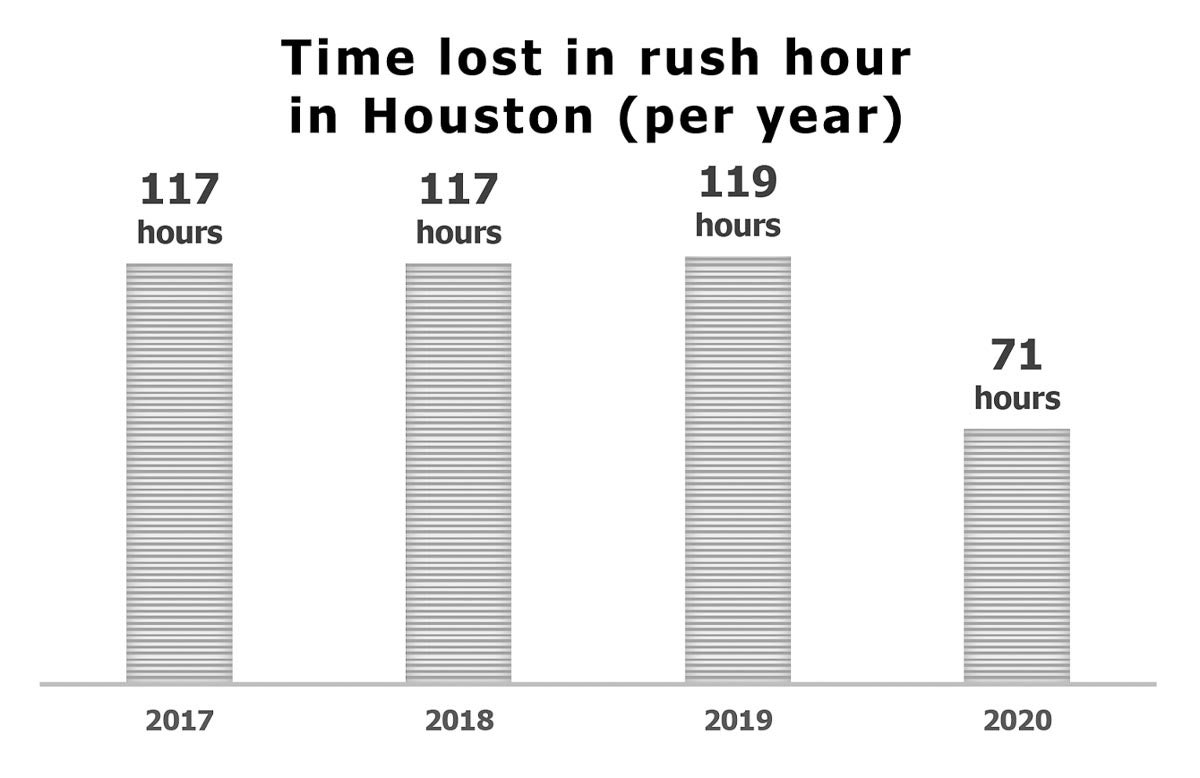 In Houston, there was 33% less traffic in 2020 than in 2019, and the congestion level dropped 8%, from 24% in 2019 to 16% last year. In April, during the peak of local stay-at-home efforts, the congestion level dipped to 6%, the lowest of the year. February's 26% congestion level was the highest for the year.
That's according to the latest TomTom Traffic Index. The 2020 version released last week shows us how remote work, stay-at-home orders and general efforts to slow the spread of COVID-19 had a dramatic effect on congestion levels in more than 400 cities around the world, including 80 in the U.S.
Another way to quantify it is in time lost in rush hour traffic. In 2019, the traffic index shows Houston drivers spent (or lost) 119 hours of extra travel time driving during peak hours. Well, how much time is that you ask?
Enough time to read 3,588 pages of Marcel Proust's 4,211-page whopper "In Search of Lost Time."
Enough time to knit five sweaters and 30 caps.
And …
Enough time to listen to "Imagine" 2,293 times.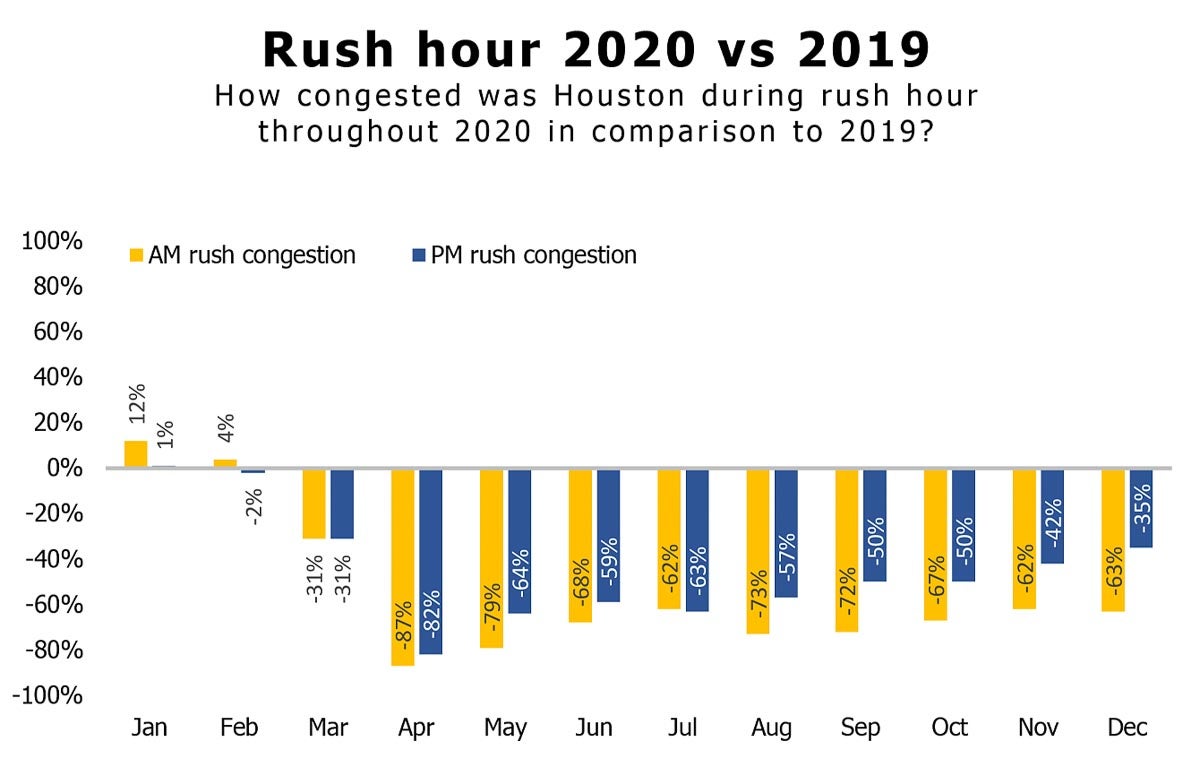 Los Angeles' 27% congestion level was the nation's highest. That's despite 36% less traffic than in 2019. Minneapolis saw the greatest drop in traffic compared to 2019 — 47%. San Francisco (21% congestion level), San Jose (19%), Boston (15%) and Nashville (15%) all had 42% decreases.
In terms of time lost, Houston drivers spent 71 hours of extra time driving during peak hours in 2020 — two full days less than the year before — a 40% reduction.
U.S. Greenhouse gas emissions from energy and industry dropped more than 10% in 2020 to their lowest levels in at least three decades, according to an estimate from the Rhodium Group released earlier this month, the New York Times reported. There was a 14.7% decline in U.S. emissions from transportation, the nation's largest source of greenhouse gases, as the pandemic brought the economy to a screeching halt and millions of people began working from home and air travel plummeted.
"But as vaccines become more prevalent, and depending on how quickly people feel comfortable enough to drive and fly again, we'd expect emissions to rebound unless there are major policy changes put in place," said Kate Larsen, a director at Rhodium Group, a research and consulting firm.