The two biggest changes Stephen L. Klineberg, Ph.D., has seen in the 38 years he's conducted the Kinder Houston Area Survey are residents' increasingly positive attitudes toward diversity and immigration and growing support for gay rights.
Klineberg is the founding director of the Kinder Institute for Urban Research, which celebrates its 10-year anniversary in 2020.
For example, in the past decade, there has been a steady climb in the proportion of U.S.-born Anglos in Harris County who are in favor of granting illegal immigrants a path to legal citizenship if they speak English and have no criminal record, from 56% in 2010 and 60% in 2012 to 65% in 2016 and to 71% in last year's survey.
The results of the survey also show a dramatic transformation in residents' acceptance of homosexuality, from 21% in 1997 who believed same-sex relations were morally acceptable to 58% in 2019.
The shifts in attitudes toward gay rights have been even greater. For example, support for same-sex marriage has grown from 31% in 1993, to 41% in 2003, to 45% in 2013, to 64% in 2019.
What began in 1982 as a one-time project to teach research methods to his undergraduate sociology students has become an annual report tracking perspectives on the local economy, social issues and demographic changes in the area. It's an important and unique historical record of time and place allowing for longitudinal analyses of the city and surrounding region.
More than 46,000 Houston-area residents have taken part in intensive 30-minute interviews for the 38 Kinder Houston Area Surveys. No other city in the United States has been followed and recorded in this way for such a long period of time. But as a bellwether of demographics and more, Houston is uniquely qualified to be studied in such an unprecedented way.
"This is the city where the American future is going to be worked out," Klineberg told the Houston Chronicle in early 2010 when Rice University announced the creation of an Institute for Urban Research Center. "Just as Chicago was the city of the 20th century in America, we believe Houston is the … city of the future."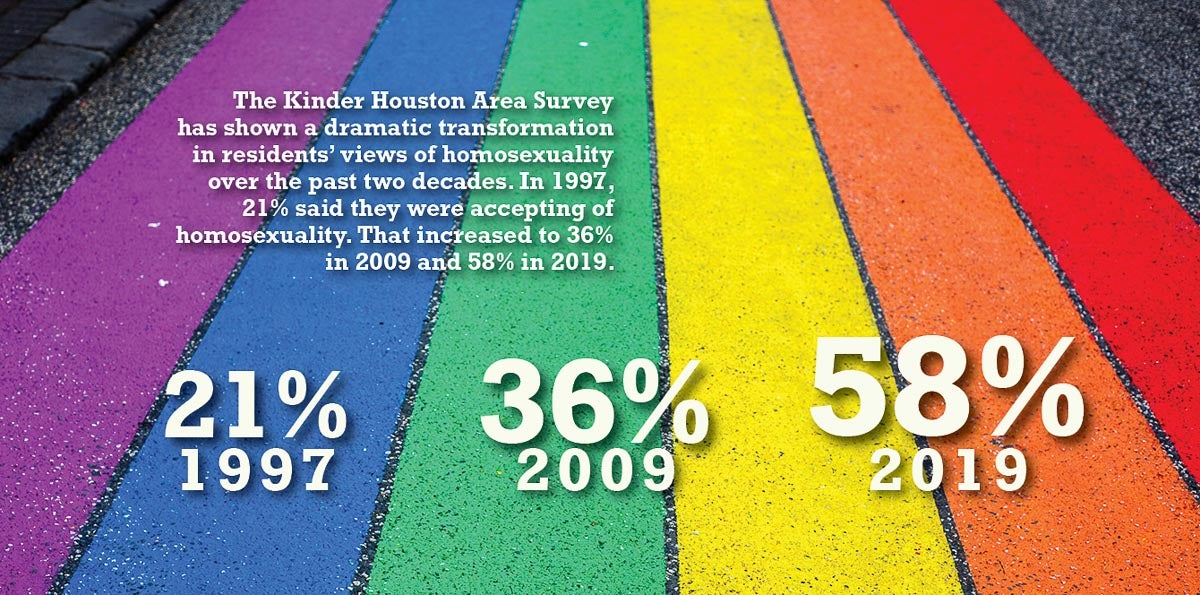 Back in 2010, Rice's Urban Research Center, led by Klineberg, was joined with the university's Center on Race, Religion and Urban Life, led by former Rice sociologist Michael Emerson, to form the institute, which was endowed with a $15 million gift from Houston philanthropists Richard and Nancy Kinder.
Since then, the work of the institute's researchers has expanded beyond the Houston-area survey to cover issues including economic development, governance, health, elections, housing, urban disparity and urban planning. In aggregate, this research provides important insight not only for Houston but for other Sunbelt cities and urban areas across the nation.
"Few cities exemplify more clearly than Houston the trends that are refashioning the social and political landscape across all of America," Klineberg wrote in the 2019 survey. "The high-tech, knowledge-based, global economy is generating mounting inequalities based primarily on access to quality education. As urban centers compete for the most talented individuals and the most innovative companies, quality-of-place attributes will increasingly determine the fates of cities. Meanwhile, an epic demographic transformation is underway, as this city and country, once predominantly composed of European nationalities, is rapidly becoming a microcosm of all the world's ethnicities and religions. Nowhere are these new realities more sharply articulated than here in the Houston region."
Using past Kinder surveys and data from the U.S. Census Bureau and its American Community Surveys, let's take a look at some of the ways — economics, transportation, population, outlook — the city and region have changed and stayed the same in the past decade.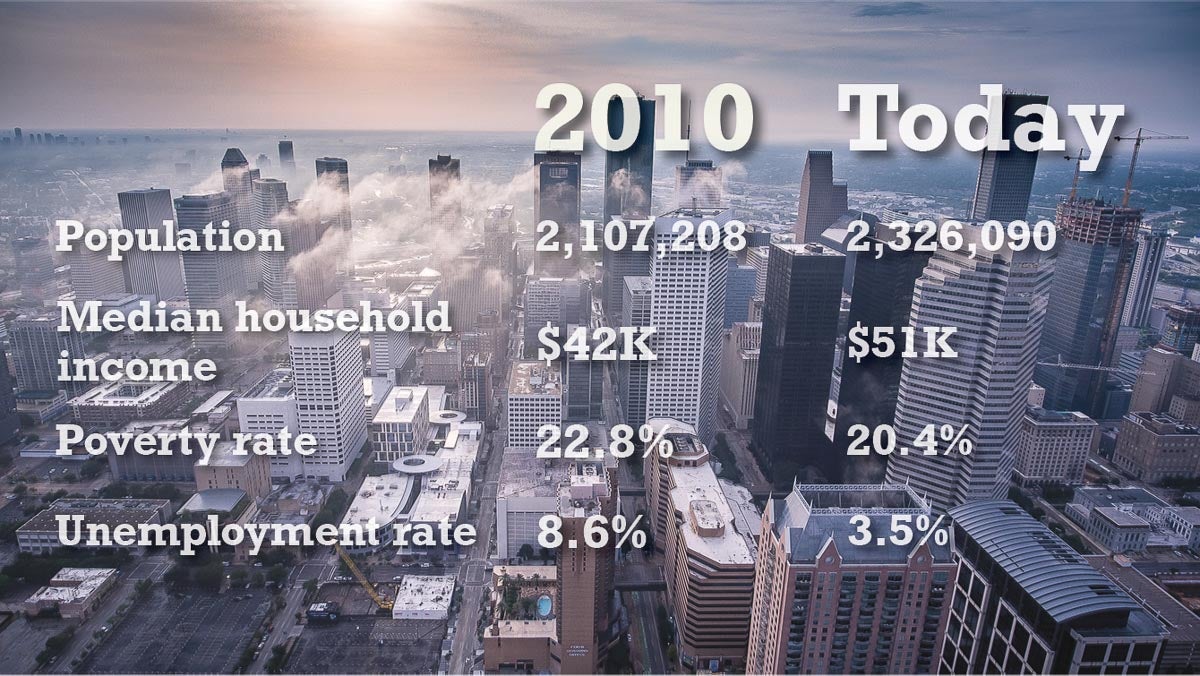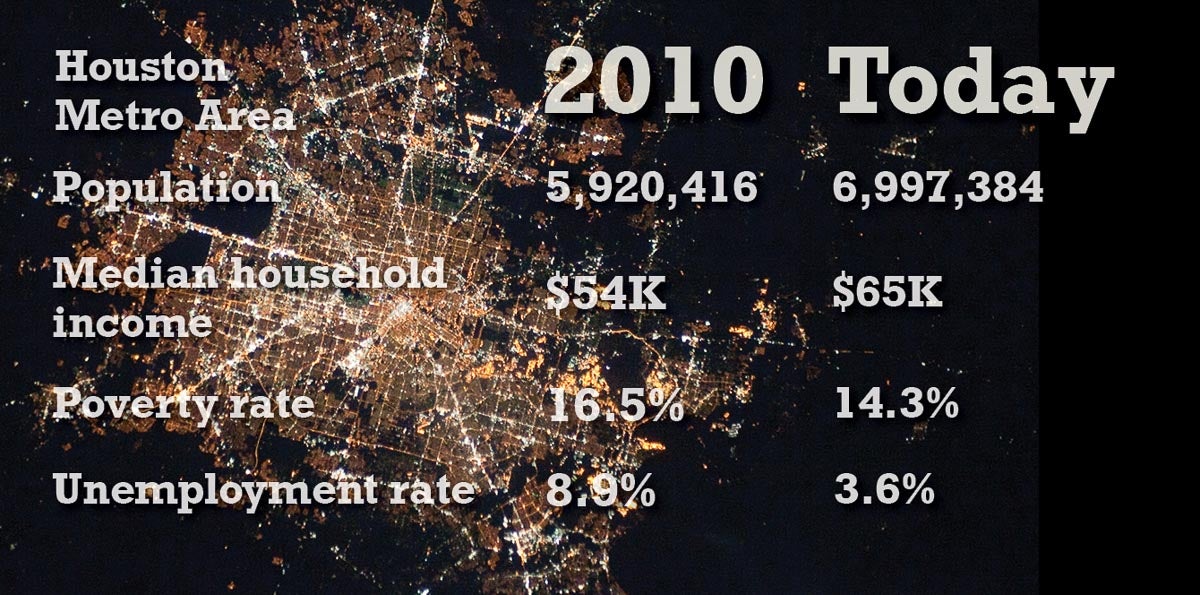 Transportation and commuting
In 2019, voters approved the METRONext plan, which includes the planned expansion of bus rapid transit routes and light-rail service, as well as improvements in service and accessibility.
But in 2015, METRO transformed its entire bus network overnight with the implementation of its New Bus Network plan. The plan altered almost every bus route and used a gridded route system instead of the hub-and-spoke system the transit authority had been using. In addition, service on weekends was expanded and the number of high-frequency routes went up — so did ridership.
"The biggest change in the last decade is simply the fact that Houston is being taken seriously as an urban place for the first time ever," says Kinder Institute Director Bill Fulton. "Things like the reorganization for the Metro bus system and the ambitious Bayou Greenways 2020 plan — both of which are being imitated around the country — have called attention to Houston as a place where urban innovation is taking place."
Supporting and improving public transit is an important issue to Houston-area residents, the Kinder survey has shown. In 2010, 52% said transportation funding should go toward improving rail and buses, while 42% called for more spending "to expand existing highways." And in the survey released in 2018, 61% of Harris County residents said a mass transit system is "very important" to the future success of Houston.
Metro's light-rail service has expanded
2010: 7.5-mile (12.1 km), 16-station portion of the line (from UH–Downtown to Fannin South)
Today: 22.7 miles, which includes an expanded 12.8-mile Red line and a 6.6-mile Purple line and a 3.3-mile Green line serving the Third Ward and East End neighborhoods, respectively.
Here's a look at our Houstonians commuted in 2010 and 2018: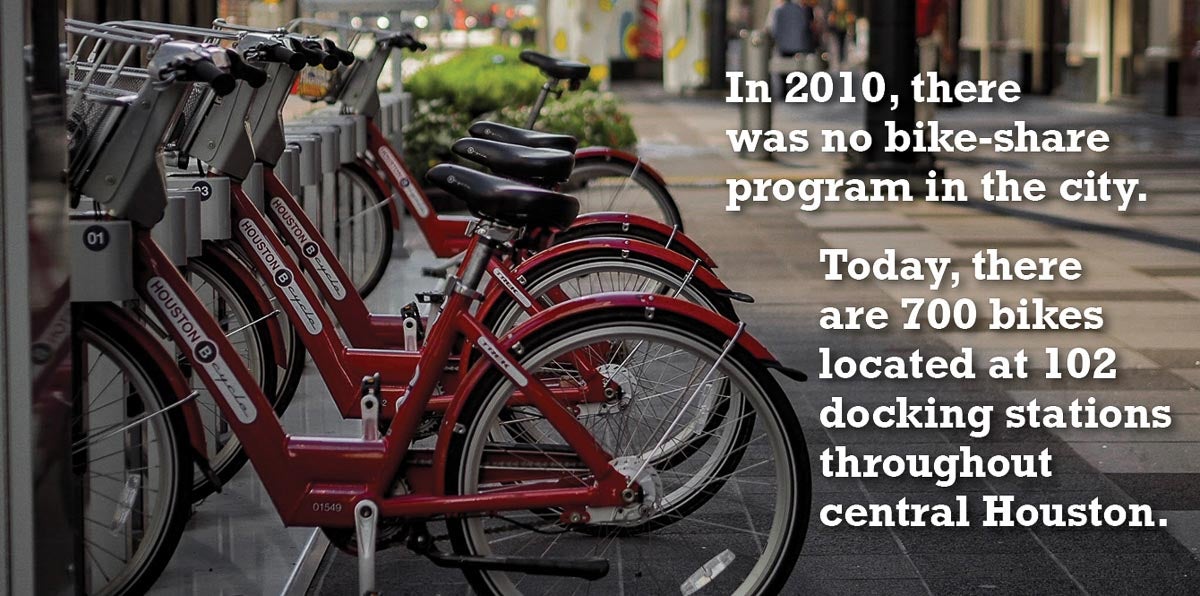 The birth and growth of a bike-share program
2010: Houston didn't have a bike-share program
Today: Houston BCycle launched in 2012 with three docking stations and 18 bikes. Since then, the program, which is operated by the nonprofit organization Houston Bike Share, has grown to 109 stations and more than 700 bikes throughout central Houston. And there's further expansion to come, with plans for some 200 more bikes and 26 additional stations. BCycle also launched a pilot program this past summer to test the possibility of adding electric bikes to its fleet.
Ridership grew by 60% between July 2018 and July 2019, with a projected 265,000 rides for the year. According to Beth Martin, executive director of Houston Bike Share, a portion of that increase comes from people using the bikes as part of their commute.
"Yes, people are still using our bikes for recreational rides — but hundreds more are using bike share every day for short, one-way trips in downtown, on college campuses, and in a number of other neighborhoods across the city," Martin wrote in a Houston Chronicle opinion article this past July. "We've finally grown large enough to get a critical mass of people where they need to go. Both our ridership and membership are growing at an unprecedented rate, without signs of slowing."
Important additions to outdoor spaces
The city's parks and recreation department manages some 374 parks and more than 200 green spaces but aims to increase that amount to meet its goal of all residents living within a half-mile or 10-minute walk of a green space. Currently, "48 percent of the population can walk out their door, walk for 10 minutes and be at a neighborhood park," says Michael Isermann, Houston Parks and Recreation Department's deputy director of facilities management and development.
But there have been a number of exciting developments in the expansion and improvement of green spaces since 2010.
Major renovations and improvements of Emancipation Park in the Third Ward were completed in 2017. Upgrades to the park — the city's oldest — included a new swimming pool, recreation center, plaza, splash-pad play area, playground and walking trails.
Houston Parks Board's Bayou Greenways 2020 plan is a public-private partnership to create a network of parks and green space along the city's bayous connected by a 150-mile system of hike and bike trails. A trail connecting the Greens Bayou Greenway with the Halls Bayou Greenway in Northeast Houston was completed last year.
In 2015, work was completed on the Buffalo Bayou Park project, a $58 million improvement effort on the 160-acre greenspace west of downtown. The upgrades included hike and bike trails, a large dog park, public art, a creative nature play area, and spaces for picnics and outdoor activities.
Climate change and the environment
The decade between 2010 and today was the warmest ever recorded. The atmospheric carbon dioxide levels continued to rise and the economic and environmental costs skyrocketed.
Hurricanes Sandy, Irene, Maria, Florence and Irma brought damage and destruction that cost billions of dollars. Hurricane Harvey dumped a record level of rainfall on the Houston area in 2017, causing unprecedented flooding in the region. Yet, just a year and a half later, the 2019 Kinder survey showed residents were less concerned about the area's vulnerability to flooding and were growing less likely to support government interventions to curb flooding in the future.
On April 20, 2010, the explosion of the Deepwater Horizon drilling rig in the Gulf of Mexico led to a massive oil well fire that killed 11 and injured 17. The resulting oil spill became the biggest environmental disaster in American history.
That same year, only 39% of survey participants saw the threat of climate change as a "very serious problem." By 2019, that proportion grew to 53%.
Employment and the economy have been strong
Following the Great Recession, the unemployment rates in Harris County grew from 4.1% in 2008 to 6.3% in 2009 to 8.5% in 2010. At the same time, the proportion of residents taking part in the Kinder Houston Area Survey that rated job opportunities in the Houston area as "excellent" or "good" dropped from 57% in 2008 to 49% in 2009 and to 38% in 2010.
According to a report from the Greater Houston Partnership, the total number of unemployed fell by 76% (or 36,491) between 2010 and 2018. More than 596,100 jobs have been added to the region in that time.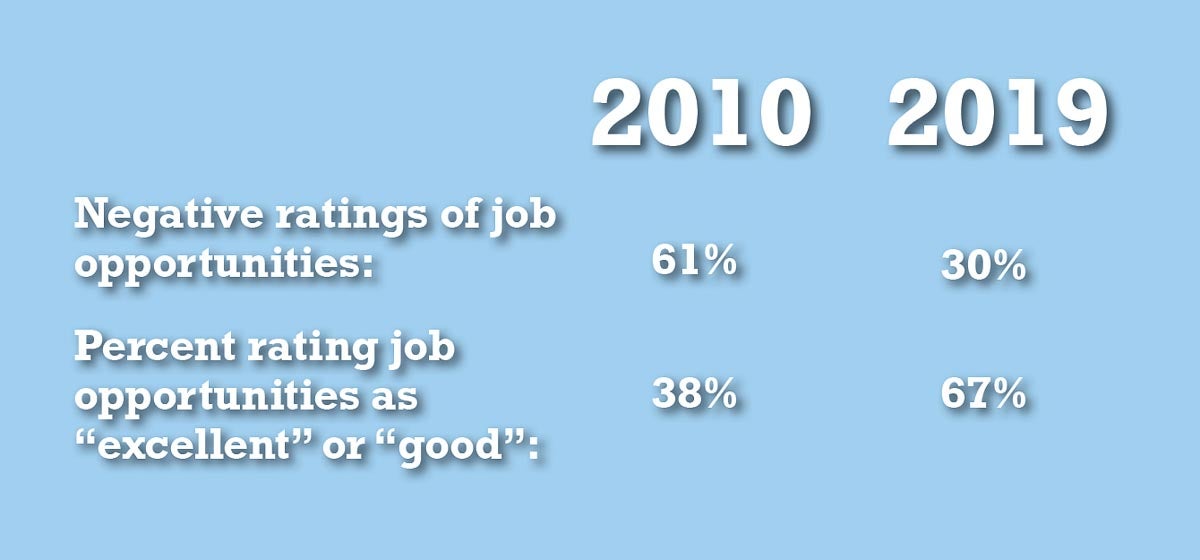 There are also economic weaknesses
Despite its strong overall economy and low unemployment rate, the prevalence of economic hardship in the region is growing and needs to be addressed.
In 2019, almost 40% of Harris County residents who participated in the survey reported being unable to come up with $400 in the case of an emergency, and the household income for 31% was less than $37,500. In 2018, 35% said they had trouble covering the cost of housing in the past year, while 33% reported having trouble paying for food in 2017.
In 2019, 25% of survey participants said they and their families had no health insurance.
The Affordable Care Act was signed into law by President Barack Obama in early 2010. In the survey released that year, 52% were in favor of "federal health insurance to cover the medical costs of all Americans." That proportion was down from 74% in 2006 and 67% in 2008.
Support for government programs to address inequalities in America has risen steadily in the past decade. The proportions who agree the government should take action to reduce income differences went from 45% in 2010 to 66% in 2018. Half of the respondents in 2009 said the "government has a responsibility to help reduce the inequalities" in the U.S. That rose to 62% in 2019.
Looking ahead
In last year's report, Klineberg offered this take on what is needed for Houston and the surrounding area to sustain the economic growth of the past 10 years and to continue moving in the right direction toward becoming a city that can attract the best and brightest talent:
"Houston's remarkable ethnic diversity will continue to be a major asset in drawing immigrants from all over the world and in consolidating the city's position in the global economy, with the Houston Port serving as a major gateway into the worldwide marketplace. Undergirding all of these initiatives is the need to nurture a much more highly educated workforce ready to do the jobs of the knowledge economy. And in order to convince more of the best-trained minds to choose Houston as the place to live and work, continuing improvements will be needed in the region's overall quality of place — its resiliency in the face of severe storms, its air and water quality, its parks, bayous and recreation areas, its venues for sports, arts, and culture, its centers of walkable urbanism; its mobility and transit. Much has been accomplished along these lines, but much more will be needed in the years ahead."