FiveThirtyEight's Rachael Dottle and Galen Druke dug into 2016 U.S. Census data to determine where Republicans and Democrats lived in cities across America and found Houston is the 20th most politically-polarized cities in the nation.
The top five most politically segregated cities are Jackson, Mississippi; New Orleans; Baton Rouge, Louisiana; Birmingham, Alabama; and Shreveport, Louisiana.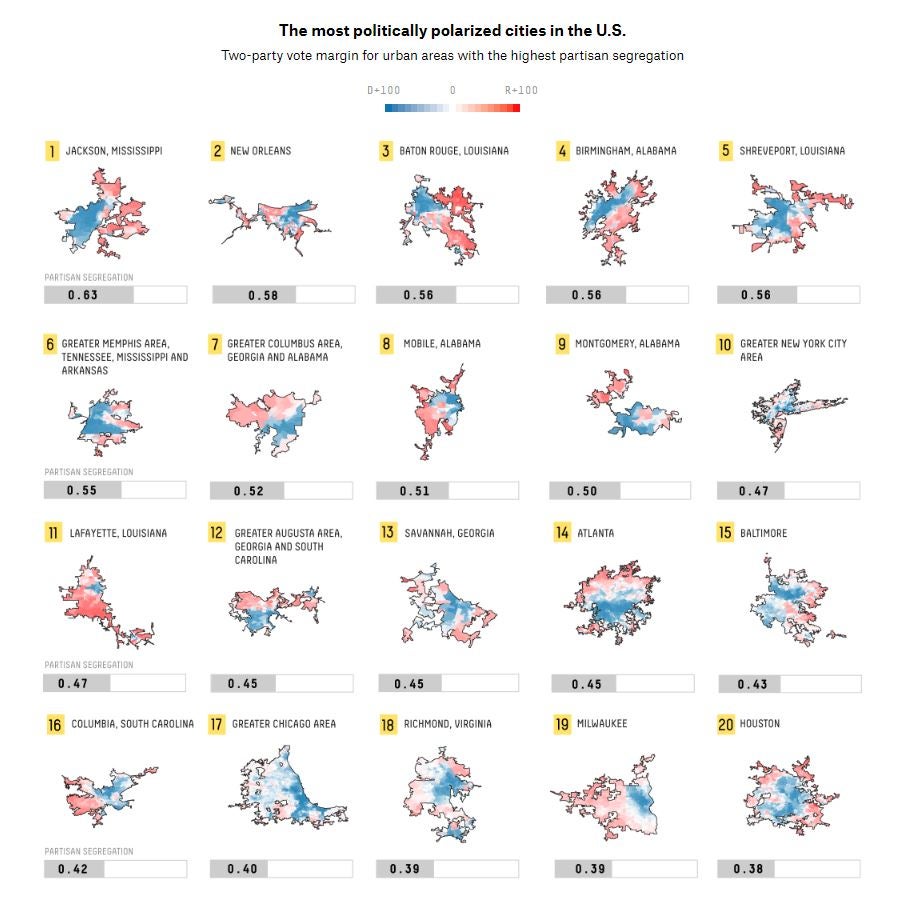 "An obvious trend jumps out when you look at the most politically segregated cities: They're also the cities with some of the highest proportions of black residents," Dottle writes on FiveThirtyEight. "The persistence of racial segregation in American cities continues to define those cities' politics."
It's been more than 50 years since the Fair Housing Act was passed, but the segregation between races in America continues to persist and is reflected in neighborhoods today.
Research shows the presence of racial discrimination throughout all levels of Houston's housing market. Through years of ethnographic fieldwork and more than 100 in-depth interviews, Kinder scholar Elizabeth Korver-Glenn found real estate agents, mortgage lenders and appraisers all play a role in housing inequality in Houston.
"Ultimately, I think that the compounding inequalities I observed perpetuate segregation and associated inequalities in education, wealth, and health (among others) in Houston," Korver-Glenn told the Urban Edge, "and will continue to do so unless there is a significant collective will to intervene in discriminatory practices and the private market institutions that enable them."
Dottle suggests this physical segregation that still exists in American cities today closely correlates with the political divide seen in cities. "It's not surprising, then, that when we looked at the country's largest cities, we found a strong correlation between black-white segregation and political segregation, since black voters are almost uniformly Democrats," Dottle writes."The same dynamic holds true when you group together all Hispanic and nonwhite voters, though the correlation isn't as strong."
But even when looking at America's metro areas with the highest share of white residents, Dottle found several cities that are politically polarized, including Springfield, Mississippi; Scranton, Pennsylvania; Boise, Idaho; Canton, Ohio; and Spokane, Washington.
Therefore, researchers predict political divide may be determined more by the place people live.
Others have tried to understand what drives the residential polarization. Washington University's Steven Webster and Stanford's Gregory Martin tried to calculate how just how much of the divide was the result of Americans' decisions about where to move. The political scientists found that though Republicans and Democrats would like to live around other Republicans and Democrats, that desire is small compared to more practical things, like the affordability of homes or the quality of schools. People aren't sorting themselves within a city, argued Webster, rather the places people live shape who they are.
"We conclude that location must have some influence on political preference," the researchers explained, "rather than the other way around."