Around this time each year, we often look back and say "it was a year to remember." But 2020 is a year a lot of folks would like to forget. While tempting, that's really the worst thing we could do. The most we can hope for after this terrible, horrible, no good, very bad year is that we won't ever forget it, and instead, we'll continue to learn from what has happened. (If you're wondering how forgetting this year is even possible, just consider the COVID-19 figures in the United States for Dec. 18: 2,815 new deaths and 251,447 new cases reported. In the past week, the average new cases each day was 218,633 — a 19% increase from the average two weeks earlier. That's pretty solid proof that many have already forgotten.)
No, 2020 isn't a "year we won't forget," it's a "year we absolutely must not forget."
It's been a hard year. Harder for some than others — actually, much harder for some than others — but no one made it through unscathed. We should stress the pandemic is not over and we'll be feeling its reverberations for a long time to come. But in a year that's been dominated by converging crises, isolation, unprecedented experiments in working from home and remote learning, social distancing, quarantine bubbles and pods, masking, Zooming and fatigue of all kinds, there were things we discovered that helped us cope and gave us hope.
Here are a few of the things that brought joy, encouragement or just plain old distraction to the lives of Kinder Institute staffers.
Science nonfiction writers and reporters
The ability to translate complex technical concepts into language that's accessible and interesting for the average person undoubtedly is one of the most valuable skills a journalist or communications specialist can have. The really good ones do it well while making it look easy. During a pandemic, science and health writers proved to be more important than ever, and two of the best have been Ed Yong and Donald G. McNeil Jr.
Yong has covered the coronavirus pandemic from a lot of angles in his work for the Atlantic — long-haulers, the many inequities the disease has exploited, the toll the virus has taken on the mental health of health care workers. He's also explained how messenger RNA vaccine technology works; the incongruities of relying on a greatly overburdened and underfunded public health structure to handle the distribution of the vaccine in the U.S.; and the science behind the development of COVID-19 vaccines in an astonishingly short amount of time.
His reporting and appearances on NPR's "Fresh Air" have been a consistent source of enlightenment.
McNeil has reported on many epidemics over his many years at the New York Times, including AIDS, Ebola, malaria, Zika and swine and bird flus. His coverage of COVID-19 in print and on the Times' "The Daily" podcast were some of the earliest, most informative and most eye-opening in terms of the pandemic's threat and severity.
For decades, McNeil has covered diseases of poverty, which is how long Dr. Peter Hotez has been working to develop low-cost vaccines for many of these neglected illnesses. Hotez is co-director of the Center for Vaccine Development at Texas Children's Hospital, where he and his team are developing an affordable COVID-19 vaccine that would be accessible to populations in low- and middle-income countries. Hotez's frank approach to addressing the pandemic and the uneven and inadequate public health response to the disease has made him a must-follow on Twitter in the time of COVID-19.
Recommended reading and listening:
"'Waste' Activist Digs into the Sanitation Crisis Affecting The Rural Poor," "Fresh Air," Nov. 23, 2020
"Vaccine Expert: Once COVID-19 Vaccine Is Available, 'Don't Overthink It. Don't Wait,'" "Fresh Air," Nov. 24, 2020
"The Next Year (or Two) of the Pandemic," "The Daily," April 20, 2020
"How Science Beat the Virus: And What It Lost in the Process," by Ed Yong, The Atlantic, Dec. 14, 2020
Houston's evolving outdoor scene
When I spoke with Beth White, president and CEO of the Houston Parks Board, in April, I asked her if the pandemic would impede the scheduled completion of the Bayou Greenways 2020 capital project — a 150-mile network of connected linear parks and trails along nine bayous. It's one of the nation's most ambitious parks initiatives.
"It really is designed to help people move through the city," White said of the trails designed for walkers, runners, cyclists and others. "It is a place that allows you to adhere to the (social distancing) guidelines and get your exercise."
Because construction work and workers were deemed essential early in the pandemic, their progress never slowed. Projects continued and, if anything, things moved faster as stay-at-home orders, working from home and remote learning drastically reduced vehicle travel and allowed work on many public space improvements to move faster.
Earlier this month, work began on a new six-mile segment of the Sims Bayou Greenway that continues the trail from Scott Street to Buffalo Bayou, linking Margaret Jenkins Park, Houston Sports Park and Townwood Park. Farther east, the Sims Bayou trail runs into the 132-acre Houston Botanic Garden, which opened in September on the site of the former Glenbrook municipal golf course.
Memorial Park's Eastern Glades, a 100-acre green-space addition that opened in July, offers visitors the chance to explore trails, boardwalks and a 5.5-acre lake and wetlands. The opening marked the completion of the first major project of the Memorial Park Conservancy's Ten-Year Plan. Next up is the park's Land Bridge and Prairie Project, which is well underway. When it's complete, the land bridge will cross over Memorial Drive and connect the north and south sides of the park. Traffic on Memorial will be routed through a tunnel beneath the bridge.
During the pandemic, significant progress has been made on bike infrastructure projects that are part of Houston BikePlan's regional bikeway network. That includes the Austin Corridor and the Polk Street bikeway, which runs from Cullen Boulevard to Emancipation Avenue, where it ties into a dedicated on-street bikeway downtown. The Polk Street bikeway connects with a bikeway at Cullen that runs south to the University of Houston. Much of the Cullen segment between Polk and the Gulf Freeway has been completed.
The pandemic has been a time when many have rediscovered the joys of biking, walking and just being outside. And with the closure of gyms and yoga studios — and even after they reopened — many have relied on parks and green spaces for exercise and the mental, physical and emotional relief it brings.
Thanks to essential workers on the construction, maintenance and landscaping crews, not only did the city's parks and public spaces remain open, the trailblazing work on many of the most promising outdoor and recreational projects continued throughout the pandemic.
Andy Olin, Senior Editor and Writer
One for the books
For many of us, 2020 was like no other time during our lifetime. It exposed the best and the worst of humanity. The challenges of 2020 prompted me to be even more intentional and deliberate about how I utilize my time.
Best-selling author and illustrator Dr. Seuss said, "The more that you read, the more things you will know. The more that you learn, the more places you'll go."
I read more books this year than ever before, including "Just Mercy" (Bryan Stevenson) and "The Sun Does Shine: How I Found Life and Freedom on Death Row" (Anthony Ray Hinton). Many of the books I read were about ordinary people who had survived extraordinary circumstances amid unmitigated injustice — evidence of the power of the human spirit.
Rose Rougeau, Senior Director, External Affairs, University Partnerships and Special Projects
'The New Abnormal'
Beyond being an appropriate album name for 2020, The Strokes' "The New Abnormal" marked the first full album in over six years by one of my favorite bands going back to the mid-2000s in my high school days.
The Strokes are a quintet praised for their garage-rock revival roots during the early 2000s, a period of fledgling boy band acts that was devoid of instrumentation. At first I was skeptical, being that musicians can sometimes stay stuck in the formula that works and CTRL+C+P (copy/paste), or their sound evolves, though diverges and no longer captivates your ear.
But this album kept me humming despite having a markedly evolved sound from their first few acts that saw them rise to fame. They booted the raw vocals, loud clashing guitar riffs and lyrics about love/hate relationships, now employing synthesizers, falsettos and a pop-punk feel that dives into a future of eternal summers (i.e. changing climate) and would have seemed odd at the onset of their music though is totally on message in 2020.
Listening to them during the pandemic has been a reflective treat, as the sounds evoke a distant familiarity from the past, and yet a deafening growl that we're all adapting and evolving to life with this absurd new reality.
Luis Guajardo, Urban Policy Research Manager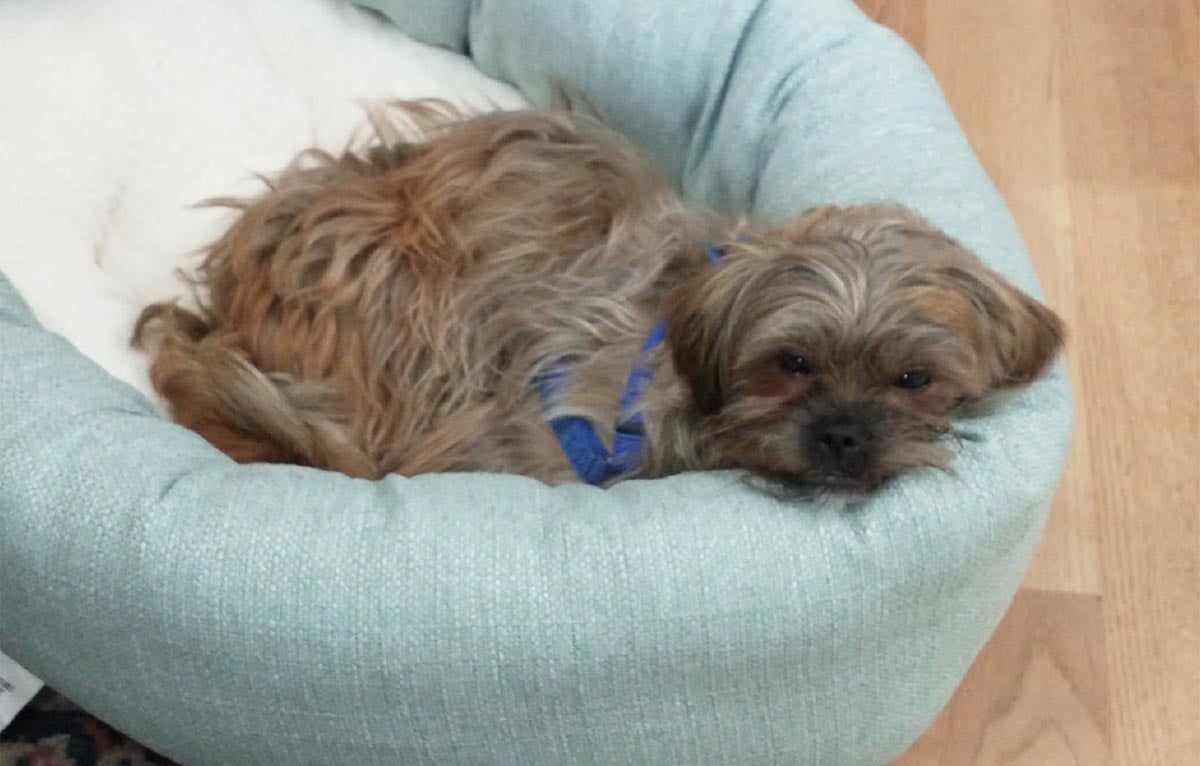 A dog named Bruce and the New York Review of Books
My household has had three COVID moves.
We started 2020 in Buenos Aires. My wife's work brought us to Argentina in August 2019 and I strung together my own remote work income. Then that big thing happened in March of this year.
We left Buenos Aires, taking a two-stop flight to Panama City, then Newark, then Chicago. We then drove two hours to a 300-square-foot apartment in Urbana, Illinois. A month later we moved to a larger apartment.
In May, I formally finished my PhD and also earned a researcher job at the Kinder Institute. As a reward to myself, I purchased a New York Review of Books subscription because I was trying to not think about the plague quite as much.
In November, we moved to Houston. We had for years wanted a dog in our family, and since we have a home-home in Houston now, we found Bruce through Westie and Scottie Rescue Houston. We met him at Levy Park and adopted him there. Bruce enjoys stealing our socks and I am acclimating him to reading the Review on our couch with me.
Stephen Sherman, Research Fellow