Note: This blog post represents the views of the Community Flood Resilience Task Force Executive Committee and does not necessarily represent the views of Harris County, the Harris County Flood Control District, or any other departments.
One such effort came in 2020 when the Harris County Commissioners Court reconstituted the long-idle Harris County Flood Control Task Force as the Harris County Community Flood Resilience Task Force. The re-imagined task force is an advisory body of 17 flood resilience subject-matter experts tasked with advising Harris County on the development and implementation of equitable flood resilience planning and projects that take into account community needs and priorities.
As members of the task force, we release reports and public statements, develop new metrics and policy, and dialogue with county leaders to shift from traditional flood mitigation solutions to more equitable, innovative, and nature-based solutions.
As we mark the fifth year since Hurricane Harvey, we want to share our vision for equitable flood resilience alongside the voices of members who have experienced flooding firsthand. As we detailed in the 2022 Harris County Community Flood Resilience Task Force Yearly Report, we are focusing our efforts toward a vision for equitable resilience in Harris County. To help us get there, we are committed to:
1. Offering an integrated understanding of our past flood risk investments and current vulnerabilities that will lead to equitable planning, prioritization and implementation of future projects
Some members of our community are still trying to recover from Harvey. Studies continue to show that ZIP code, race, socioeconomic status and social structure affect the ability of an individual and community to recover from a disaster. Today, rather than address these existing inequalities, the Texas General Land Office is currently under investigation by the US Department of Housing and Urban Development for perpetuating an inequitable distribution of disaster recovery funding. While not all members of the task force are impacted the same way after extreme rains or suffer similar losses after hurricanes, we understand there has not been enough investment in flood mitigation infrastructure at the local, state, or federal levels to withstand the flood events of today. For many members, Harvey brought this into focus and changed the course of our lives.
After Harvey, "I finally understood the Northeast area of Houston was historically marginalized as the county nor the city invested in flood mitigation in our area. I understood the need for drainage as communities with drainage did not flood as much as those without proper drainage," said Shirley Ronquillo, an organizer from East Aldine.
Five years later, there is still a sense of urgency to push for adequate flood mitigation.
"While work is progressing in providing solutions, I don't think we are moving fast enough. We need additional funding to open inadequate neighborhood ditches, provide larger conveyance channels, and other methods of moving floodwaters," said Bill Callegari, a resident of Katy in the Addicks Reservoir watershed, affected by upper Cypress Creek.
The task force is interested in better understanding and documenting past investments in flood risk reduction projects to capture disparities in spending across the County's communities. To that end, we are working toward the development of an index to track flood mitigation investments and current inundation risks.
2. Transforming traditional community engagement into community-driven solutions that have full buy-in from the communities they serve
The task force is a unique group because it includes members of the community who have experienced flooding in addition to flood resilience subject-matter experts. One of our community norms is to "acknowledge the many ways of knowing," which emphasizes that flood survivors' experiences complement members' expertise and inform our body of recommendations.
Task force member Bill Callegari said being involved has furthered his vision for flood mitigation because he now "better understand[s] the differences in flood causes and effects on people from one part of Harris County to another."
Billy Guevara, secretary of the task force, is a twice-over flood survivor, totally blind, and a strong advocate for the interests of the Northeast Houston community. The severity of Hurricane Harvey's impacts changed the course of his life.
"In addition to dealing with all that happened to us during and after the flood my family and I had to deal with the fact that we lost 6 of our relatives in the flood. This was a life-altering episode for my entire family," he said.
Guevara's experience has led him to a leadership role in the community and on the task force, advocating for improved drainage infrastructure.
"The flooding brought on by Hurricane Harvey brought out a great deal of frustration not only for me and my family but also other residents of Northeast Houston," Guevara said. "This is what brought on the founding of the Northeast Action Collective, a group of Northeast Houston residents that formed together out of frustration for the Harris County and the City of Houston not doing enough for reducing the flooding and drainage issues that devastate Northeast Houston as a result of being underserved, disinvested, overlooked and underrepresented for far too long. My way of thinking has changed. I can speak up for what is wrong with the community as well as speak up for what the community needs."
Community needs and priorities are also being elevated through our efforts to transform traditional community engagement into community-driven solutions, starting with how community engagement is carried out in the development of the Harris County Flood Resilience Plan. In 2020, a month after the creation of the CFRTF, Harris County Commissioners Court also established the Infrastructure Resilience Team to contribute to and help guide the plan.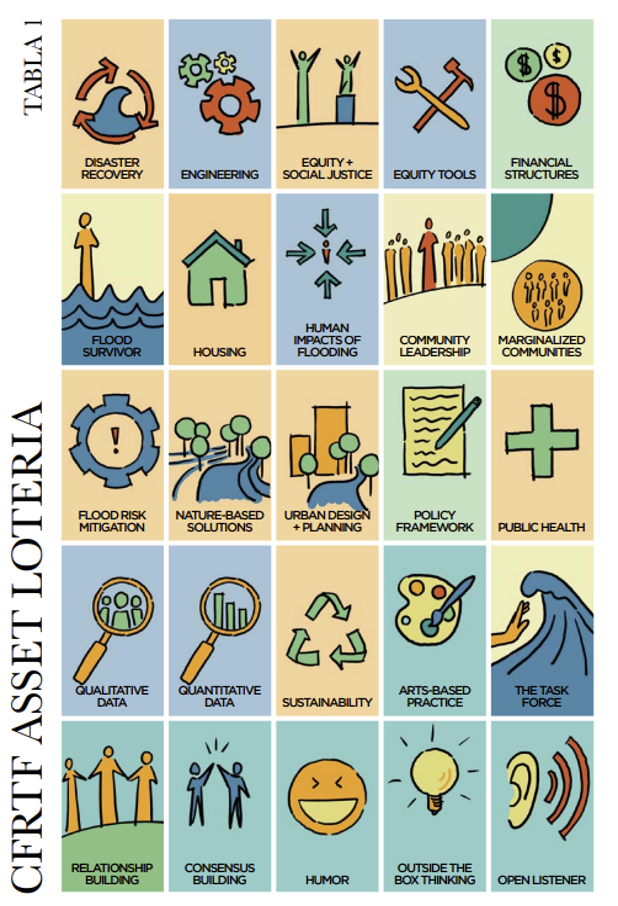 In our 2022 report, we recommended the county:
● Establish multilingual bidirectional communication loops between the County, the CFRTF, and impacted communities;
● Create avenues for community input and decision-making in planning and selecting projects; and
● Develop a robust communication plan alongside residents with a range of engagement techniques to obtain input.
To help the county in these efforts, the task force is prepared to liaise with communities to build capacity to influence community resilience efforts in the same way that members' own capacity has grown as a result of our work.
3. Developing innovative flood risk policies and projects that leverage land preservation, nature-based solutions, and natural infrastructure
Many of our members recognize the need for nature-based solutions with traditional engineering infrastructure wherever possible.
Bill Callegari notes that he has owned his Katy home for 40 years and only flooded recently. He attributes "part of the reason for having flooded only in the Tax Day flood and Hurricane Harvey flood to changes in flow patterns, primarily the completion of The Grand Parkway (Hwy 99).''
There is great urgency in ensuring that future developments in our county and beyond don't worsen our flooding problems, and our 2022 report advises the county to explore efforts for responsible development-for example, by creating a joint land management strategy with adjacent counties that are seeing rapid growth or by developing financing mechanisms for the protection and restoration of floodplains, wetlands, and prairies.
4. Selecting and implementing flood risk policies and projects using a more bottom-up, collaborative, and data-driven approach
Five years after Hurricane Harvey, many communities do not feel prepared for another hurricane and they point to a wide range of policies and projects that are still needed.
For example, Tracy Stephens, president of the Sunnyside Civic Club and ACTS Board Research Coordinator, feels that his community is still not prepared "because most don't have homeowners insurance; insurance companies don't want to pay for wind damage, [and there are] very old homes in my community. You don't have to flood from the bottom up; your home can get destroyed from the top with water as well."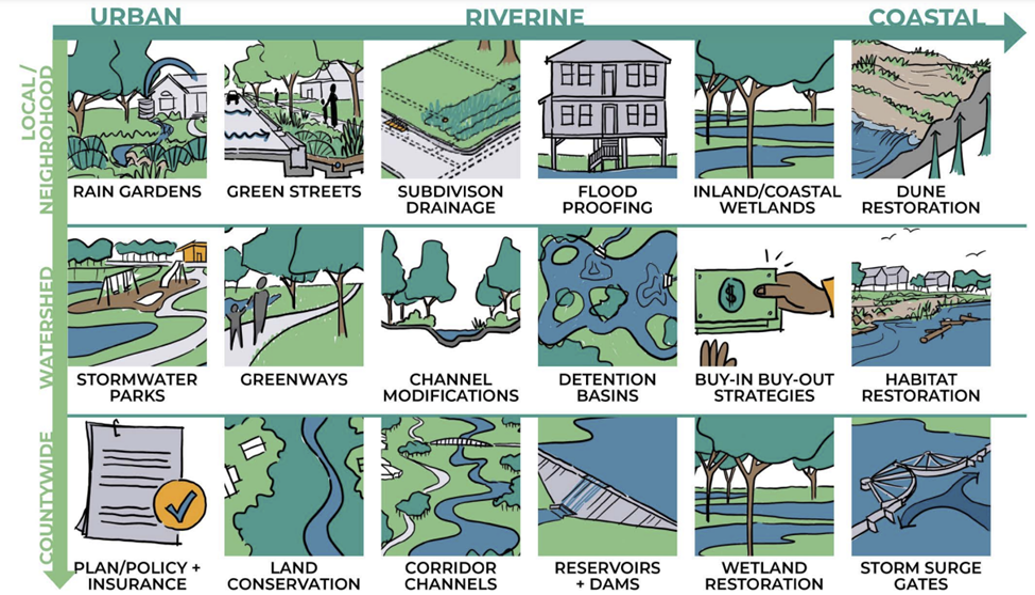 The task force is prepared to serve Harris County as a vital group that helps to incorporate community voices into the development and implementation of solutions for flood resilience, again starting with the development of Harris County's Flood Resilience Plan. Through this bottom-up approach, a lens of collaboration, and using data to inform decisions, we can strive for a region that is resilient, equitable and prepared for the next disaster.
To learn more about the Harris County Community Flood Resilience Task Force, visit https://cfrtf.harriscountytx.gov.
Mashal Awais is vice chair of the Community Flood Resilience Task Force Executive Committee.