Ryde received funds for the pilot from Evolve Houston's equity program, the eMobility Microgrant Initiative. Evolve Houston is a nonprofit organization formed to reduce greenhouse gases in the Greater Houston area by encouraging the adoption of electric vehicles. It was established by Mayor Sylvester Turner's office, CenterPoint, NRG, Shell and the University of Houston. The office of City Council Member Carolyn Evans-Shabazz, who represents the Third Ward, contributed an additional $50,000 of council district service funds to the pilot program.
Ryde operates a for-profit model in downtown Houston, downtown Austin and parts of Dallas. The company generates revenue and provides localized transportation through exterior advertisements. Its rollout in the Third Ward is part of Evolve Houston's vision to improve air quality and provide more public transportation in vulnerable communities.
Eight weeks into the pilot program, the service is transporting 60-80 passengers a day, said Ryde co-founder Jesse Landry.
Ryde's Third Ward service area covers about 3 miles. Passengers can hail a vehicle once they have created an account on the Ride Circuit app, and can request up to three passengers per trip. The service has a built-in pooling feature that pairs up passengers on similar paths. The fleet consists of two low-speed EVs manufactured by Polaris, both of which can fit a maximum of five passengers and top out at 25 miles per hour.
The pilot program will end in October. However, there is optimism that Ryde will remain in the Third Ward and could expand to other underserved communities through additional funding and partnerships.
"We're still at that phase where we have proof of concept, we have ridership data and show that the community has a need," Landry said. "Whether it's a local brand or a big national brand, we want to get on their radar to see if they want to wrap the vehicles with their branding, while being able to give back to a good cause. That's a goal of ours, in addition to more municipal funding. We want to expand the number of vehicles in this community and to where we're in the Fifth Ward, East Downtown and really any community that could benefit from our service."
While attending numerous community meetings in the Third Ward, Landry said he received an overwhelmingly positive response from residents when he discussed the concept of his company. Several residents then brought it to the attention of Evans-Shabazz.
"I'm always ready to engage with any initiative that benefits my constituents. This was a great opportunity," Evans-Shabazz said. "I've just been so elated about it, and we're very proud to be a partner to make this come to fruition. I certainly would like to see it extended. I'd love to see it be something that's permanent. Hopefully someone will see the value in it, while understanding that it is so needed.
"I'm encouraging people to participate. That's going to be important at the end of this pilot, as to whether we can get people to buy in to help fund it in perpetuity. As long as people are challenged with transportation, we need to meet those needs."
In the Third Ward, 29% of residents do not have a vehicle, according to Houston Complete Communities data. The Houston Housing Authority has categorized the community as a food desert, and in Cuney Homes, an HHA public housing complex within Third Ward, 36% of residents experience hunger every week.
An H-E-B inside Ryde's service area has been among the most popular destinations for passengers.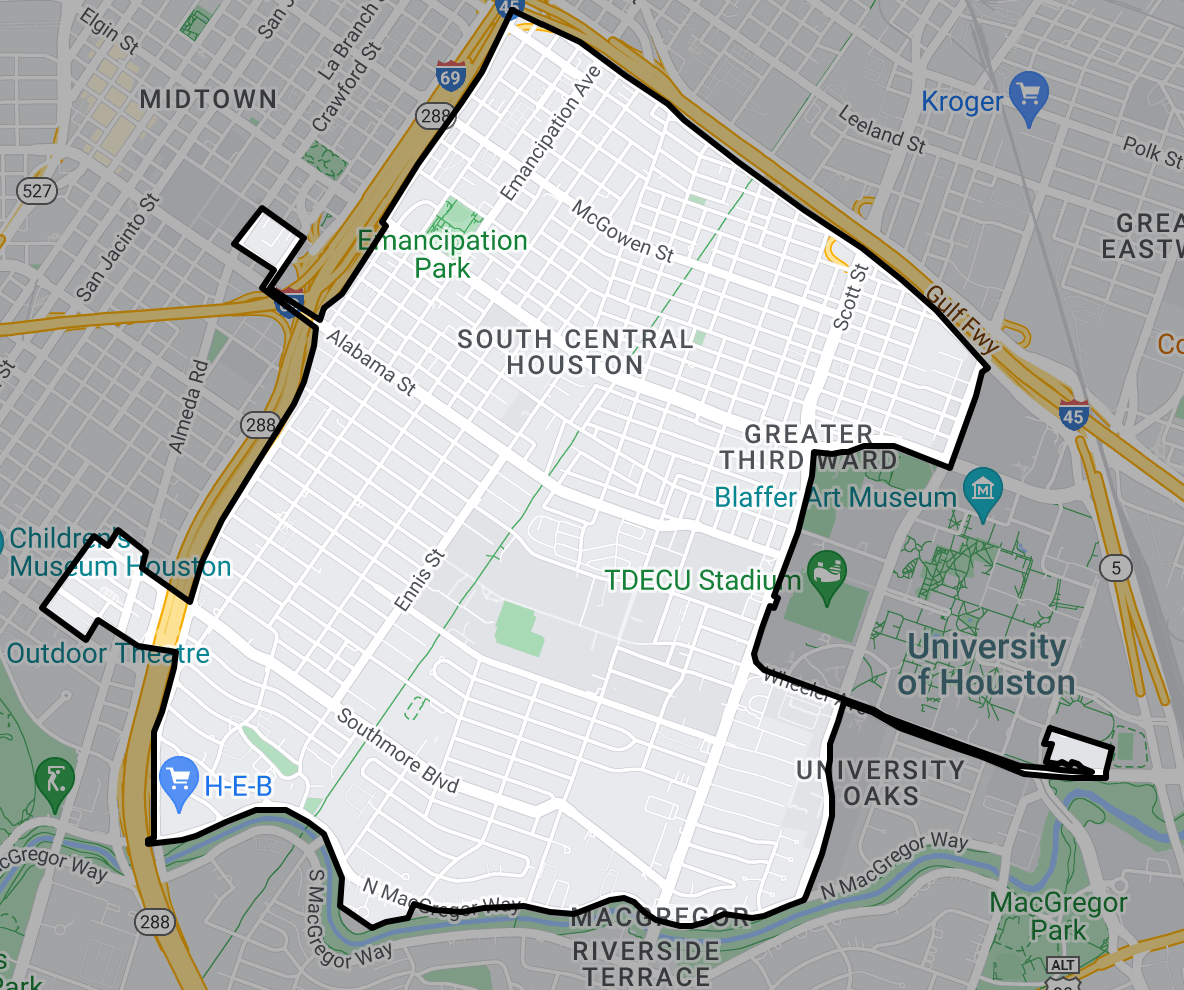 "We want to address the first-and-last-mile gap," Landry said. "A lot of people have told me that they would usually have to walk half a mile to a bus to get a ride to H-E-B, and have to clear their day because it would be about a 45-minute commute. That limits the amount of groceries someone can buy. They can't do frozen food because they're walking a half-mile to get back home from the bus. It's just difficult."
The first-and-last-mile gap refers to the distance a commuter needs to travel to and from a transit hub and their final destination. While public transit can transport passengers for the bulk of their commute, people frequently must drive or walk to the closest station and to their desired stop. A 2017 research article, "First/last mile transit access as an equity planning issue," suggested the problem significantly impacts people who work low-wage jobs.
As cities grapple with the first-and-last-mile issue, electric vehicles, bicycles and scooters have been suggested as potential solutions. Pecan Street, a data research and product testing company, conducted an electric last-mile project in Austin in 2019, using electric shuttles to bridge the gap. During a two-year period, the project took nearly 19,000 passengers on more than 10,000 trips.
Ryde was one of 13 projects selected to participate in Evolve Houston's first round of the eMobility Microgrant Initiative. Other grantees included initiatives involving EV charger installations, e-bikes and delivery services. Two other initiatives in Third Ward include Electric Eats, an eBike food delivery service that brings meals to immobile and senior citizens, and the Third Ward Real Estate Council & Northern Third Ward Neighborhood Implementation Project, which demonstrates how EV infrastructure can function in the community through real estate.
In addition to its founding members, BP and General Motors also helped fund the project. Evolve Houston announced the opening of a second round of microgrant applications last Thursday, which could extend Ryde's operations in Third Ward.
"Jesse's project has taken off, which is really exciting. It's something to celebrate," said Casey Brown, executive director and president of Evolve Houston. "Without Mayor Turner's vision and support, this might have not have been possible. I'm very excited about the next round and upscale of investment."
In a statement, Turner said the City of Houston is also committed to converting the entirety of its non-emergency, light-duty municipal fleet to EVs, and hopes EVs make up at least half of all annual vehicle sales in Houston by 2030.
"Equity is at the core of our efforts, and we are dedicated to ensuring equitable access to clean and sustainable transportation solutions," Turner said. "Through initiatives like Evolve's eMobility Microgrant Initiative and the Ryde pilot program for EV shuttles in the Third Ward, we are leading the way toward a cleaner and more sustainable future for Houston. I believe we are setting an example for others to follow."