This post is part of a series highlighting the findings from the 2023 Kinder Houston Area Survey.
About one-quarter of survey participants said the economy was the most significant issue facing Houston, and 20% expressed that it was the cost of housing and housing instability—up from 7% in the 2022 survey. Crime was also a leading concern.
"The Houston region is a powerful economic engine," Kinder Institute Director Ruth N. López Turley said. "It ranks as the 27th largest economy in the world, adding nearly 600,000 jobs over the last few years. However, economic fluctuations, such as inflation increases, are felt most by those who are struggling to make ends meet, and there are many in our community."
Unenthusiastic sentiments about the future are not isolated to Houston. The Pew Research Center reports, "sizable majorities of U.S. adults say that in 2050 the U.S. economy will be weaker, the U.S. will be less important in the world, political divisions will be wider and there will be a larger gap between the rich and the poor." Similarly, Gallup reported 50% of people said they were worse off in January following a tumultuous 2022.
Additionally, about one in four Kinder survey respondents believed their financial situation had improved in the last three years, and only about half thought their finances would improve in the years to come - a decrease from 60% in past surveys.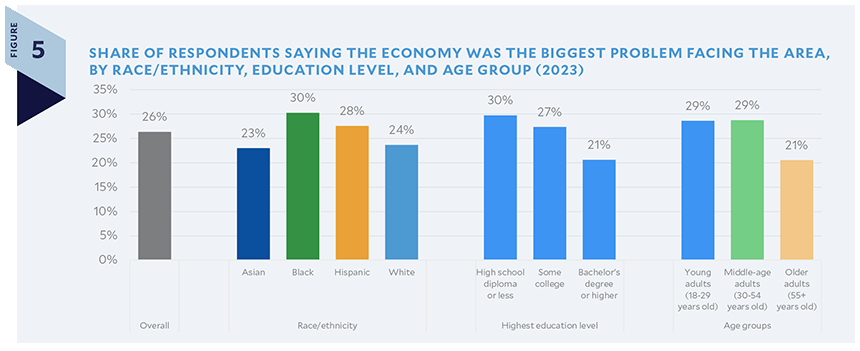 Houston remains among the most diversity-rich cities in the country. Through the wide range of cultures and experiences, concerns about the economy seem to be equally shared across groups. This might suggest we are all in the same boat, but survey findings confirm that Houston remains deeply segregated along racial lines when it comes to accessing the benefits of the region's prosperity.
For example, a crucial component to land a well-paying job in Houston is education. As of 2023, about 30% of adults in the Houston area have obtained a bachelor's degree, compared to the 45% who have a high school diploma as their highest level of education. About 50% of Asian and white respondents have a bachelor's degree or more, compared to about 22% of Black Houstonians and approximately 14% of Hispanics.
"Left unaddressed, these gaps in educational attainment by race and ethnicity could put significant segments of Houston's population at risk of only having access to entry-level and less well-paying jobs," the report notes. "Without access to well-paying jobs, current inequalities will only worsen, growing the gaps between the rich and the poor, and setting into motion another cycle of intergenerational poverty and inequality."
Respondents with bachelor's degrees or more education were almost 10 percentage points less likely to name the economy as their top concern and were far more likely to have a positive outlook toward job opportunities and improved financial situations.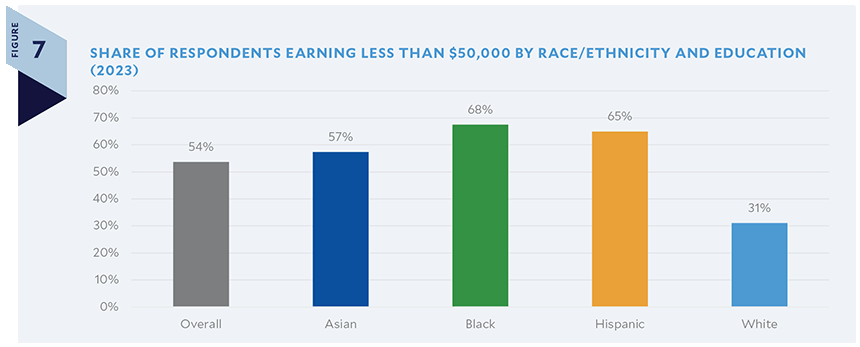 From 1990 to 2020, the Houston area added about 1.5 million new jobs. Between February 2020 to April 2020, 500,000 of those jobs were wiped out. Those jobs have since recovered, and plenty of work can be found in Houston, but wages have been outpaced by inflation rates since February 2021. Residents are also contending with pandemic-related supply-chain shortages, which caused a strain on everyday spending throughout 2022.
As a result, rising costs are pinching household budgets. More than 40% of respondents said they would be unable to afford a $400 emergency, up from 29% in the 2022 survey. Responses varied among racial lines, with more than half of Hispanic respondents, 70% of Black respondents and about 20% of Asian and white respondents saying they could not pay for an unexpected $400 expense.
This rise in economic vulnerability comes even as respondents' outlooks had glimmers of positivity. Two-thirds of Houstonians, across racial and ethnic groups and education levels rated job opportunities in the area as "good" or "excellent." However, about 22% of these same respondents also rated the economy as their top concern.
In lock-step with the impact of inflation is the continued rise in the cost of housing, cited by a significant share of survey respondents.
"The median home price in Houston used to be three times what the average person earned in a year, and it held there for decades," Turley said. "Now, that number is about five times what the typical person earns. As a result, the majority of Houston residents are renters, with that number rising each year. Given that home ownership can be an important tool for building wealth, we must work to bring it back within reach."
While real estate professionals believe the market will cool in 2023, prices remain high with a statewide decline in housing affordability, according to the Federal Reserve Bank of Dallas.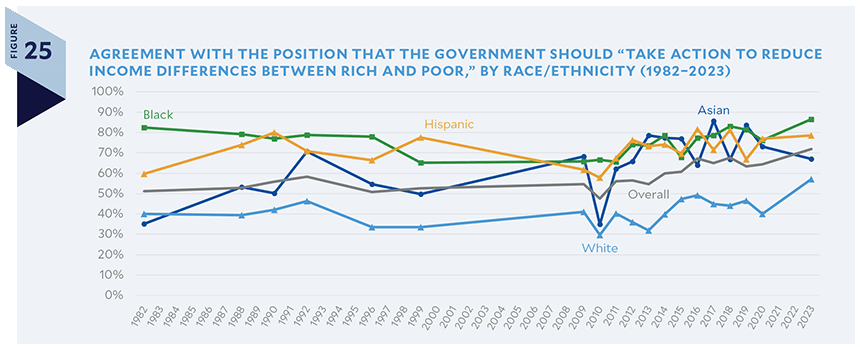 With Houstonians facing a variety of economic hurdles, a strong majority of respondents would like government interventions to address income inequality. Meanwhile, 63% of respondents also believe more funding is necessary to support individuals and families facing poverty.
"While significant inequalities persist in our communities, more and more people want that to change," Turley said. "A larger proportion of respondents than ever before – 72%, across all groups – say they want to see action taken to close income gaps."
While there is clear consensus around economic inequality, since 2012 survey respondents have gradually recognized an uneven playing field throughout society. But since 2020, Houstonians' assessment of systemic racial inequalities has slightly fallen.
As the report notes: "This has occurred even as there is growing evidence that conditions have not fundamentally changed: A full 92% of Black Houstonians reported that the life chances of Black people place them at a structural disadvantage relative to the life chances of White people."
The 42nd annual Kinder Houston Area Survey took place from Jan. 10-Feb. 13, 2023. The survey had a 61% response rate, and was completed by a representative sample of 3,184 adults living in Harris County. The survey was based on a cohort of individuals—the Greater Houston Community Panel—who will be asked to respond year after year, allowing the annual survey to better track how opinions shift over time. The size of the cohort is expected to grow in coming years to allow for neighborhood-specific reporting and to support quarterly surveys about a variety of topics. In 2024, the survey will expand to include Fort Bend and Montgomery counties.