Another day, another "best" and "worst" ranking. This time it's "2020's Best Small Cities in America." Let's take a quick look at the results:
In general, Houston suburbs ranked high for "affordability" and "economic health," which is not surprising, but ranked low in the categories of "education and health" and "quality of life" — equally unsurprising.
The scores for "education and health" were based in part on each city's rate of uninsured residents. Almost 21% of people living in Texas under the age of 65 don't have health insurance. That's easily the most of any state in the U.S. — 4.5% higher than Florida, the state with the second-highest rate of uninsured residents. In Galveston, which ranked No. 1,168 out of more than 1,200 cities for "education and health," the uninsured rate is 23%. It's 22.4% in Texas City — 1,162th in the category. In comparison, the top spot for "education and health" went to Burlington, Vermont, where only 4% are uninsured. The highest ranking in the category among Houston-area cities was Sugar Land (No. 540), which has an uninsured rate of 7.9%.
Other metrics considered in the "education and health" ranking included high school graduation rate and share of adults 25 and older with a high school diploma or higher. At 83.2%, Texas again ranks among states with the nation's lowest share of the latter. In Galveston, 83% of residents over 25 are high school graduates or higher. Nationwide, the rate is 87.7%.
Sugar Land was No. 5 overall and the highest-ranking Texas city on the list, which defines "small" as cities with populations between 25,000 and 100,000.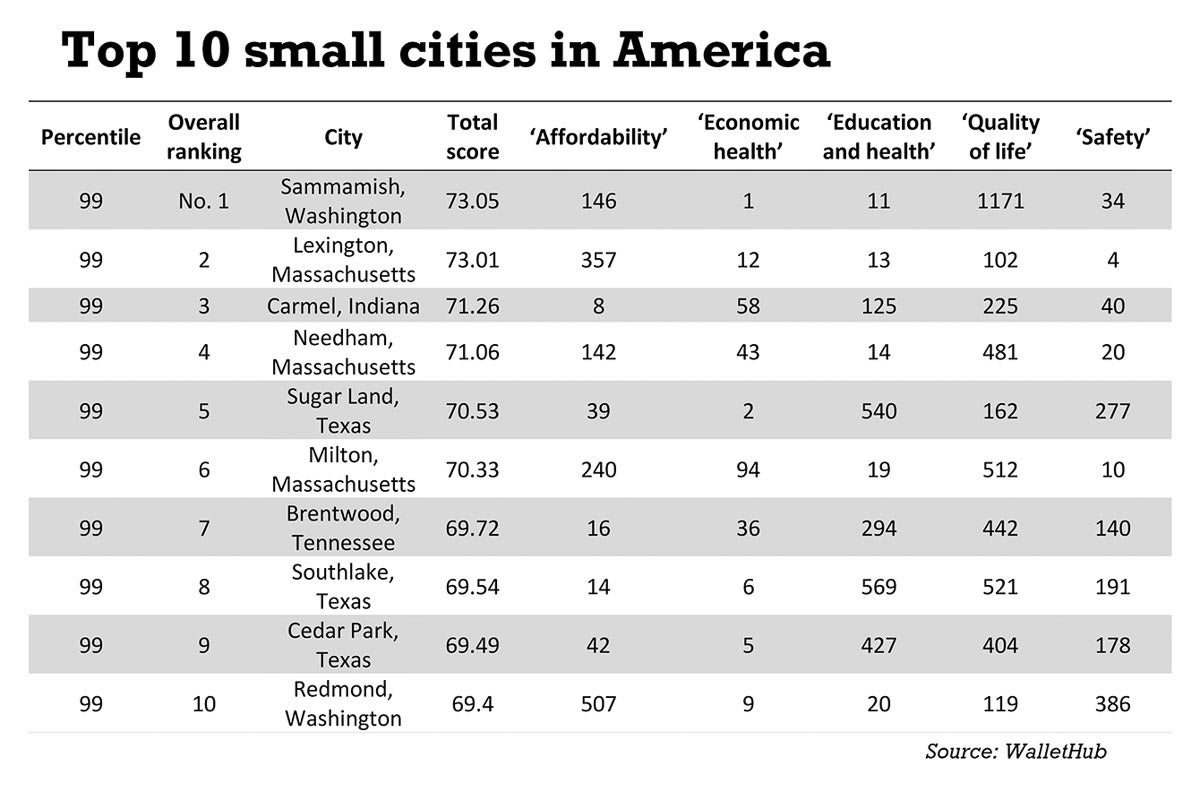 The two cities ranked first and worst for "quality of life" are both Sun Belt cities: Myrtle Beach at No. 1 and Atascocita, in northeast Harris County, at No. 1,268. While Myrtle Beach scored high for "quality of life," it ranked low on the list for "safety," coming in 1,264th in that category.
Atascocita's last-place finish in "quality of life" was based on average commute time (34.5 minutes, according to 2018 ACS 5-year estimates data profiles); share of population who walk to work (0.4%); parks, restaurants, bars, clubs, coffee shops, movie theaters, museums, performing arts centers, fitness centers, bike rental facilities and department stores per capita; and average weekly work hours. At No. 36, Galveston is the Texas city with the best "quality of life," according to the rankings.
Houston-area cities that ranked the highest for "affordability" were League City (No. 32), Pearland (No. 34), Friendswood (No. 38), Sugar Land (No. 39) and Atascocita (No. 43).
Sugar Land had the best "economic health" in the area, ranking No. 2. The next highest-ranking cities in that category were Conroe at No. 24 and Farmers Branch at No. 26.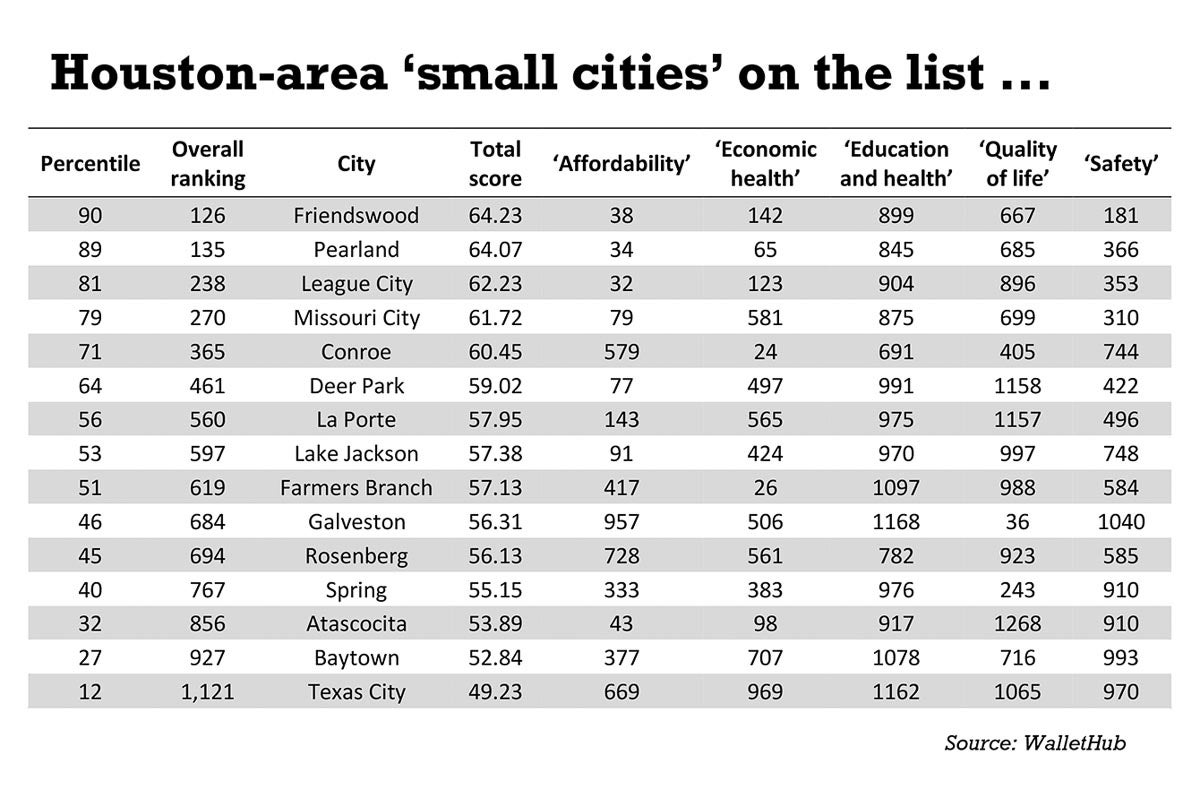 Other interesting takes from the WalletHub rankings:
East Lansing, Michigan, has the fewest average hours worked per week, 28.90, which is 1.7 times fewer than in Fort Hood, Texas, the city with the most at 48.10.
Fort Hood also has the lowest homeownership rate (ranked No. 1268)"
Southlake, Texas, has the highest median annual household income, $230,700, which is 10.5 times higher than in Carbondale, Illinois, the city with the lowest at $22,025.
Southlake also has the lowest housing costs and the highest % of population with a high school diploma or higher
Castle Rock and Parker, Colorado, have the lowest share of adults in fair or poor health, 8.12 percent each, which is 4.3 times lower than in Eagle Pass, Texas, the city with the highest at 35.17 percent.
See the full list and methodology here.