Throughout the various crises that have afflicted the Houston region in recent years — from flooding to Hurricane Harvey and now COVID-19 — access to nutritious food has been a fundamental and increasingly serious issue.
A year before the coronavirus pandemic swept across the United States, a report published by the Kinder Institute estimated that 724,750 people living in the Greater Houston area were experiencing food insecurity. That was about 17% of the region's total population, nearly 4% higher than the national average. By late July of this year, food insecurity in Texas had risen above pre-pandemic levels by 6.3%. At that time, food insecurity in the Houston metro area was 8.3% higher than before the pandemic — the largest increase seen by any of the metro areas included in the Census Bureau's Household Pulse Survey.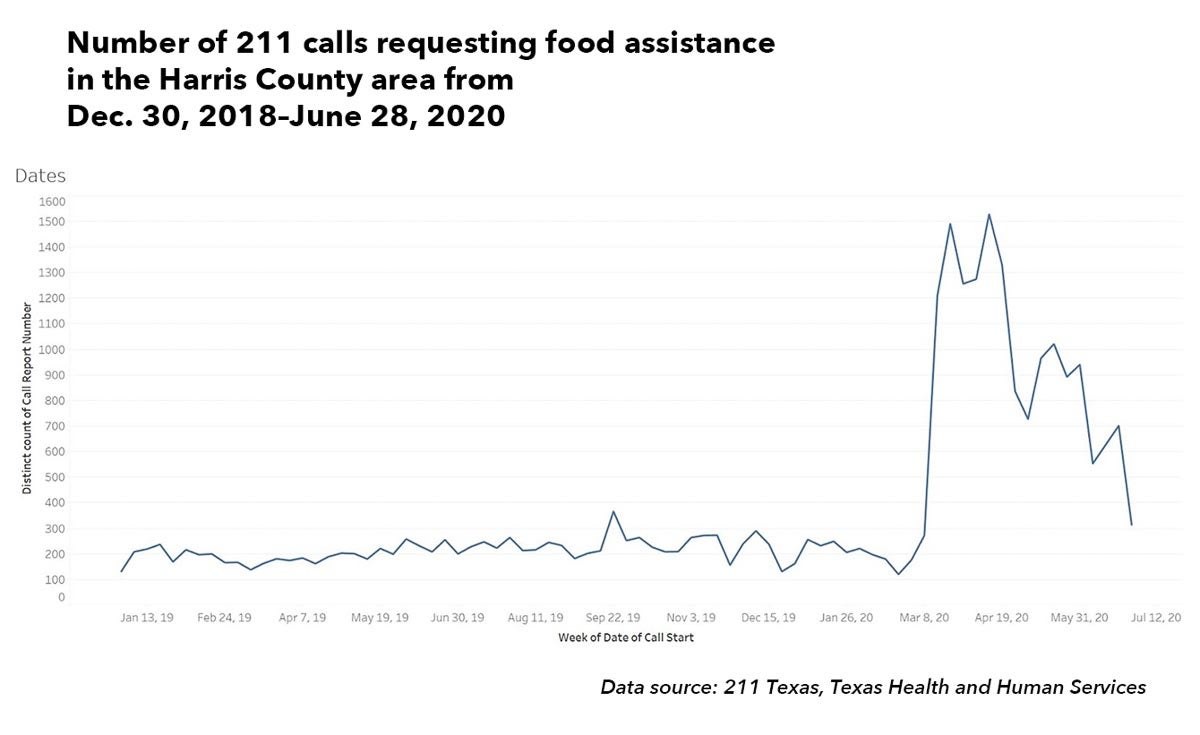 Concerned about this widening gap between Houstonians' food needs and food access, Urban Harvest recently collaborated with the Kinder Institute's Houston Community Data Connections (HCDC) program to develop a data-driven strategy for creating new pathways to healthy, affordable food, especially during the pandemic. With 25 years of experience in connecting Houstonians to nutritious, local food through community gardens, farmers markets and educational programs as the foundation, Urban Harvest launched Double Up Houston in 2019 to make healthy food more affordable in the city. Double Up Houston is a SNAP incentive program that allows Lonestar/EBT Card users to receive a 50% discount on produce purchases up to $30 per day at participating farmers markets.
As Houston began to grapple with the mounting social and economic consequences of COVID-19, Urban Harvest envisioned a more flexible way to use its Double Up Houston program to reach community members facing new and/or heightened food insecurity: a mobile market with three primary functions.
► First, it would act as a movable site for Double Up, transporting local produce to underserved neighborhoods and offering the program's 50% discount to SNAP users.
► Second, it would enroll individuals in federal benefit programs like SNAP, CHIP, Medicaid and TANF, among others. Because enrollment periods for many of these programs have been expanded due to COVID-19, the enrollment service seemed important and timely.
► Third, it would connect Houstonians to community-based food resources through nutrition and garden education.
But where should the mobile market go?
With funding from the Robert Wood Johnson Foundation's Data for COVID-19 Response and Recovery Initiative, Urban Harvest and Kinder Institute's HCDC teamed up to answer this question. Together, we gathered and synthesized both quantitative and qualitative data that could meaningfully inform the deployment of the new mobile market. We started by collecting the stories of community members, most of whom are SNAP beneficiaries, through two focus groups (one in Spanish and the other in English). During these virtual conversations, we learned about participants' decision-making related to accessing food for themselves and their families, their shopping habits and preferences, and the barriers they experience in getting healthy food.
Using the feedback from the focus groups, we built a decision support tool focused on Urban Harvest's four priority neighborhoods. For example, when asked what types of locations might be successful sites for the mobile market, focus group participants offered several notable responses: schools, community centers and churches. We took the feedback and constructed map layers showing public K-12 schools, select community centers, churches, major grocery stores and other types of entities that surfaced during our discussions with community members.
Additionally, we included related neighborhood-level indicators derived from public datasets, such as the number of Pandemic-EBT users, the percent of households using SNAP and SNAP retailers. This—combined with the focus group-informed layers and Urban Harvest's administrative data—provided a rich visual landscape that Urban Harvest can explore and reference as it decides how to manage its mobile market and partner with organizations in target neighborhoods.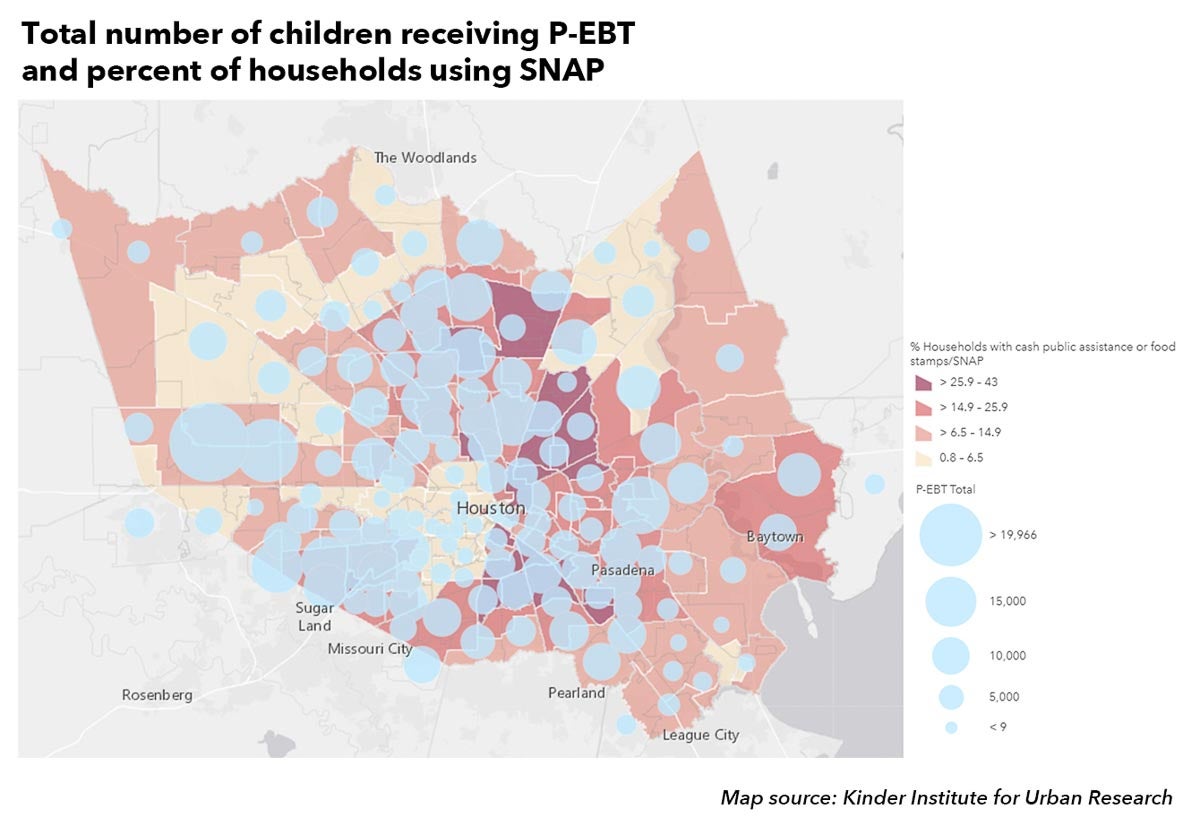 Like our joint team has done, other social service organizations can integrate robust qualitative and quantitative data in their decision-making as they seek to mitigate the impact of COVID-19. By listening to the voices of community members who are dealing with the hardships wrought by the pandemic, organizations can determine exactly what questions ought to be addressed and how data can best be utilized.
Our Urban Harvest-Kinder HCDC project team has reaped myriad benefits from this collaboration to advance the understanding of food insecurity dynamics in Houston. By leveraging Kinder HCDC's expertise as a local data intermediary and drawing upon Urban Harvest's experience in food-access programming in Houston's communities, we have laid an evidence-based foundation from which to launch the mobile market. In so doing, both organizations have moved closer to achieving a common goal: improving the well-being of Houstonians.
---
Get Urban Edge updates

If you're interested in stories that explore the critical challenges facing cities and urban areas — from transportation, mobility, housing and governance, to planning, public spaces, resilience and more — get the latest from the Urban Edge delivered to your inbox.