On Wednesday, Harris County Judge Lina Hidalgo announced that county parks would be closed over the Easter weekend to reduce the temptation for residents who might typically celebrate the holiday by gathering for Easter egg hunts and barbecues. The concern is these gatherings, which defy stay-at-home orders, will make social distancing difficult and increase the chance for transmitting the novel coronavirus.
"If we have an Easter weekend where everybody decides they're going to congregate, then we're going back several steps," she told the Houston Chronicle, citing reports that show the effectiveness of current measures in mitigating the spread of COVID-19.
Park closures and the effectiveness of mitigation efforts
Recently, the Kinder Institute's Houston Community Data Connections showed that social distancing measures not only are effectively slowing the spread of the disease, but they are also saving lives. Based on epidemiologists' COVID-19 models, the researchers estimate more than 4,500 lives may have been saved in Harris County between March 24 — the day the county's stay-at-home order took effect — and April 6.
Initially, Houston Mayor Sylvester Turner said City of Houston parks would remain open this weekend. When asked for his reasoning for not closing parks, Turner told the Chronicle the decision would be "heavy-handed." Turner changed course on Thursday, deciding city parks and trails would, in fact, be closed starting at sundown Thursday until sunrise Monday morning.
"I desired to keep city parks open for the holiday, but we had 615 new cases of COVID-19 on Thursday, along with two additional deaths," Turner said. "We must do everything possible and work together to blunt the progression of COVID-19."
People need an outlet during these stressful times
With so many confined to their homes working or taking care of kids — a lot of times both — or just staying put to help combat the spread of COVID-19, there's more stress, anxiety and uncertainty than usual. Then there are the essential workers on the frontlines who face greater risks of infection each day when they leave home to work jobs — low-paying in many cases — that those who have the luxury of working remotely absolutely depend on: The health care professionals, emergency responders and those in law enforcement, the grocery store employees who stock the shelves and run the cash registers, the delivery drivers, janitorial staffs and public transit workers. There also are 16 million newly unemployed because of the pandemic — 6.6 million alone filed for unemployment benefits last week. Adding the stress of being jobless to the pandemic-induced strain is a heavy burden.
"It seems so ironic — particularly in a city where everybody is geared toward action — that there's a need to take action in a quiet and still way. It's so counter to the go-go ethic of Houston."
No matter the situation you find yourself in right now, we are all dealing — or not dealing — with elevated levels of stress. For many, it's further exacerbated by more than a month of constantly checking social media and news sites for the latest details on the pandemic. To cope in an effective and healthy way, people need a relief valve. For a lot of people, that's exercise. But with restrictions in place until at least the end of the month, people aren't able to go to the gym, yoga studio or other places they normally might go for exercise.
Right now, many are dependent on parks and green spaces to provide some much-needed relief — mentally, physically and emotionally.
Refocusing our attention on the importance of parks
"Number one, parks are not just green spaces. They're public spaces for people. They're not just for physical health, but for mental health," New York City Parks Commissioner Mitchell J. Silver said at the Kinder Institute Forum on March 4, just before life in the U.S. was turned on its head by COVID-19. "Study after study will tell you just being in a park for 20 minutes will improve your mental health. It will reduce your anxiety, it will reduce stress and it actually in some cases will reduce crime. So I tell people, 'don't take a mental health day. Just take a walk in the park.'"
Beth White points to journalist and author Florence Williams' book "The Nature Fix: Why Nature Makes Us Happier, Healthier, and More Creative." According to Williams, we're experiencing an "epidemic dislocation from the outdoors" that's detrimental to our mental and physical health. The remedy? "The more nature, the better you feel," Williams contends.
Our ongoing "COVID-19 and Cities" coverage examines the pandemic's effects on Houston and other metropolitan areas, both now and once the outbreak is over.
"Research proves up the case that being outdoors and in nature has a significant impact on your health in a number of different ways," says White. "Whether it's stress reduction or battling depression, or your physical health, all of those aspects of our health are only improved by spending time in nature."
The Parks Board, along with city and county parks departments, Memorial and Hermann park conservancies and others are working together to educate the public about how to use parks, trails and open spaces while continuing to practice social distancing.
"It seems so ironic — particularly in a city where everybody is geared toward action — that there's a need to take action in a quiet and still way," White points out. "It's so counter to the go-go ethic of Houston.
"Social distancing is the single most important thing we can do as a society to help slow down the virus while the medical community is dealing with testing and treating patients," White says. "The fact that our parks and trails are still open is a gift. And for us to let that continue, we have to really be thoughtful about how we are acting in that public space."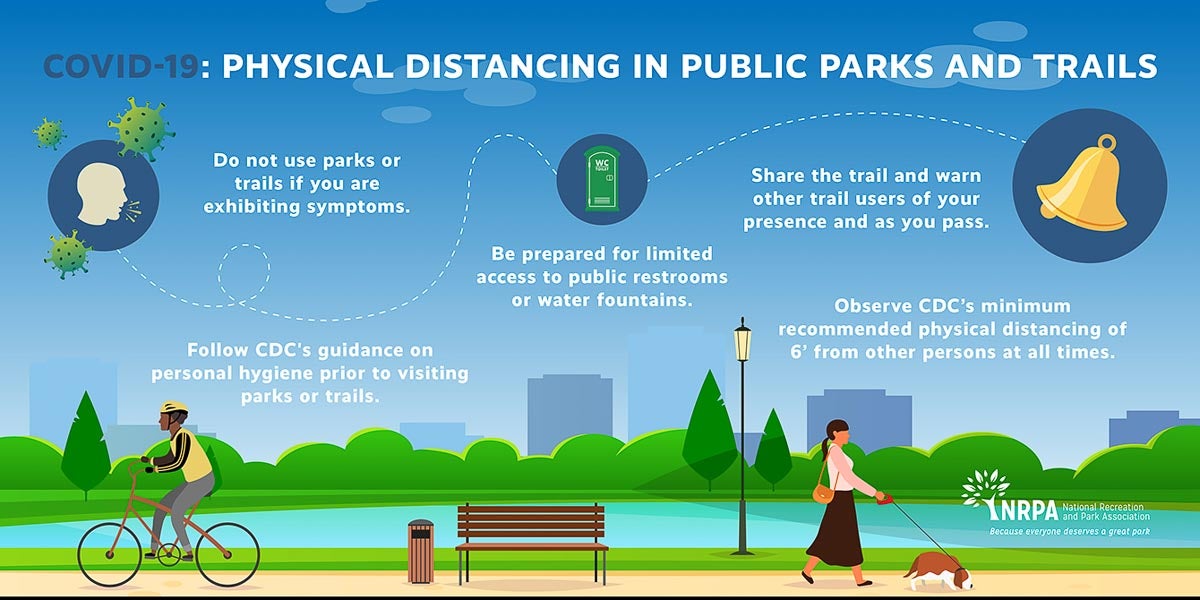 Like most everything, public parks are plagued by issues of inequity, both in access and amenities. More than 100 million people in the U.S. live more than a 10-minute walk from a park. Here in Houston, 42% of residents are among those 100 million. The Trust for Public Land (TPL) ranks the city No. 85 among the nation's 100 largest cities. Overall, the city's parks get a ParkScore of 35.3 from TPL. Houston doesn't compare well to other large U.S. cities when it comes to park amenities — particularly bathrooms, dog parks, playgrounds and basketball hoops. But right now that isn't much of a factor.
The Bayou Greenways 2020 project, however, seems almost tailor-made for the era of COVID-19. Turner calls the project "the single biggest down payment on park equity in Houston." The Bayou Greenway trails and parks also are affected by the Easter weekend closures.
When completed, the ambitious $220 million public-private project will be a 150-mile network of connected linear parks and trails along nine bayous. The 3,000-acre system is so extensive that 1.5 million Houstonians will live within 1.5 miles of a bayou greenway when it's finished. So far, more than 100 miles of trails are complete and 94% of the project will be complete or under construction by year's end.
"It really is designed to help people move through the city," White says of the trails designed for walkers, runners, cyclists and others. "It is a place that allows you to adhere to the (social distancing) guidelines and get your exercise."
One potential positive outcome of the pandemic is a new or renewed appreciation for these valuable public spaces. And not just the flagship parks like Memorial, Hermann, Emancipation and Discovery Green but also the smaller neighborhood parks, many of which are in need of some love and funding.
"I think our mission to create, improve, protect and advocate for parks couldn't be more important than it is today," White says. "And I think people are recognizing that.
"These are the last truly democratic spaces in America, where people from all walks of life can come together. We have this precious resource and it's all about how we use it. We have to realize that our natural areas need us as stewards but we need our natural areas as human beings for our health and well-being. I'm hoping that's what people discover in this period, how priceless it is to them to have a safe, beautiful, well-maintained place to go outdoors and just recharge. It's really powerful."