On Wednesday, the city released its "Resilient Houston" strategy, a robust plan to invest in and strengthen the capabilities of neighborhoods, communities and the entire region to address, withstand and quickly recover from physical, social and economic shocks and stresses.
Mayor Sylvester Turner unveiled the strategy alongside Chief Resilience Officer Marissa Aho and signed an executive order requiring all city departments to make resilience part of all strategic planning.
"We are faced with a choice. Either we commit now to making the investments in our workforce and infrastructure that can prevent huge losses, or we become short-sighted and think we have plenty of time," Turner wrote in the strategy's opening address. "By choosing the latter, we will be too late."
Preparing for shocks and addressing stresses
Top of mind for many Houstonians when they think of resilience are the six flooding events in five years that were declared disasters by the federal government — including three 500-year floods in three years: the Memorial Day Flood in 2015, the 2016 Tax Day Flood and Hurricane Harvey in 2017.
In the context of resiliency, hurricanes and flooding are examples of acute shocks. Large scale, sudden events that disrupt and endanger life. Other shocks include economic crisis, cyberattacks, terrorism, chemical disasters and extreme heat and drought, among others.
Critically, though, the strategy not only addresses shocks, but also a litany of chronic stresses that make recovery from shocks difficult and that represent hurdles in Houstonians daily lives. The shocks and stresses identified in the strategy are tailored specifically to Houston.
Stresses do not impact every Houstonian the same way. Indeed, chronic stresses such as poor air quality and environmental injustice, health disparities, crime and violence, economic inequality, urban sprawl and limited access to education, affordable housing and public transportation disproportionally impact low income and non-white Houstonians. Layered stresses make responding to or recovering from shocks even harder.
"The release of Resilient Houston is a pivotal milestone in resilience-building efforts after Hurricane Harvey, but there is much more work to do," Aho said in a release. "Today is the beginning of implementing this ambitious, yet achievable, framework for resilience."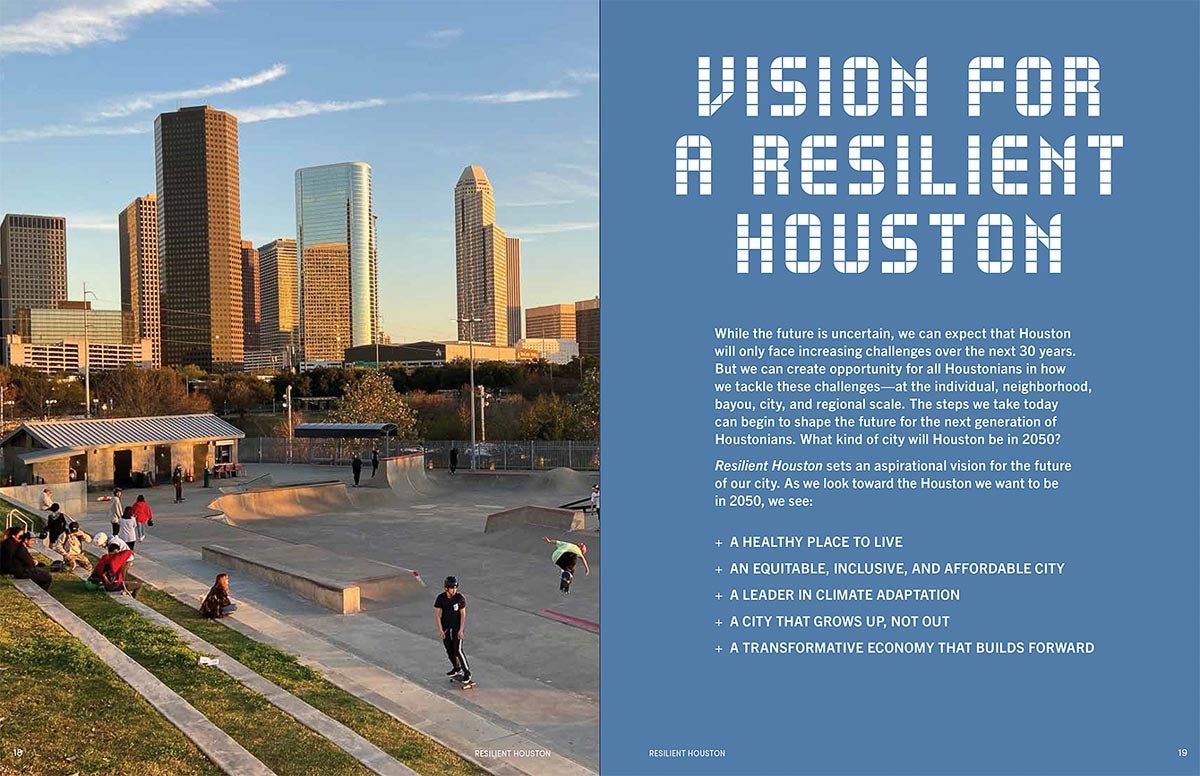 How the strategy is organized
"Resilient Houston" relies on collaborative action and the alignment of efforts by groups, organizations and initiatives at the neighborhood, city and regional levels to build resilience. The plan establishes five key "Visions" for Houston as:
► A Healthy Place to Live
► An Equitable, Inclusive and Affordable City
► A Leader in Climate Adaptation
► A City That Grows Up, Not Out
► A Transformative Economy
To achieve these "Visions," the 186-page plan sets 18 goals and targets that build and increase resilience at five levels or "Scales": Houstonians (2.3 million and growing), Neighborhoods (88 Super Neighborhoods), Bayous (22 major watersheds in Harris County flow into 22 major bayous), City (667 square miles) and Region (nine counties).
The goals and targets are divided among the strategy's five chapters, each of which addresses one of the five "Scales."
In implementing the resilience-building actions, the plan calls for engagement (informing, gathering input and building buy-in), finance (funding and finance tools), metrics (measurable impact), partnership (collaboration), policy (updates to local, state and federal policies) and smart cities (technology and innovation).
The strategy's 62 "actions" are "intended to address multiple unexpected catastrophic events and/or chronic underlying stresses that are typically exacerbated during catastrophic events."
City is partnering with the Kinder Institute and others
The Kinder Institute played a key role in the development of "Resilient Houston" as a part of the process strategy team. Further, research and analysis from the Kinder Institute for Urban Research undergird the evidence-based actions highlighted in the strategy to address long-term stresses present in many Houston neighborhoods, especially those that have been underserved for years. These stresses include limited access to high-level education and quality, affordable housing. Going forward the Kinder Institute will help the city implement actions related to housing, transportation and open data, among others.
Houston is the 79th city in the world, and the third in Texas after Dallas and El Paso, to release a strategy for resilience. All of the cities developed strategies as members of the 100 Resilient Cities network, which was created by the Rockefeller Foundation in 2013. Houston and other cities will build on the progress made by the 100 Resilient Cities network as members of the Global Resilient Cities Network (GRCN), the creation of which was announced this week at the UN-Habitat World Urban Forum in Abu Dhabi.
"Our efforts need to be bold, transformative, and aligned to achieve the outcomes Houstonians deserve," Turner said in a release. " ' Resilient Houston' is a framework for transformative change that comes from thinking and acting together to build and grow Houston's long-term resilience. We will need our partners and every Houstonian at the table to achieve this vision."