In sharp contrast to the Great Recession and the steady decline in start-ups since the late 1970s, the United States has experienced something like an entrepreneurial reawakening in the past 15 months. In 2020, amid a pandemic, 4.4 million new businesses were created in America — 24% more than in 2019 — data from the Census Bureau shows. And the growth has continued in the first five months of this year, increasing another 15% over the final five months of 2020, and surging 62% compared to the first five months of 2019.
In the years following the Great Recession, the weak level of new business formation hurt the U.S.'s economic recovery, which wasn't complete until 2016, points out a research and policy analyst with the Economic Innovation Group, "but it looks as if the coming economic resurgence is shaping up to be quite different from last time around."
The wave of entrepreneurship in the time of COVID-19 isn't what's typically seen during or following big economic downturns. But the past year and a half has been nothing if not atypical. With the 2007–2009 recession, it was difficult to start a business because of a lack of available funding, whether in the form of personal savings, discretionary income or venture capital.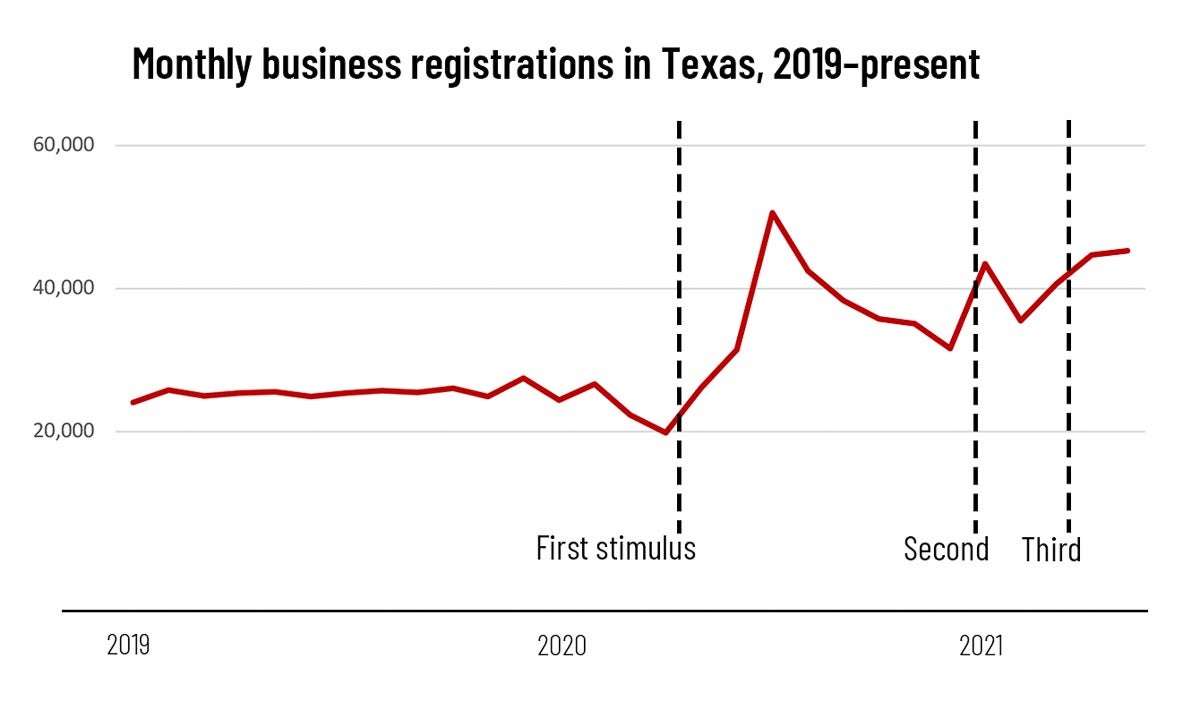 Even more interesting than the nationwide start-up numbers are the findings released last month by economists with the National Bureau of Economic Research mapping the dramatic growth of new business activity within the metropolitan areas of eight states. And in particular, their analysis shows, the surge was greatest in predominantly Black communities. In fact, they find that the proportion of Black residents in a ZIP code had the greatest impact on the rate of increase.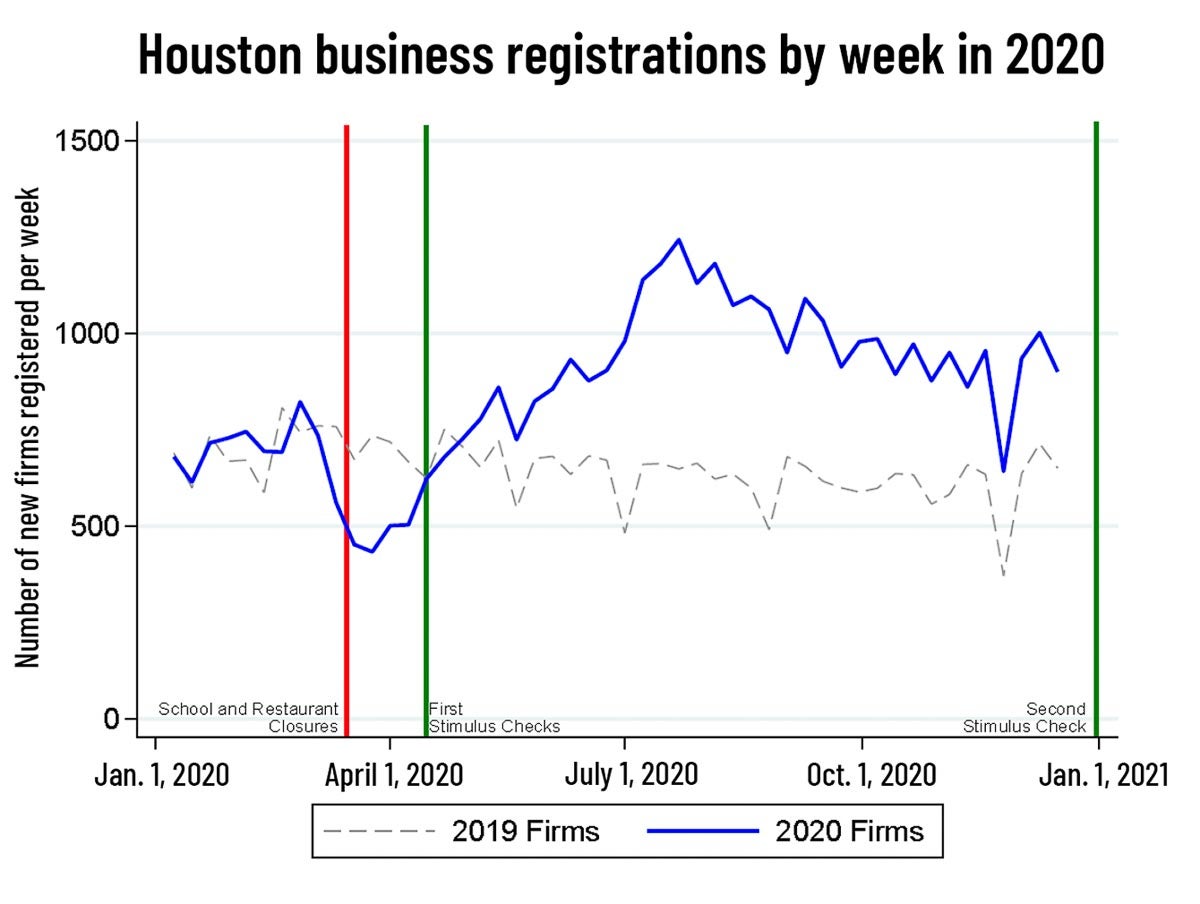 Most insight about new start-ups is based on monthly reports made available through the Census Bureau's Business Formation Statistics. But that data only offers views at the state and national levels. The team of NBER researchers, including economists from Boston University, M.I.T., Columbia and Rice universities, looked at weekly business registrations before and during the pandemic at the ZIP code-level in Texas, New York, Georgia, Florida, Kentucky, Tennessee, Vermont and Washington.
While not all eight states saw the same overall increase in business registrations, they all experienced similar trends in increases that correlated with stimulus payments. It's similar to the findings from the JPMorgan Chase Institute that showed the same trajectory of consumer spending across 15 metro areas despite differences in local COVID-19 death rates and restrictions imposed on businesses.
What sets the latest downturn apart from previous recessions is the financial safety net that was placed under the American people. Based on the timing of start-up formations, the researchers suggest the surge in firm formation has been fueled by the three rounds of stimulus payments and extended benefits provided by the $2.3 trillion Coronavirus Aid, Relief and Economic Security (CARES) Act and the $900 billion Relief Supplemental Appropriations Act of 2021 (Supplemental).
Across all ZIP Codes mapped by the economists with the National Bureau of Economic Research, they found that those with a larger share of Black residents, and particularly, higher median income Black neighborhoods were associated with higher rates of growth in start-up formation. However, in the Houston area, the two ZIP codes with the largest percentage increases in newly registered businesses were the predominantly African American ZIP codes of 77016 and 77033, which saw respective increases of 233% and 175% and have median household incomes well below that of the Houston metro area. ZIP code 77016, which is north of the 610 Loop, is home to the East Little York / Homestead super neighborhood and a population of about 31,000. It has a median household income of just over $36,000. Approximately the same number of Houstonians live in South Park (77033), where the median household income is about $38,000.
There are 11 majority-Black ZIP codes in the Houston metropolitan area. Nine are in Harris County, and the economic well-being of seven of those is categorized as distressed by the Distressed Communities Index. Harris County's most distressed majority-Black zip code is 77078 (East Houston). It along with ZIP codes 77016 and 77028 have become increasingly distressed in the past 20 years. Fresno (77545) and Missouri City (77489) in Fort Bend County are two of only 19 ZIP codes in the nation that are both prosperous and majority-Black.
However, all 11 had substantial increases in the number of businesses registered in 2020 compared to 2019, with rates of increase ranging from 83% to 233%.
The map above was created by the Kinder Institute Houston Community Data Connections team and shows the newly registered businesses in 2019 and 2020 for each ZIP code in the Houston metropolitan area, as well as the Startup Growth Ratio, which is the level of entrepreneurship within a given ZCTA in 2020 compared to the average level of entrepreneurship in that area across 2019 and 2020.
Source: Catherine E. Fazio, Jorge Guzman, Yupeng Liu, and Scott Stern, "How is COVID Changing the Geography of Entrepreneurship? Evidence From the Startup Cartography Project," NBER Working Paper Series, Working Paper 28787, May 2021.
---
One of the new African American-owned businesses in the Houston-area was registered by Pilar Donnelly a summer ago after the single mother of two was laid off from her sports-marketing job. What began with a clubhouse she built for her twin sons' birthdays, Donnelly told the New York Times, grew into Wish You Would Custom Creations, a company specializing in custom bunk beds, playhouses and dog houses. However, she used money from her savings and unemployment benefits to fund the launch.
In May, Texas withdrew from the federal pandemic-related program that expanded unemployment benefits, meaning the $300 a week that jobless workers have been receiving in addition to regular unemployment checks will end June 26. That includes an end to benefits extended to workers who don't traditionally qualify for unemployment insurance, such as freelancers, part-time workers and those who have been unemployed for more than six months. The decision in Texas and other states is an effort to combat a worker shortage in small businesses like construction firms, restaurants, bars and retailers.
"Everyone I encountered either had a really good year or a really bad year — and for me I had a good year," Donnelly told the Times. "Now I'm working outside in the grass and the dirt. I have a workshop in the garage; I have scrap wood everywhere. My life is really different."
Stay-at-home orders, social distancing and other efforts to fight the spread of COVID-19 impacted industry sectors disproportionately (hotels, travel, food and beverage, the arts, basically any business reliant on person-to-person interaction was devastated), with some bouncing back immediately and even doing better than before the pandemic, while others have had much slower recoveries and have yet to climb back to the pre-pandemic baseline of January 2020.
Opportunity Insights' Economic Tracker shows that as of early June, the number of small businesses open in the U.S. has decreased by 39% compared to January 2020. In the Houston metro area, it's 41%, and the number of "leisure and hospitality" small businesses that are open has fallen by 59.6%. The Harvard University-based Opportunity Insights uses data from the software company Womply, which considers a business to be closed if it has no credit card transactions for three days in a row. If transactions resume, it's again counted as open.
Businesses born out of necessity
Andre Perry, a fellow at the Brookings Institution, told the New York Times the spike in the rate of new-business formation in majority-Black areas could be a sign of struggle: "This is more about survival than it is about wealth creation. There's lots of people who have lost their jobs and lost their businesses. People are starting to realize that side hustles are businesses."
"Whenever there are hard times, and people are losing jobs, whether that's back in 2016, when oil dropped to $28 a barrel or it's what we saw happen [with the economy during the pandemic], when these [downturns] occur, we see pretty consistently that folks will start businesses," says Timothy Jeffcoat, director of the Small Business Administration's Houston district office, which provides services and support to 32 counties in Southeast Texas. "So, they're kind of subsistence entrepreneurs. We definitely see that whenever there's some kind of a downturn."
The share of businesses started out of necessity, what Jeffcoat refers to as subsistence entrepreneurs, as opposed to by choice — by someone who wasn't unemployed or looking for a job — more than doubled in the U.S. last year compared to 2019 — from 13% to 30%, according to the Kaufman Foundation. In Texas, the year-over-year change wasn't quite as dramatic, increasing from 16.5% to 20%. The data, which comes from the Kauffman Indicators of Entrepreneurship, isn't available at the metro level, so it's not clear what share of the Houston-area pandemic start-ups were formed by choice or necessity.
Encouraging the growth of start-ups
The researchers find that across all eight states included in the study, the surge in start-ups is being led by new businesses formed as LLCs and partnerships, which usually rely on loans and not venture capital to grow. While it's too soon to tell if these newly registered businesses will thrive and go on to hire employees, encouraging that growth likely would help the country's recovery: "Federal programs making low-interest loans available for fledgling firms is likely to be fundamental in converting the entrepreneurial potential of the 2020 increase in new firm formation into economy-wide growth," say the researchers.
Just as many small businesses that were forced to close during the pandemic have reopened or may do so eventually, some of these new start-ups may turn out to be temporary economic solutions if their owners return to their pre-pandemic jobs, especially higher-paying jobs, as the economy improves. Others may find the long hours and commitment required to succeed as an entrepreneur to be too much and go back to working for someone else. But, inclusive lending initiatives, such as those launched by the Small Business Administration in Houston, can help reduce barriers to new business formation, particularly for Black entrepreneurs who historically have had less access to bank finance. These efforts could help aspiring entrepreneurs survive that initial sacrifice and thrive.
"As people sometimes say about entrepreneurship, 'you might live like others won't for a few years, so you can live the rest of your life like others can't,'" Jeffcoat says. "You might sacrifice for three years and work around the clock, but you build an incredible business that takes care of you and your family for the next 30 or 40 years or multiple generations."