They say everything is bigger in Texas. But did they mention how fast the small things grow? The latter is true, at least, for the suburban cities of the state's mega metros. Case in point: the city of Frisco, north of Dallas.
Frisco was the fastest-growing city in the U.S. during the past decade — its population (just shy of 200,500) is 71% larger than it was in 2010 — according to the Census Bureau. It's also the fastest-growing city in Texas — and No. 6 nationwide — in terms of sociodemographic and economic expansion. That's according to a list of America's fast-growing cities for 2020 from WalletHub. Frisco is first among six Texas cities in the top 20 on that list. The five others are Round Rock (8th), McKinney (11th), Sugar Land (16th), Midland (17th) and College Station (20th).
In total, WalletHub ranked 515 cities of various sizes — 66 large (more than 300,000), 256 midsize (100,000–300,000) and 193 small (less than 100,000) — on population growth, job growth, income growth, poverty rate and regional GDP, among other metrics, over a 7-year period.
When considering only large cities, the tops in Texas were Austin and Fort Worth at Nos. 6 and 7, then, dropping down to No. 24, you'll find Dallas. If you keep going … and going, you'll come to Houston at No. 46. Houston, where one thing that IS fast-growing are the lines to vote early, ranked 309th overall.
Midsize and small cities dominate WalletHub's ranking, with only five large cities in the top 50 (Henderson, Nevada; Seattle, Atlanta, Miami and Denver.) Overall, Austin was Texas' highest-ranking large city, at No. 52, followed by Fort Worth at No. 53. Dallas pops up at No. 146, and San Antonio is 170th.
Last year, Austin was the fastest-growing large city on WalletHub's list and No. 15 overall. It's now No. 52. Will more people leave large cities for the suburbs in the aftermath of the COVID-19 outbreak, pushing large cities further down in the rankings in the years to come? And how will cities be changed by the pandemic?
"I think the reports of the city's death have been grossly exaggerated," says Michael Rodriguez, Smart Growth America's director of research. "This is partly because of the modern agglomeration economies … . Regional economies are very durable. There are very long-lasting cores of industries in certain cities and those tend to not move.
"Within regions, one of the most important trends of the past few decades will continue: the urbanization of the suburbs," Rodriguez says. "This does not mean that every suburb will become Manhattan, but it means there is a structural shift in consumer demand that wants what once existed: walkable areas and convenient amenities to get to. We used to have this! But a good half-century of auto-oriented sprawl decimated what we once cherished.
"And none of this means that downtown living goes away, it just means a lot more demand can be met in more areas, and that is a good thing."
Speaking of suburban urbanization, Pasadena, which didn't fare well on WalletHub's list (408th overall / 210th in the midsize category), was No. 5 among the "Top 10 Affordable U.S. Suburbs With a City Feel" from Zillow and Yelp. Rankings in that roundup with the wordy title were based on a Cityness Index score, which considers affordability and urban amenities.
Texas cities of all sizes scored higher for "Sociodemographics" (growth in population, working-age population and share of college-educated population) than "Jobs and Economy" (job growth, median household income growth, increase in the number of businesses and startups, and the amount of venture capital investment, to name a few). Fort Meyers in Florida was No. 1 overall and first in the Jobs and Economy category; Meridian, Idaho, was No. 1 in the Sociodemographics category.
Here's a sample of how Houston's economic growth compares to other cities on the list:
No. 502: Regional GDP growth

No. 445: Median household income growth
No. 418: Unemployment rate decrease

No. 405: Foreclosure rate decrease

No. 374: Job growth

No. 325: Poverty rate decrease

No. 116: Growth in number of businesses
In addition to Sugar Land (No. 9 among midsize cities), another Houston suburb that placed well was Pearland — No. 26 overall and No. 18 in the midsize category.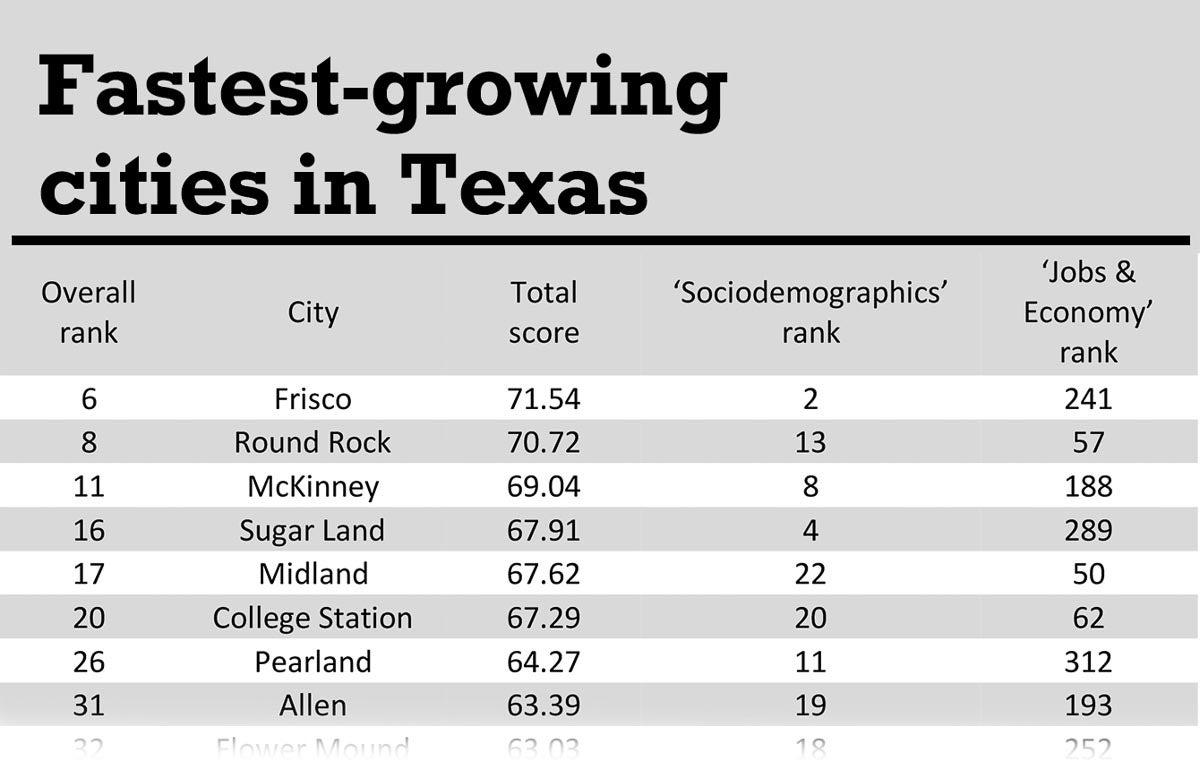 People are flocking to Sun Belt cities
Thirteen of the 15 fastest-growing U.S. cities over the past decade — the list topped by Frisco — are in the Sun Belt, according to population estimates for cities and towns from the Census Bureau. Six of the 15 are in Texas: Frisco, New Braunfels (No. 3), McKinney (No. 4), Cedar Park (No. 7), Conroe (No. 9) and Georgetown (No. 13).
In the past 10 years, the increased populations of Houston, San Antonio, Austin, Fort Worth and Dallas combined totaled almost 933,600 people. That's 39.5% of the nearly 2.4 million collective numeric increase seen by the top 15 cities, the Census Bureau reports.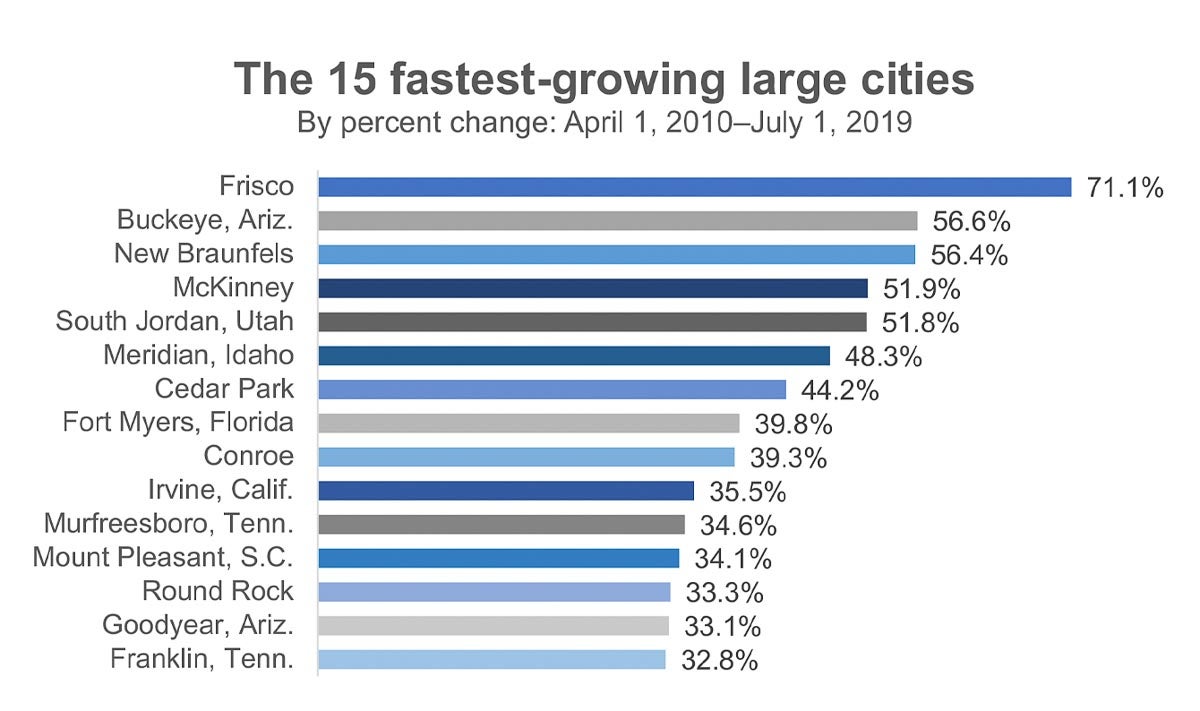 Population-wise, Leander, a suburb of Austin, was the fastest-growing large city in the nation last year. Large cities are defined as those with populations over 50,000. The national growth rate was .5%; Leander's population increased by 12%. The 15 cities with the largest percent change in population all are in Sun Belt states, and four are in Texas: Leander, Georgetown (7.2%), New Braunfels (6.8%) and, again, Frisco (6.4%), which added more than 12,000 residents last year.
In terms of total population growth last year, three of the top five cities are in Texas: San Antonio (17,237); Austin (16,439) and Fort Worth (16,369).