Title Page
Sorry Politicians, You Can't Block Critics on Twitter. Governing.
Introduction
Poverty in Texas Drops to Lowest Levels in More Than a Decade. Texas Tribune.
The latest estimates released Thursday by the U.S. Census Bureau put the state's poverty rate at 14.7 percent, down from a high of 18.5 percent in 2011. Roughly one in five Texas children — 20.9 percent — lived in poverty last year — a significant decrease from a recent high water mark set in 2011, when almost 27 percent of children were poor.

That progress, though, was dimmed at the local level. The poverty rate either increased or barely budged in a third of the state's 25 metro areas, and the share of residents living in poverty in half of those areas surpassed the state figure with poverty concentrated in places like South Texas, where the poverty rate is double the state rate.
Executive Summary
San Francisco hosted the Global Climate Action Summit this week and Houston Mayor Sylvester Turner used it as an opportunity to unveil the development of the city's Climate Action Plan.
Houston was one of several cities that publicly committed to fighting climate change in line with the Paris Climate Agreement after President Donald Trump said the country would no longer be part of the deal. The city's plan will also come after years of back-to-back flood events and increasing evidence that such floods are the result of worsening storms thanks to climate change. "The time for bold action is now," a city statement reads."This plan will create ambitious targets to reduce greenhouse gas emissions and establish a pathway to meet the Paris Agreement goal of becoming carbon neutral by 2050," according to the statement. The city touted recent greenhouse gas cuts but said more was needed.
"Climate change is an unprecedented challenge for Houston," said Mayor Sylvester Turner in a release from the city. "Sustainability and resiliency go hand-in-hand, and if we don't move with a sense of urgency, our City will suffer. We're creating the City's first-ever Climate Action Plan to lay the foundation for action that will strengthen our community against the threat of our changing climate."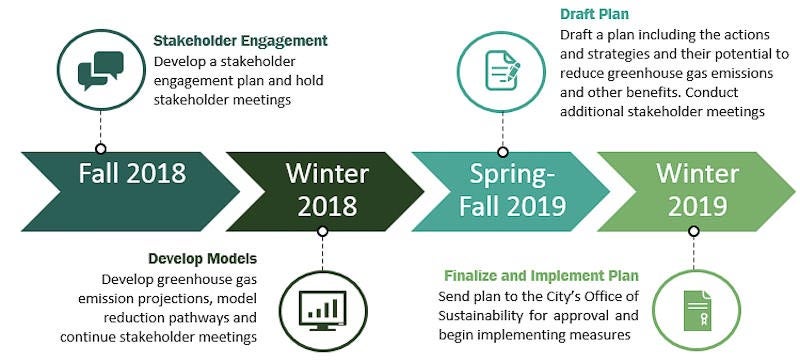 Even before Trump announced the country's change of course, cities were stepping up to tackle climate change, with some success but also some serious limitations. More recently, writers like Alissa Walker have pointed out that cities often committed in theory to fighting climate change aren't working across the board to achieve this or aren't thinking outside the box for solutions, as was the case when several mayors joined together to commit to buying electric vehicles.
"Instead of offering a bold framework for reducing or eliminating the numbers of vehicles on the streets of these 402 cities, these mayors are hyping their embrace of electric vehicles, namely the purchase of 114,000 new electric vehicles from U.S. automakers," wrote Walker.
"Electric vehicles made up less than one percent of U.S. vehicles purchased last year, with a large majority of owners in just a handful of cities," she continued. "By the time that widespread adoption of electric vehicles—or even shared vehicles—are able to make the slightest dent in U.S. emissions, it will be too late. Not just from a climate standpoint. But also from a density standpoint."
Indeed, roughly half of Houston's greenhouse gas emissions come from transportation, according to the city, and that number has actually been growing in recent years. Houston is among the cities with the highest amount of greenhouse gas emissions per capita.
The plan is expected to be completed by winter 2019.
Conclusion
Employment is supposed to be the path out of poverty. That's the often problematic thinking behind work requirements for various social services but experts have pointed out that, for a variety of reasons, a job alone is often not enough. Now, author and scholar Matthew Desmond adds to the chorus in his latest New York Times Magazine piece.
"These days, we're told that the American economy is strong. Unemployment is down, the Dow Jones industrial average is north of 25,000 and millions of jobs are going unfilled. But for people like Vanessa, the question is not, Can I land a job? (The answer is almost certainly, Yes, you can.) Instead the question is, What kinds of jobs are available to people without much education? By and large, the answer is: jobs that do not pay enough to live on."
Endnotes
As the rain and wind started to bear down on Wilmington before dusk Thursday, and all the big-box stores, restaurants and gas stations were dark, the lights were still on at one spot: Waffle House. https://t.co/uW6GTzLAJv

— Los Angeles Times (@latimes) September 14, 2018