There's no question that walking in Houston isn't always the easiest. It can sometimes be deadly and there are plenty of critics, but there are a few places around the city that new developers could model their plans after.
Houston's Walkable Places Committee was organized in 2017 to develop ordinances to encourage current and future developers to keep pedestrians at the forefront of their design.
"The intent of the ordinance is to encourage more walkable development and promote multimodal transportation to address the growing trend in the city. The ordinance will focus on guiding the forms of future development [and] redevelopment, such as pedestrian realm design, building and site design," said Muxian Fang, project manager of the Walkable Places Project, in an interview with the Urban Edge. "One of the expected challenges is to change the developers' mindset to develop pedestrian-oriented development, instead of automobile-oriented development."
While the committee is trying to change Houston's walkability landscape one new development at a time, there are several locations around the Houston area that the committee members say are prime examples of Houston's most pedestrian-friendly places.
West Gray Street
Walkable Places Committee member and realtor Bill Baldwin suggested the River Oaks Shopping Center as among Houston's most walkable places.
This pick makes sense. The sidewalks are even and there are trees and other plants separating the sidewalks from the busy street. While the shops are pushed back to allow a parking lot in front of each store, it still is an area in Houston where a driver can park their car in one spot and leave it there as they hop around various retail stores, cafes and restaurants.
It's also hilariously iconic for being the street in Houston that houses three different Starbucks in one block.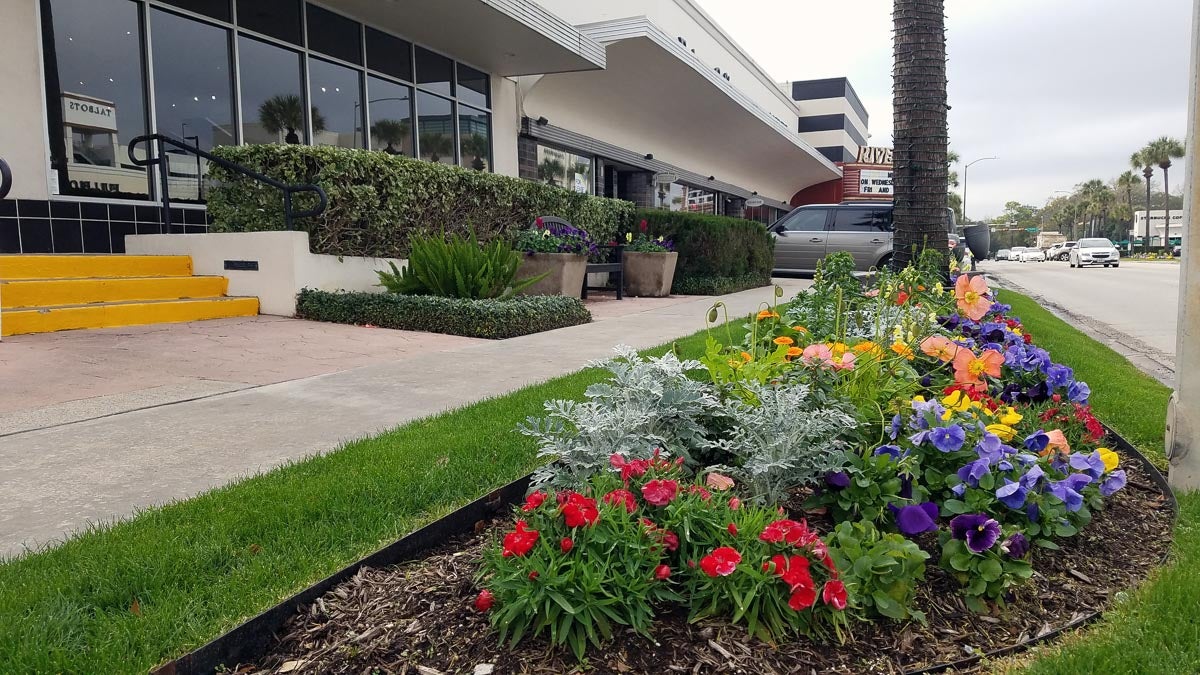 Kirby between Westheimer and Alabama
This area of Houston makes sense as a prime walkable place due to the newly-constructed sidewalks that are divided from the street with trees or other visually-appealing barriers (large potted plants, elevated sidewalks with greenery or flowers). Furthermore, the numerous residential developments make walking for those residents easy.
"There's a great mixture of business types and it's got excellent 'destination' parking for those who do not live in the area. Furthermore, great restaurants, new sidewalks, high density of residential units all result in people on the sidewalks," said Ron Lindsey, a commercial real estate developer, consultant and Walkable Places Committee member.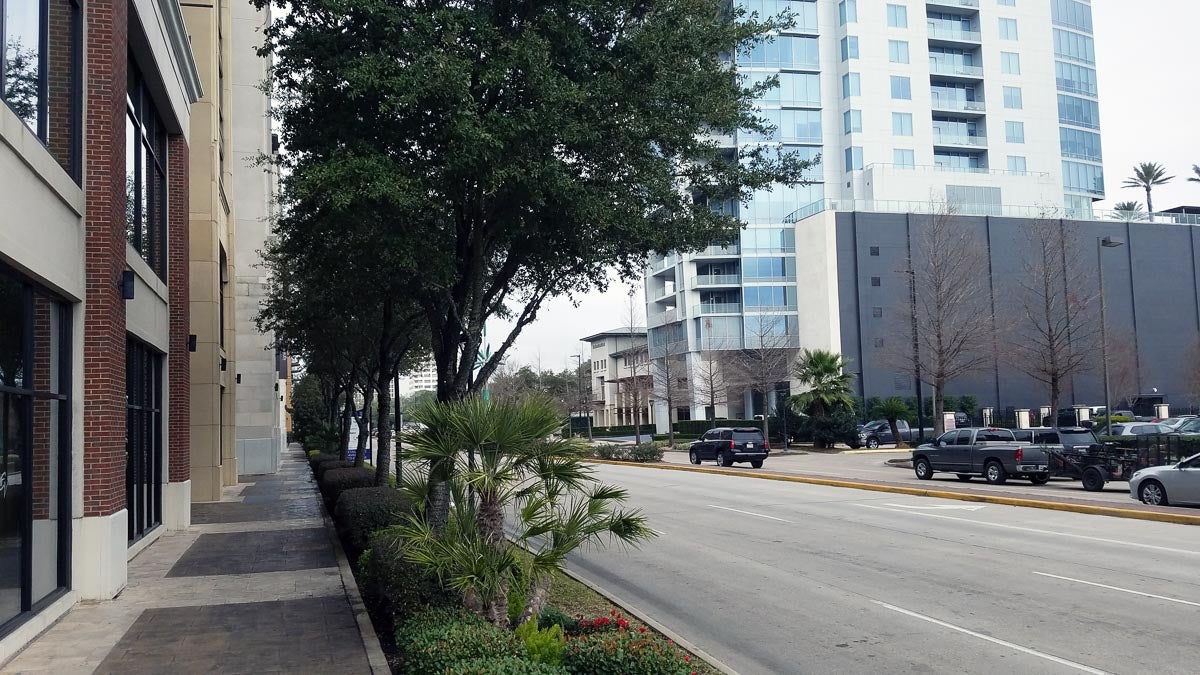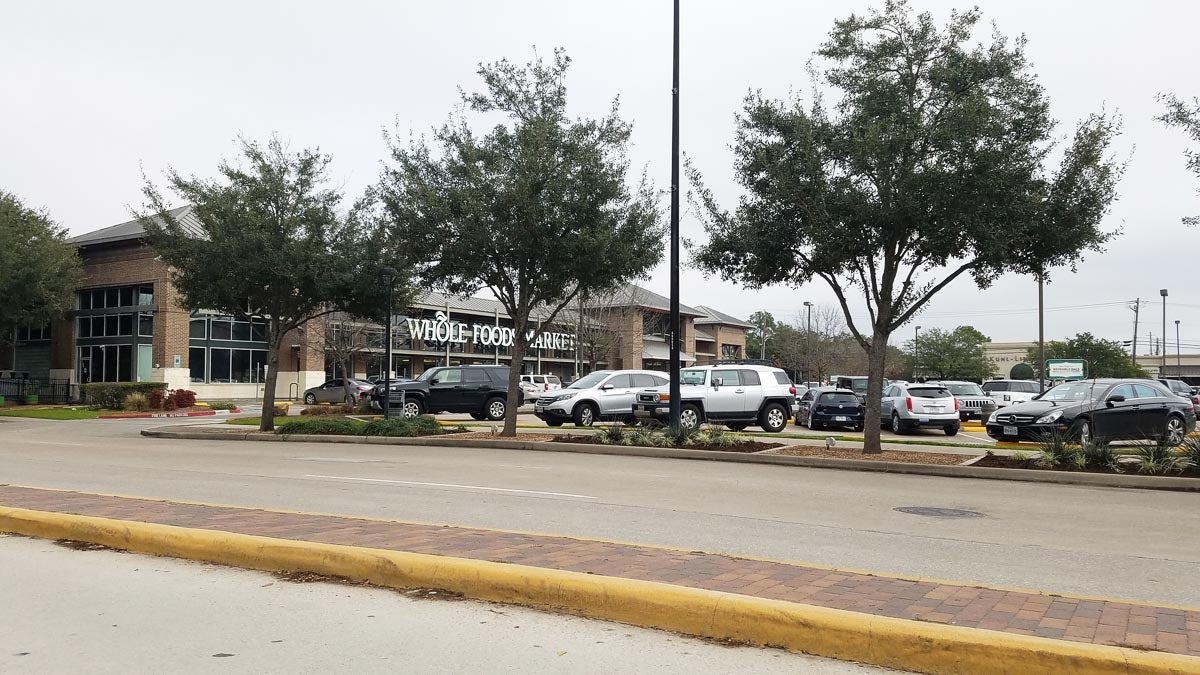 Menil Campus
"Art is always a draw. Access to parking is sufficient with the on-street parking and the area is an oasis in the middle of the city, though the lack of lighting is a negative," Lindsey said.
The sidewalks around the Menil Campus are protected by large oak trees that provide a barrier between pedestrians and the neighborhood street, as well as glorious shade. That shade is continued by the large awnings surrounding the free art museum. To further the walkability, the campus didn't build a parking lot in front of the building but instead hosts large, lush lots of grass. On a cool, sunny spring or fall day, it isn't uncommon to see locals picnicking or playing on the fields.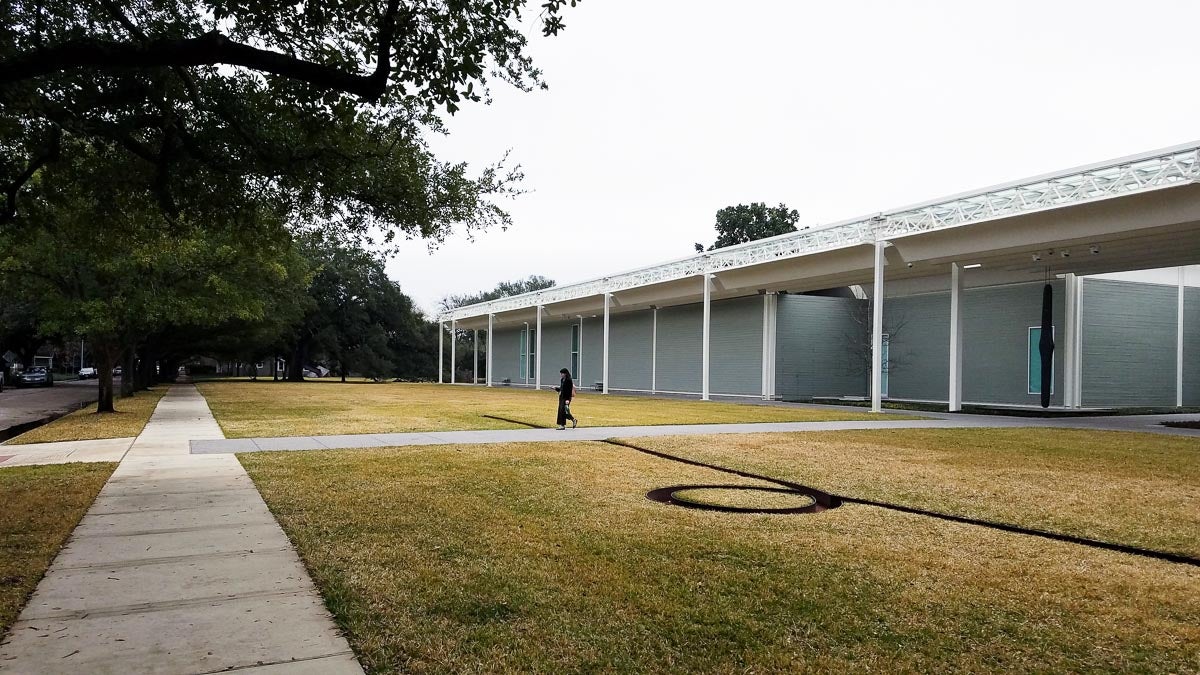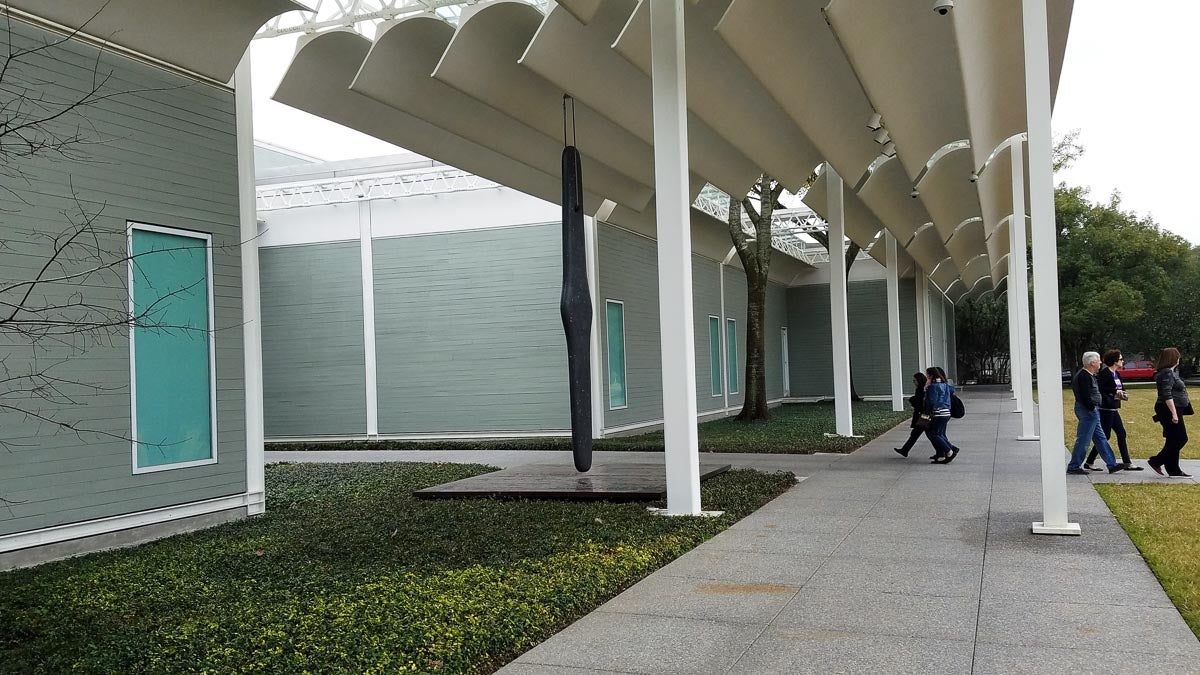 Museum District
Once again, art is a draw, but the Museum District is so much more. With even, shaded sidewalks with barriers between the cars and pedestrians (trees, bushes, other parked cars), the Museum District is a walkable dream. People can hop from one museum to another and stop along the way for picnics at Hermann Park, eat at an area restaurant, go to several of the chapels in the area and more.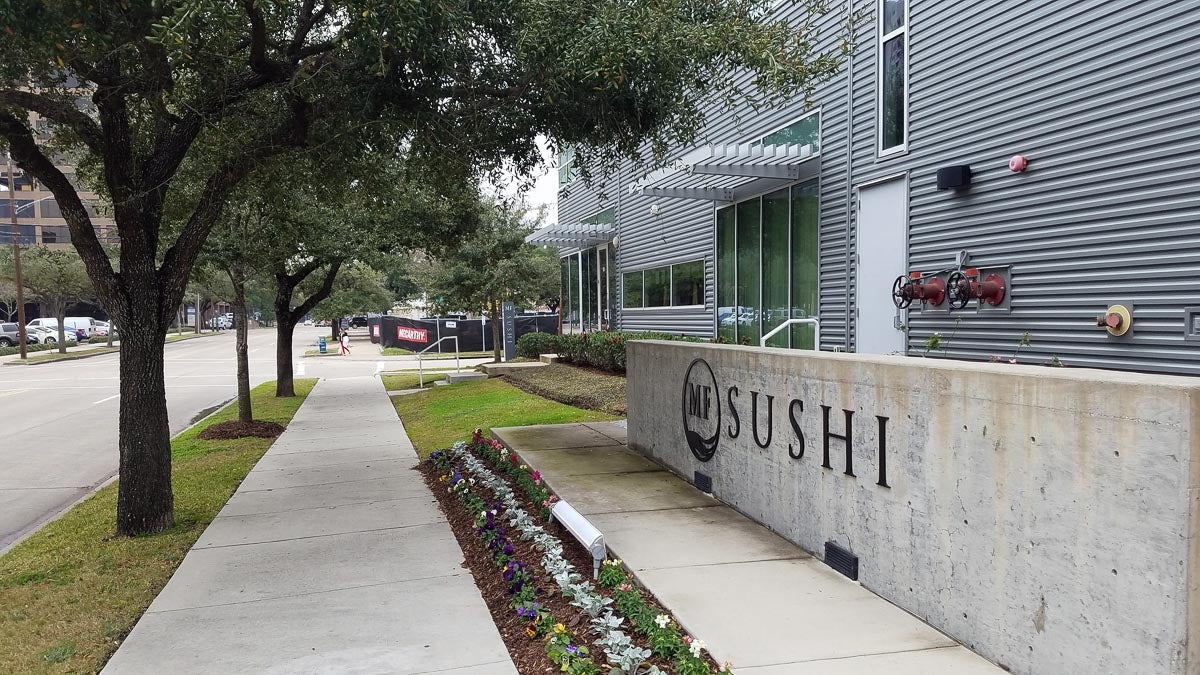 Rice Village/ Rice University Area
Rice Village is a natural selection, especially now that the majority of parking in the area isn't free. Once you find a spot — either one of the few free ones or you pay for your stay — you're not likely going to change.
"This is a destination for shopping," said Lynn Henson, Walkable Places Committee member. "All kinds of stores are in one spot including shoes, athletic, toys, jewelry, swimsuits, train supplies, tea bar, books, fabric and furniture. There are numerous ethnic restaurants as well as a theater, night club, art gallery, hair styling and monetary exchange. However, I shop there less now that more and more big named retailers are moving in. If I wanted that, I'd go to the Galleria."
After Rice University bought a portion of the shopping village in 2014, walkability became a key feature. Following the purchase, Rice Management, which is responsible for the university's endowment, transformed eight parking spots in front of Hopdoddy Burger Bar and D'Amico's Italian Market Cafe into an outdoor dining area, according to Houston Chronicle. Time will tell if more spaces will transform in the years to come.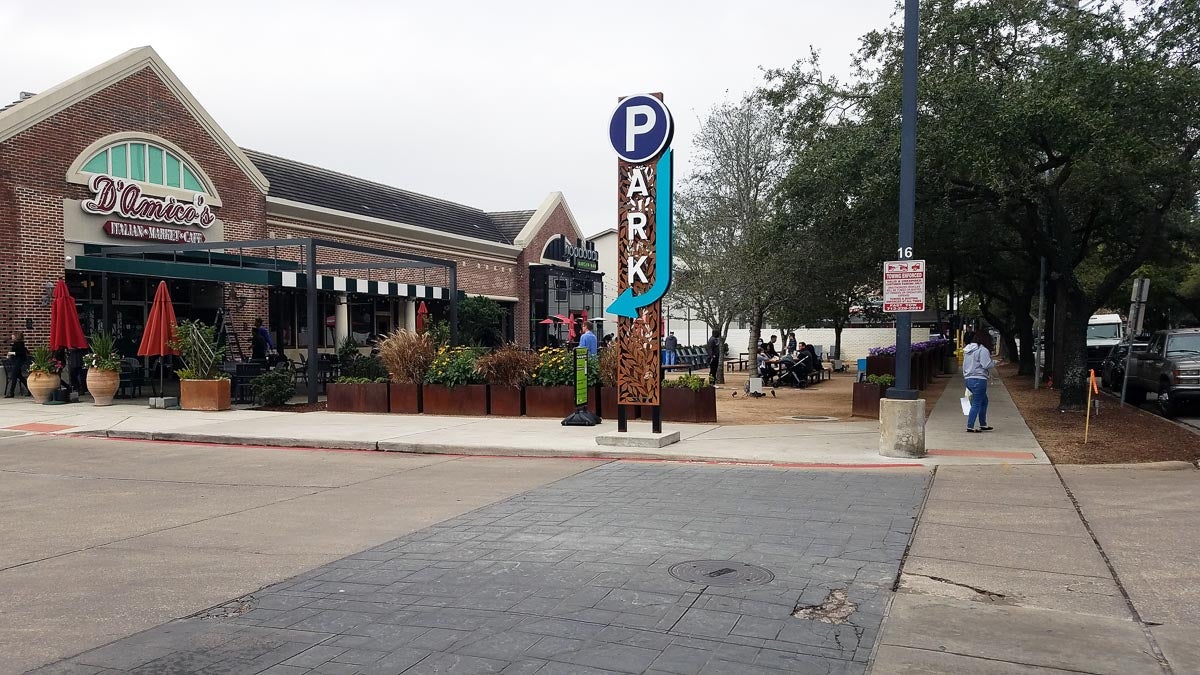 City Centre
This pick is a bit further out and reflects more of a suburban idea of walkability, but it is highlighted as a walkable place because of several reasons, including shaded walkways, safety barriers between pedestrians and the street, low speed limits, well-lit paths and clearly-marked crosswalks.
Furthermore, the entire complex is centered around a turf-grass area where special events are held. It's not unusual to find several children playing in the field or shoppers resting in the shade while having a snack.
Downtown Main Street
The Walkable Places Committee chose Main Street Square as a pedestrian-friendly location in Houston because it is a city block solely used for public transportation and pedestrians.
In this portion of Main Street, between Dallas Street and Lamar Street, there are no cars allowed. The entirety of the block is barred from traffic, aside from the METRO Rail. Therefore, pedestrians comfortably walk the wide, clear sidewalks.
Other most walkable locations the committee chose include 19th Street in the Heights, Market Square in Downtown and Heights Mercantile. Instead of showing you photos of these gems, we suggest you getting out and enjoying them for yourselves. Now close your computer or put down your phone or tablet and go for a walk!