The Kinder Houston Area Survey team led by Stephen Klineberg, founding director of the Kinder Institute for Urban Research, added a new question to the 2019 survey to measure possible income inequalities in the Houston area.
Harris County participants were asked what they would do if they suddenly had to come up with $400 to deal with an unexpected emergency. Nearly four out of ten participants (39 percent) said they either would have to borrow or would not be able to come up with the money. Only 60 percent of Harris County residents said they had enough in savings to draw on, which mirrors figures recorded in 2018 national polls.
While the nation is boasting an unemployment rate of 3.6 percent, according to the Bureau of Labor Statistics, Houston's unemployment rate is higher at 4.2 percent. In 2017, 33 percent of survey respondents said they had serious problems buying groceries during the past year, and in 2018, 35 percent of respondents said they had difficulty paying for housing. Furthermore, according to an Apartment List analysis, Houston's housing costs are increasing more for the poor, while decreasing for the rich. Apartment List analyzed the 100 largest U.S. metros to determine how much the income gap between the 90th and 10th percentile of earners changed from 2008 to 2017. Houston ranked the worst in Texas and 11th in the nation, with an income gap that grew 16.3 percent during that period.
"The way the economy is, you miss two paychecks, you can be homeless. Who wants to hire a 65-year-old?" a homeless man named Don told the Houston Chronicle in January. Don came to Houston six years ago for a job with a wind power company but eventually lost it, according to the newspaper. Area nonprofits like Harmony House and Coalition for the Homeless have tried to help him, but he's not interested in changing his housing arrangement, adding, "I am a bit anti-social. Just leave me here where I am."
Since 2012, the Coalition for the Homeless has provided more than 17,201 permanent housing placements. According to a 2018 count, the number of homeless people in the Houston area is 4,143, which is down by 51 percent since the 2011 count of 8,536. According to the 2019 count, which was conducted in January and released Wednesday, there are 3,938 people experiencing homelessness in Houston in 2019, which is a 5 percent decrease from 2018's total.
"The widespread prevalence of poverty and homelessness in this affluent metro region is increasingly difficult to ignore," Klineberg said in his report.
KHAS results show Harris County respondents are more willing to support government programs to reduce the inequalities — like those that lead to homelessness — in American society. The percentage of respondents who assert that government has a responsibility to help reduce the inequalities grew from 50 percent in 2009 to 62 percent in the 2019 survey. The proportions who agree that the government should take action to reduce income differences between the rich and poor in America grew to 66 percent in 2018. Higher percentages of respondents also believe welfare recipients really need the help, and that welfare benefits generally give poor people a chance to get started again.
Even so, 44 percent of respondents feel government assistance encourages poor people to stay poor and dependent, as seen in the graph below.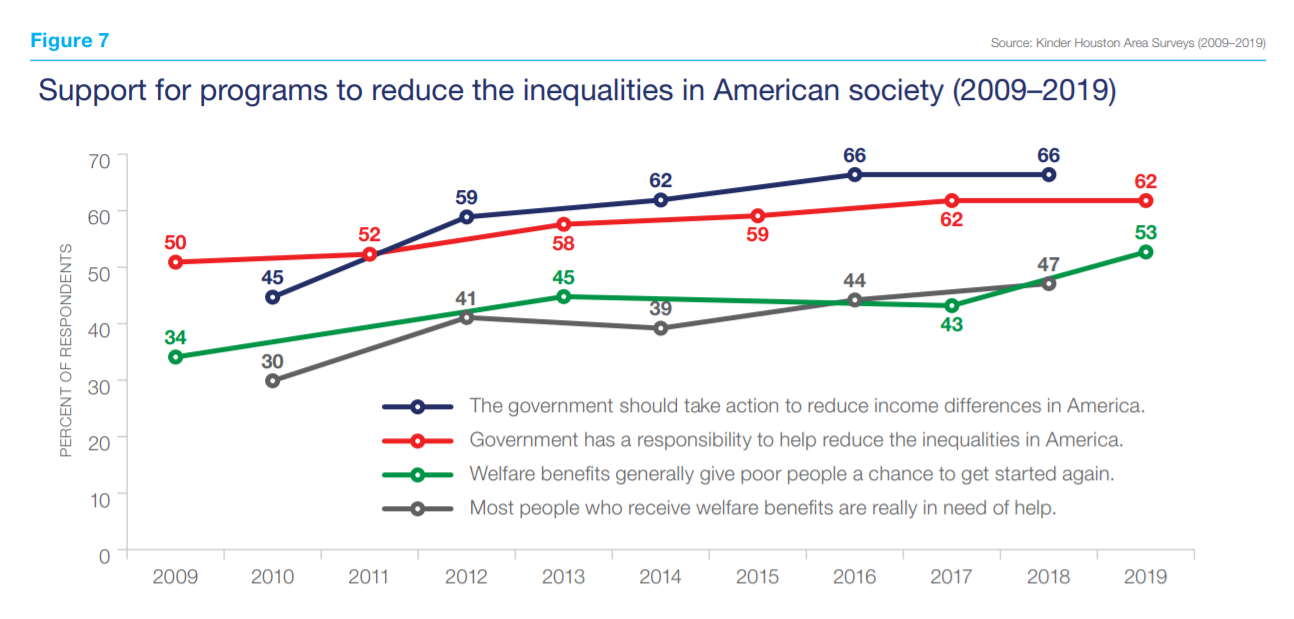 The survey also noted additional inequalities in the Houston area. According to the 2019 survey, one in four participants said they and their families did not have health insurance and nearly one-third reported total household incomes of less than $37,500.
"These findings should remind Houston's civic leaders, so many of whom are working hard to develop effective responses to the region's economic and demographic challenges, that area residents are increasingly open to supporting new initiatives along these lines," Klineberg said in his report. "It remains to be seen whether the community as a whole can summon the political will to undertake the critical long-term investments that will be needed in order to position the Houston region for sustained prosperity as the twenty-first century unfolds."