On January 15, a team of Near Northside residents and community leaders gathered together at the intersection of Lorraine and Elysian streets, fed up with drivers speeding through. Several years ago, a woman driving an armored van hit a young boy and his mother walking across the street there, killing the boy and knocking his mother unconscious. And conditions there were still unsafe for pedestrians and bicyclists, according to community members. So dressed in orange and yellow vests and armed with shovels, spray cans and brooms, the team of volunteers and concerned residents decided to change that with cleaned up sidewalks, more visible cross walks and a pop-up bike lane separated from car traffic.
It was the work of the Houston Department of Transformation, an eight-person team of residents and community organizers tied to the Near Northside, in collaboration with others community partners. The event was the group's first but they have plans to target two other nearby intersections with similar tactical urbanism interventions and hope to inspire more efforts aimed at empowering communities to create the spaces they want across Houston.
The Urban Edge sat down with Houston Department of Transformation team member and longtime community organizer Shirley Ronquillo to discuss how the group came about, tactical urbanism in Houston and what's next.
This interview has been edited and condensed for clarity.
What sparked the creation of this group?
Avenue Community Development Corporation in the Near Northside invited eight people to a community leadership institute in Los Angeles in October of 2017. [It] was an opportunity to create a community project and [compete] for a community grant. The eight of us sat down and brainstormed to determine what are some of the problems in the Near Northside and what kind of solutions can we bring to to the table.
Some of the people knew each other and some didn't.
Jorge Bustamante is an engineer but he is currently working for the Greater Northside Management District. He created our logo. Susan Graham is a community leader in the Northside and a nurse. Bennie Gallardo is a PTO president. Joel Cisneros is a volunteer and leader in the community. Stella Mireles is the founder of Safe Walk Home and Cynthia Reyes-Revilla is a resident of the Near Northside but she's also the community coordinator for Avenue CDC. And Gwyn Guidy is a community leader and part of the Lindale Park Civic Club.
So what were some of the issues you wanted to address?
We identified safety concerns for pedestrians, bike safety concerns. Crime was a concern. Prostitution, drug use, homelessness were issues that were identified. Speeding.
We wanted an immediate success, a small project we could undertake understanding we all had other responsibilities. We could focus on street intersections, the pedestrian safety and bike safety, [and] in doing so we would hopefully help reduce the speed in certain areas. We identified three intersections that we wanted to focus on; Elysian and Lorraine, an intersection where cars speed, children walk to school and cross that intersection every day and where a young child was run over and killed. They have a crossing guard there but the crossing guard isn't respected.
That's an area that's historically neglected by all groups. It's almost on the outskirts of the Near Northside area and there aren't any businesses and it's really residential but its also two blocks from the elementary school. We saw the sidewalks weren't walkable, they were under grass and dirt and trash. So the other piece we added was that we wanted to clean that up.
The second intersection is Hardy and Harrington, another area that is historically neglected, an area where there are a lot of accidents and they're not always reported. There wasn't a stop sign before, now there is but people are still speeding. There was a lot of drug sales going on, crime and there was some prostitution. They don't even have the crossing lines to walk so we wanted to bring attention to some of the issues.
Our third one is Fulton at Quitman, that's an intersection that's highly used. There's a middle and high school in that area, several business and it's a few feet from a Metro stop so there's a lot of pedestrian traffic. We felt we could make it safer for students walking home, we could help reduce car speeds and we wanted to beautify it. Other neighborhoods have colorful planters, signs or benches. We don't have any of that in the Near Northside.
So the focus was on a smaller scale; how can we change the culture so people can become engaged enough to bring change to the community? We know there's a lot of issues, we're calling the authorities, but they don't get attention and so they feel disenfranchised so how can we, as community leaders, engage the community? We thought these small projects would be a start.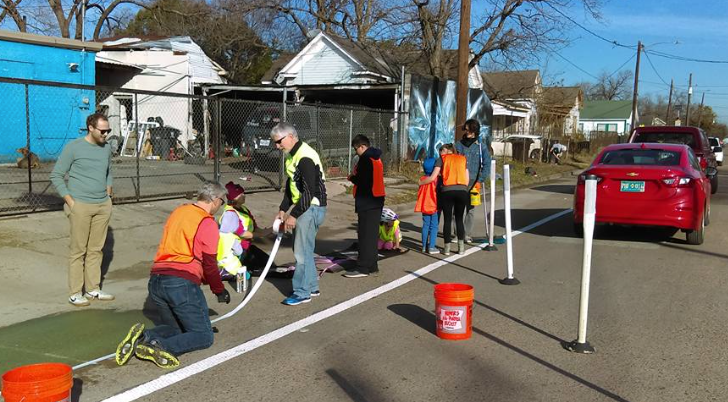 There have been other, similar pushes to intervene in the landscape in these creative, community-driven ways here but Houston is not thought of as a hotbed of tactical urbanism. Why do you think it works here?
One of the workshops in the conference was on tactical urbanism. It allowed us to see how things were done differently. It gave us hope. The idea was we could bring attention and start bringing change and engage the community at the same time. We need success, we need immediate results. We don't have a budget. When we applied for the grant, we thought how can we make things happen really quickly. We realized the ideas that have worked elsewhere, we can actually do this on our own whether we got the grant or not.
It works in the Near Northside because there is a desire for something better, to make it safer. I think we just needed to bring ideas that could be easily implemented. There is a lot of pedestrian traffic and bike traffic here and all these issues are things that can be addressed if we bring more attention to them.
You saw it in action with the first event, how did that go, what was the impact?
We had mothers, we had children, we had students, community leaders, community support. I think it showed us that we can start bringing change to the community, we can address issues that historically felt so big and neglected. I think people were able to see that everyone's effort made a huge impact.
We actually found sidewalks where there weren't sidewalks for years, clearing away the dirt and grass. One of our memebers lives on that street, she was the one who helped guide us.
The pop-up bike lane was in partnership with BikeHouston, they led that component. The children got to draw pictures with spray paint and make it lively. Commissioner Rodney Ellis brought out a group of riders who came out to see the lanes.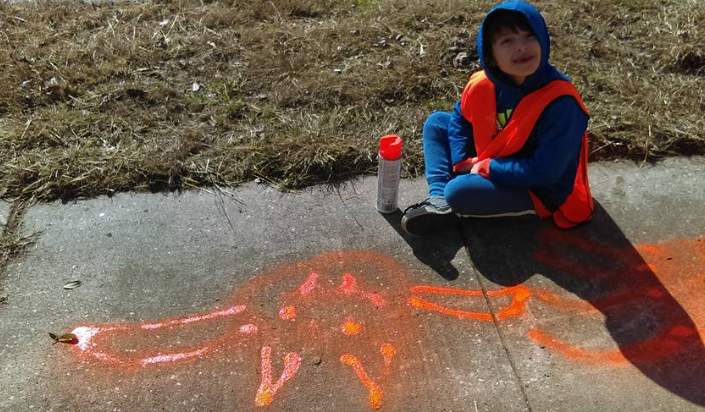 So you had the official blessing? It wasn't off the books to speak?
We pulled a city permit to do the bike lane. We partnered with the Houston Police Department, they helped us by providing traffic control. We have a great partnership with the police department, they've been very receptive with our requests for increased safety and increased traffic control. They're getting someone to patrol the area a bit more even though they're short-staffed. Everyone wants positive change for the area.
Is there any frustration that some of the issues the neighborhood is facing arguably stem from neglect from some of those institutions, like the concerns about crime?
The bigger picture is that the Near Northside has a lot of concerns, HPD is short-staffed and we understand that. Through our community meetings and their positive interaction meetings, we were able to voice our concerns and they shared the desire to work together with the community. They offered the partnership before we were even formed. So when we did form it was easy to say, "Hey remember when you said you wanted to work with residents? Well here we are."
Any lessons learned from the first event?
There's always lessons learned. The Salvation Army Harbor Light Shelter provided great volunteer support and that was fantastic because without them we couldn't have done the heavier work. We needed man power because it was a lot of trash, a lot of debris and the grass and dirt is heavy. They supported us by bringing trash bags, some of the tools we needed.
Without our community partners we wouldn't have been able to do that, so we understand that importance of partnering. Asakura Robinson helped with the design. We're looking forward to partnering with other orgnazaitions and we have the support from the community. Council member Karla Cisneros offered support. The Greater Northside Management District is also a great support.
The sidewalk cleanup part was the most labor intensive piece of our project and then we had another fun part. We had chalk and spray paint so we were able to draw stars in the crosswalks to bring attention. It was one of the tactics we used to slow down traffic. We wanted to encourage children to write positive messages or draw something cute so as they walk to school they would see it along their path.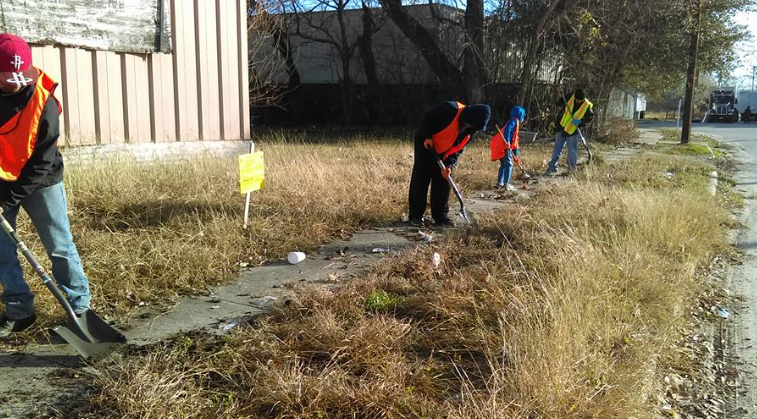 By design, some of that was temporary and disappeared the next day. Was it sad to see it go away?
It's not sad. It gave me hope that we can continue to do this and maybe in the long run we can create something permanent.
Speaking of, what's next?
As we grow, our goal is to become a resource to the Houston area. We want to be able to share our experience, share our tactics and best practices, which will slowly develop. That is the bigger picture. Right now we're just starting. One of the lessons learned was that we do need structure. It's awesome that we're a community of volunteers but we do need some kind of structure so we're working on that piece and really want to define our region and mission.
It's in progess but the goal is to empower the community to take action through community service projects.
Even if tactical urbanism is still sort of gaining momentum in Houston, that community-led narrative is strong here, especially after Harvey, all the attention was on citizens acting.
That's the other part of it is that Harvey happened and people ran to help and that's awesome but neighborhoods like the Near Northside have these issues every single day. Part of our goal is to bring attention to these issues and the lack of resources; we need more support, we need more funds to bring change.
The Near Northside deserves that. All we can do is work together to bring change.