The Complete Streets Act, introduced in both houses of Congress by Sen. Ed Markey (D-MA) and Rep. Steve Cohen (D-TN) aims to promote safer and more accessible transportation routes across America. The act would require states to set aside a portion of their federal highway funding to create a grant program that will fund complete street projects to make transit routes safer and more accessible for all.
Under the Complete Streets Act:
States would be required to set aside five percent of their federal highway money to create a "Complete Streets" program.
Eligible entities would need to adopt a Complete Streets policy, participate in technical assistance, and create a prioritized plan for Complete Streets projects in their jurisdictions to access the funding.
Metropolitan Planning Organizations (MPO) would be responsible for certifying that Complete Streets policies meet minimum requirements set out by the United States Secretary of Transportation.
The U.S. Secretary of Transportation, States and MPOs would be required to adopt design standards for federal surface transportation projects that provide for the safe and adequate accommodation of all users of the surface transportation network, including motorized and non-motorized users, in all phases of project planning, development and operation.
"When we have 'complete streets', we can have complete communities – comprehensive centers for employment, education, health care, civic life, and commerce," Sen. Markey (D-MA) said in a statement. "Whether you are traveling by foot, spoke, or pass, everyone deserves 'complete streets', and this legislation will help fund safe transportation options for the 21st century."
Pedestrian fatalities increased by 35.4 percent between 2008 and 2017. Last year alone, the Governors Highway Safety Association estimated 6,227 pedestrians were killed by motor vehicle crashes, the highest mortality rate since 1990, even though more than 100 U.S. cities have launched initiatives to eliminate traffic deaths. The GHSA estimated that Texas, Arizona, California, Florida and Georgia account for almost half of the pedestrian fatalities in the first half of 2018.
While European countries have reduced pedestrian deaths by a third over the past decade, American drivers have killed 50 percent more pedestrians in 2018 than in 2009.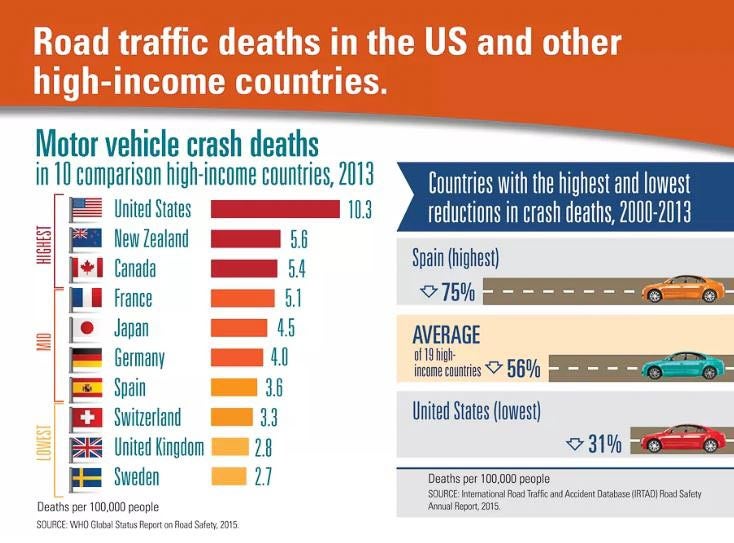 "We are facing a national safety crisis," said Rep. Cohen (D-TN). "Over the past decade, this country has seen a dramatic increase in the number of pedestrians killed while walking. We need streets that can accommodate all means of transportation, from foot traffic and strollers to cars, light trucks and 18-wheelers. The grants made under the Complete Streets Act will transform communities and make them safer."
Research has shown that street design catering to fast-traveling vehicles and current SUV and truck design standards have been linked to the rise in pedestrian deaths. Experts recommend road diets to slow down traffic and changing the performance test criteria of vehicle designs to reduce injuries to pedestrians.
If the federal bill is passed, state and local leaders would have to contend with practices that often drive complete street funding away from the areas that need it the most. Instead, complete street funding has often gone to whiter, wealthier areas rather than those areas where vehicle ownership is lower and the use of alternative modes of transportation, like public transit and bicycling, are higher, according to a national report.