Kinder Institute's founding director Stephen Klineberg is fond of saying that Houston today reflects America's future. Its demographic composition, its challenges and opportunities, speak to national shifts underway. "Houston is where America's future is going to be worked out," he's said over the years.
So how will this future city look in the future? Thanks to recently updated data on the Urban Institute's Mapping America's Futures tool, we have a better sense of the projected population growth of the Houston metropolitan area and other major cities classified by commuting zones.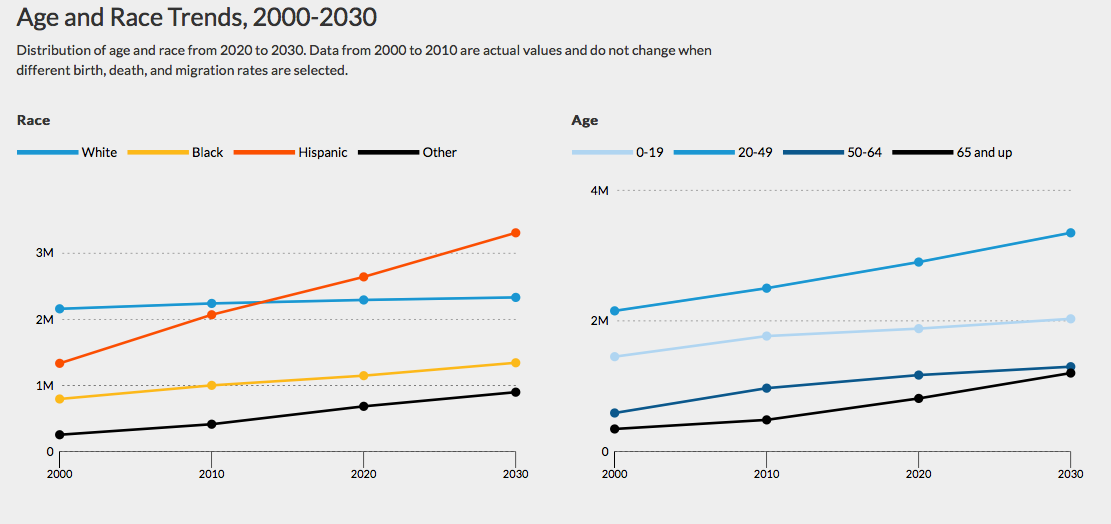 Assuming an average birth rate, death rate and average migration rate, the Houston area is expected to add roughly 2.2 million people between 2010 and 2030. That's a 37.68 percent increase. The area's white population appears pretty flat in this scenario, while the Hispanic population rises steadily above 3 million by 2030.
Say the Houston area instead experiences high birth, death and migration rates, it would add 2.5 million between for an increase of 43.82 percent. Assuming all those areas experience low rates, it would instead add only 1.9 million people for an increase of just 32.95 percent.
The Dallas area, meanwhile, is only projected to add 1.5 million people between 2010 and 2030 assuming an average birth, death and migration rate. The Fort Worth area would also some 800,000 people under those assumptions.
The San Antonio area is expected to grow by 33.40 percent, adding just under 728,000 people under the same assumptions. Austin, on the other hand, continues to boom, growing by 46.93 percent and adding roughly 836,000 people given average birth, death and migration rates.
Outside Texas, Las Vegas, Phoenix, Orlando and Raleigh all showed large projected increases. Across the country the map is a mix of blues and yellows with some areas experiencing huge gains while some will likely deal with continued population loss.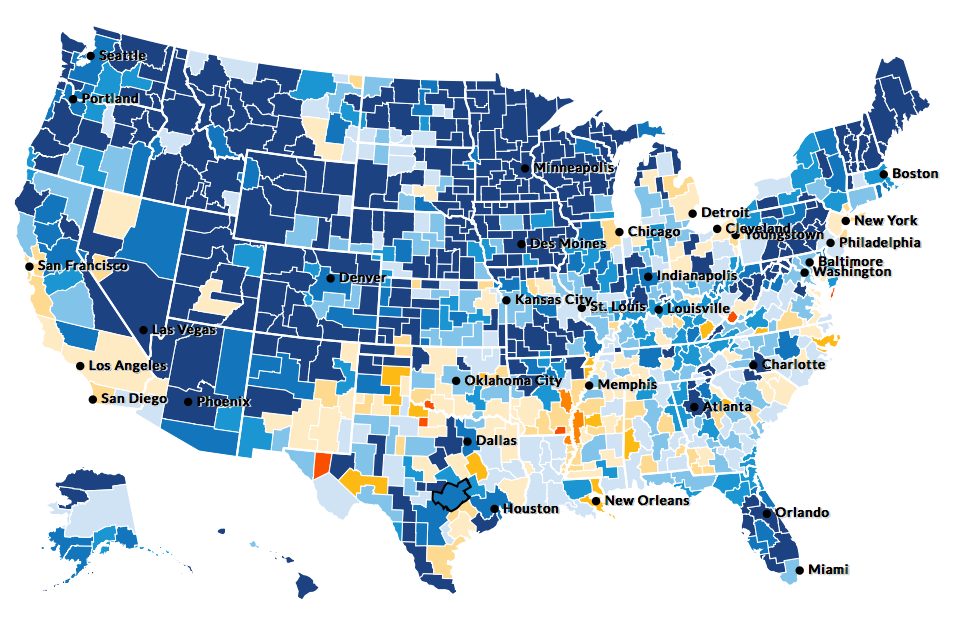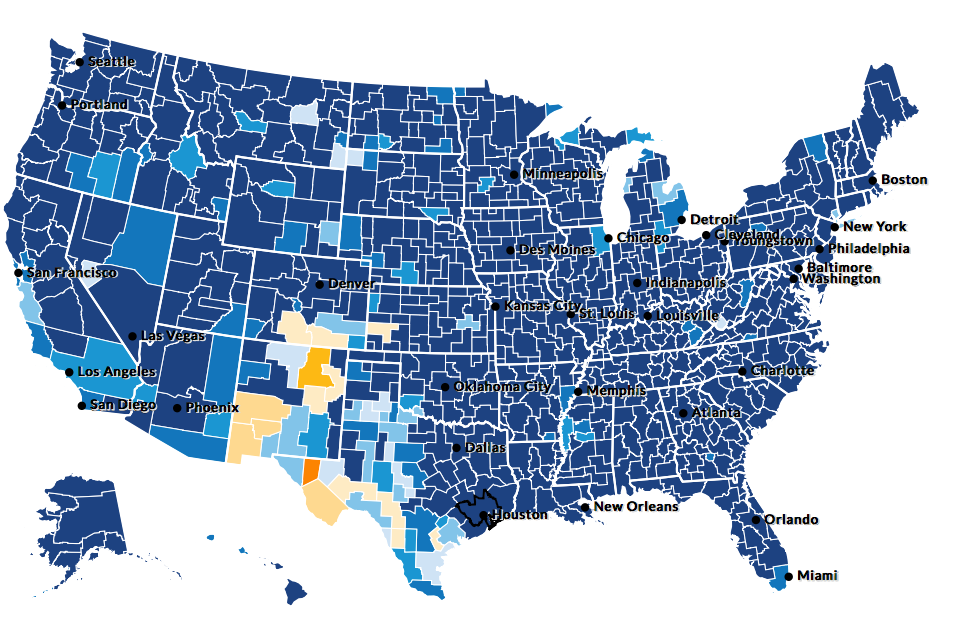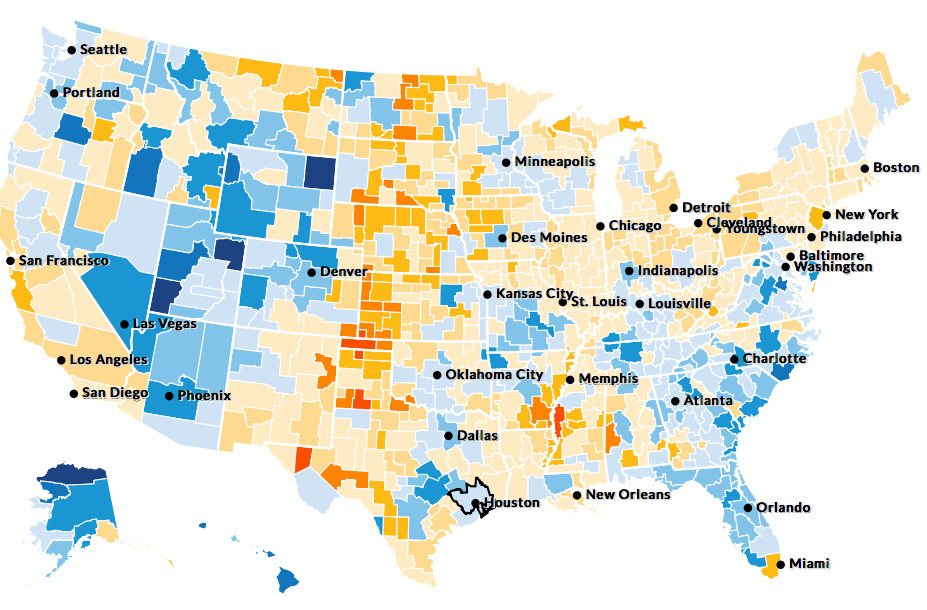 As far as the racial composition of the country, looking at the projected growth of various racial and ethnic groups shows black, Hispanic and other non-white populations booming more or less across the country while white population growth is only seen in certain spots.
In the Houston area, the Hispanic population is projected to be the fastest growing, after Other, which refers here to any non-Hispanic, non-white and non-black groups, including American Indians, Asian, Pacific Islanders and other groups. Under average rate assumptions, that population would grow 117.26 percent between 2010 and 2030, according to the Urban Institute. In fact, recent Census numbers show that Asians are the fastest growing group of the four major racial and ethnic groups in Houston. Part of that fast growth rate is due to the relatively small size of the population overall which means that small numeric gains appear as bigger overall increases than they would for larger groups. But it also reflects countrywide trends. Nationally, Asian immigrants actually surpassed the percentage of immigrants with Hispanic origins just before 2010, according to an analysis by the Pew Research Center.
Meanwhile, the Houston area's Hispanic population would increase 59.90 percent between 2010 and 2030. The Houston area's black population would only increase 34.12 percent, while its white population would grow by just 4.07 percent.