Houston, America's fourth largest city, is officially the most diverse city in the country, and the 2019 Kinder Houston Area Survey shows the city's diversity is being welcomed into the homes of area residents.
In 1960, Harris County was 70 percent white and 20 percent African American, but over the past five decades, Houston has formed into a minority-majority city. The county's total population is 31 percent white, 42 percent Hispanic, 19 percent black and 8 percent Asian.
"All of the region's ethnic groups are now minorities, all of them called upon to build something that has never existed before in human history—a truly successful, inclusive, equitable, and united multiethnic society that will be Houston, and Texas, and America as the twenty-first century unfolds," said Stephen Klineberg, author of the survey and founding director of the Kinder Institute for Urban Research. The survey "suggests that area residents are adapting pretty well in the process of navigating this remarkable transition," through the increase of interethnic friendships and relationships across all ethnic groups and the increase in support of legal immigration.
For both black and white respondents in their 20s and 30s, about 60 percent said they had been in a romantic relationship with someone outside of their race. The numbers declined to around 40 percent among respondents aged 50-59 and dropped to just 18 percent for respondents aged 70 and older. Furthermore, the survey showed an increase across all of Houston's major ethnicities saying they have a "close friend" outside of their own race.
Daniel Wang, a native Houstonian and first-generation Chinese American, married Katie, an Austin native whose family has been in Texas and the American South for seven generations, and they feel the diversity in their home only enhances their relationship.
"I think that it was just a matter of being very open and explicit about that openness," Daniel said. "And seeing our different cultural backgrounds as an asset and something that would bring more to our lives," Katie added. "Rather than having one thing to share between us, we have two things to draw upon whenever we have our own family. We'll get to choose what parts of our backgrounds and cultures we want to emphasize and treasure."
Ultimately, moral and family values—like how you treat other people, how you perceive your work and the way you work, how you value yourself and your friendships—bonds Daniel and Katie's relationship. The cultural details like traditional holidays and food are minor in comparison. "At the end of the day, I think a huge realization was that there's a ton in common in terms of what her family values, and what my family values. That all came together to make it very easy for us to get along," Daniel said.
"Younger Americans of all ethnicities across most of the country have been growing up in a world where ethnic diversity is part of their lived experience and close intergroup relationships are increasingly common," Klineberg said. "The world of the 2000s and 2010s, when the younger generations were coming of age, is a place of thriving interethnic friendships and increasing rates of intermarriage. This is a decidedly different era compared to the more rigidly segregated world of the 1960s and 1970s when today's older Americans were moving into adulthood."
Not only are Houstonians increasingly befriending and loving more people outside of their race, they're also more inclined to welcome more diversity into the region.
Over the past decade, whites, blacks and Hispanics have all increasingly supported admitting more or the same number of legal immigrants in the next ten years, as seen in the graph below.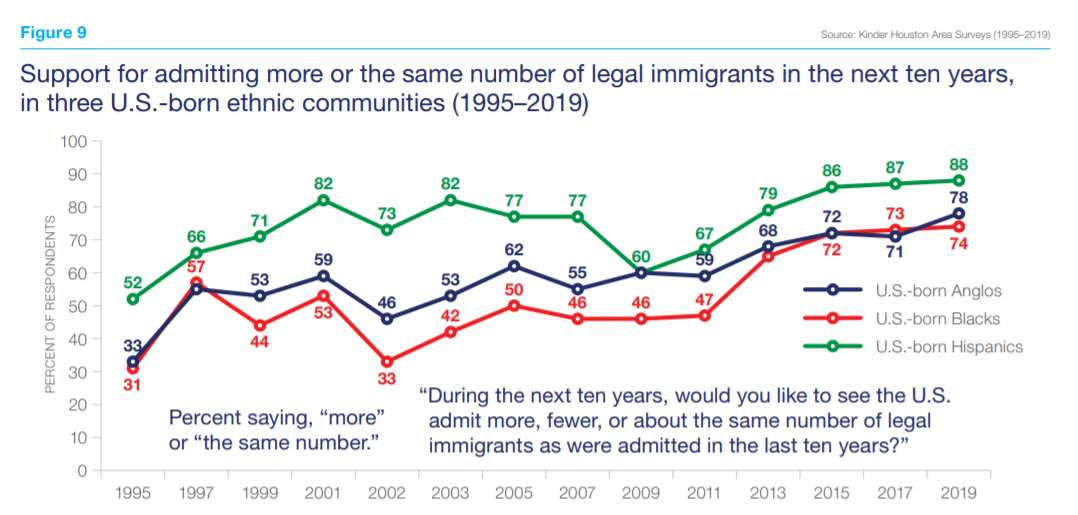 "Undocumented immigration has slowed in recent years, so the fear of an invasion of dangerous foreigners has faded," Klineberg said. "The immigration concerns today have much more to do with addressing the desperate needs of the large numbers of refugees seeking asylum, rather than with undocumented immigrants thought to be pouring into this country, threatening American jobs and public safety."
Despite national rhetoric of undocumented immigration rising, recent studies find unauthorized immigrant totals have dropped to the lowest level they have been in the past decade. In fact, a new analysis of Department of Justice data shows that "voluntary departure" applications are surging among undocumented immigrants as they decide "it's better to return to their native countries than languish in a detention facility," according to The Marshall Project.
"This nation is moving inexorably into what sociologists have been calling a 'trans-racial' world, where ethnicity is becoming more fluid and inherently less relevant," Klineberg said.