The agency recently received $376,000 in transit-oriented development planning grant funds from the Federal Transit Administration through the Infrastructure Investment and Jobs Act, also known as the Bipartisan Infrastructure Bill.
As the transit agency is set to adopt a new joint development and transit-oriented development policy, the project at the Tidwell Transit Center could serve as a blueprint for similar work in other parts of Houston. (Metro's Joint Development and Land Use Committee is set to vote on a new policy Dec. 8.)
"Since 2015, TOD was studied by the agency but has kind of taken a back seat to other competing policy priorities, including a bus network redesign, revisiting the agency's long range plan, and a few high-profile capital projects at the agency," said Luis Guajardo, a senior policy specialist for the Kinder Institute. "Now, Metro seems poised to rethink how it can play a more prominent role in expanding the reach of public transit. This would be a fundamental rethinking of how the agency collaborates with public, private, and nonprofit sectors to create more walkable, mixed-use, mixed-income communities. And it will take time for Metro to chart a path and gain momentum but so far the agency has gotten off to a promising start by listening to stakeholders and evaluating best practices."
Transit-oriented development, or TOD for short — defined as "compact, mixed-use development on or near transit facilities, either bus or rail" — and joint development — projects specifically involving Metro-owned land through a public or private partnership — are not wholly new strategies for the Metropolitan Transit Authority of Harris County. What is different in this case is a targeted community engagement strategy and a rethinking of the agency's goals as it relates to TOD.
Metro Chief Strategy Officer Alan Clark said the grant will give Metro an opportunity to have in-depth discussions with the community about preferred outcomes that would improve residents' quality of life.
"Metro is not starting with the preconceived idea of what kind of development needs to occur there," Clark said. "It really starts by talking to residents, to the Super Neighborhoods, institutions and churches and others in that community about what they see as their needs."
The Tidwell facility, located in the Eastex-Jensen Super Neighborhood, will be a terminal station for Metro's planned University Corridor, a 25-mile bus rapid transit line, similar to the MetroRapid Silver Line in Uptown. Metro wants to use this project as an opportunity to produce workforce housing through public and private sector partnerships.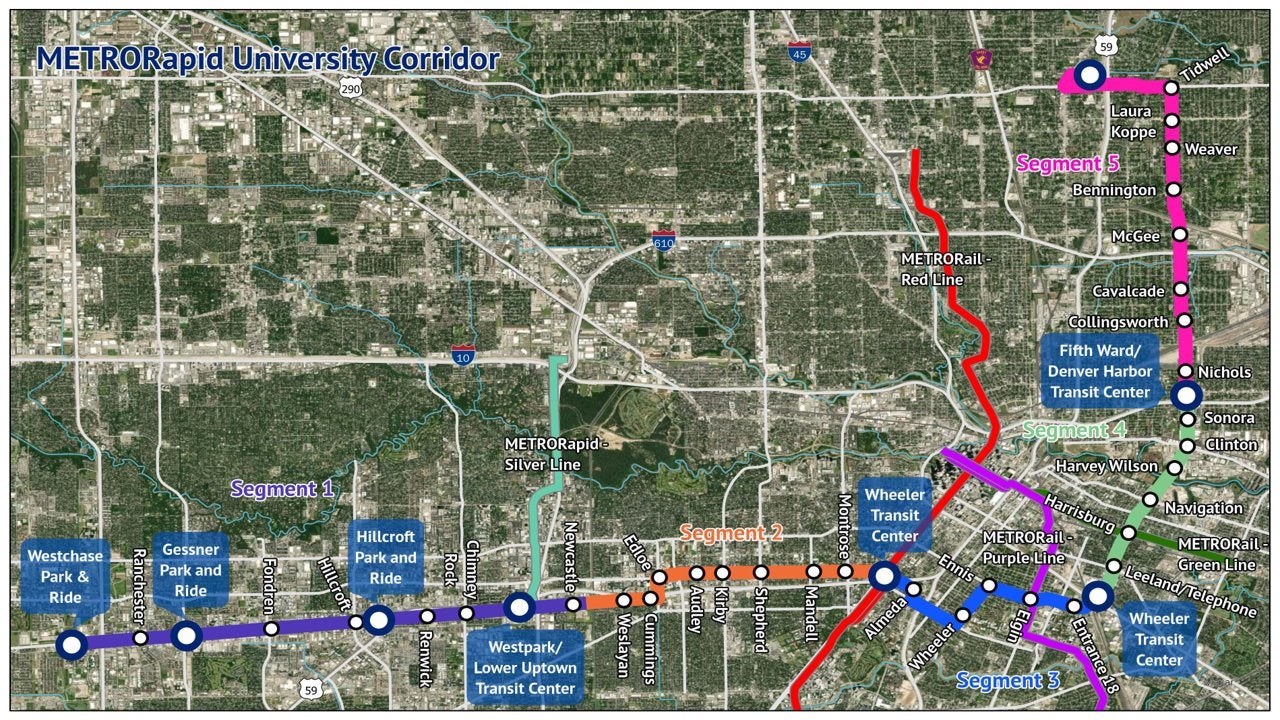 "We're investing this money across many neighborhoods through Houston, many of which have historically not had a lot of investments," Clint Harbert, Metro's vice president for system and capital planning, said. "We want to achieve development that works with transit to create opportunities for people. That extends all the way to Tidwell, which is the largest of the facilities on the eastern side. It's more than just a transit center."
Building out more affordable housing and employment opportunities near transit centers checks a lot of boxes toward fostering inclusive economic growth.
"More affordable and workforce housing choices near transit might not be viable on every site depending on market dynamics, but when possible, it will create housing opportunities that can reduce transportation costs for many households, especially those who would benefit most from it," Guajardo said. "This is vital for Harris County, which needs on the order of 200,000 more housing units built over the next decade and experiences some of the highest transportation costs in the nation due to its car dependence. Living in walkable communities was very high on residents' minds when surveyed during Harris County's comprehensive housing study."
Metro officials are also excited about the amplified effects of bringing people closer to the transit system as new service expansions come online.
"We have a lot of available land, and it also ties in directly to our HOV system, which we're re-inventing to become Regional Express, with two-way, all day service. This gives people the opportunity to make connections, get to downtown, be distributed throughout the entire corridor and create opportunities for people to get to work, school or retail."
In addition to economic opportunities, Harbert said TOD could provide environmental benefits as well by reducing traffic, and giving commuters the ability to walk or bike to work or their closest transit center.
He added that Metro's leadership seeks to change the conversation from being revenue-focused to what kind of partner it can be to accomplish meaningful change around transit investments that the agency makes.
"It's really altering the way we've looked at things in the past," Harbert said. "How can any project that we do together bring benefits to Metro? How can it benefit our ridership? We've changed that equation to still include some of that market discussion, but a lot of discussion now is how we can use transit and our property to achieve goals that are more integrated with the community, goals that are integrated with Metro and various stakeholders."
Metro used expertise from officials and peer agencies from Dallas, Los Angeles, Miami, Portland, Washington, D.C., and others on how to successfully create transit-oriented development.
"We have some very good examples of other cities doing this," Harbert said. "Metro has had a couple of successes in this area, but we're starting to make real changes here. We want to see the new program that our board wants to implement be successful. We use examples from everywhere, and I think that's going to help us move this forward in a successful manner."
Metro's board of directors will vote on its joint development and transit-oriented development policy later in December, and solicited public input. Once approved, the agency will begin seeking proposals for development and will implement a process for evaluating them.
"This is a great opportunity," Metro Board Chair Diann Lewter said during a Joint Development and Land Use Committee meeting in November. "As a city we're behind. Other cities that are about our size definitely have more transit-oriented design, more joint development than the city has now started to do."