As Harvey makes its way east, Houston is starting to see some sunshine and waters are receding from some roadways and bayous. Emergency shelters are still providing relief for people displaced from the storm and the total impact of the storm has yet to be calculated.
For Houston beginners, maps showing just how many other cities could fit inside Houston's more than 600 square miles of land are a helpful way to put things in perspective when both talking about the scale of devastation from Harvey and the difficulty of rescue and cleanup efforts. But for folks who already understand some of the basics about Houston, these maps help illustrate what happened during Harvey and provide resources for people still in need.
First, a look at rainfall totals over the past several days in Harris County from the Harris County Flood Control District. Though hurricanes can bring damaging winds, one of the biggest dangers to Houston with Harvey was the overwhelming rainfall, measured in inches below, that quickly filled up reservoirs and bayous. The totals were record-breaking in some areas.
Next, a check on the infrastructure. There's a lot more green on today's map showing the channel status of waterways across Harris County but on Sunday, not so much. The red markers indicate a spot where the water was over its banks, while the yellow warns of a potential breach. Green squares mean the water was in its banks while blue squares indicate an unknown status.
There was also concern that the two major dams on the reservoirs - Barker and Addicks, both west of downtown - might fail. As of Tuesday, though, they were not at risk of failing but that doesn't mean they weren't experiencing unprecedented water levels that forced controlled releases and pushed water around the auxiliary spillovers into nearby neighborhoods.
"Thousands of homes and structures surrounding the reservoirs have indeed already flooded," explained the Texas Tribune. "Some of them are flooding because they're along creeks and bayous that have also been overwhelmed. Some are flooding because of bad drainage in the neighborhood. But many are flooding because they are in an area that the Army Corps actually considers to be inside the reservoirs."
The map below just shows Harris County, but surroundings counties were also affected, including Fort Bend County where several communities were forced to evacuate.
Image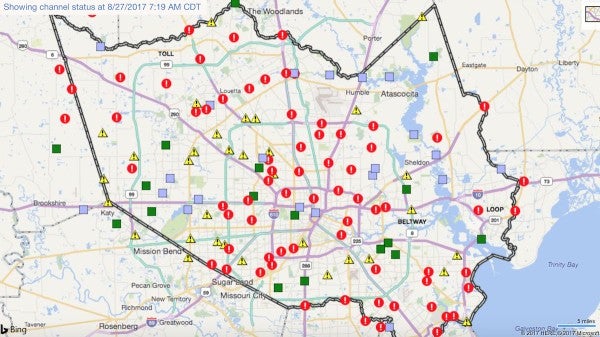 For several days, Houston area residents were told to shelter in place and only call emergency services if the situation was life-threatening; "a few inches in your home is not imminent danger," the mayor's account tweeted. The rescue effort includes local and federal response teams as well as private citizens lending a hand. One police officer, Steve Perez, drowned in his patrol car, according to the Houston Police Department.
Requests submitted to local rescue groups like the Texas Navy give a sense of which areas were experiencing the most need. The New York Times mapped the calls as of Monday evening.
Image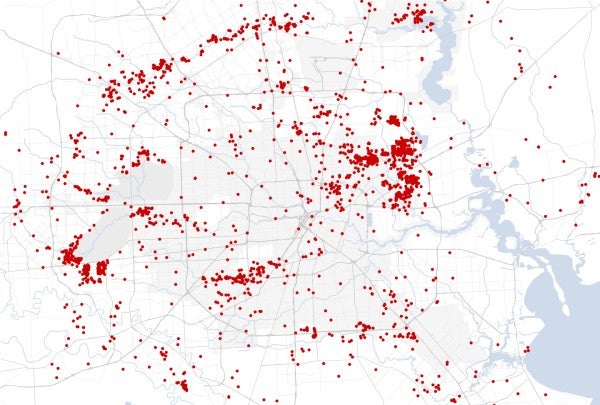 The term natural disaster belies the often very man-made realities that help both shape the disaster itself and its outcomes. While the entire Houston metropolitan area, and beyond, will feel the impact of the storm, some are more vulnerable than others.
An interactive map of median household income by census tract, according to 2015 Census estimates, reveals which neighborhoods might be the most vulnerable, particularly when looked at side by side with these others maps.
And finally, another interactive map, this time courtesy of Kinder Institute research analyst Mingming Zhang. As part of a soon-to-launch dashboard of interactive maps combining a variety of data sources that users can test out now, Zhang created a map that layers data on emergency shelters, traffic information, grocery store locations and more as Houston continues to recover.
"Houston is a caring city that fosters cooperation, neighbors looking out for neighbors, and pulling together to face our shared challenge," tweeted Mayor Sylvester Turner's account Tuesday evening. The mayor has remained optimistic about recovery and pushed back against criticism regarding his decision not to evacuate. His former opponent Bill King penned an editorial defending the decision not to evacuate. "I narrowly lost in a runoff to Mr. Turner in the December 2015 mayoral race," wrote King. "While he and I certainly have our political and policy differences, the current suggestion in the news media that he should have called for an evacuation of Houston is absurd."
And another great tool for Houston folks looking to volunteer at or donate to shelters in the area is this crowd-sourced map from Sketch City. Users can add more information with this online spreadsheet.