Nationwide, pedestrian deaths reached a 33-year high in 2017. Here in Houston, the number of pedestrian-related crashes has also been increasing. According to the state department of transportation's official crash data, 80 people were killed and 698 were injured while walking on Houston streets in 2017. Houston was ranked 15th on the list of the most dangerous metro areas for walking in the nation according to "Dangerous by Design," a report from Smart Growth America, that showed that low-income people and people of color have a higher risk of being killed while walking.
There are no clear-cut explanations for why pedestrian deaths continue to increase. Educational safety campaigns often target pedestrians in making sure that rules of walking on the streets are obeyed. It also often goes beyond that to require people making eye contact with drivers as they make a move to cross the streets. Pedestrians are, quite literally, the eyes on the streets—a term coined by Jane Jacob. What is telling is that most of these deaths also happen in lower-income neighborhoods with poor pedestrian infrastructures. Not surprisingly, a report from the Governors Highway Safety Association finds that most of the pedestrians killed were struck on local streets.

For many communities, these numbers are a tragic reality. In Gulfton, a neighborhood where many immigrants and newly settled refugees in Houston live or come for social services— getting to and around the neighborhood can be especially challenging. One of the many schools in Gulfton faced their own tragedy when just at the end of last year, a child was struck by a hit-and-run driver. Another hit-and-run earlier this year added to the rising safety concerns in the area.
Gulfton is also a multimodal neighborhood. According to a recent METRO ridership report, Gulfton has one of the highest bus ridership rates in the city. While METRO bus services enable people working and living in Gulfton to get to important destinations, more can be done to ensure that people walking to bus stops can do so safely.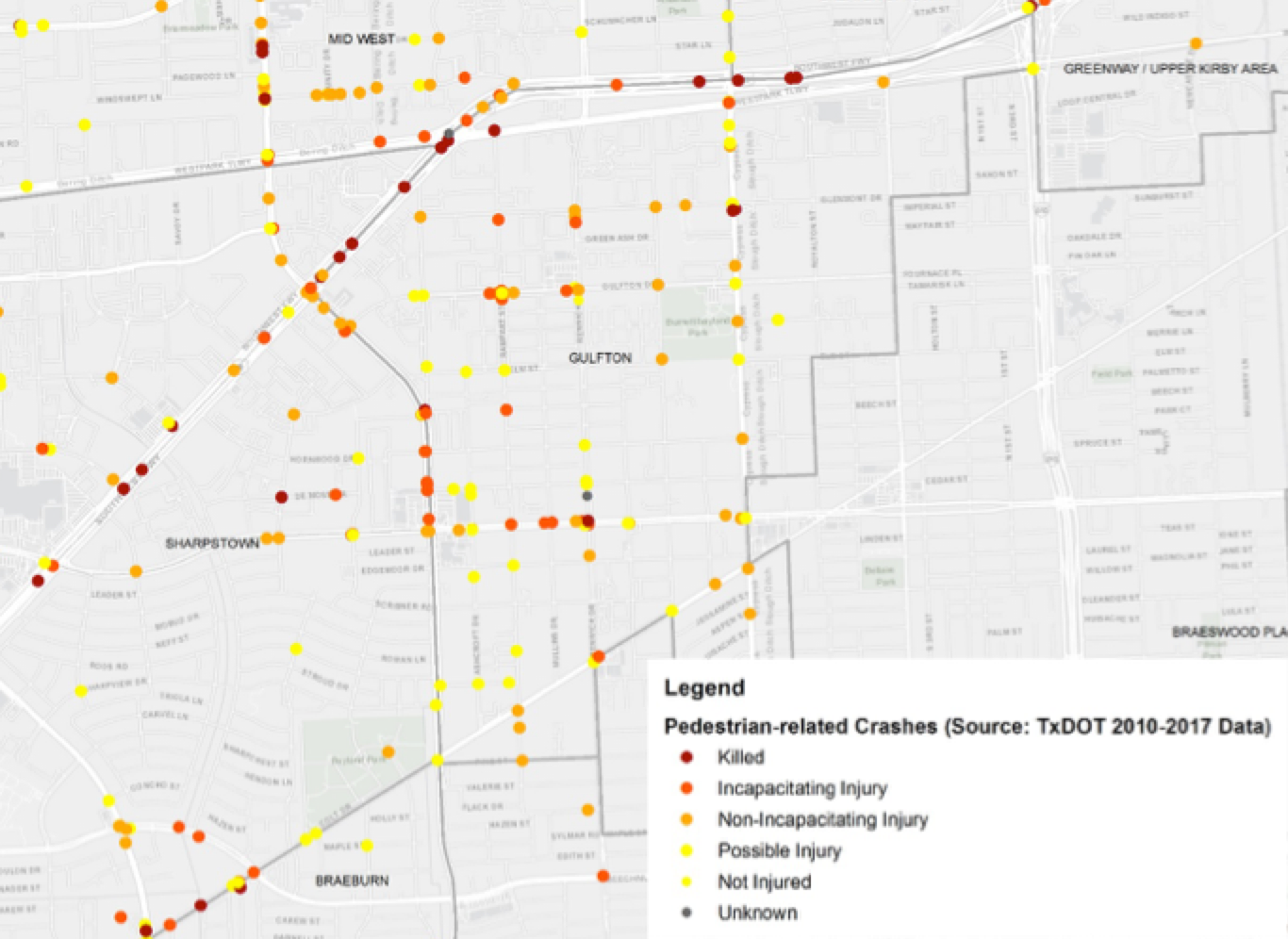 This sense of safety comes from being able to walk to places without fear of getting hit by a car or other perceived threats such as crime. An upcoming report from the Kinder Institute captures some of the daily challenges facing Gulfton and nearby areas. Our preliminary findings suggest that although most of our respondents agree that sidewalks are somewhat connected to bus stops, it does not mean that they feel safe while walking there. More respondents said they felt unsafe walking or biking to bus stops than did respondents who said they felt safe doing those things.
The conditions of the sidewalks are one of the most important elements for walkability. Some of our survey respondents also bike to work and to non-work places. And in Gulfton where there are high traffic streets, like Hillcroft that spans across eight lanes, biking on shared streets can lead to fatal outcomes, making sidewalks more important for these most vulnerable travelers. As the City of Houston makes plans for Gulfton and the four other Complete Communities, we'd like to capture information that can be useful for its implementation, including documenting existing pedestrian and transportation infrastructure and facilities and their conditions.
We'll be walking through the Gulfton and its nearby areas in groups of two to three people on May 19th, 9 am - 12 pm. If you're interested in participating, please register here or contact Dian Nostikasari at diann@rice.edu.