"This is my fourth talk in Houston," Jeff Speck, city planner and author of "Walkable City" and "Walkable City Rules," began his Kinder Institute Urban Reads lecture Wednesday evening. "Also my last talk and when it's over, you'll understand why."
He went on to detail the negative and positive aspects of the Interstate 45 expansion planned by the Texas Department of Transportation.
Following the talk, about a third of the more than 300 attendees stayed after to discuss how they can help mobilize existing efforts to make the I-45 expansion better.
The meeting led by Michael Skelly, leader of the Make I-45 Better Coalition, collected names and volunteers.
"We've been working for the past four years and we need your help," Skelly said. "We have a ton of work to do and the only way this is going to change is if we have people involved. So far, we want to make it better. If there is a group that wants to kill it, that's fine, too," he added. "That's just where we're at right now."
The group's motivation reflected Speck's lengthy list of negatives relating to the I-45 expansion, which was so long that he said he didn't have enough time to cover all of his opposition points. Though, he did touch on a few briefly.
The brief list of negatives include:
I-45 will wreck your bayou parks.
I-45 will destroy wildlife habitat.
I-45 will make flooding worse.
I-45will impede neighborhood connectivity and access.
I-45 will reduce city revenues.
I-45's bike facilities are a cruel joke.
I-45's caps are not likely to succeed.
I-45 is so much money.
This list continued, but Speck offered a bit more insight for the following:
I-45 is a huge investment in the driving economy
The estimated cost for the I-45 expansion is between $7 and $10 billion.
Speck points out that this cost, on the low end, is nearly $2 billion more than the requested funds for President Donald Trump's Mexico border wall. During the border wall debate, many pointed out that the funds could be used to provide Medicaid for 1.4 million people or increase federal funding for schools.
Furthermore, Speck notes that TxDOT's $7 to $10 billion could pay for free college. "Bernie Sanders' plan provides free college for all Americans from families making less than $125,000 per year. It is budgeted at $47 billion per year," said Speck. "Houston's share of that amount would be roughly $33 million, Therefore, $10 billion would pay for free college for all needy Houstonians for the next 30 years."
Driving is the least sustainable thing we do
While the climate change debate continues, many cities are working toward more sustainable modes of transportation, but Houston, argued Speck, is choosing to cater to the individual automobile, which correlates to obesity and asthma rates.
"The studies are very clear: the average driving by a city determines the weight of their citizens," Speck said.
Asthma rates in Houston have increased across the board in children, but black children have asthma almost twice as much as white children, according to the American Lung Association.
Highway building is bad for cities
Speck explained that highways devalue properties in a city's inner core because everyone is able to escape through a highway. He points to a quote from the former public works director of Rochester, New York, who said, "We built an evacuation route [through highways]. It worked: everybody evacuated [to the suburbs]."
"Highway investment is the quickest path to devaluing the inner city," Speck said.
I-45 adds lanes to fix congestion, but adding lanes does not fix congestion
Speck points to three "benefits" of the proposed project, including an increase of 20 mph during morning peak hours, a 50 percent reduction in delay during peak hours around downtown, a region-wide reduction in delay and increase to average speeds.
"This doesn't happen. It never has," Speck said. "And Houston has the poster child for how it never happens: the Katy Freeway," adding California's 405 Freeway failure as an additional example. "Adding more lanes to fight congestion is like loosening your belt to fight obesity," he said.
Instead of easing traffic, the changes, Speck explained, merely give an opportunity for more drivers to get on the road who otherwise might have taken public transportation or worked closer to where they live.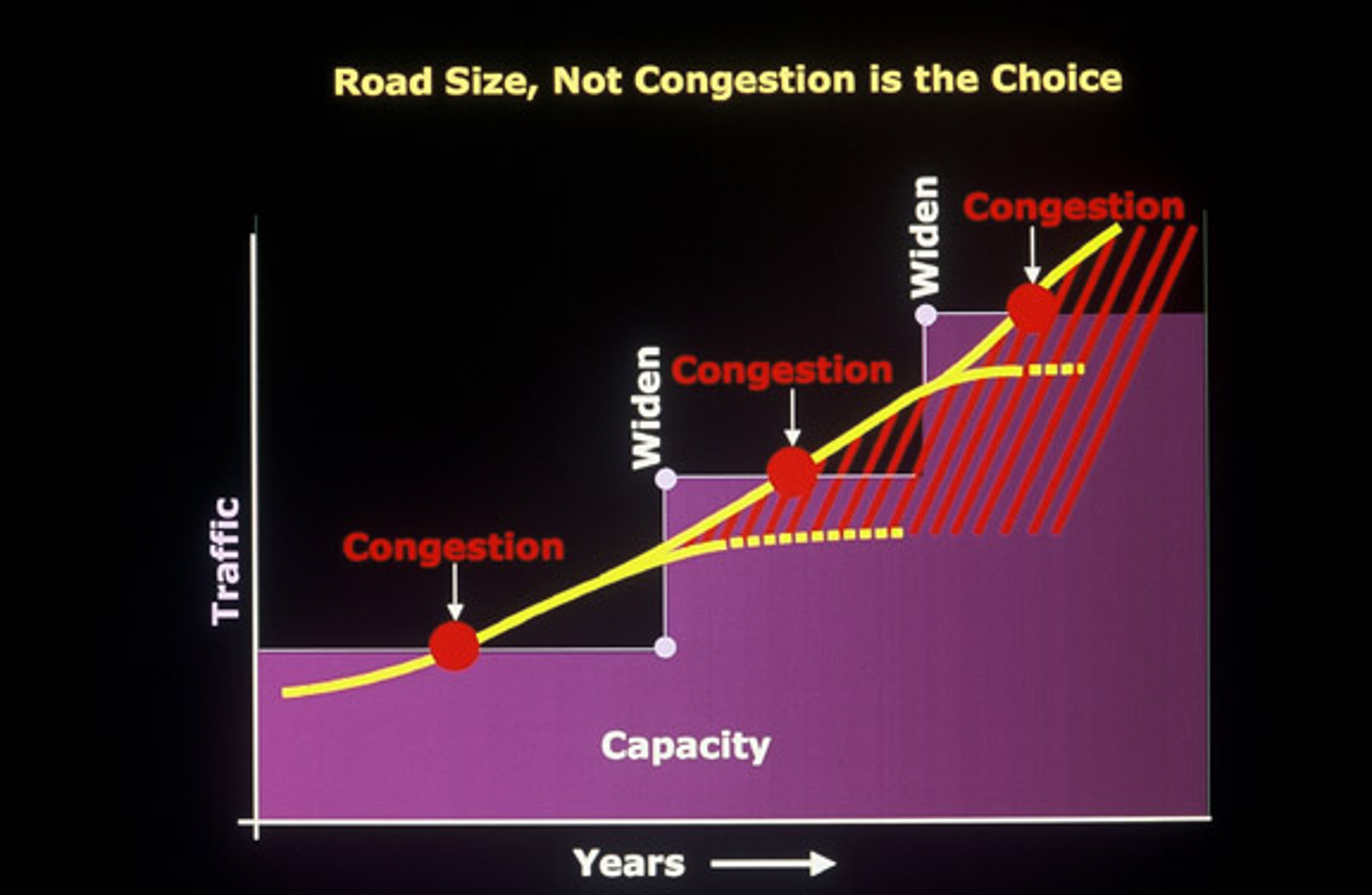 Instead of expanding highways, Speck proposed that the city works with the lanes that they have and reconfigure their set up to cater to public transportation or carpooling.
"It isn't always that you need to take a big leap in order to make an extreme improvement," Speck said.
I-45 is justified by safety, but it will increase driving deaths
Speck highlighted statistics of car deaths per year per 100,000: New York's at 3.9; San Francisco's at 4.0; Portland's at 6.2; Houston's, though, was at 12.9.
Why is Houston's number so high? "Because the morbidity of a transportation system is a direct outcome of how much time people spend driving on highways," Speck said. Later adding, "Houston is the city that I go to if I want to potentially get killed by traffic."
I-45 is justified by air quality, but it will worsen air quality
There's a common misconception that traffic increases congestion and expands the carbon footprint, Speck said Wednesday, but he pushes back against this claim.
Highlighting an excerpt from his book, he said, "It turns out that there is a strong correlation between a metropolitan area's average traffic speed and its fuel use. Cities with higher congestion use less fuel per capita, while cities with the least congestion use the most fuel."
I-45 will eliminate jobs, displace thousands and tear communities apart
To end, Speck made a point regarding the people who will be displaced or sickened by the expansion.
According to Speck, there will be 331 businesses with more than 25,000 jobs displaced or lost and 1,235 homes with roughly 5,000 people displaced, many of whom won't be able to stay in their neighborhoods.
"The way that their homes are valued, based on what they paid for them and other stuff, the way that they are being reimbursed by TxDOT is very unlikely to allow them to remain in the community," Speck said.
Additionally, roughly two dozen schools and a dozen daycares will be placed closer to the highway (within 150 meters), which puts the children at risk of poorer air quality due to car emissions.
"Ten percent of these kids have asthma. Additionally, two-fifths of them are having their homes destroyed," Speck said. "And they'll need to find a way to get to the school from farther away or have to change schools and have their school community destroyed."
To conclude, Speck pointed to two futures Houston has: first, the sustainable green route that focuses on Complete Communities, public transportation and Bayou Greenways 2020; second, the automobile-centric route that builds more roads, emits more greenhouse gases and becomes less healthy as obesity and asthma rates increase.
"Highways destroy quality of life," Speck said, referencing the Mercer Quality of Living Ranking. Worldwide, Houston is number 65, beating out four other American cities. "We can do better."
To view the entire video of the presentation, click here.