Downtown Houston's intersections are places of great activity. There are buses, light rail trains, cars, pedestrians and people on bikes moving through almost constantly and at high volume. All this traffic brings with it a bevy of traffic signals. Complicating matters further all of the streets are one-ways, which are often more confusing to drivers not used to the layout. There is also nearly continuous construction making detours and unsafe situations more likely.
For all these reasons and more, several downtown, stoplight-controlled intersections were identified as among those most likely to attract future crash incidents between cars and pedestrians or people on bikes in the Kinder Institute's recent report, Dangerous Crossings: The Relationship between Intersections and Crashes in Houston.
This finding—that downtown's intersections are dangerous—is not a shock. Downtown is one of Houston's most congested and active areas. But our analysis also highlighted several intersections that don't immediately jump out as sites that need greater attention to safety and crash prevention for all users.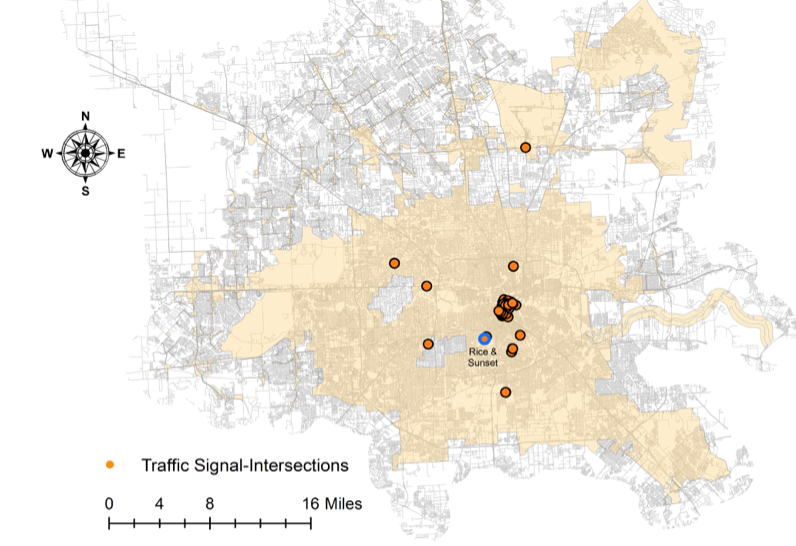 This map shows the location of the 65 stoplight-controlled intersections that our analysis identified as likely to attract future incidents. Below is a blow up of the 48 downtown intersections that are likely to attract incidents.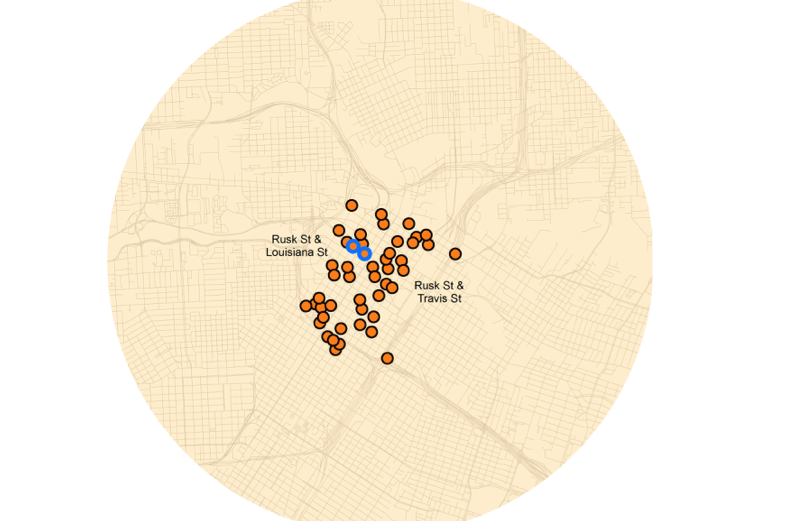 Most of the downtown intersections share similar characteristics, along with other large, central intersections like the Main/Fannin/Sunset intersection we explored in an earlier post. Others are outside of downtown, but also located near high activity centers like Cullen Boulevard and Holman Street on University of Houston's main campus, or the intersection of Beltway 8 and JFK Boulevard.
Officials know that these highly active intersections need additional attention and work to improve safety for all. But the fact that the Beltway 8 and JFK Boulevard intersection and others like it popped up – places where pedestrian and people on bikes are not as common – suggests downtown isn't the only area that needs attention. Coupling this work with the vast experience of the Houston Police Department, city of Houston Public Works and METRO could help to identify and prioritize areas where some smaller interventions could make a big difference. While making places where the most users are safer should be a priority, working to ensure safety across all our region's streets is essential.