In 2015, when the Texas state legislature approved a $118 million pilot project that would help expand and improve pre-kindergarten offerings across the state, it did so at the urging of Governor Greg Abbott. The legislation was one of five emergency items Abbott highlighted in that year's State of the State address. But it faced problems in the beginning. So many districts applied for the grants that came with stricter program requirements that the amount per student went down significantly – so much that some districts gave the money back. Then, in the next legislative session, lawmakers decided not to renew the program but keep the new, higher measures it was meant to support.
"The strain and the need for more resources in pre-K is really critical," said Andy Canales, director of the Center for Social Measurement and Evaluation with the education advocacy and research group Children at Risk. "We see a lot of data and we've done a study ourselves that show how important early education is in setting a strong foundation for future learning, especially for children that are growing up in poverty."
Despite the state's recent moves, however, it seems the majority of Houston area residents support more funding for pre-K– even if it means higher taxes. Sixty-seven percent of Harris County respondents said they favored increasing local taxes in order to provide universal preschool education for all children in Houston, according to the 2018 Kinder Houston Area Survey. "It does suggest people do understand the importance of education," said Stephen Klineberg, the founding director of the Kinder Institute and the author of the annual survey.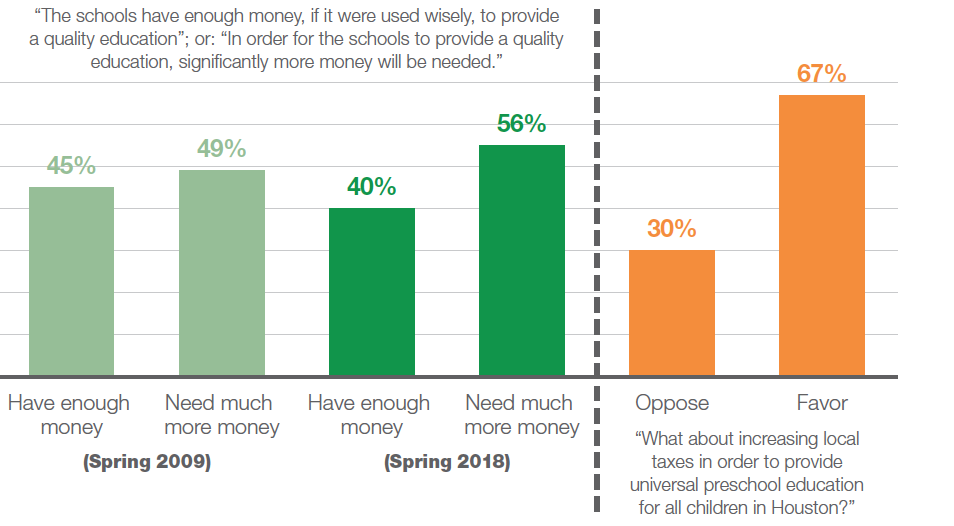 The issue highlights a common divide between public opinion and policy. "Elections matter," said Scott Hochberg, an education finance expert and former state representative.
Research underscores the importance of early education. A recent report from the Houston Education Research Consortium found that HISD students who had two years of pre-K education were more school ready than their peers with only one year. But most students, 90 percent, only attended one year of pre-K.
"It's a huge need here in the greater Houston area," said Canales. "Whenever we've talked with school districts to find out how are they're funding full-day pre-K, what we have found is that, a lot of times they have to draw resources from somewhere else in the budget, from another space, in order to make the math work."
As for public school beyond pre-K, 55 percent of Harris County respondents said they felt that "in order for the schools to provide a quality education, significantly more money will be needed," according to the most recent Kinder Houston Area Survey. That number increased from 49 percent in 2009.
Public school funding has been in Houston headlines in recent years. The issue even made it to the ballot box in 2016 when HISD added a measure meant to put pressure on the state legislature to change its school funding system after lawsuits failed to do the same.
The measure specifically took aim at the state's recapture plan, which redistributes funds from property wealthy districts like HISD to property poor districts. Trouble is, the district's student population is almost 80 percent economically disadvantaged. Despite the public debate, the next session did not produce the changes many were pushing for.
And so the issue remains. HISD is currently facing a $115 million shortfall as it searches for a new superintendent and prepares a plan to partner with an outside organization to prevent the state takeover of several chronically struggling schools.
Hochberg said support for more school funding isn't too surprising and isn't necessarily a partisan issue. "Bond issues have played well even in conservative areas and tax increase elections have played well in suburban school districts," he said. "The really interesting thing would be if folks felt that schools serving a lot of low-income kids especially needed more money. That's where we traditionally get our poorest performance and that's where every study I've ever seen has indicated that we've underfunded what we need to [in order] to reach those kids."